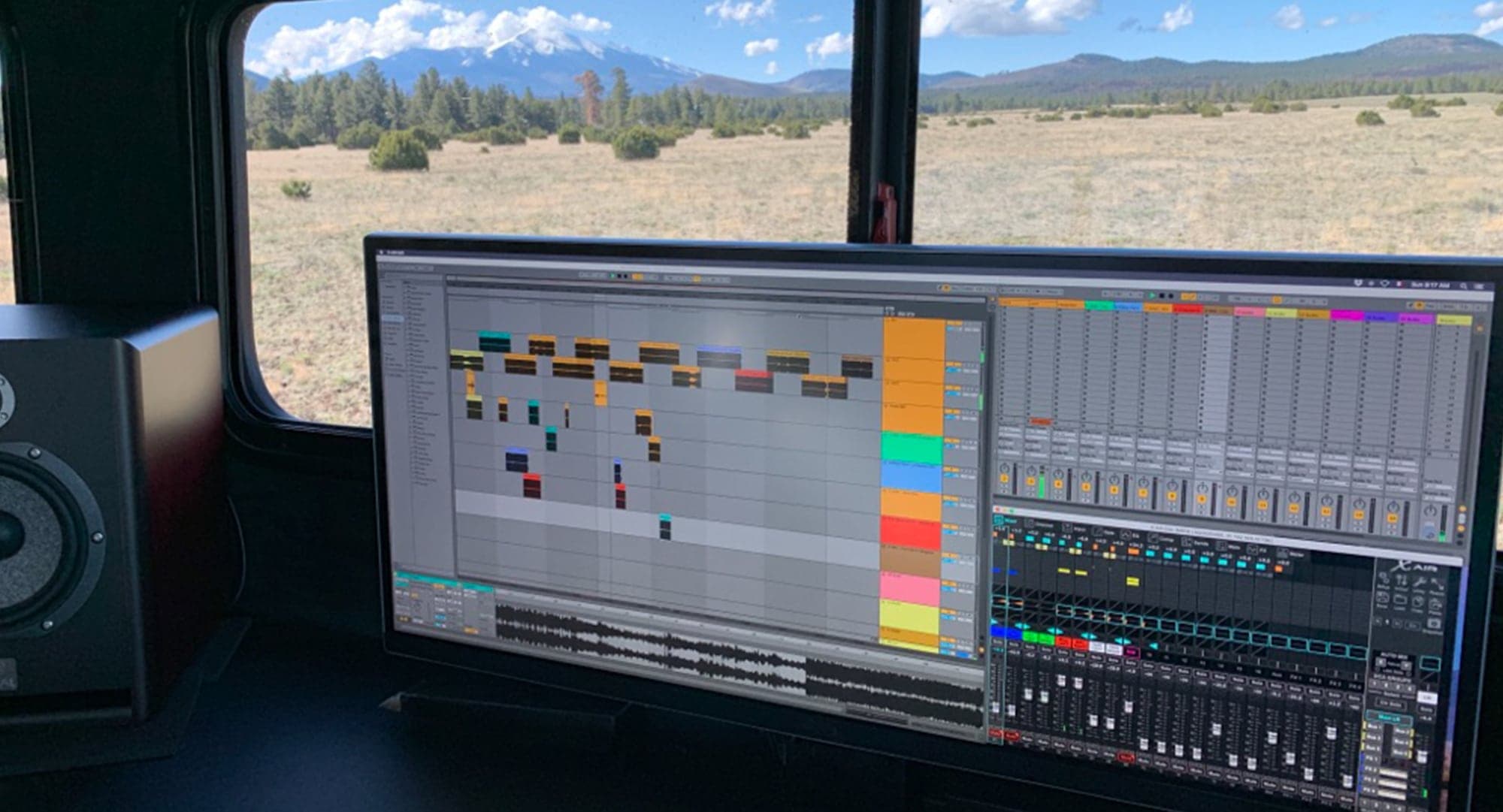 The 10 solar panels on the roof harness enough energy during the day to power an entire night of recording, leisure time, and meal preparation. The interior is accented with aluminum tread plates and matte black drawers with handles that mimic the look of road cases. Garraud has also partnered with French company Focal for a custom amplification system that includes a 400-watt outdoor speaker set that can blow other cars off the road. The AC unit doesn't run, it whispers, and the French espresso machine comes in handy during extra-late-night recording sessions. But his pièce de résistance is a quarter-inch reel-to-reel tape machine, mounted between the driver and passenger seats above the windshield.
"It's the most sexy way to get music on board while you're driving," smiles Garraud, cueing up Michael Jackson's "PYT." "A good combination of past and future. That was my baby when I was a radio DJ in Paris at 16."
Golden State sat down with Garraud to learn what inspired him to create LAGOODVIBE and what his ultimate dream is for the mobile studio.

How did the idea for LAGOODVIBE come about?
Joachim Garraud: I'm a sound engineer and a DJ, and have been producing music for various people, from Perry Farrell and Bob Sinclair to David Guetta. I moved from Paris to LA seven years ago, and I have a recording studio in Paramount, on Santa Monica and Vine. I have a lot of friends and artists who come from Europe to enjoy LA with me and make music. After two or three days in the studio they're like, "Hey, Joachim, maybe we can go to Vegas?" So we take my car, drive to Vegas, and then come back. We make music for two or three more days and then, "I've heard Yosemite is great. We have to go there." I also have four kids and we enjoy traveling, but the RV I was renting was not solar and it was noisy. So I decided to merge both to be able to bring people traveling here and take them to places like Bryce Canyon and make music on the way and provide them a very special experience.
Why was it important for you to have this be solar-powered, ecologically friendly, and so much more than just a mobile recording space?
JG: That was the number one thing for me. I was the first DJ to pay my carbon tax and be carbon-neutral in 2003. Every year I do my CO2 balance. Back in the day I was doing 150 shows per year around the world as a DJ, so I had to pay sometimes like €10,000 to have my CO2 neutral status. Since I've been in LA, I enjoy my Tesla and in March I upgraded the solar panels on the RV. [With the solar panels] it's all about square feet, power and weight. You have to be efficient and you need batteries because at night you're not producing energy so you want to store it. I have a French espresso machine, so if you want to have 20 cups a day, you probably have to decide between coffee and using the microwave, but I like that because at the end it makes the energy not free; you have to think about things. My kids never leave the TV in standby mode anymore because they know it makes some wattage, and at the end of the year that's a lot of wattage for nothing. The ecological thing was a main point for me because California, Arizona, New Mexico, Nevada…they're so beautiful. You have to take care of nature.
GS: Who have you recorded in the RV?
JG: The first client was a group from LA, half French, half American, called Yard of Blondes. I started with them because it was the most difficult thing for me, to have a rock band with four people on board. You need a lot of space and you have a lot of connections and microphones. I told them, "You're gonna be my first." We did a one-day session. I picked them up at 5 a.m. at LAX and they slept during the trip to the desert. I also asked them for a rider regarding the food. I'm trying to recommend people to go with organic food but also be ready to have some traditional French food because I'm going to cook for them. It's a great honor for me to take care of my guests. I want them to enjoy the location, the view, the sound … but also the food. [Laughs]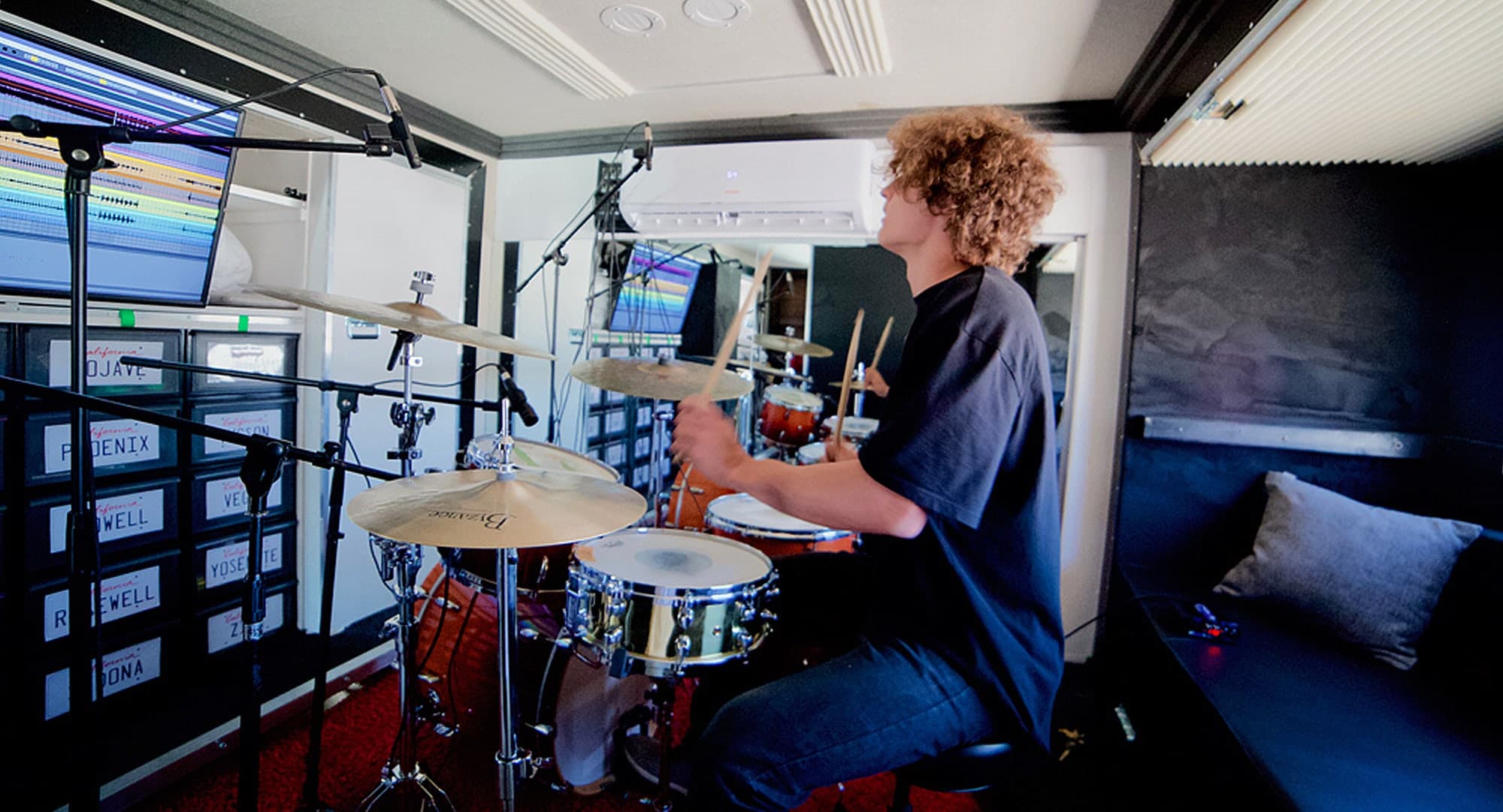 That's what so unique about this to me. Your average person might finance the operation but not care to drive or cook. You're the engineer, the driver, the chef, the composer, and I'm sure a musician, if needed.
JG: To be honest with you, I did this for my own personal use at the beginning—for me—and then I had a lot of requests from my very close circle and my friends to use it, so I took them on board with me. My main job is producing music and DJing. This was a "super hobby," but now I want to try and open it up a little to a targeted group of people because I want to collaborate.
How much money have you invested in the studio?
JG: I've put in about $250,000.
Really? I would have guessed more than that.
JG: Because I did a lot of stuff myself. If I had to pay it would be double at minimum. The electrical bay, because nobody needs to see it, is usually like spaghetti, right? I wanted mine to be the most beautiful electric bay.
Let me guess—you color-coordinated everything?
JG: Exactly! [Laughs] And I painted some elements. The box was yellow, so I painted it black. When artists come on board, they are inspired by the adornments.
Okay, so what are some of the hidden secrets that make the RV so unique and special?
JG: I use two products, Kilmat and Dynamat, which are the #1 products they use in Bentleys and the Mercedes AMG for sound-proofing. They use about 30 square feet. I used 650 square feet. It's a special insulation product that they usually put on the floors of cars to help with noise, but I stuck it everywhere in the RV.
You took the RV to Burning Man? Who do you have lined up for studio time?
Yeah. Burning Man was for my personal use. [Laughs] It was a good location to see Carl Cox, Diplo, and see Darren Emmerson. We are in the middle of nowhere and I was the only one to have AC all night long and all day long with no noise because there is no generator. Right now I'm starting to open bookings for 2020. First, I'm gonna open for French artists, people who I've known for a long time. Vitalic is one.
What is your ultimate dream with this mobile studio?
JG: Can I have two? The first one, my ultimate dream, is to work on my V2 with Tesla and do this full electric. Right now I have a gas motor, so every mile I'm driving I'm paying CO2 footprint compensation to a company called Clear Sky Climate Solutions. I made a deal with them where I send them my location GPS, they charge me, I pay them and then they give me a diploma that I have for the artists to give them a carbon-neutral status.
So you offset the gas costs with credits so that you're doing the right thing?
JG: Yes. It makes no sense to me to talk about solar equipment if you're using fossil fuels and not doing anything for that, so I compensate just to be neutral. That's why my number one dream is to not be paying that tax when I'm fully electric. That's why I wish I would be able to work on my V2 with Tesla, because I know they're working on semi trucks.
The other dream is I want to be able to participate in the writing of beautiful songs; songs that can stay in history. I would be the happiest producer if were able to write a song at the Grand Canyon and call it "Grand Canyon," with the GPS coordinates programmed in. I want to use this environment to participate in the writing of musical stories.