Los Angeles, The City of Angels, is having a moment with new hotels by architectural legends, restaurants by world-class chefs, innovative design, art and plenty of cultural pursuits. Of course, LA is still a laid-back city, too, with robust outdoor hiking, beaches, and surf culture. Once you learn to navigate the traffic in this spread-out metropolis, in one day you can view fine art at a museum downtown, have lunch in Beverly Hills at a Michelin-star restaurant, catch a wave at Malibu's Surfrider Beach, then hike Runyon Canyon with the city lights twinkling below—and you just might spot a few stars along the way.
Where to Stay
Downtown
The Conrad Los Angeles is an architectural gem by the legendary architect Frank Gehry, and it also offers a view of the architect's iconic Walt Disney Concert Hall from many of the 305 midcentury modern guest rooms, designed by UK-based Tara Bernerd & Partners. You can also take in the view while dining at Spanish-influenced San Laurel, curated by humanitarian and award-winning chef Jose Andres. This dog-friendly property holds several other restaurants and bars with various tapas dishes, along with a rooftop pool deck and state-of-the-art spa. Plus, this is a great location for culture vultures—it's located just across the street from the Music Center, The Broad Museum, and the Museum of Contemporary Art.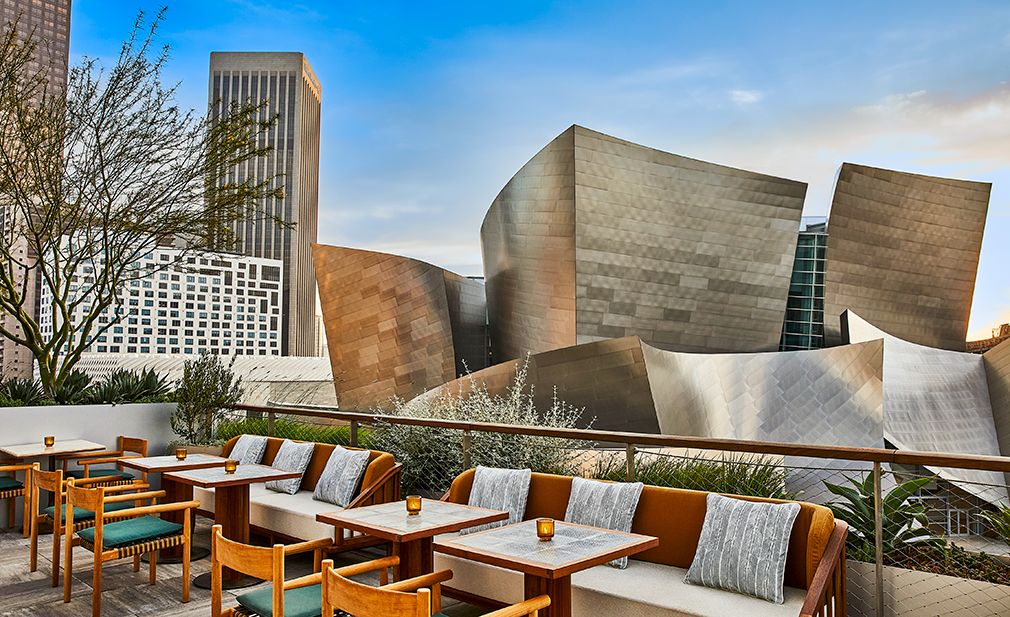 West Hollywood
The Pendry in West Hollywood holds several Wolfgang Puck restaurants, a spa, fitness center, and private club, The Britely. Upon arrival, guests are greeted in the lobby by a stunning multifaceted jewel sculpture by Anthony James, along with the earthy scent of a custom-made Cypress Santal candle and a green tea-citrus drink. Pro tip: Stop by the nearby Bar Pendry for a free alcoholic spike for that welcome drink, or pop out to the garden area to visit the Moët & Chandon Champagne vending machine.
Beverly Hills
Tucked away in the hills, the serene Hotel Bel-Air sits surrounded by greenery and floating swans, and houses a restaurant and a piano bar that features original photographs of stars like Tina Turner, Mick Jagger, and Steve Jobs by the legendary Norman Seeff. Don't miss the rotating blue chip art exhibits in the hotel's lobby. You can also visit sister property The Beverly Hills Hotel (or, "The Pink Palace") which offers green-striped poolside cabanas, the famous Fountain Coffee Shop and the Polo Lounge for prime celebrity spotting and historical photographs of old Hollywood, and leading art exhibits at BarNineteen12.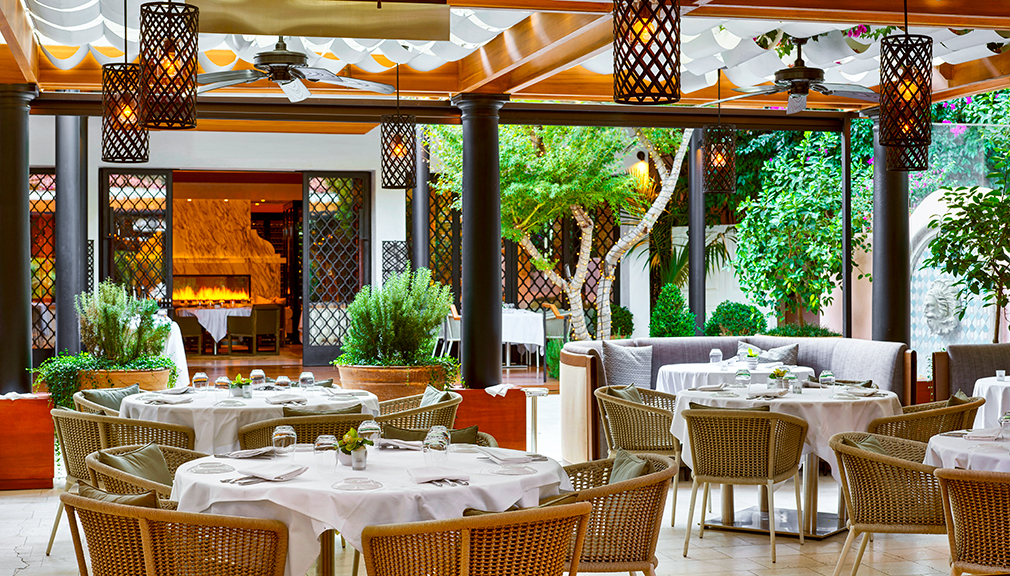 Santa Monica and Malibu
The aqua exterior of the historic 1933 Art Deco Georgian Hotel has been an Ocean Avenue fixture in Santa Monica for decades. The hotel was recently overhauled with new interiors by leading UK-US design firm Fettle. The adjacent Writer's Room library also offers a private refuge, featuring a black and white Hugo Guinness art collection and books curated by Lee Kaplan of Culver City's Arcana. The opening exhibit at the in-house Gallery 33 was hosted by actress Sharon Stone, who gifted a large piece for the hotel lobby, now a permanent fixture for guests to view when they check into the 84-room hotel or speakeasy-style basement restaurant and piano bar. When you decide to venture out, the boardwalk and promenade for games, shopping, dining, and nightlife are only a short walk away.
You've probably heard about the seaside location of Nobu in Malibu, where celebrities flock, but the restaurant isn't the only draw—you can also book a stay next door at Nobu Ryokan. This boutique hotel's 16 luxury ocean view rooms offer deep teak soaking tubs, indoor-outdoor fireplaces, and ocean views. Order Omakase sushi and sashimi to be delivered in-room from a special menu at the restaurant, or arrange for a Japanese breakfast bento in the morning. An early morning ocean stroll or sunset in the pool can't be beat.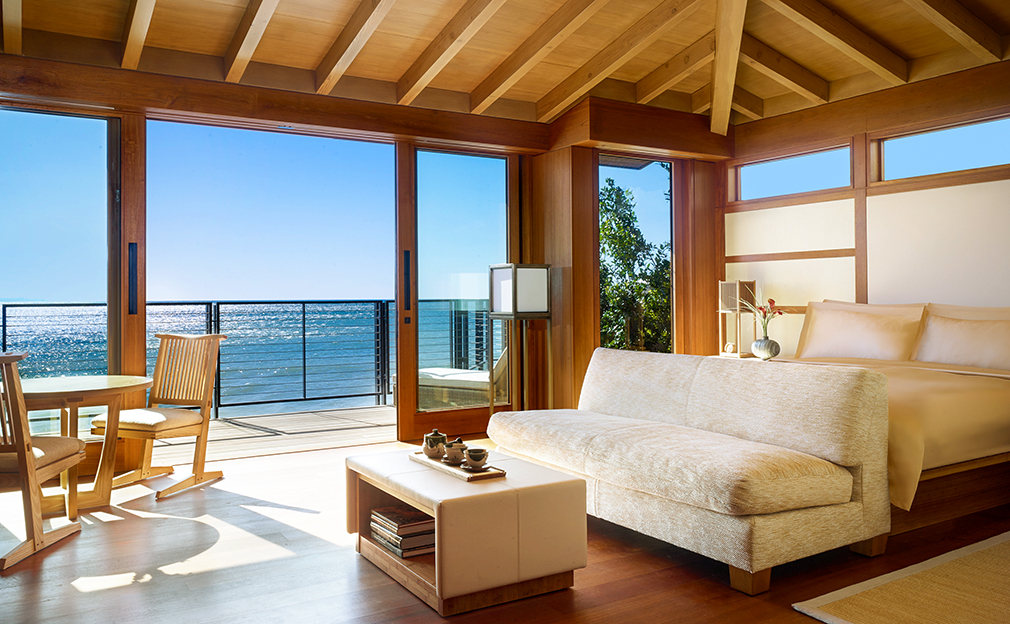 Where to Dine
Eight Options, One Roof
Head downtown to the adjoining Moxy & AC hotels for multiple options under one roof, from bars to restaurants and even a nightclub. Level 8 is by brothers Jonnie and Mark Houston, who are known for quirky and clever nightlife themes—and they have outdone themselves with this venture.
Highlights include the Mr. Wanderlust cocktail lounge with a live piano player that rotates from behind the bar; hot pots from Lucky Misu, reachable by a secret entrance from the bar-lounge; and the Golden Hour carousel bar by the pool. The French-Japanese teppanyaki cuisine at Maison Kasai and the alfresco oyster and ceviche bar, Mother of Pearl, are overseen by Chef Joshua Gil. South American live-fire grill cooking from Qué Barbaro and Brown Sheep Taqueria on the terrace are both helmed by Chef Ray Garcia. Sinners y Santos is a cathedral-inspired nightclub with a speakeasy entrance surrounded by golden skulls.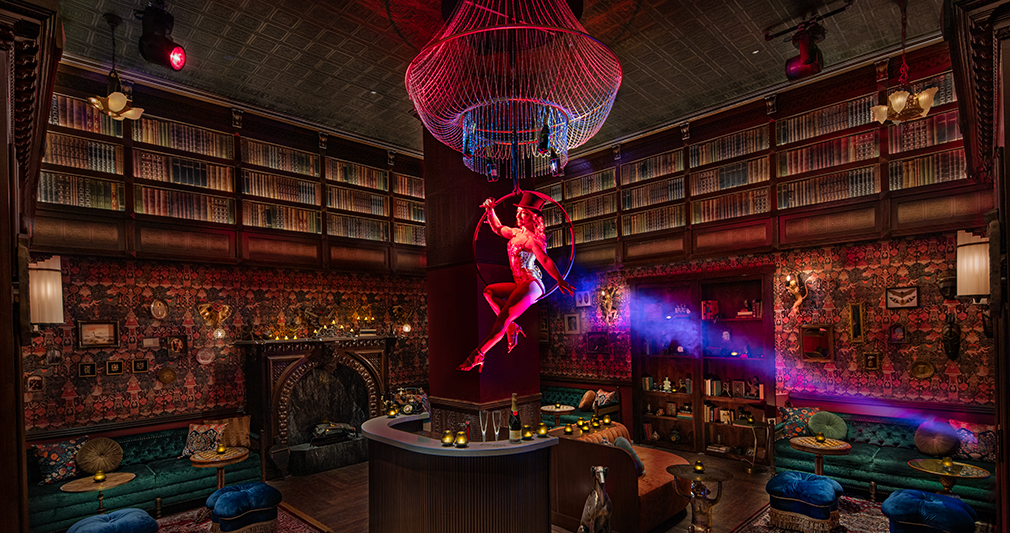 Asian Cuisine
The San Gabriel Valley is renowned for its excellent Asian cuisine and should be ground zero for any Asian food crawl. From Michelin-starred Bistro Nas in Temple City to Din Tai Fung in Arcadia, you can sample everything from dumplings to duck.
If you find yourself in West LA, Sawtelle Boulevard is widely known as "Japantown" since you can find a variety of sushi, yakitori, and ramen in just a few short blocks. Line up early at Tsujita LA for tsukemen (noodle dipping broth), Yakitoriya for smokey skewers, and Hide Sushi for budget sushi platters (cash only).
Iconic Eats
You are not an Angeleno until you've done a taco truck crawl. If you only have time to track down one, it should be Mariscos Jalisco in Boyle Heights for hard-shell fried shrimp tacos smothered in sauce and topped with sliced avocado.
Pink's Hot Dogs has been a La Brea Avenue fixture since 1939. Owned by the Pink family, the classic stand is where you can find best-selling franks named after celebrities, such as The Brando Dog and the Martha Stewart Dog.
Head out to Santa Monica and grab the layered Italian sandwich known as the Godmother at Bay Cities Deli. If you don't have time to wait in line (or don't want to customize), grab a premade version at the counter.
For a classic French Dip sandwich, visit Philippe The Original and Cole's. Both opened in 1908 in downtown LA and claim to have invented the famed sandwich.
Modern Italian
LA has many old school red sauce Italian joints—some were even frequented by Frank Sinatra back in his day—but a modern twist on the classic theme can be found at Best Bet in Culver City. The latest from chef Jason Neroni of The Rose in Venice, the menu offers a nostalgic feel with four pizza styles from crispy fried montanara to cast-iron baked focaccia. The chef's famous cacio e pepe pasta and crab stuffed zucchini blossoms also take top billing.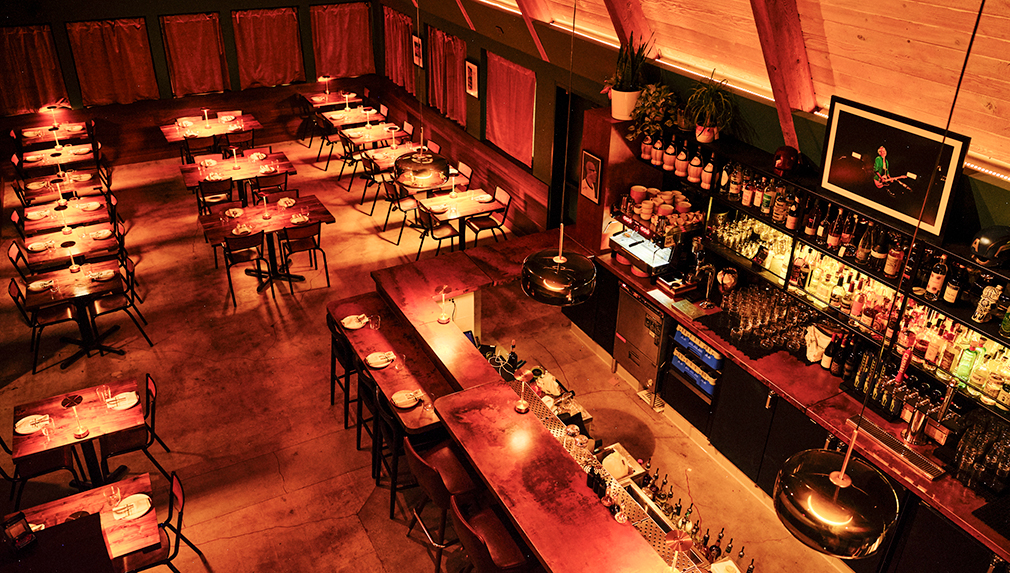 French Fare
James Beard- and Michelin-award winning chef David Beran, a veteran of Alinea in Chicago, will save you a trip to Paris with his French restaurant Pasjoli on Main Street in Santa Monica. The most talked-about dish is the tableside pressed duck, which employs a method that originated in the 1800s. For something less extravagant but equally delicious, try the new bar menu and the mind-blowing grilled cheese sandwich with a glass of cab-franc.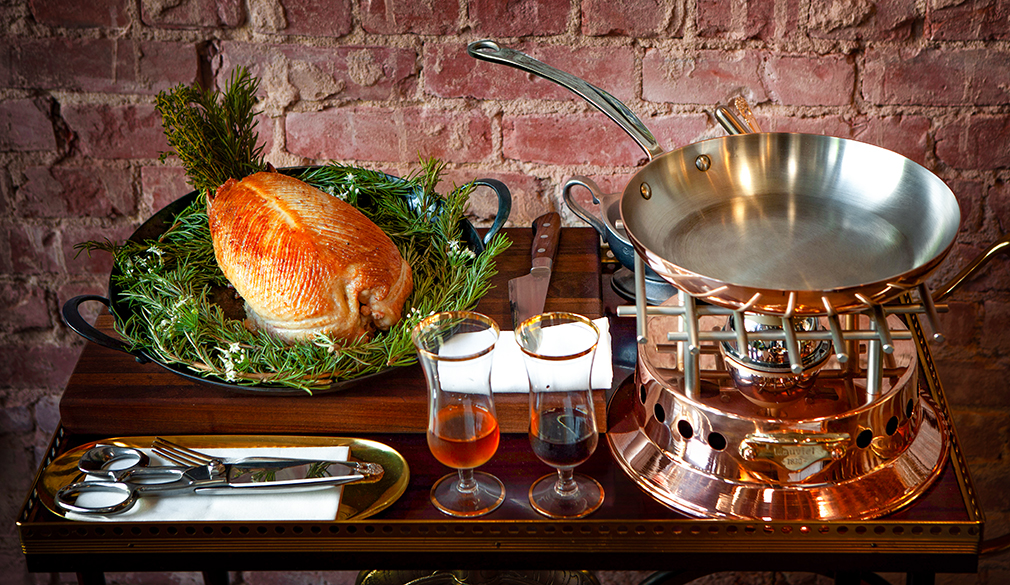 Picnic Supplies and More
The Cheese Store of Beverly Hills, a fixture since 1976, offers the best array of fromage from Italy, France, Spain, and Napa. They also make sandwiches to go on crusty Spanish bread, and the new enlarged location has plenty of other treats that range from crackers to chocolates. You could spend hours in here grazing—they are generous with samples.
Where to Drink
Old Hollywood Vibes
Sip a martini at Musso & Frank, which has been serving stars since 1919. While you near the Walk of Fame, stay the night (or just visit) at the Hollywood Roosevelt Hotel across the street, named for President Theodore Roosevelt. The historic property recently added a new bar and restaurant, Shirley Brasserie, with a throwback vibe and good martinis.
New York Import
Dante, on the top floor of The Maybourne Beverly Hills, is the spot for a personalized nightcap. They offer a vast martini menu and even have a martini hour each day, plus a refreshing pineapple margarita, but be sure to order an espresso nightcap. The talented mixologists may even add foam art with your company logo, a picture of you, or your pet to float on the top of the cocktail. (Yes, they research some guests on social media, but it sure is a memorable end to the evening or your trip. )
Wine Bars
Wally's wine bar in Beverly Hills is great for people watching on the front patio, but they also have an inventory of 30,000 bottles and a robust by-the-glass selection that you can quaff with charcuterie boards and cheese from around the globe. The Santa Monica location is one block from the beach and a great place for a long lunch, caviar tasting, or happy hour.
Rooftop Bars
There's no shortage of newer places to imbibe with a view of the skyline. For prime rooftop hopping, hit Cara Caraat the Proper Hotel DTLA, with Portuguese-inspired fare by Suzanne Goin and Caroline Styne, then visit next-door neighbor Cabra at the Hoxton, with Peruvian dishes by chef Stephanie Izzard. The work of Food Network celebrity chef, Marcel Vigneron, can be found at Lemon Grove inside The Aster, with a Capital Records view and Mediterranean dishes. The Rooftop by JG at the Waldorf Astoria boasts stunning views of Beverly Hills with food and ginger margaritas by Jean-Georges Vongeichten. Edition has the best West Hollywood and Pacific Design Center views, and the Kimpton Everly Hollywood is where you can toast with a view of the Hollywood Sign. It celebrates its 100th birthday this year.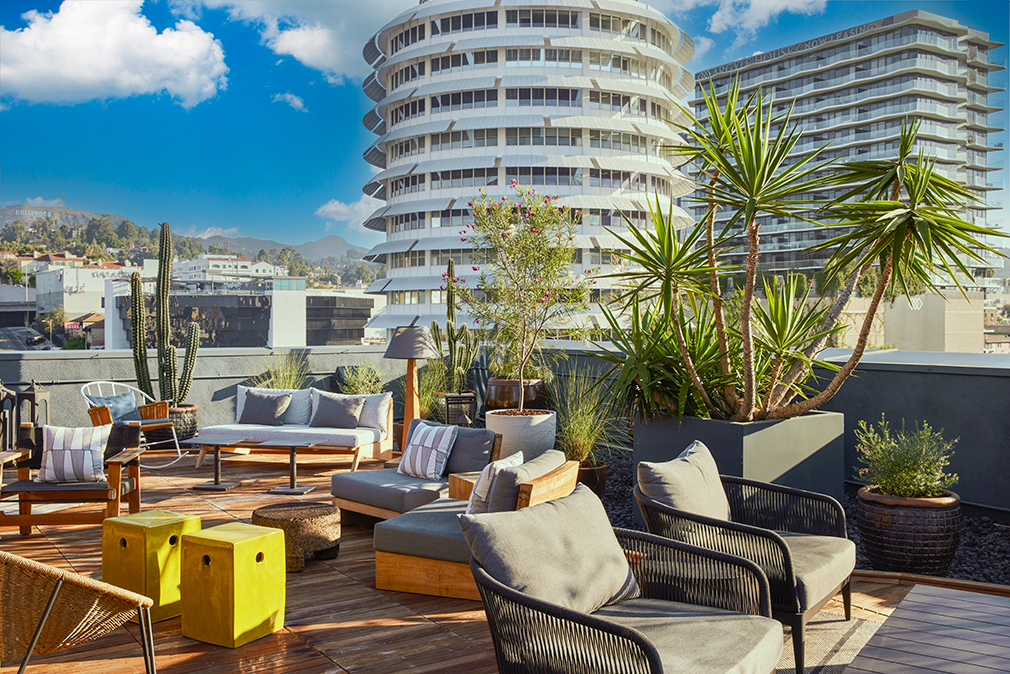 Where to Shop
Flea Market Finds
Still going strong after 50 years, The Rose Bowl Flea Market offers the largest display of vintage clothing and home goods for collectors. It takes place on the 2nd Sunday of the month in Pasadena. The Los Feliz Flea, every Saturday, sells a variety of clothing, jewelry, albums, and art. Melrose Trading Post is the hip spot for vintage and modern treasures with something for everyone. And the Santa Monica Airport Antique & Vintage Market is a good one for families and all ages, with wares ranging from shabby chic decor to estate jewelry.
Great Streets for Strolling and Shopping
Beverly Hills' iconic Rodeo Drive is known as one of the most expensive streets in the world, but no matter your budget, it's worth a stroll down the three-block stretch to view the hundred-plus leading international brands and dramatic window displays. For something a little more down-to-earth, Abbot Kinney Boulevard has a funkier vibe with the latest fashion, arts, and food just minutes from the Venice Beach boardwalk. Must-visit stops include Farm Rio, Aviator Nation, Salt & Straw's innovative ice cream, and Atla, a new restaurant by acclaimed Mexico City chef Enrique Olvera.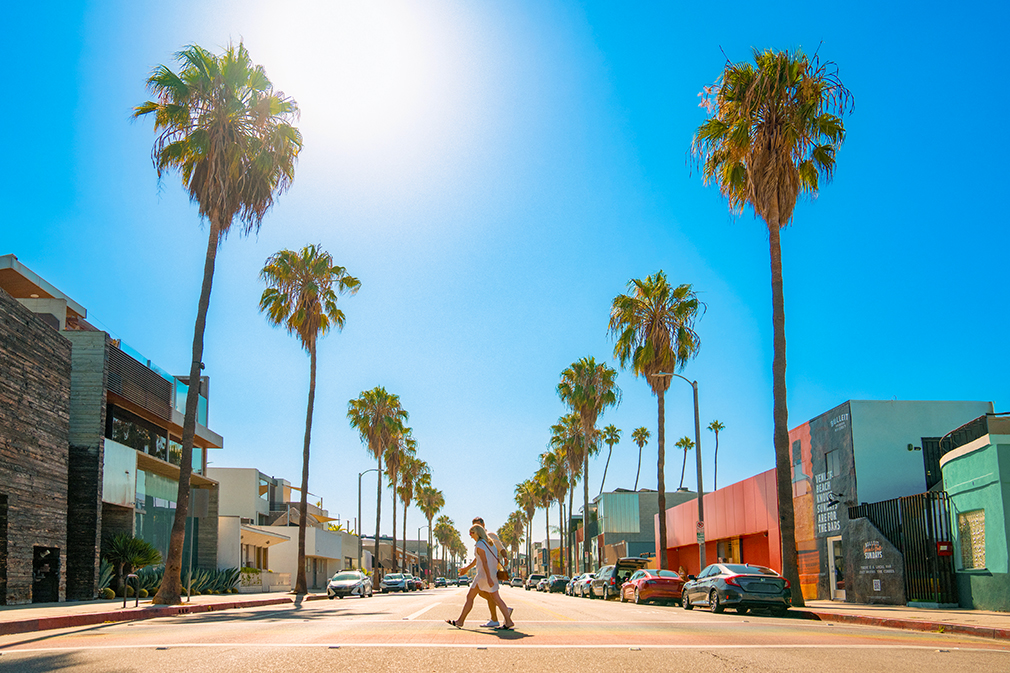 Melrose Avenue and Melrose Place
Start at the Pacific Design Center for interior window shopping, then head down Melrose to the new BR Home store from Banana Republic, which offers an expansive rooftop. Next door you will find Soho Home to see some of the decor styles seen inside the chain's international clubs. If you are looking for vintage designer names, pop into the Real Real down the street for preloved Gucci and Prada. Down the street, Trudon just opened its first brick-and-mortar in Los Angeles for in-person sniffing of exquisite candles and scents. Just a block away on Melrose Place is a tiny street packed with contemporary designers such as Marni, Love Shack Fancy, and Frame. Stop into Alfred coffee shop for a pick-me-up or Biologique Recherche for a caviar facial.
Platform in Culver City
This lifestyle destination outdoor shopping area holds independent shops such as The Optimist for men's clothing, Aesop for cruelty-free soaps, and Loqui for tacos. AD 100 AD 100 Designer Jeremiah Brent opened Atrio, a full-scale home design shop with furniture, fabrics, and flowers next door to top French restaurant Juliet, which he also designed.
What to Do
Visit a Few Cultural Landmarks
There's no shortage of cultural landmarks to visit here, from the Natural History Museum to the LaBrea Tar Pits and Griffith Observatory, perched on Mt. Hollywood in Griffith Park. This top educational attraction has been welcoming visitors since 1935 to look through telescopes, explore exhibits, and see live shows in the Samuel Oschin Planetarium.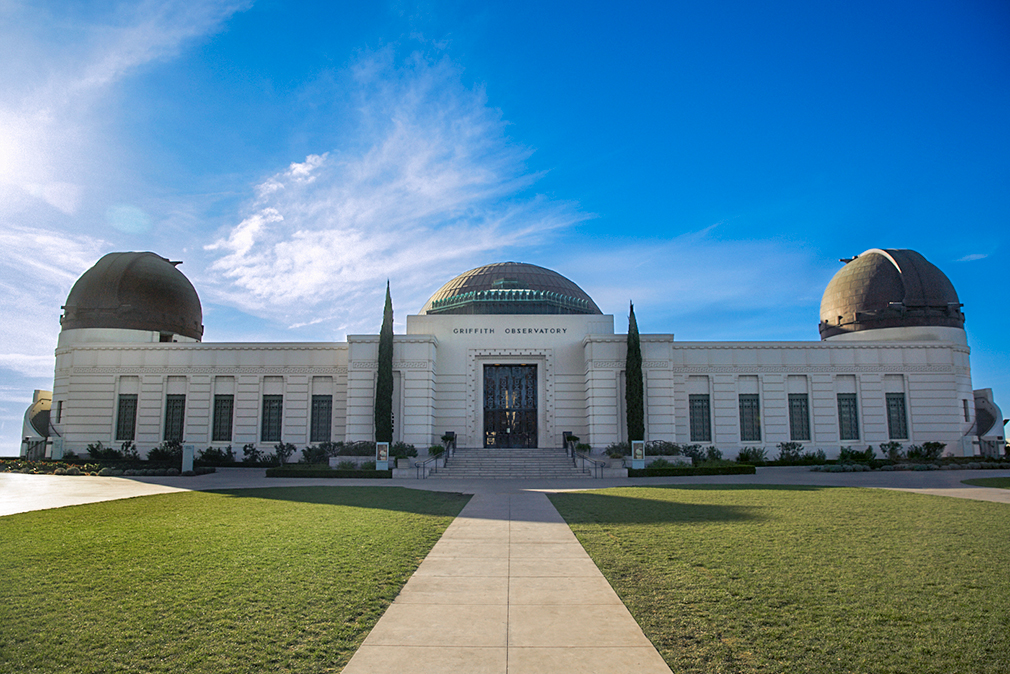 Explore Art Deco
Take a self-guided walking tour of the treasured Art Deco buildings that were built between 1925 and 1932, including Los Angeles City Hall, The Central Library, Union Station and The Bradbury building, a famed filming location.
Tea Time, Plus Art
Rose Garden Tea Room at The Huntington has reopened after a refresh, and not only is it a chance to sip tea and savor tiny, crustless sandwiches and sweets, but you can also tour the expansive botanical library and art museum. Plan to make a day of it.
Take a Studio Tour
You're in the land of movie making, so take a studio tour of iconic filming locations at Paramount Pictures, the oldest operating Hollywood studio since 1912. Universal Studios Hollywood, famous for its theme park and Studios Tour, is in Universal City, a movie-making community created by Carl Laemmle in 1915. While you are in the area, visit movie sets past and present on a behind-the-scenes Warner Bros. Studio Tour in Burbank. Head to Hollywood to see Marilyn Monroe's dressing room and get the scoop on film history at the Hollywood Museum, housed in the historic Max Factor building. Another must: The new Academy Museum on Wilshire Boulevard, which celebrates the history of the Silver Screen. You can even strike a pose with an Oscar.