Commercial fishing pro Stephanie Mutz, founder of Sea Stephanie Fish seafood in Santa Barbara, can hardly remember a time growing up when she wasn't spending her days at the beach or swimming in the ocean. Now her entire life revolves around it.
"It's kind of all I know," explains the Newport Beach native. "I grew up at the beach, and it was like my backyard. Both of my parents were a huge influence because we went to the beach all the time. My dad and I would swim way, way out, and bodysurf and surf. It's very comfortable to me. Even as an adult sometimes I feel like I'm more comfortable underwater than on land."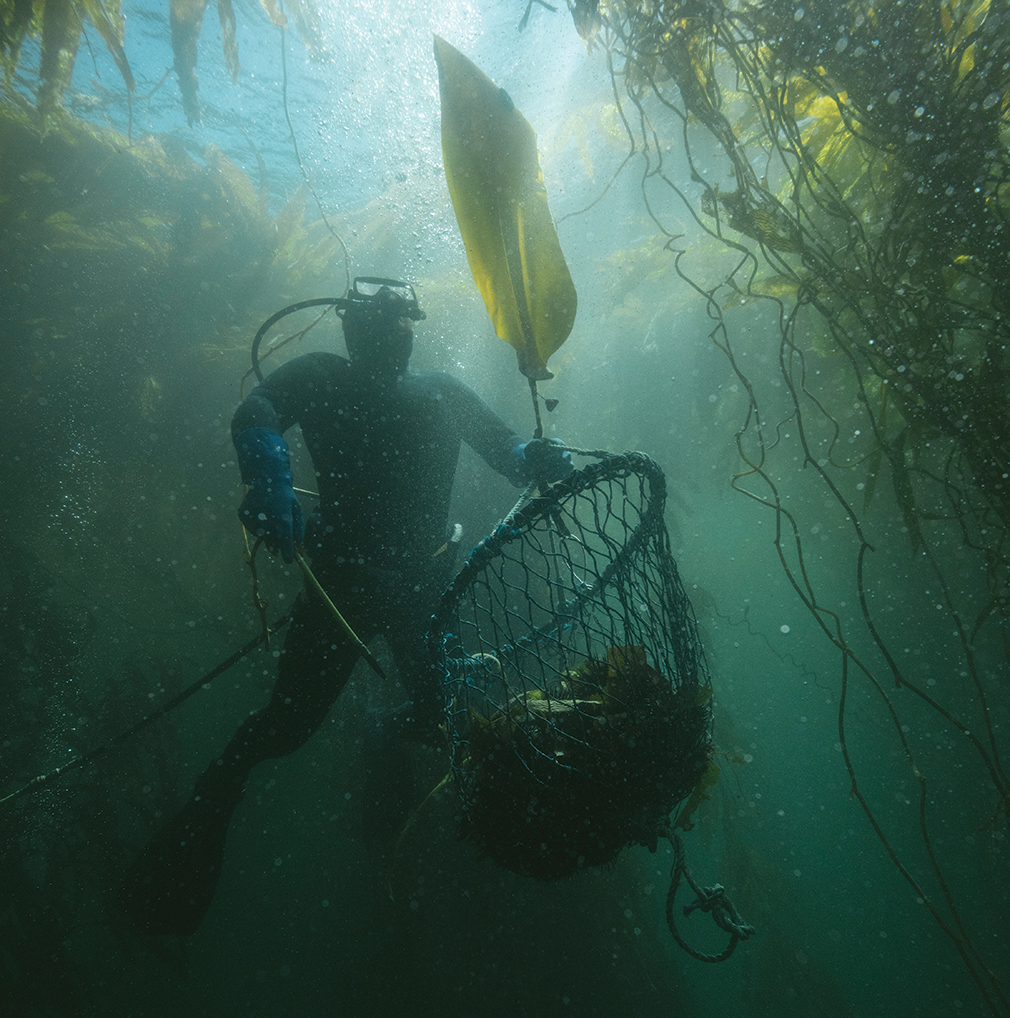 While attending the University of California, Santa Barbara and studying marine biology, Stephanie thought she'd become a college professor. "I always knew I didn't want a desk job when I grew up," she explains.
She started diving in college when she was 18, collecting research data for UCSB. She attended James Cook University in Queensland, Australia, for a graduate degree in tropical marine ecology and spent three years studying the demographics of Acanthurus lineatus, or lined surgeonfish.
After returning to Santa Barbara, Stephanie began teaching part time, bartending, and also working as a deckhand on boats. "When I got laid off from teaching during the economic fall in 2008 to 2010, I thought, 'Let's try this fishing thing.' Long story short, it worked," Stephanie recalls. "I started working on urchin boats at first because diving was something I was very interested in."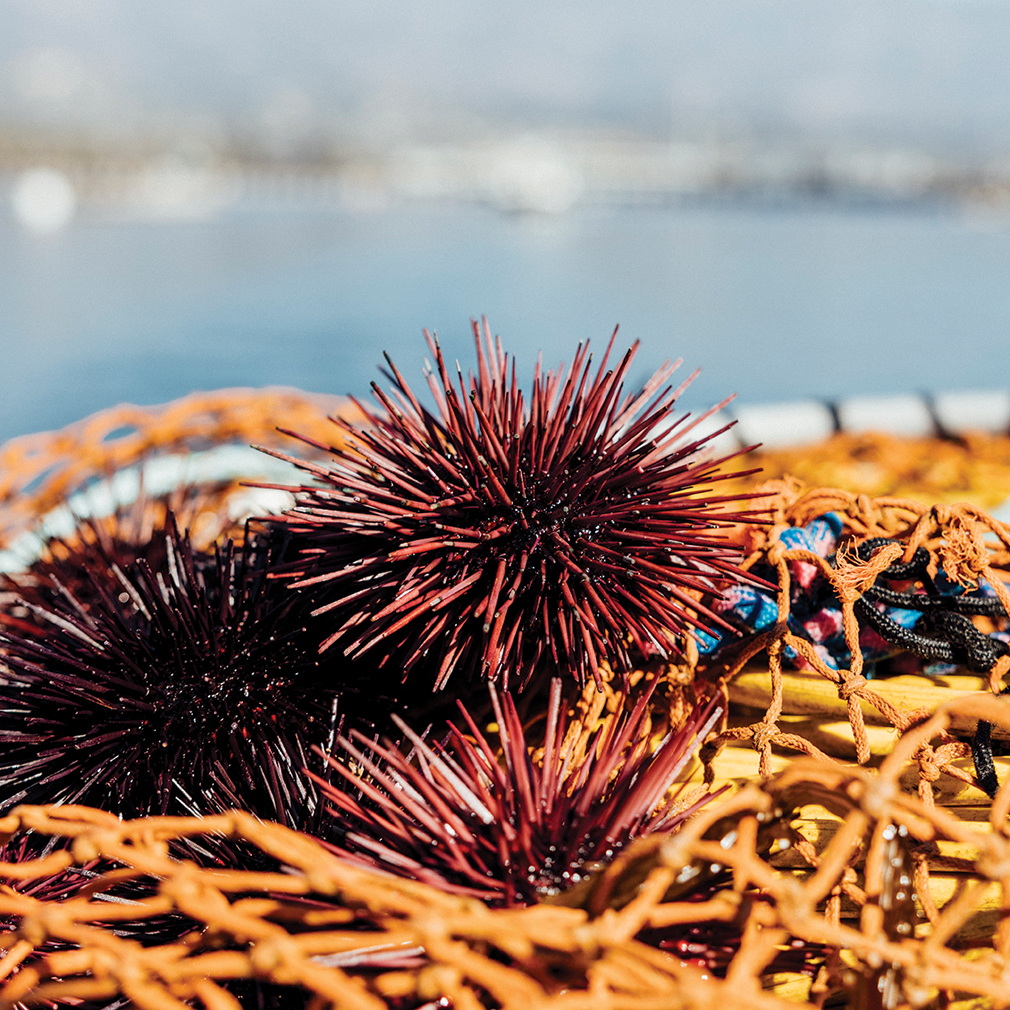 Realizing she needed to increase the value of her product, she began selling directly to restaurants and at Stearns Wharf on Saturdays. She teamed up with another urchin diver doing direct marketing for a few years before going out on her own two years ago.
Getting started as a go-to supplier for chefs and high-end eateries was less than glamorous. "I used to cold-call chefs—I'd find kitchens and go in the back and give them a bucket of urchins," Stephanie explains. "The chefs intimidated me, and I didn't like doing that. But now chefs call us. We're very lucky to be selective in the people we want to work with. We want to work with people who want to work with us. We have this reciprocity, and we make each other look good with our quality of product and their creations. It's very much about relationships and community."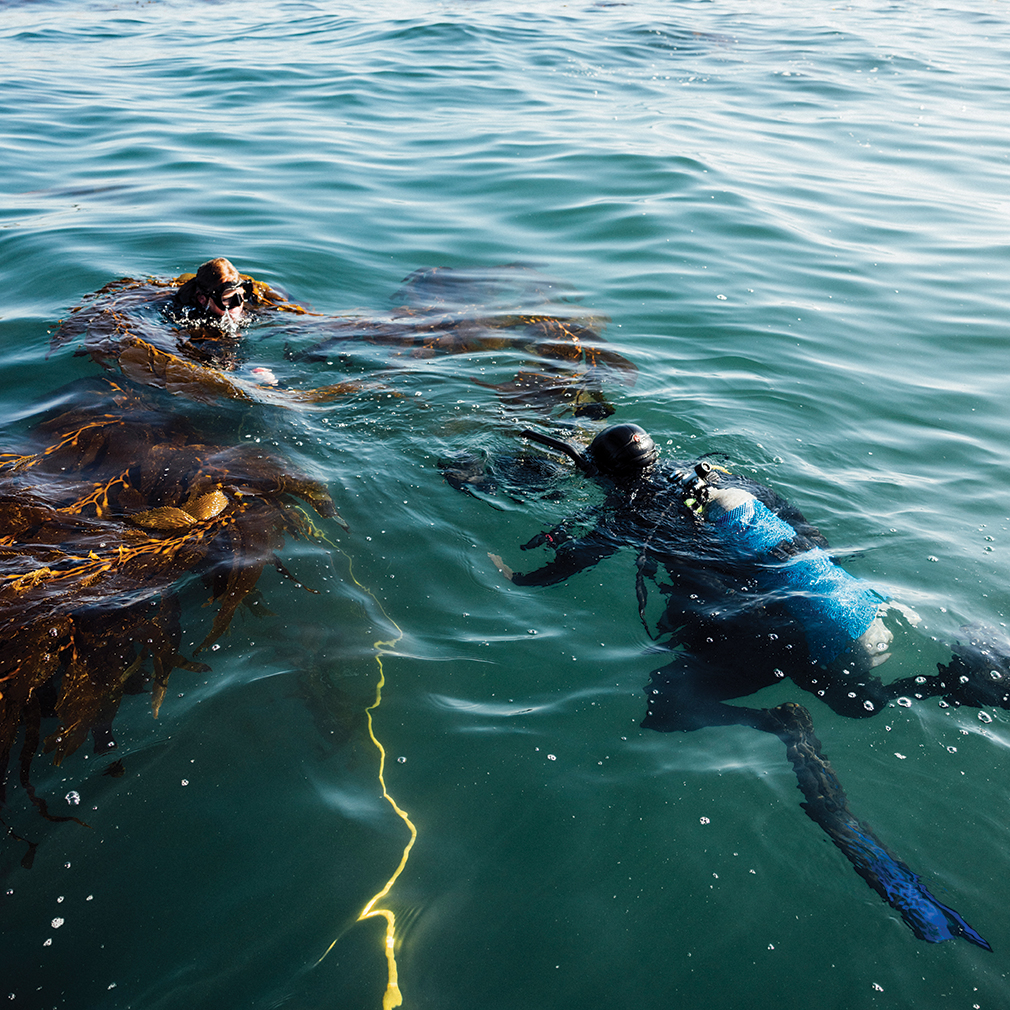 Stephanie regularly dives off the Channel Islands and beyond for whelks (sea snails), red sea urchins and purple sea urchins—or "hotchi," as her Sea Stephanie Fish team has nicknamed the purple ones. She has spent the last 17 years working as a professional diver and finds it to be a highly regulated, sustainable way to fish with low ecological impact and bycatch.
She appeared in the documentary The Delicacy, highlighting a day in the life of urchin diving and its origins. Her long list of clients includes more than 30 restaurants throughout the state including The French Laundry, Fishing With Dynamite and Rosewood Miramar Beach's AMA Sushi and Caruso's.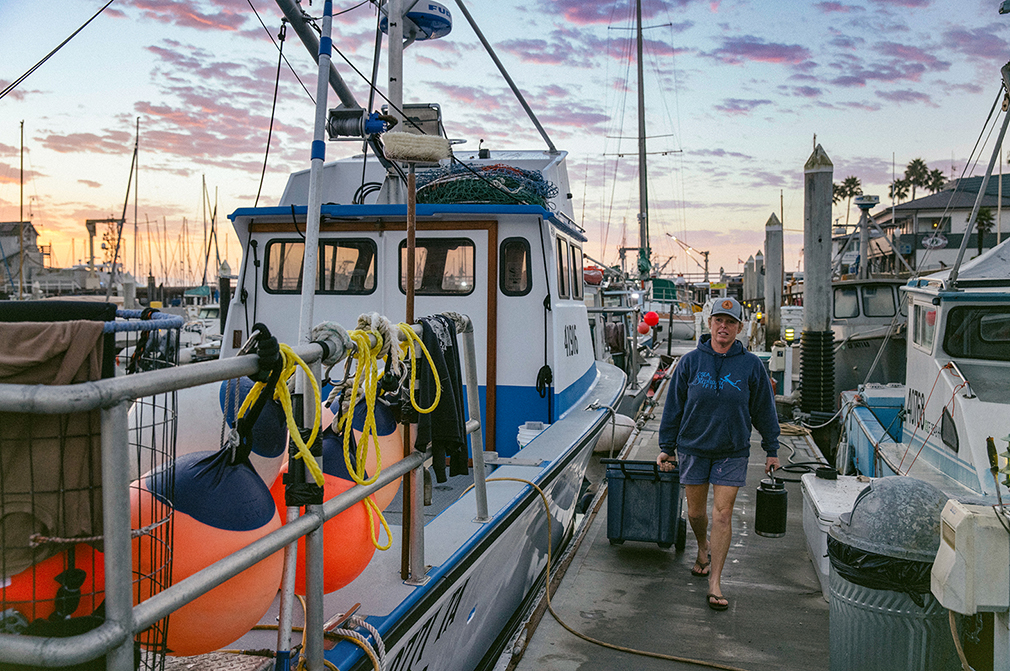 "The relationship with Stephanie has been instrumental for us at AMA Sushi," says Massimo Falsini, executive chef for Rosewood Miramar Beach. "We have been featuring the incredible uni, and when in season the Santa Barbara spiny lobster and the Santa Barbara spot prawns—not to mention the Channel Island halibut."
At AMA Sushi ("ama" means "woman of the sea" in Japanese), there's a special diving connection with the restaurant's nod to the legendary female free divers in Japan. "I'd love to dive with them, but I don't think they would want to dive with me," Stephanie jokes.
On her many dives all over the world—from the Red Sea to the tropical Atlantic—she has seen everything from a black sea bass the size of a Volkswagen bus to a cormorant diving to depths of more than 120 feet in search of mussel mounds.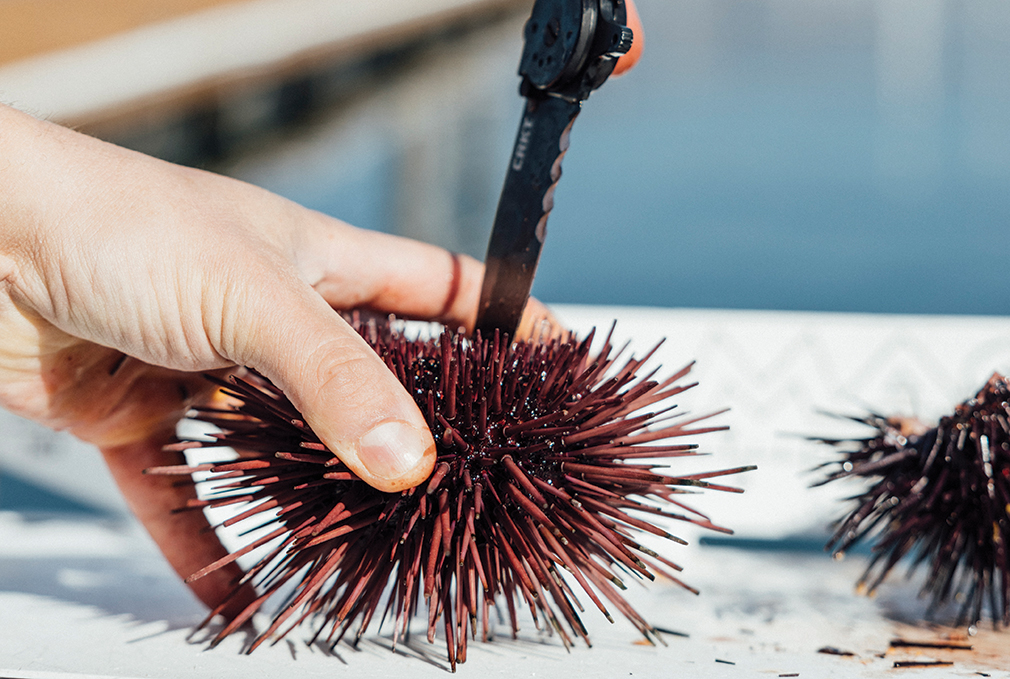 But these days, a typical fishing day for Stephanie (usually one to three days per week, depending on the weather) begins as early as 3 a.m. She drives an hour from her home in the Santa Ynez Valley to the Santa Barbara harbor. She boards her 22-foot Radon boat equipped with a hookah compressor tank run by a HANA engine that supplies her oxygen from a hose that stretches 400 feet.
She submerges anywhere from 20 to 40 feet, armed with a wetsuit, a rake and a large net bag. In a single day, she can catch up to 1,200 urchins at a regulation size of 3.75 inches in diameter, but she's continually mindful of sustainability, waste and efficiency.
"You have to think quality over quantity," Stephanie explains of the urchins that have to be kept alive and whole. "It's kind of hippie-dippie, but it's about respect and treating them very carefully and very gently. You don't pack 400 in a bag. And when you're taking them off the rock, you have to do it gently. We call them 'princesses,' and you have to treat them like princesses."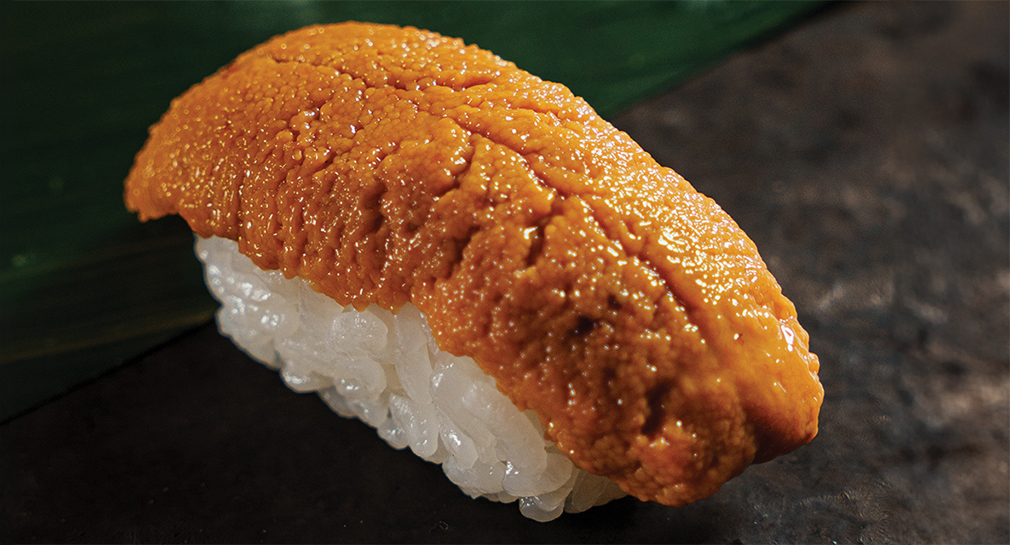 When she's not in the water or working directly with restaurants and chefs, she's teaching biology classes online at Ventura College or showcasing her catch at culinary events including Ojai Food + Wine. She also has retail pop-up markets throughout California.
But at age 45, Stephanie is realistic about the future and her longevity as a diver. "I love what I do, and I know it really well," she says. "It's not an easy job at all, and there are sacrifices: personal time, no vacations and physical work. You wake up early and maybe your body aches, but you have to get it done. Sometimes your days are long and late. But I love that every day is different. And there's something to be said about going underwater and not having a phone and internet for a few hours every day."