For Annie Wolff Pautsch, founder of Brew Cruz in Santa Cruz, acquiring a 1989 bus on Craigslist, learning to drive it, and launching a brewery tour company was one of the last things she had in mind for her career trajectory. But, for the Boulder, Colorado native who previously worked in the film and advertising industry in San Francisco for several years, as it turns out, it was the most obvious. "Brew Cruz largely came about because of three things," explains Annie. "A love and passion for beer and brewing, a friend's wedding and a move back to Santa Cruz. The creative opportunities for my role were becoming less innovative and more confined. My boyfriend (now husband), Adam, and I had gotten really into craft beer, and were spending more time trying new styles of beer and exploring new breweries in Northern California."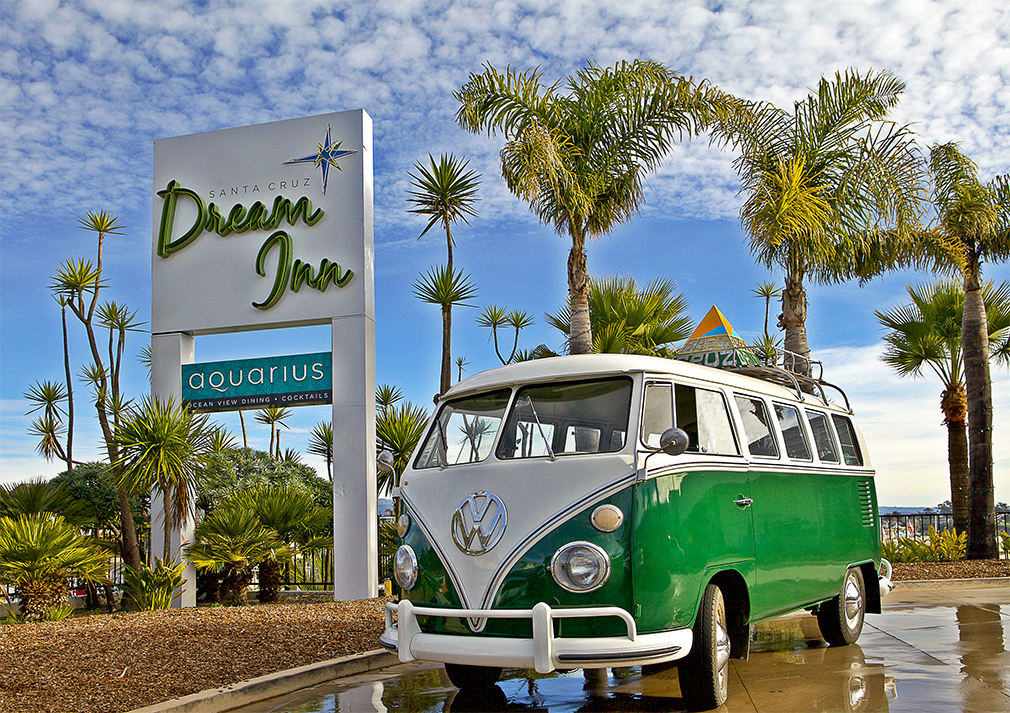 Later, after taking a historic bus tour in Boulder for a friend's wedding, Annie moved to Santa Cruz with a new business idea. "One of the group activities that week was going on a bus called Banjo Billy's," recalls Annie. "Since most of us were beer fans, we curated a day out on the bus to take us to breweries, and hosted our own tasting on board with 15 friends. It was so glorious and memorable, that two weeks later, I quit my job and started a rough business plan. Adam had just gotten hired for a teaching job back down in Santa Cruz, so we packed up, left our hearts in San Francisco, and I started a new journey of getting to know and understand the very tight-knit community of breweries down here. I bought a bus off Craigslist, and after a seven-month refurbish, six specialty licenses and a lot of trial and error, Brew Cruz was on the road."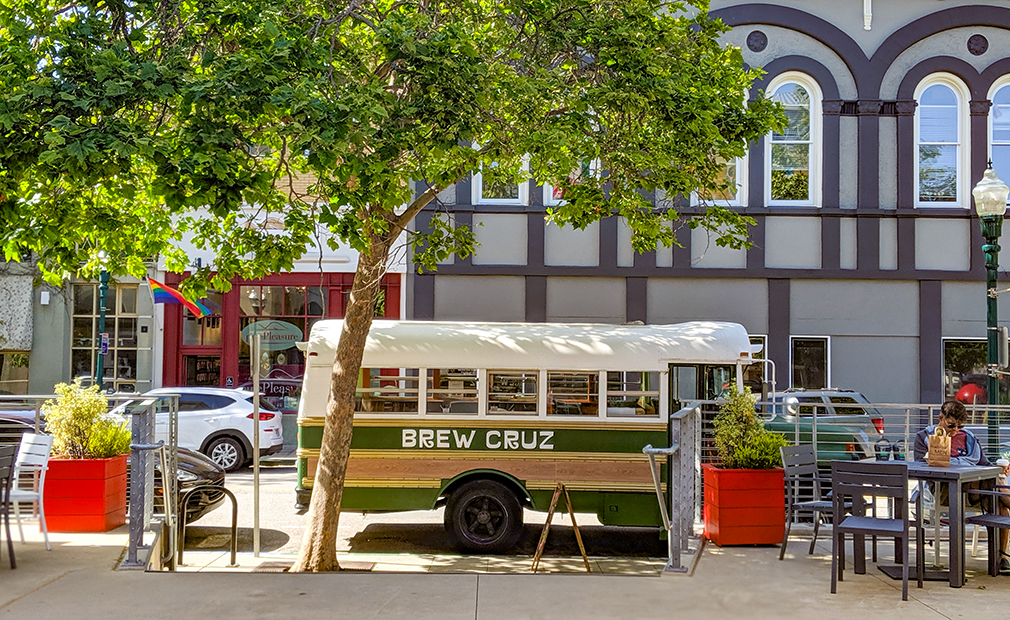 Now partnering with 12 breweries and four taprooms, the company offers tours with three brewery stops each, and has expanded with a fleet of two vehicles, (a vintage 1964 VW bus, "Slowboy,' was purchased four years later). "Brew Cruz operates so you can enjoy a break from the everyday stresses of life," says Annie. "We aim to give you a personal, local perspective of our very unique brewing community, while you lounge back in a vintage vehicle, windows down, music up, sun gleaming off the ocean, a cold beer in hand and your favorite people next to you."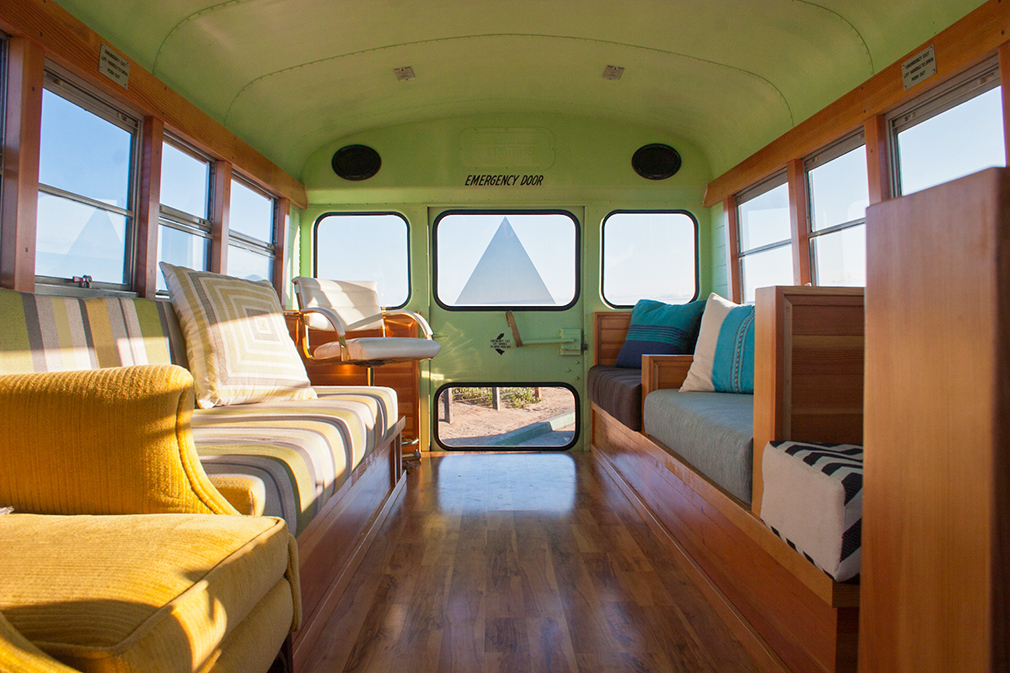 Annie shares details on Brew Cruz tours, what to expect, and what's coming next year.
---
Tell us about why you chose brewery tours and what other types of tours do you offer?
"Beer is what I'm passionate about, and breweries have continued to flourish in Santa Cruz County. I do offer a few limited (and very spooky) haunted tours called 'Boo Cruz' the month of October, and am excited to launch murder mystery tours (that stop at breweries) early next year. We won't turn down a day at local wineries if requested, and we have done custom transportation for weddings as well, but beer is the main focus."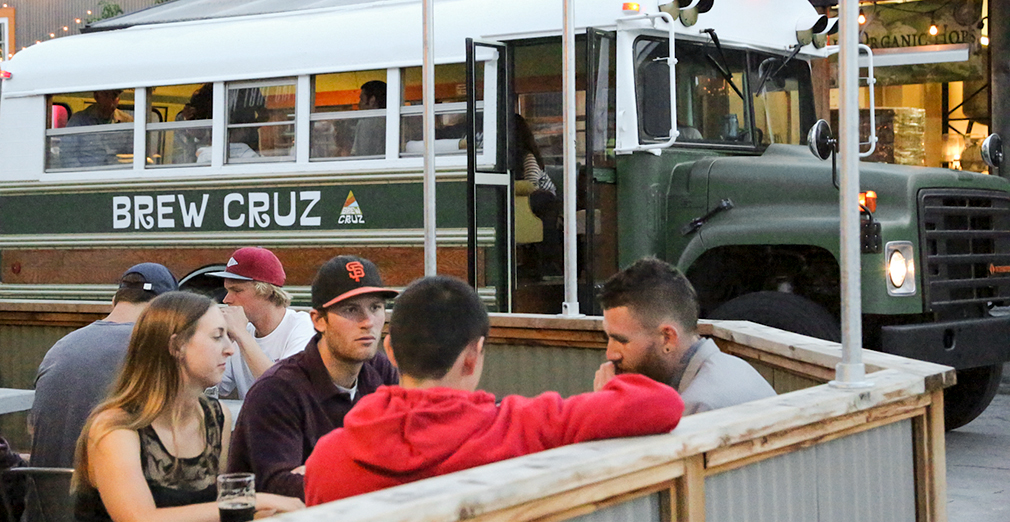 Describe the bus and the process?
"I found my 1989 International Bus while cruising Craigslist. The posting had been up for less than an hour, and I sent the owner my entire business plan hoping it would persuade him to sell it to me for $5,500. Turns out, I was the only one who'd replied, and it was mine if I wanted it. I hitched a one-way ride up to SoMa (South of Market district) in San Francisco, and learned how to drive it during rush hour downtown before joy-riding back down Hwy 1, singing the whole way at a top speed of 50 mph. The bus had originally been a working school bus in Charlotte, North Carolina before a family bought it and lived in it in Yosemite. It was then sold to the previous owner, who used it as his band's tour bus, before finally ending up with me. My Nannie, my grandmother, was a longtime Santa Cruz resident, and gifted me money to help start my business. Two months after I launched, she passed away. So, my bus is proudly named 'Betty Jane' after her. 'Slowboy,' our 1964 VW bus was purchased four years later. I knew I wanted another vintage vehicle, and was always enamored by the history of the microbus. My mechanic and I drove to Southern California and looked at three before Slowboy came up on a VW listing site, in Campbell, a mere 35 minutes away. The previous owner and his wife had picked it up off the side of the road in Colorado 27 years prior, and their son had nicknamed him 'Slowboy.' We kept the name (and custom license plate), and convinced the Dream Inn Hotel that their hotel was meant to have a VW Bus mascot. 'Slowboy' comes home for baths and maintenance, but lives at the hotel and has become quite the attraction for selfies with guests."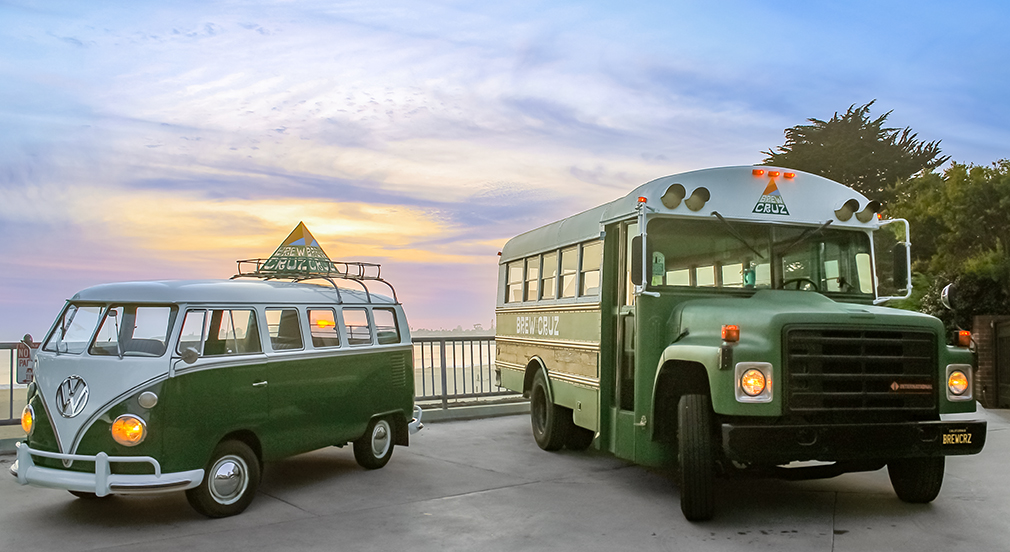 What's up next for Brew Cruz for 2023?
"The top priority for Brew Cruz in 2023 is to convert 'Betty Jane' to electric. With the new California Diesel Regulation Laws, we are restricted to under 1,000 miles annually since 'Betty Jane' is a vintage diesel bus. While we're happy to be back on the road, it is not sustainable long-term. If we can find help with a conversion, it will open the doors to all sorts of ideas we've been brewing."
Any funny stories along the way?"If I'd kept a notebook over the past eight years, I would have my own brewery tour version of Kitchen Confidential. There are countless hilarious, unforeseen, heartwarming, wild, tedious and sweet stories and memories that I've cherished, happily forgotten and learned from."