Two years ago, New Orleans, Louisiana native Angel Vu, owner of Blow Me Candle Co., packed up and moved west to California with her partner and daughter and changed her entire life and career. After stints in graphic design and the service industry for several years, Vu began seeking a creative outlet and ultimately started making candles in her own kitchen. The self-taught chandler has now amassed nearly 20 non-toxic and vegan scents and cheeky styles ranging from "Baguette About It," and "Go Smudge Yourself," to "Hit Me Baby One More Lime." "The goal was to be able to work from home doing graphic design, logos, and branding while the world was still shut down," explains Vu. "There was just one thing. I wanted really nice candles to burn while working from home, but did not have really nice candle money. I thought to myself, 'I could make my own candles and brand the entire thing to add to our design portfolio [my partner also does graphic design.]'"
Vu's hand-poured soy candles, along with her company name, are far from ordinary. "During the pandemic, everyone was just so on edge and taking everything extremely seriously so I thought it would be fun to use the name 'Blow Me Candle Co.,'" explains Vu. "I paired the brand name with candle names inspired by puns and song lyrics to get people to laugh or smile. Honestly if you get to know me, it's all very 'me' and I think that's why it's so easy to come up with fun scent names. My concept for the storefront was to create a workspace that mocked an open bakery. I wanted people to see the candles being made just like a baker making cupcakes in a shop with all the lovely aromas."
We caught up with Vu from her Santa Monica, California store on her journey how she got started, and what she's mixing up next.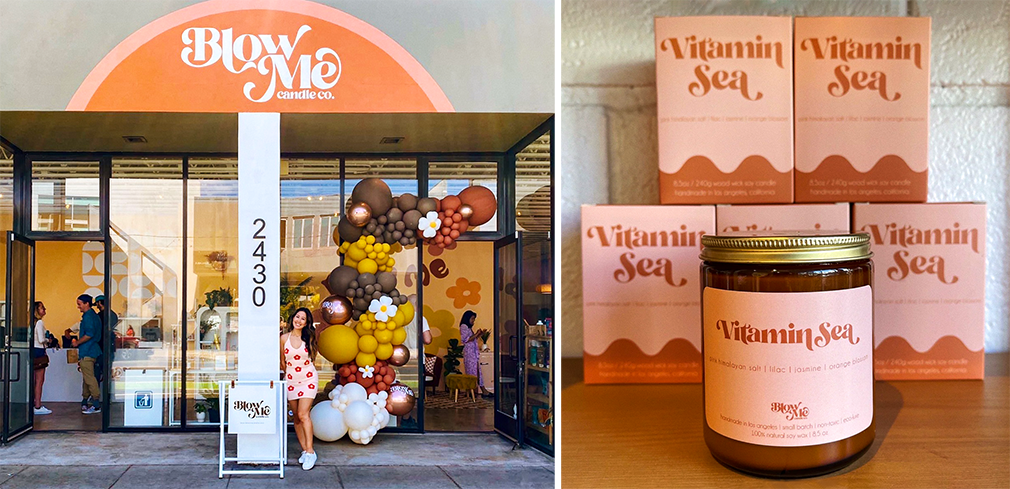 Take us back to the beginning.
I always felt that creativity could not be taught and was just something you either had or did not. I do plenty of freelance graphic design even without a degree. I also spent many years working in the service industry as a bartender, cocktail waitress, and even a DJ. I always held multiple jobs at the same time. Some of them included working as a vet tech, a lab technician, and also photography at one point. Trust me, I know that none of that sounds like it should go together. It wasn't until I started Blow Me that I found my own oddball puzzle pieces fitting together. I started off making all the candles in my kitchen apartment. Then the boxes started taking over and I moved into a very tiny office space where I grew my business for about 10 months. Blow Me quickly outgrew that space and in May of 2022, I moved into a huge space on Main St. in Santa Monica where every candle is still hand-poured."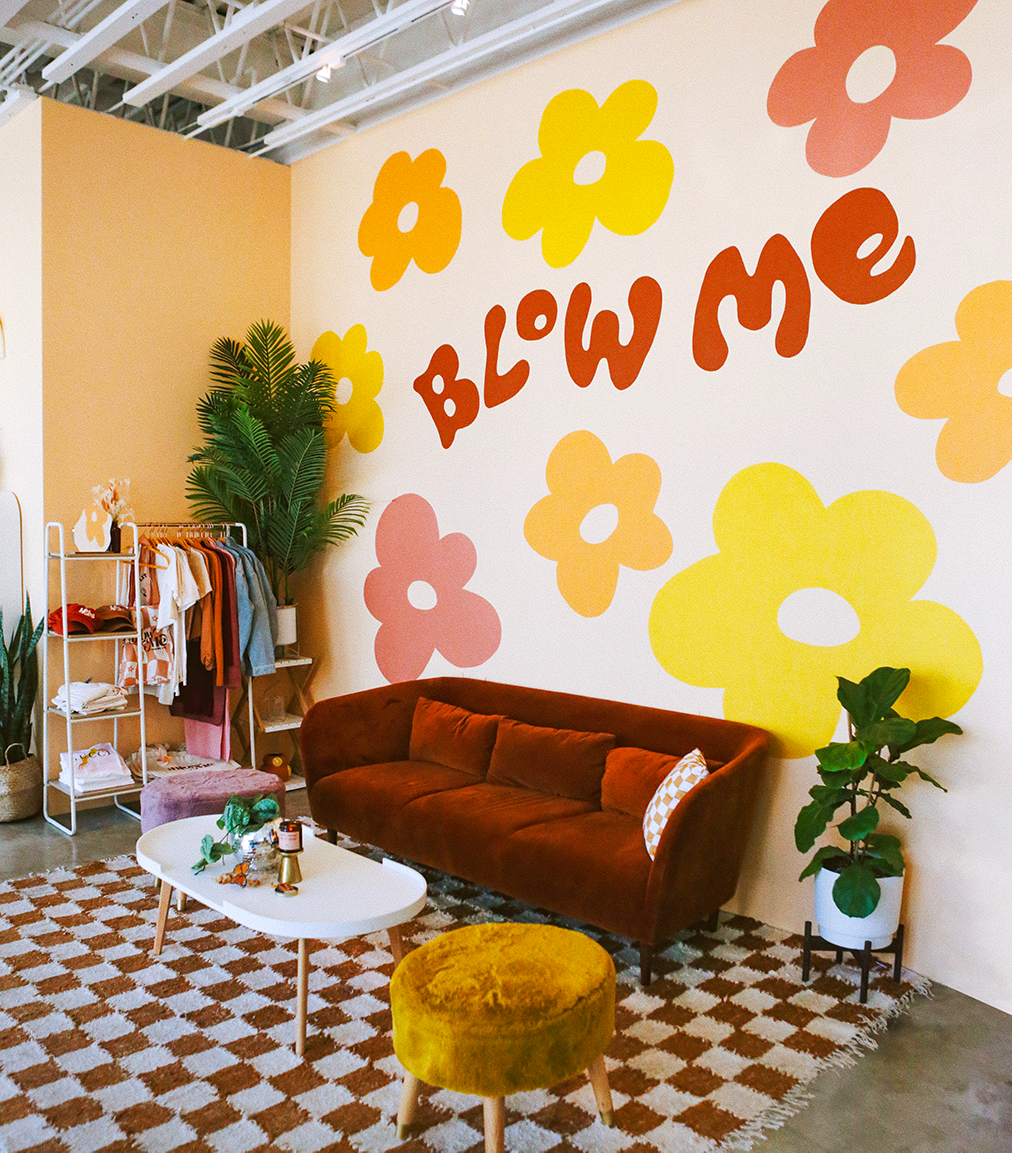 Your favorite scent?
"Milk & Honey+Lots Of Money is still my favorite to this day. This scent was one of the first ones that I created so it also holds sentimental value. It smells like the fanciest cinnamon toast crunch cereal you have ever had."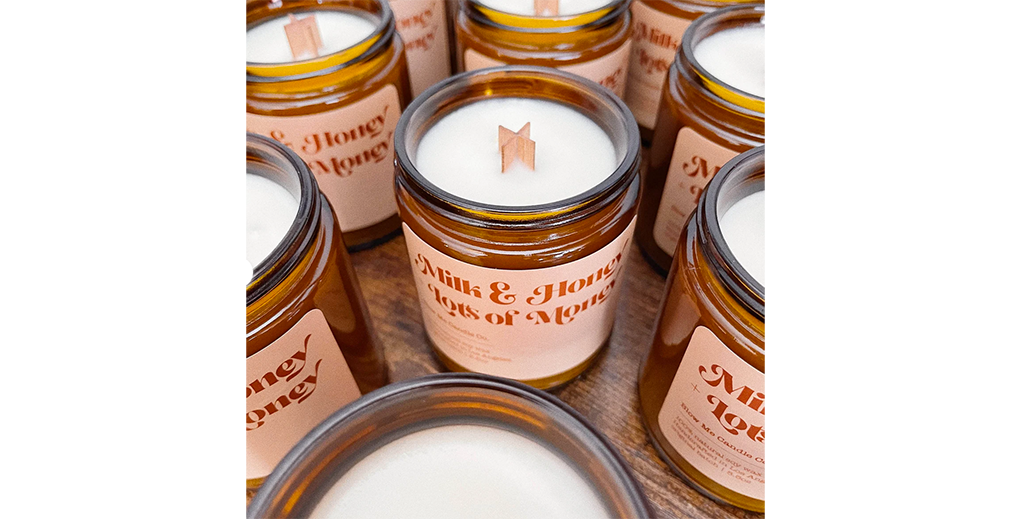 In-store highlights?
"I actually carry lots of other small businesses in our store. We have several local vendors that come in and curate their space. We love The Klay Shop. Owner Kyrstin Constantino makes clay jewelry and homeware. We also love Rosebud. They 3D print biodegradable plant-based planters. And, we also adore Dainty Jade. She makes gold-filled jewelry."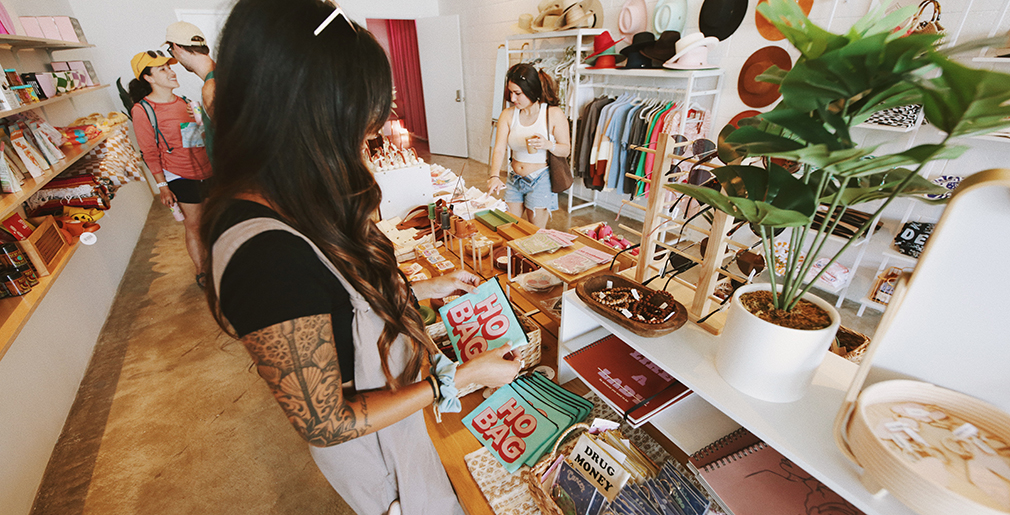 Your top job perk?
"I love that I get to create. I am a creator at heart and this business has let me do that to the fullest. I not only make the candles but I get to do graphic and packaging design and so much more without someone telling me what to do or how to do it."
Plans for this year?
"A big goal for 2023 is to hire more help. Last year I poured 11,000 candles by myself. I know that I am just getting started and don't want to plateau anytime soon. Another goal is to work with more brands and do more brand collaborated candles. We just launched a Skrewball Whiskey candle, Skrewing Around, which was really fun."