When Mark and Carrie (last names withheld to protect their privacy) started collecting art 12 years ago, they were simply two creatives attracted to art and on a journey of exploration. Carrie, an events producer, had gone to art school at Carnegie Mellon University, which made her "very familiar with art history." But, she notes, "Mark and I have learned so much more about art in the pursuit of collecting."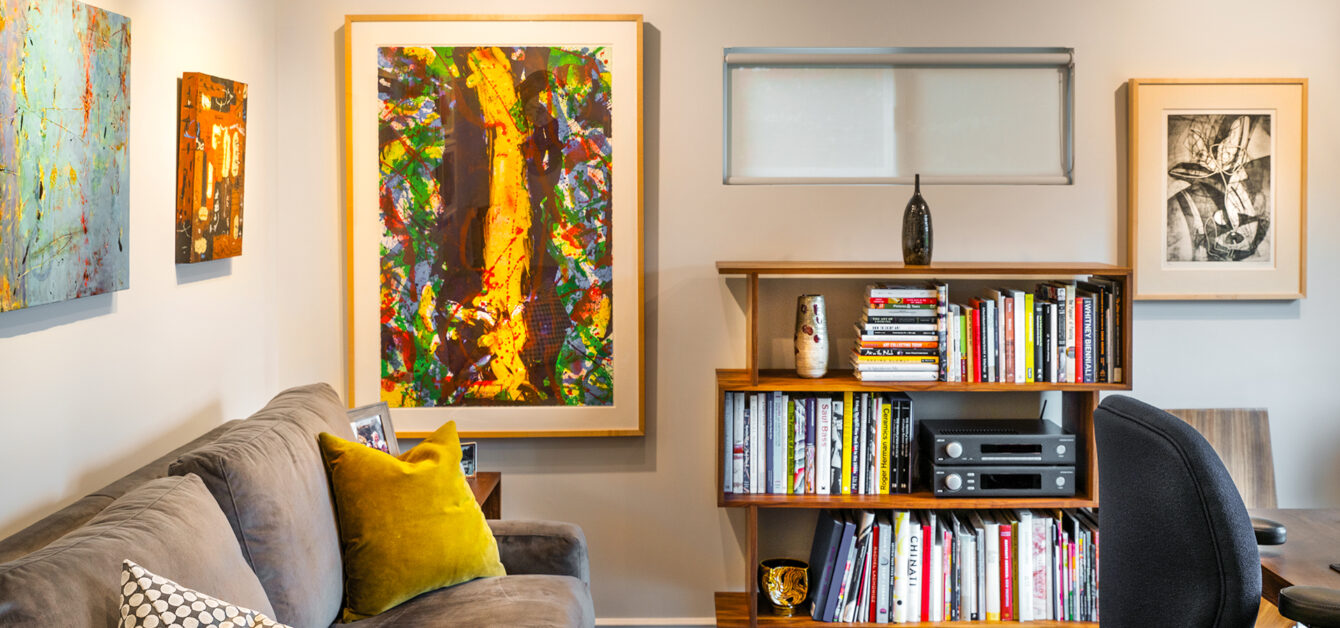 They started out buying modern master etchings, such as a Marc Chagall and a Joan Miró. Then as their tastes developed, they began to collect works of abstract expressionist painters.
"Abstract expressionism is a visual representation of an emotional experience, instead of trying to paint in a realistic way," says Mark. "It's not: I'm going to paint what I see. It's: I'm going to paint what I feel. And when I started looking at more abstract pieces, something switched on in me and it ultimately changed the way I view art."
From that moment on, the couple turned their attention to contemporary art and sculpture.
"It's almost like falling in love. You can't stop thinking about it. It takes over your psyche," explains Mark, who owns a commercial production company.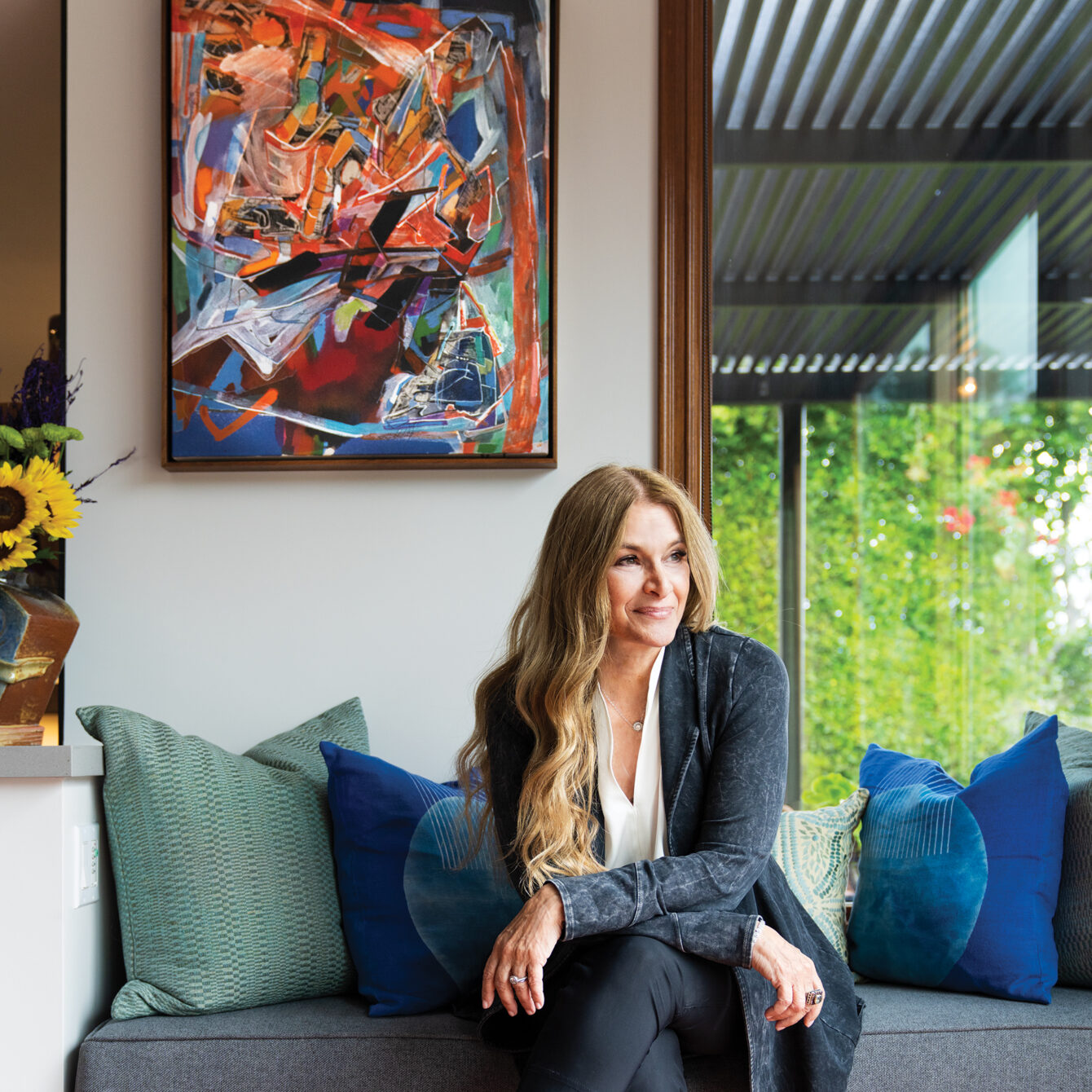 When they aren't visiting galleries like Bergamot Station in Santa Monica and LA Louver in Venice, they're scouring the internet or monitoring auctions. Sometimes it's just about the thrill of the hunt; other times they go after a purchase with wild abandon.
"It is really exhilarating when you bid on a piece at a lively auction. Carrie and I are like, 'Yeah!' when we 'win' a piece. And then the big letdown: when you realize you have to pay for it," Mark laughs.
There are times when a work gets on their radar and just stays there. Take, for example, the Willem de Kooning limited-edition lithograph that hangs by their front door. The couple first saw it in an Elle Decor magazine home feature. Several years later it resurfaced for sale in a New York gallery. The couple set up an appointment and went to see the litho, but it was too pricey. Then years later, Mark, who closely monitors happenings in the art world, spotted it in a Paris auction. And this time they bit.
The more than 30 artists displayed in the couple's sleek, light-filled home are impressive. They include Gronk (oil painting on panel), Robert Rauschenberg (paper pulp sculpture encased in an acrylic box) and Sam Francis (abstract etching).
Of the latter, Mark explains, "He was one of the most significant figures in abstract expressionism based in Los Angeles."
Among the most significant pieces in the home: two abstract expressionist works by Michael Goldberg, including a watercolor-oil-collage piece over the fireplace. Atop the fireplace mantel is a pair of sculptures by Roberto Lugo, whose works are on display at the Metropolitan Museum of Art in New York as well as LACMA.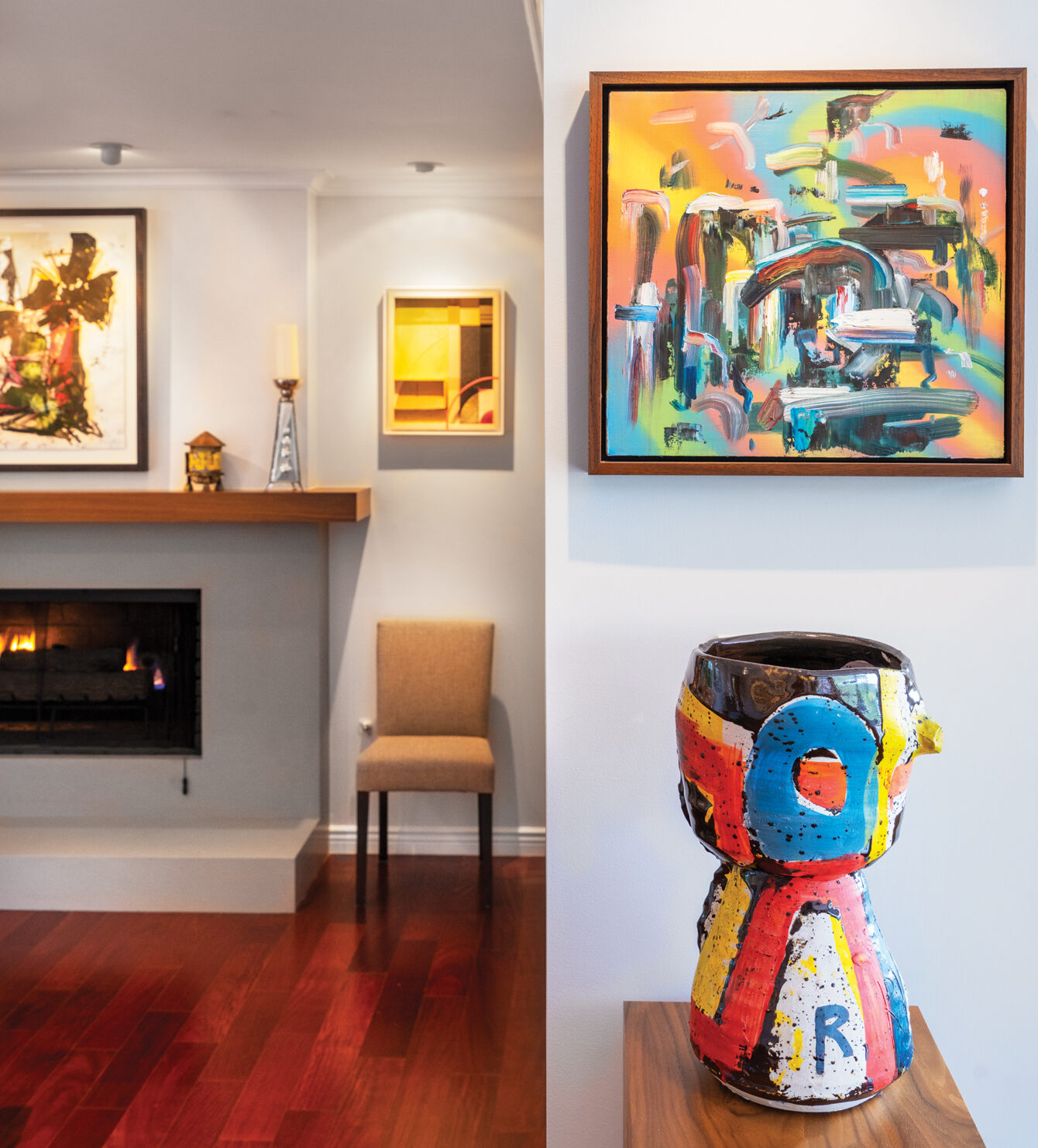 Two other significant pieces the couple points to are by painter-sculptor-printmaker Frank Stella and sculptor Richard Serra.
For Mark and Carrie, buying is a process that typically starts with a mutual attraction to color and texture. "We both have to look at it and go 'Yeah!'" explains Carrie.
If the feeling remains, they'll typically go look at the piece again. (They generally won't buy pieces without seeing them in person first.) Then, if still intrigued, they'll Photoshop a digital image of the art into a photo of the room where they would place it. Often, they make yet another visit to see the piece. They don't buy until they're certain the piece will stand the test of time—not in terms of investment, but rather their affinity for it.
"The act of collecting is 99% looking and only 1% buying art. We love the whole experience of it—learning about history, different places an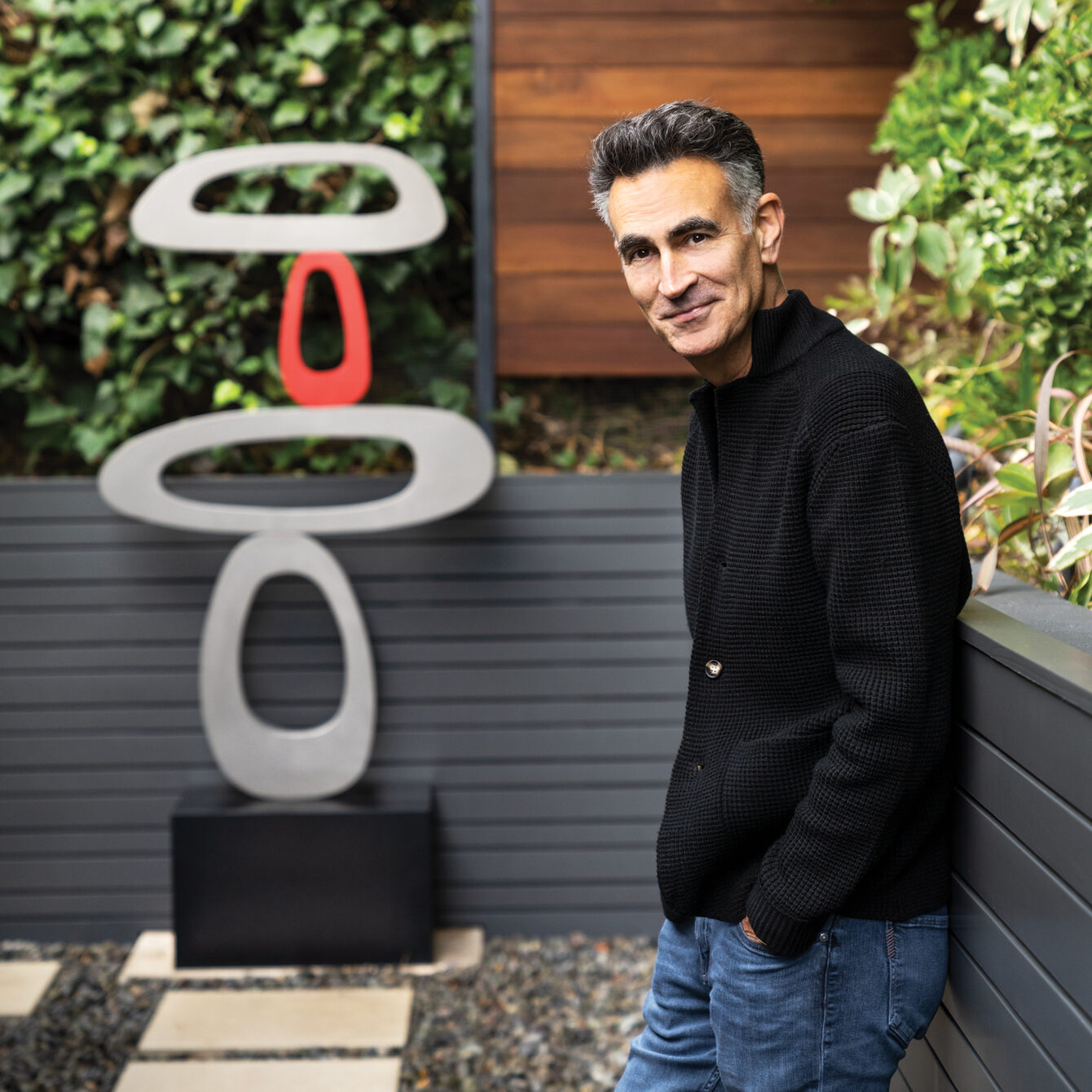 Despite the high-octane list of notable artists at their home, Mark and Carrie don't consider themselves art snobs.
"We have passion for art. We aren't trying to collect anything in particular in terms of an artist or style. We just buy what we love," shares Carrie, who works as an executive producer of live stadium shows.
As if to make a point, Carrie stands in her home office, gesturing to a row of paintings on a wall. She pauses on the last piece, a colorful oil painting of an old doorway, and quips, "This one here is honestly one of my favorites in this room. It wasn't done by a famous artist. It was done by a friend who paints, and I just love it."
The best part of collecting, they say, it getting to live surrounded by works of art that lift their spirits.
"We wake up every day and say, 'We can't believe we live here!'" Carrie says.
And then there's the added bonus of the way art changes one's perspective on life.
"The thing about living with art is that we are conditioned to see things in that way. A tree, an overpass, graffiti—it all looks like art now to us," says Mark.