While a cultural shift may be felt strongly at this moment, and rightly so, it's not the first time the dynamic shifted in the city's most famous neighborhoods. The Tenderloin was a Gold Rush-era residential community before it got its seedier reputation. The Castro welcomed waves of Russian, Scandinavian, Italian and Irish communities before it became home turf for the gay rights movement in the '60s and '70s. And only recently did Hayes Valley become a destination for trendy boutiques and Blue Bottle Coffee.
This brings us to The Mission … the large swath of the city, south of downtown, anchored by its beautiful namesake, Mission Dolores. Before the Spanish missionaries, the area was inhabited by the Ohlone people, who populated much of the San Francisco bay area. With the ranchos came the Spanish-Mexican inhabitants, but also Irish, Germans and Polish. It wasn't until the post war years that the area shifted again with the arrival of Mexican and Central American immigrants.
By the '70s, the landscape began to change again, attracting artists, musicians and non-conformists. This diverse blend of creative energy and the inherent Latino/Chicano population, sparked the creation of wall murals on the streets of The Mission. A mix of street art, activism and cultural identity, these murals not only expressed the artistic identity of their creators but also embodied the colorful, eclectic soul of the larger community. This tradition has survived generations, with new murals from new artists joining familiar images from Dolores Park to Van Ness.
While the murals remain consistent, the demographic is anything but. The Latino and Chicano families are leaving, outpriced in a neighborhood they lived in for generations. Their departure ricochets to the local Mexican businesses, who see a steady decrease in patronage. The artists and musicians can't swing the rent either, moving across the bay to Oakland where their buck goes a lot further. Such vacancy clears room for the young professionals, hip to the bike shops, decor depots and farm-to-table eateries springing up like dandelions in a cracked sidewalk.
Despite a shifting profile, the murals remain as vibrant and poignant as ever, storytelling the neighborhood's rich cultural and social history, hoping a stylishly dressed passerby will look up from her iPhone to take notice.
Photographer Monica Orozco walked around the Mission with her camera in hand and captured several of these art pieces, a small fragment of the incredible artistic investment in the area. Here we share those with a bit of history on the artist, the project and where to find the murals on your next visit.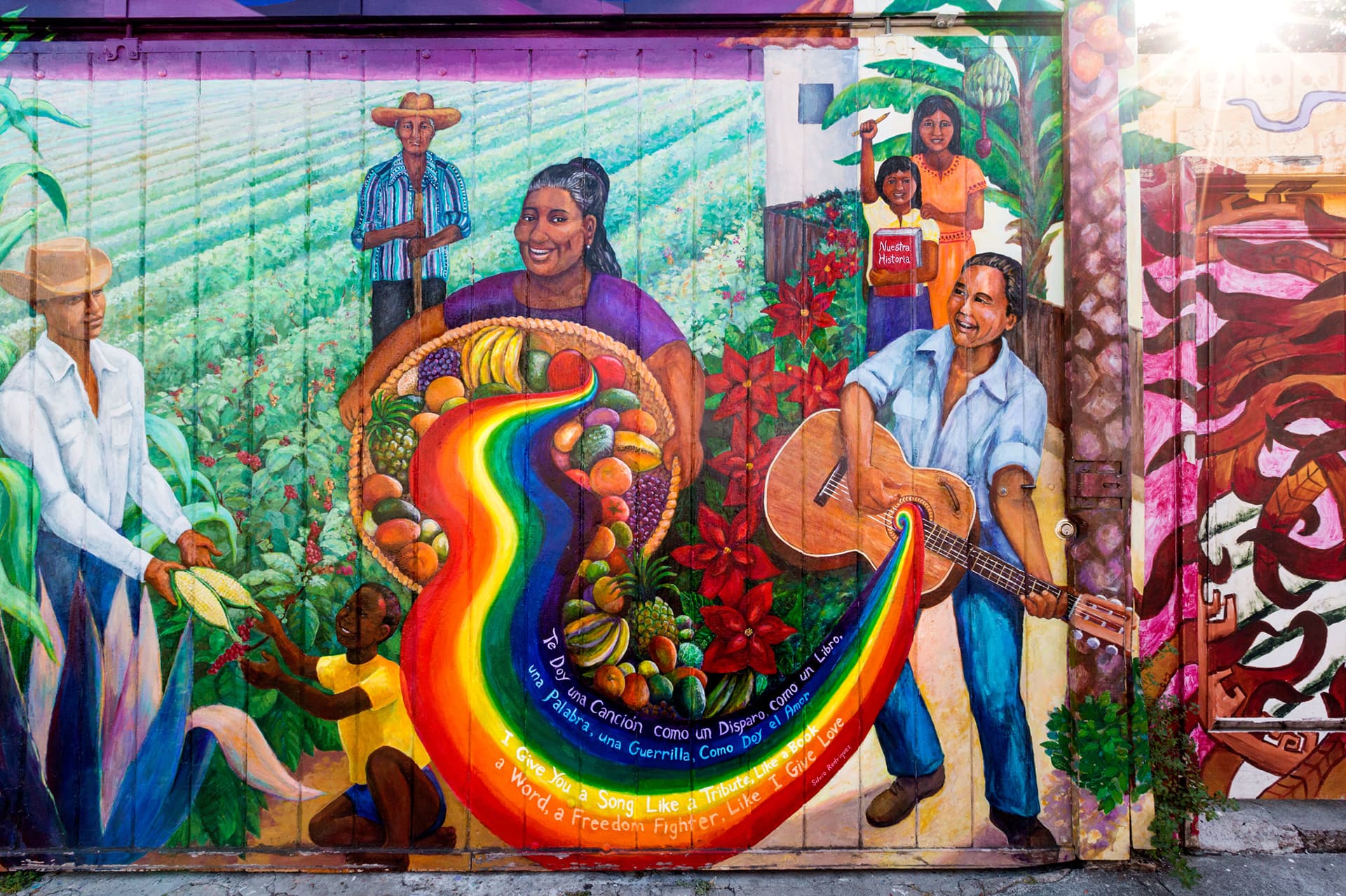 "La Cultura Contiene la Semilla de Resistencia que Resplendor"
("Culture Contains the Seed of Resistance that Blossom")
ARTIST: Miranda Bergman
LOCATION: Balmy Alley Off 24th Street, parallel to Treat Avenue and Harrison Street between 24th & 25th
Miranda Bergman is a contemporary muralist and one of the seven women artists who in created the MaestraPeace mural, the largest mural in San Francisco. According to Miranda, "In 1984, more than 30 artists and activists came together to form the project PLACA, to demonstrate—in visual terms—our opposition to our government's wars of intervention in Central America and our solidarity and respect for the people from these nations, who were arriving in San Francisco's Mission District by the thousands as exiles from these wars. PLACA transformed the neglected Balmy Alley, in the heart of the Mission, into an incredible outdoor art environment. Our mural, 'Culture Contains the Seed of Resistance that Blossoms into the Flower of Liberation,' is the last remaining complete mural from 1984."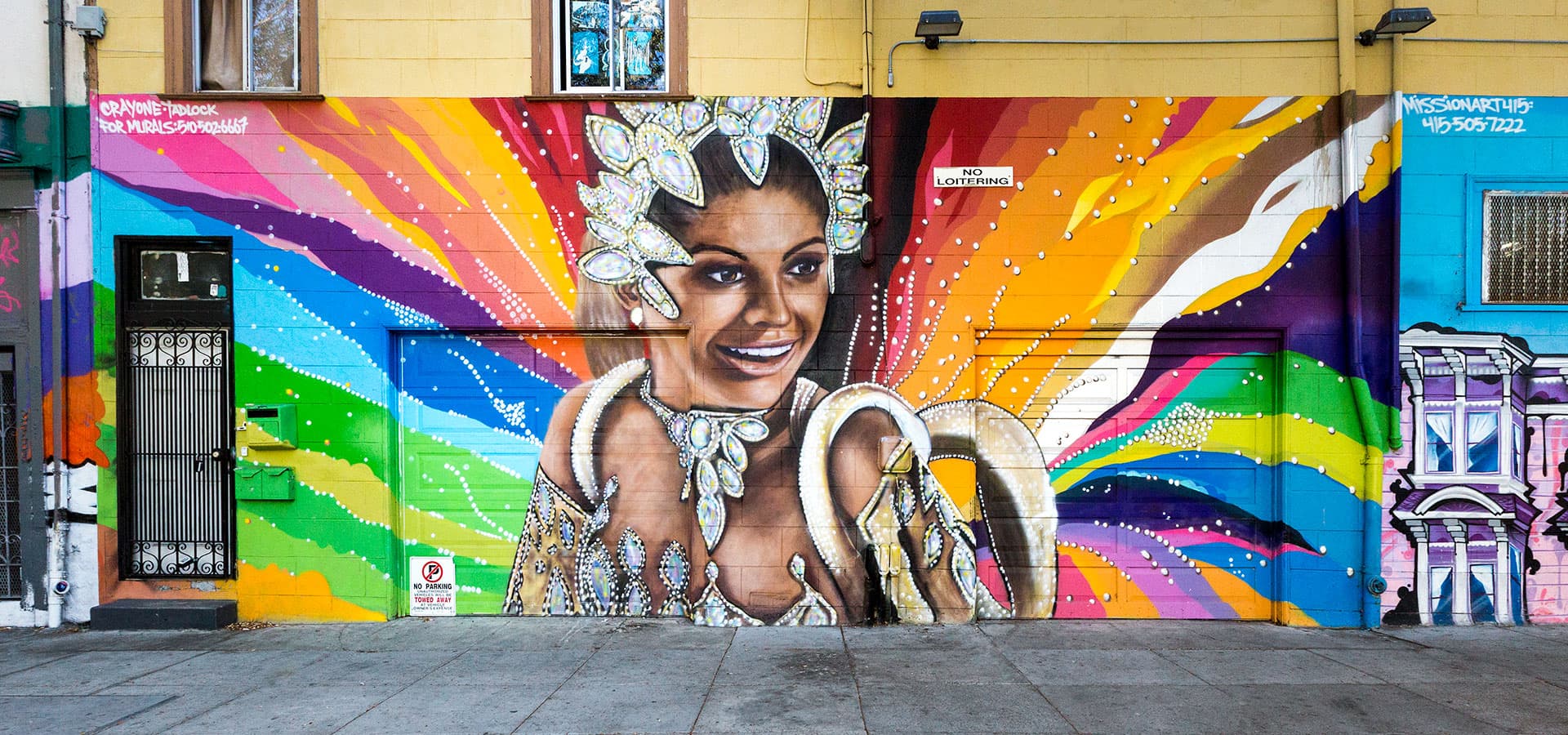 "Carnival"
ARTIST: Rigel "Crayone" Juratovac and Alexander Tadlock.
LOCATION: Folsom at 4th Street
Rigel Juratovac was born in Manhattan, N.Y., in Greenich Village to a Korean Mother and Yugoslavian Father. "I also go by the street name of 'Crayone,' and I am considered to be a Bay Area Graffiti Art Pioneer," he says. "To my peers I am known as a person who brought the use of intricate colors and skillful technique to my 'spray can art' pieces. My legendary crew called TWS (Together With Style) has brought world wide recognition and was known as the crew who invented New Wave. New Wave was an attempt at coining certain individuals who were trying to take spray can art to the next level of technique, color and style."
Alexander Tadlock, born in California and raised in the different regions of Mexico, has been greatly influenced by the exposure to diverse cultures that have enriched him with a world vision for visual arts. The extensive art culture the urban artist possesses has resulted from his eagerness to stimulate positive changes in social behavior through his artwork.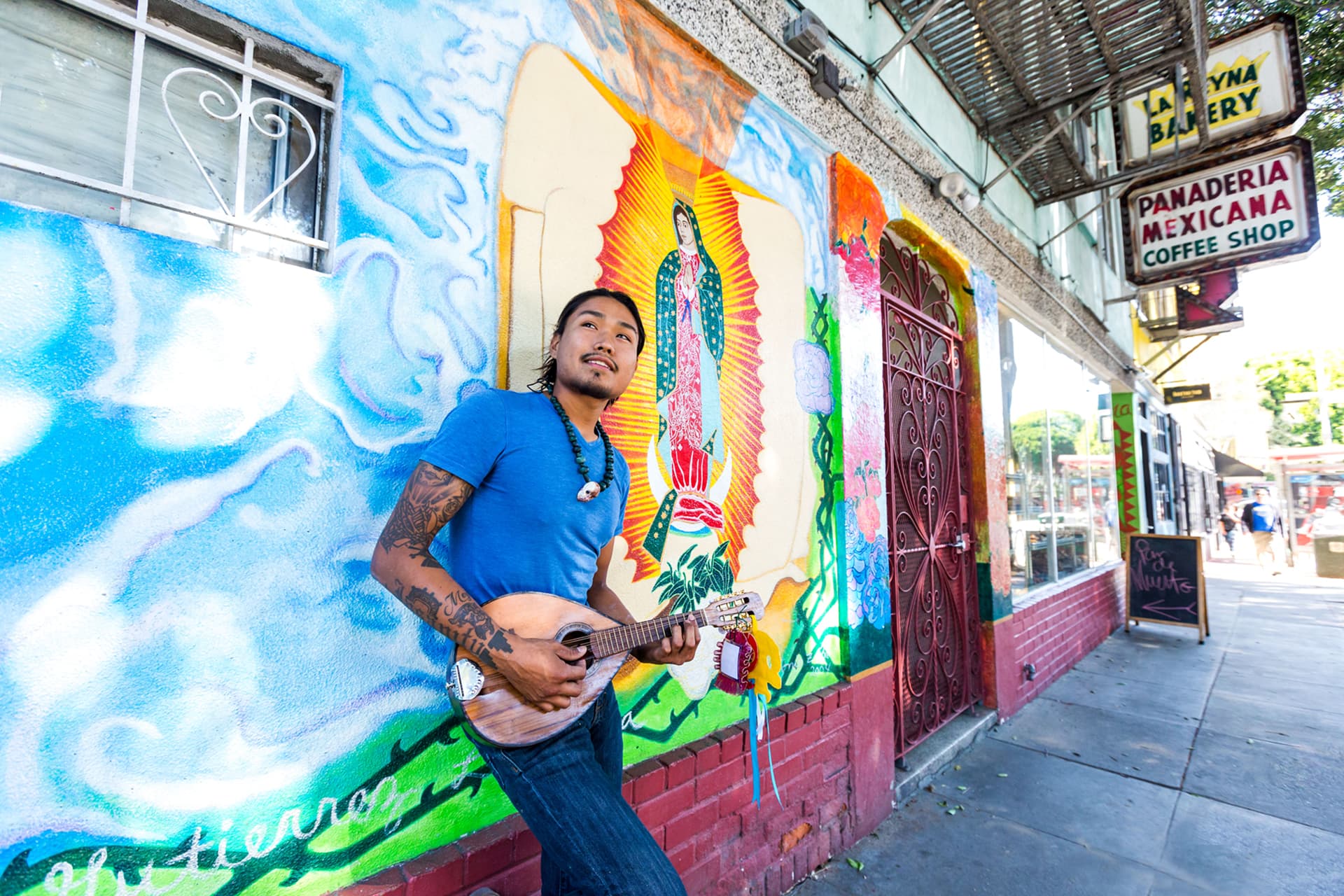 "La Reyna"
ARTIST: Antonio Z. Chavez
LOCATION: La Reina Panaderia, 3114 24th Street
Chino Guillen places music in front of the mural of Our Lady of Guadalupe that adorns this Mexican bakery, one of the many local business to suffer as families get priced out and/or depart the neighborhood.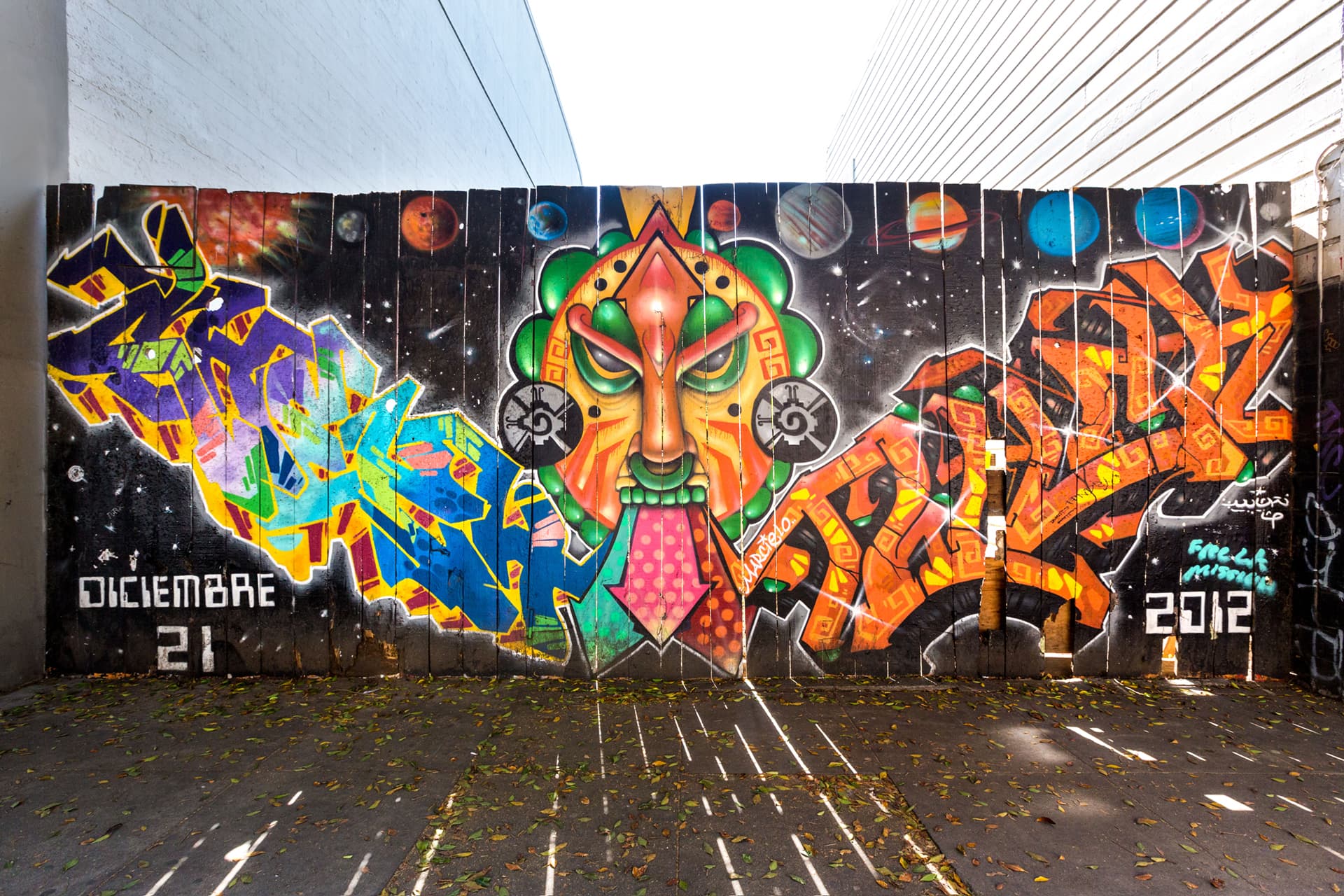 "December 21, 2012"
ARTIST: Marcielo, Twick and Cheph
LOCATION: 24th Street & York Street
ARTIST: Not found
LOCATION: At the corner of Cypress Alley at 24th between Mission & Van Ness
"The Urbanist"
ARTIST: Isaias Crow
LOCATION: Corner of 24th and Capp
Isaias Crow, birth name Gibran Isaias Lopez, was born on June 8th, 1978 in El Paso, Texas, and raised in both El Paso and Juarez, Mexico.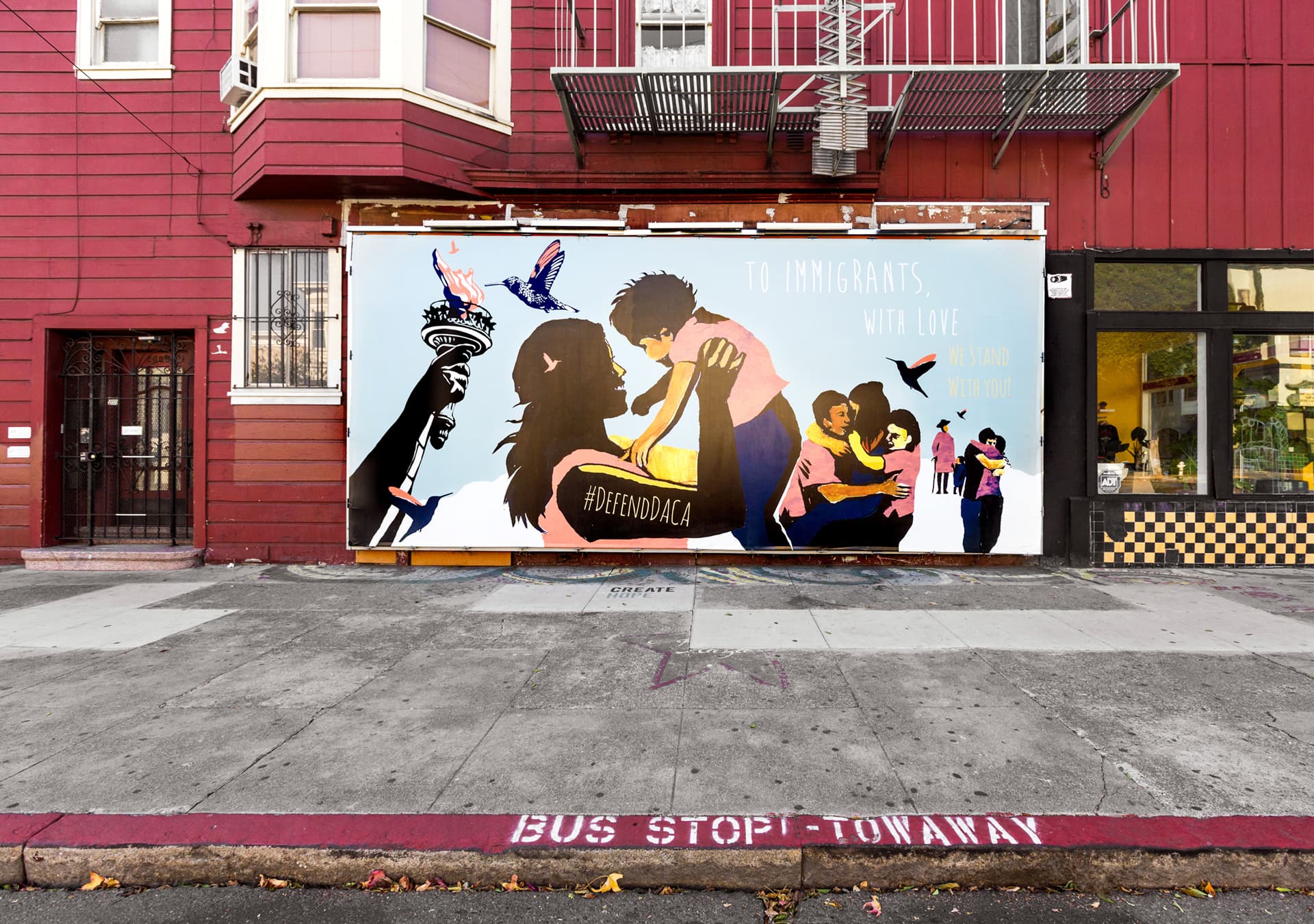 "To Immigrants with Love"
ARTISTS:  Jess X. Snow and Roger Peet
LOCATION: Corner of Bryant Street at 24th Street
Justseeds artists Jess X. Snow and Roger Peet recently collaborated on an image to promote the #toimmigrantswithlove campaign, an online effort to encourage people to reach out to the immigrants in their lives and express their love and support. "It was a fun collaboration—and relevant to both of us, as immigrants," they share. "We had some interesting discussions about symbolism, and about why it is that people still want to come to this country. We both spend most of our intellectual and political energy on critique of the so-called United States, and it's interesting to take a moment to think about why it remains a beacon of hope and opportunity for so many around the world. It's something to live up to, even amid all of the horror and the realities of history."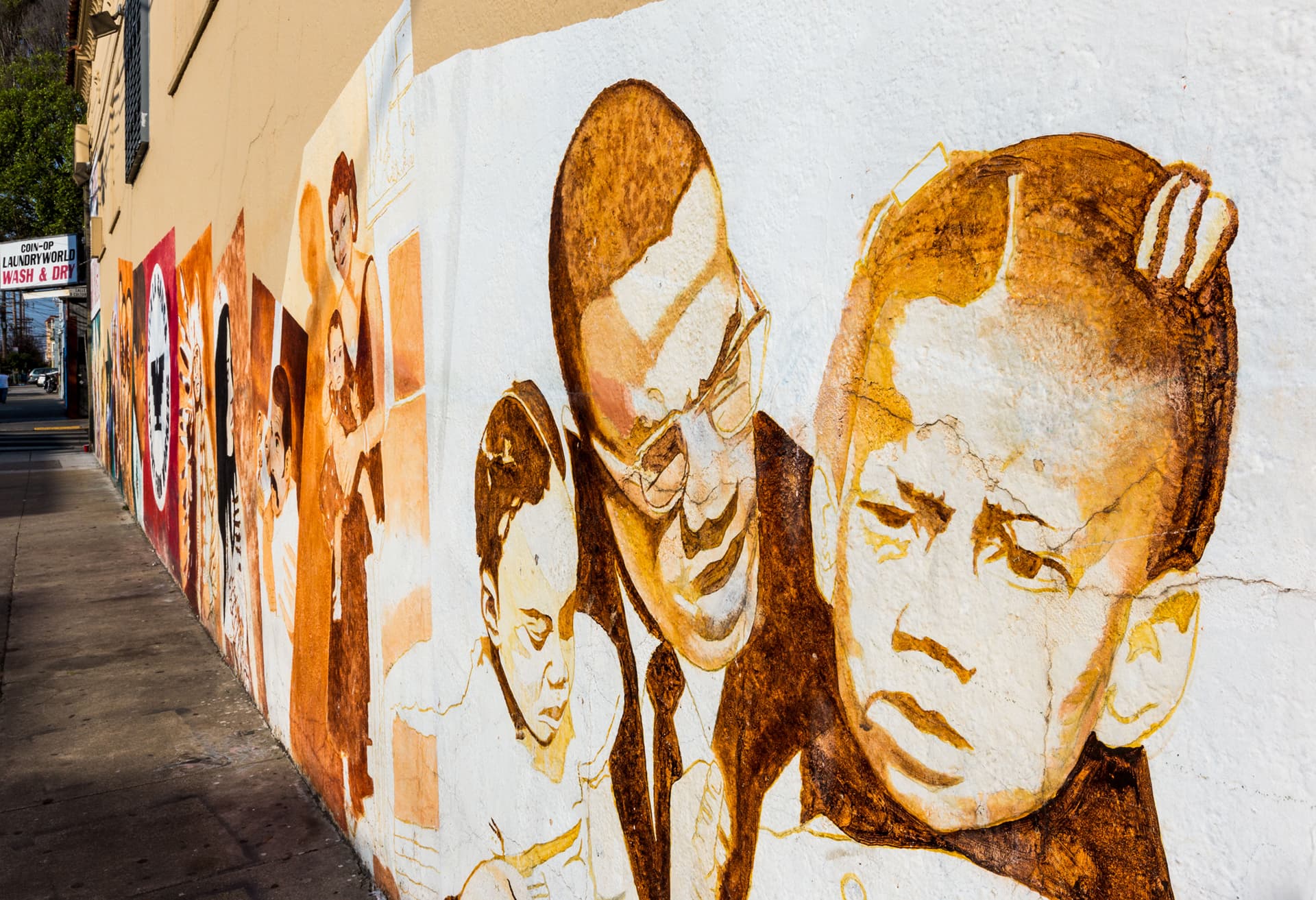 ARTIST: Not found
LOCATION: On the side of a Laundromat on York and 24th Street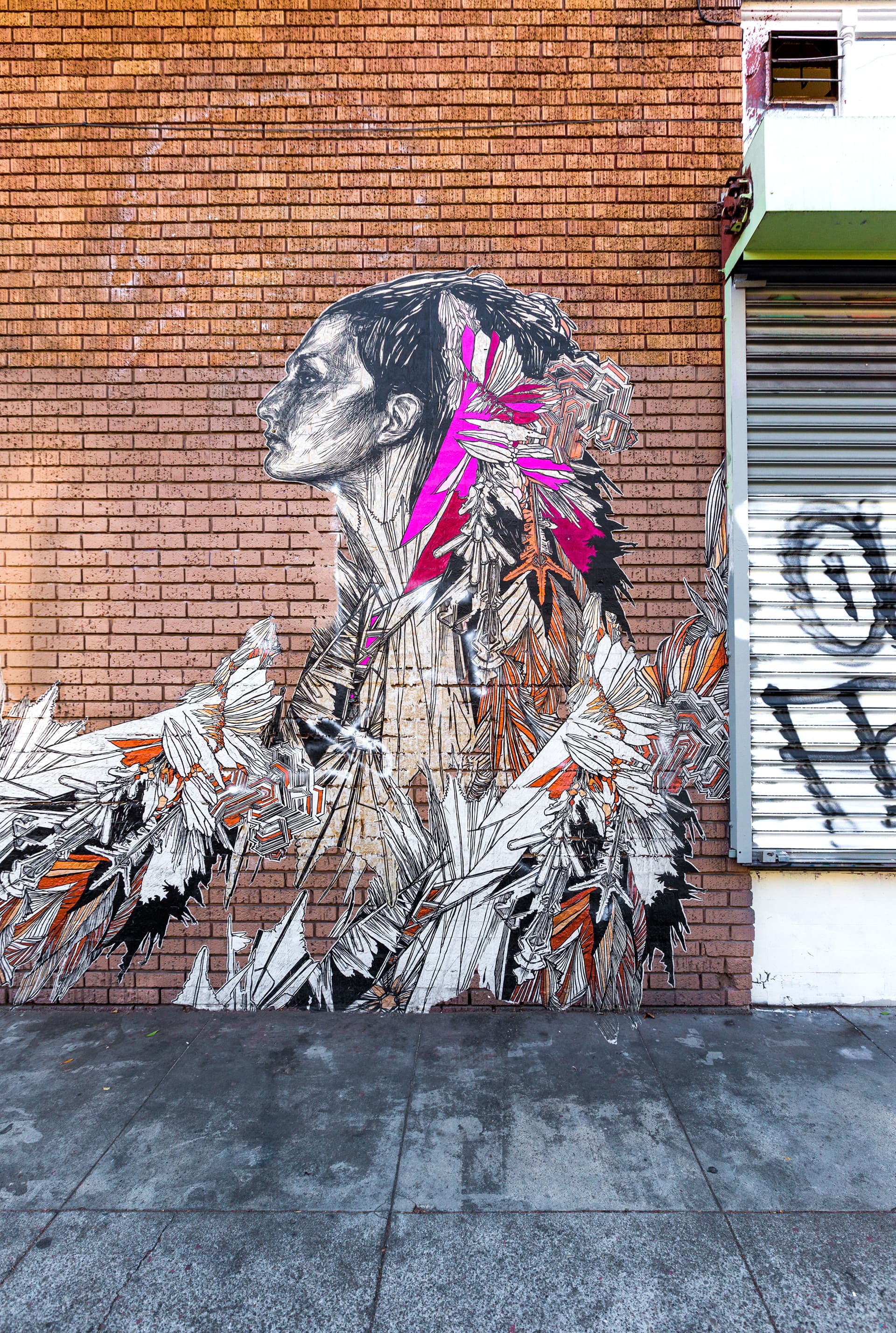 "Ice Queen"
ARTIST: Caledonia Dance Curry (Swoon)
LOCATION: Zheng's Cleaners corner of 24th and Hampshire Streets
Caledonia Curry, who exhibits her artwork under the name Swoon, is a classically trained visual artist and printmaker who has spent the last 14 years exploring the relationship between people and their built environments. Her early interventions in the urban landscape took the form of wheat-pasting portraits to the walls of cities around the world, and her public practice has expanded to using art to rebuild communities and humanize today's most pressing social and environmental issues. She co-founded Konbit Shelter in 2010, an artist's response to the devastating earthquake that struck Haiti that same year. Other community-based endeavors include collaborating on the construction of musical architecture in New Orleans and a neighborhood revitalization project in North Braddock, Pa. Alongside her place-based work, she has a studio practice of drawing, printmaking, architectural sculpture and installations. Curry's work has been collected and shown internationally at galleries and museums, including the Museum of Modern Art, New York; the Brooklyn Museum; the Institute of Contemporary Art, Boston; and the São Paulo Museum of Art.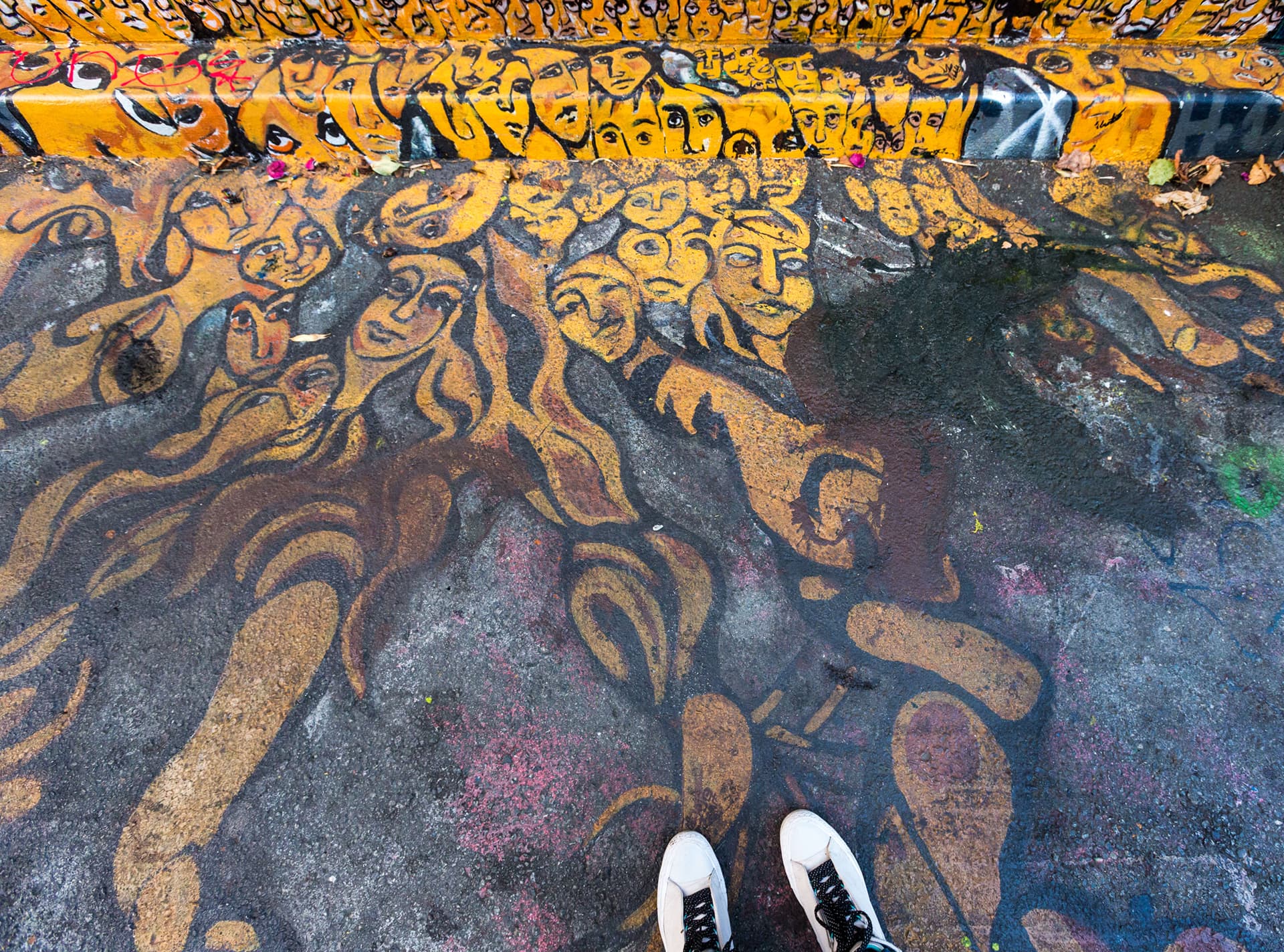 ARTIST: Not Found
LOCATION: Clarion Alley at Mission Street
Throughout its history Clarion Alley Mural Project (CAMP) has used public art as a force for those who are marginalized and a place where culture and dignity speak louder than the rules of private property or a lifestyle that puts profit before compassion, respect and social justice.
Clarion Alley runs one block (560-ft. long and 15-ft. wide) in San Francisco's inner Mission District between 17th & 18th and Mission and Valencia streets. Clarion Alley Mural Project (CAMP) was established in 1992 by a volunteer collective of six residents/artists–Aaron Noble, Rigo 92, Sebastiana Pasztor, Michael O'Connor, Mary Gail Snyder and Arcely Soriano–who were inspired by the murals of Balmy Alley that began in the early-1970s as an expression of artists' outrage over human rights and political abuses in Central America and focused on Central American social struggles.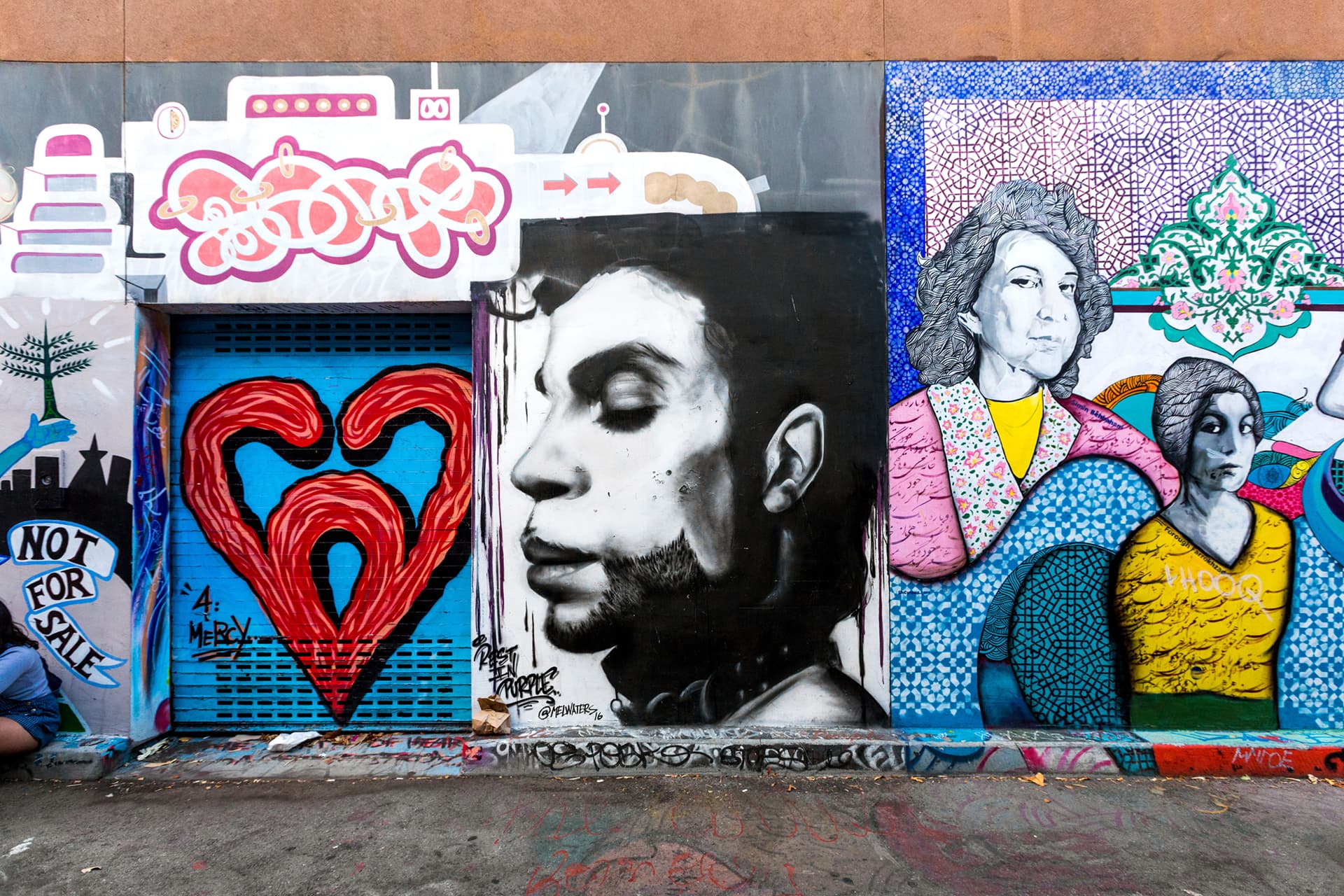 // middle // "Rest in Purple"
// right // "Forough Farrokhzad, Simin Behbahani and Simin Daneshvar"
// left//
ARTIST: Not Found
// middle//
ARTIST: Mel Waters
//right//
ARTISTS: Shaghayegh Cyrous  and  Keyvan Shovir aka "CK1"
LOCATION: Clarion Alley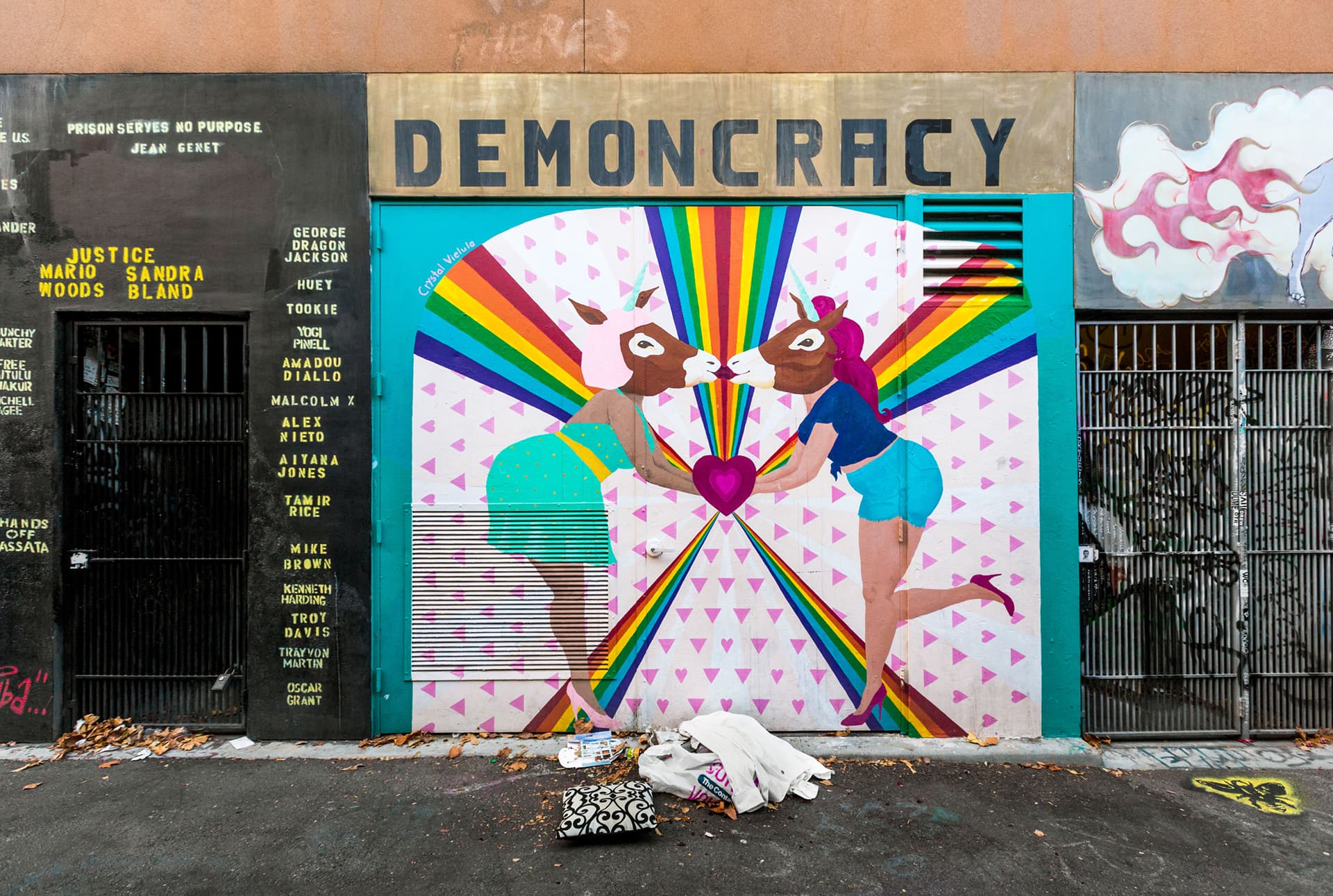 "A Couple"
ARTIST: Crystal Vielula
LOCATION: Clarion Alley, an alleyway covered in murals (between Mission and Valencia/17th and 18th streets)
Crystal Hermann is an artist, fashion and costume designer living and working in San Francisco. She graduated with a BFA in Fashion Design from the California College of the Arts. She currently teaches fashion, sewing, painting and drawing to school age students in the Bay Area.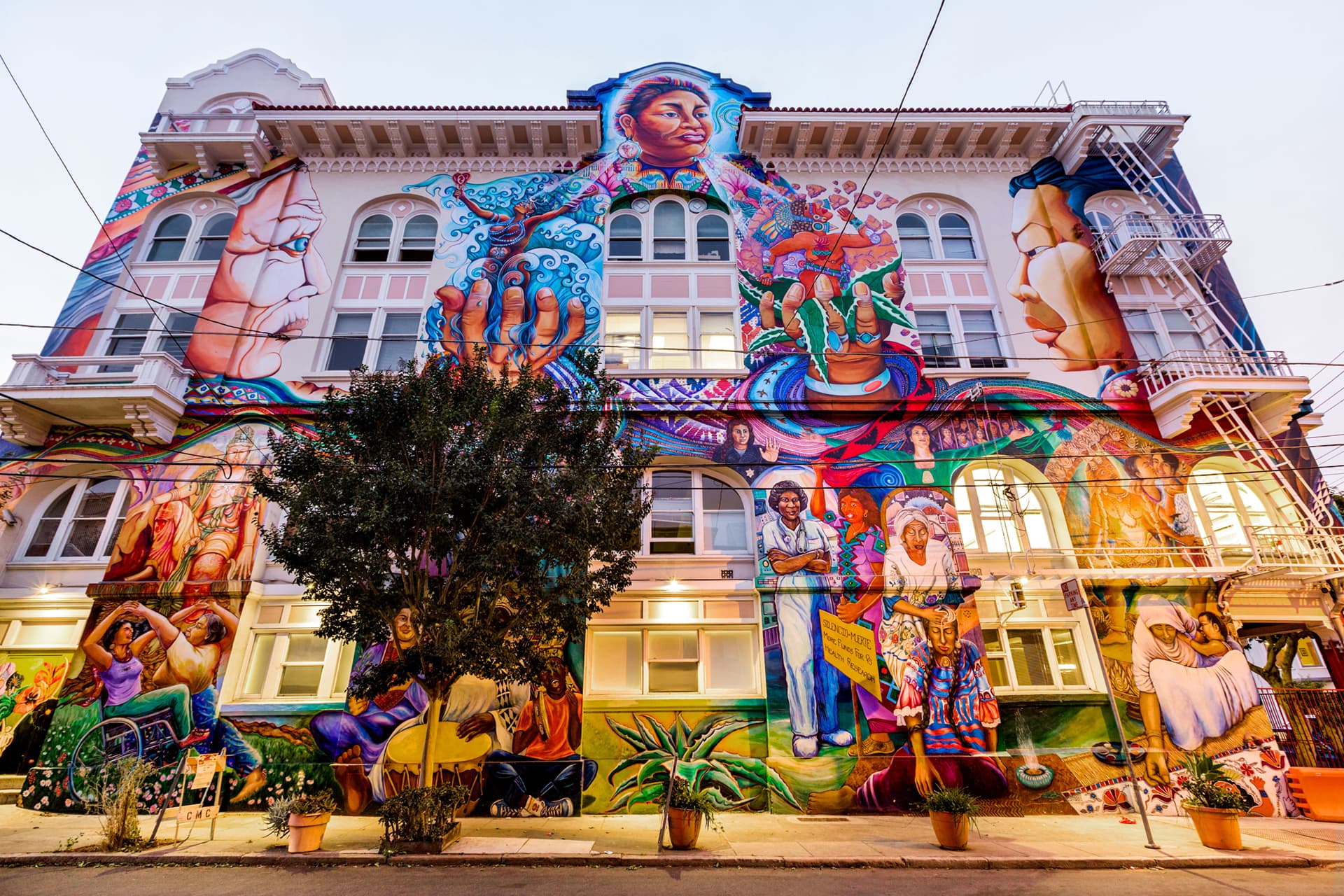 "MaestraPeace"
ARTISTS: Mural was painted in 1994 by a "Who's Who" of Bay Area muralists: Juana Alicia, Miranda Bergman, Edythe Boone, Susan Kelk Cervantes, Meera Desai, Yvonne Littleton and Irene Perez
LOCATION: The Women's Building, 3543 18th Street
One of San Francisco's largest and best known murals, MaestraPeace and serves as a visual testament to the courageous contributions of women through time and around the world.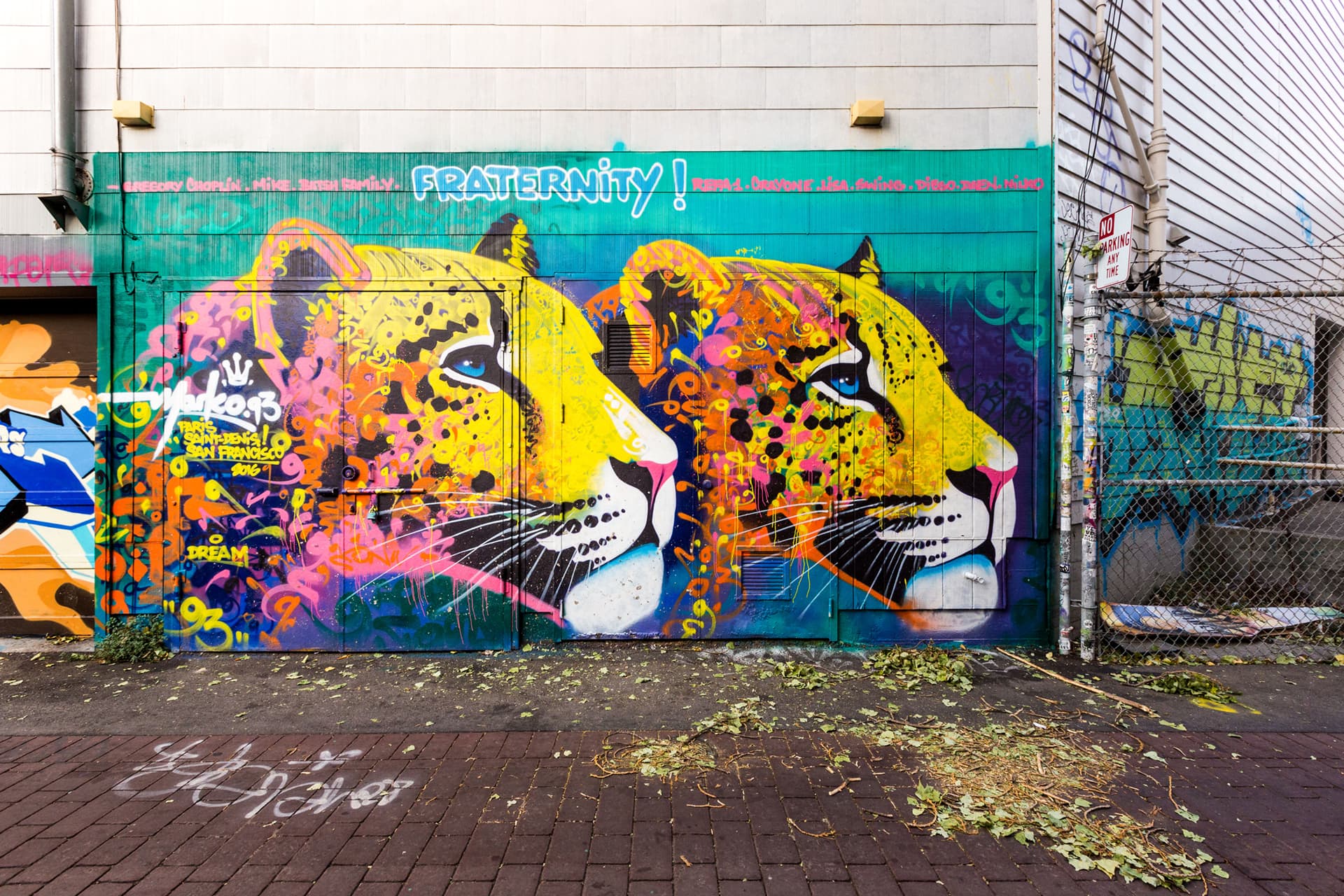 "Two Jaguars" 
ARTIST: Marko-93
LOCATION: Lilac Alley at 24th Street
Marko93 grew up in Saint-Denis, a historical, strongly working class suburb North of Paris. It was here where he laid down his first strokes. In the late 1980s, the hip hop movement emerged onto the scene and rapidly laid roots in big cities and suburbs. Marko embraced graffiti as his means of expression. It was the time of city walls, wastelands and railway tracks. Marko93 painted and bombed there, revealing slices of the suburban life where he lived. Big letters entangled, realistic scenes, caricatures or freestyle pieces, he was learning to master all the techniques of the urban art form.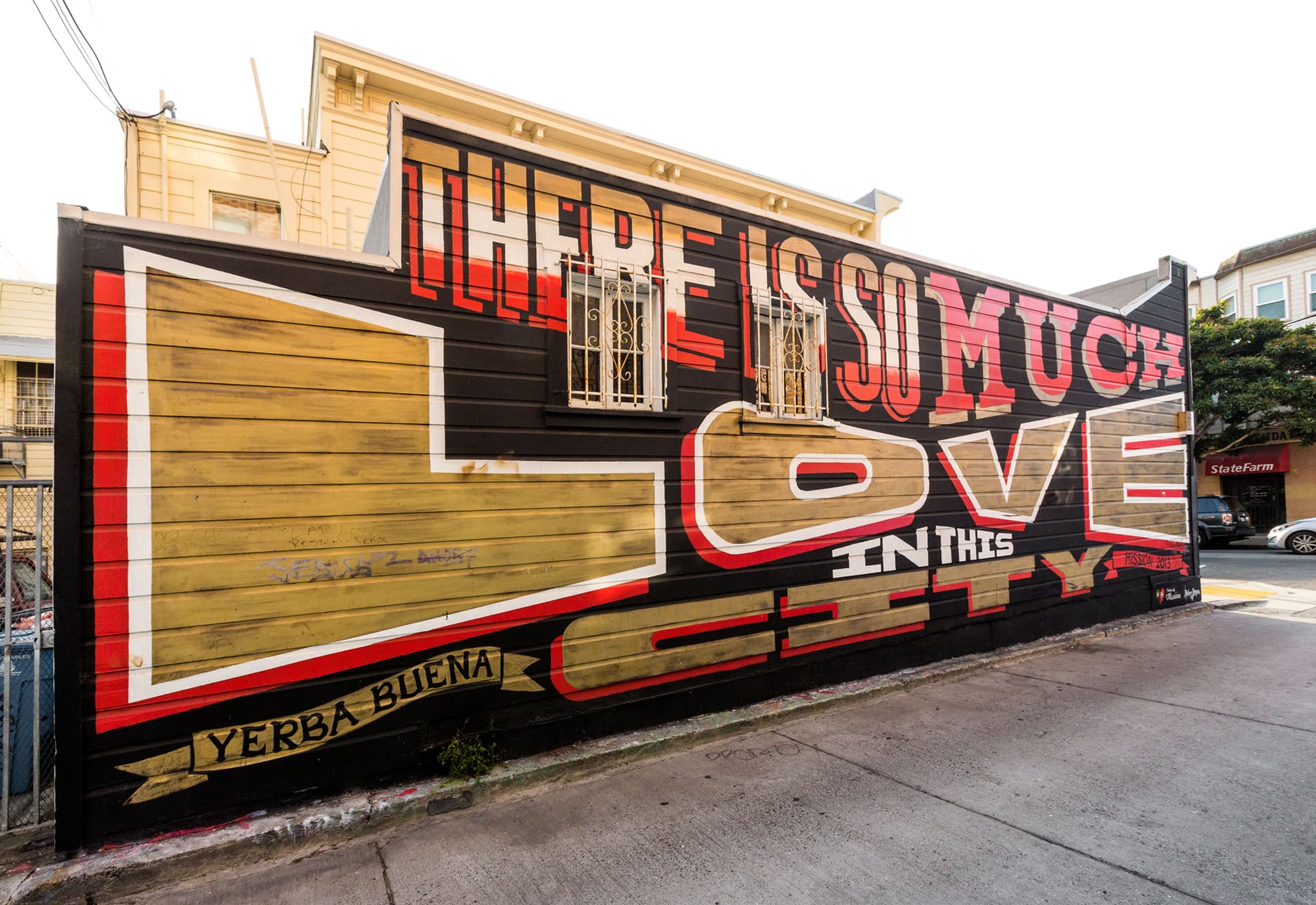 "There Is So Much Love in the City"
ARTIST: Nolan Jones and Pablo A. Medina
LOCATION: Osage Alley at 25th Street
This typography mural was painted in the Mission District over the course of seven days. The goal of the project was to instill pride among the neighborhood's residents.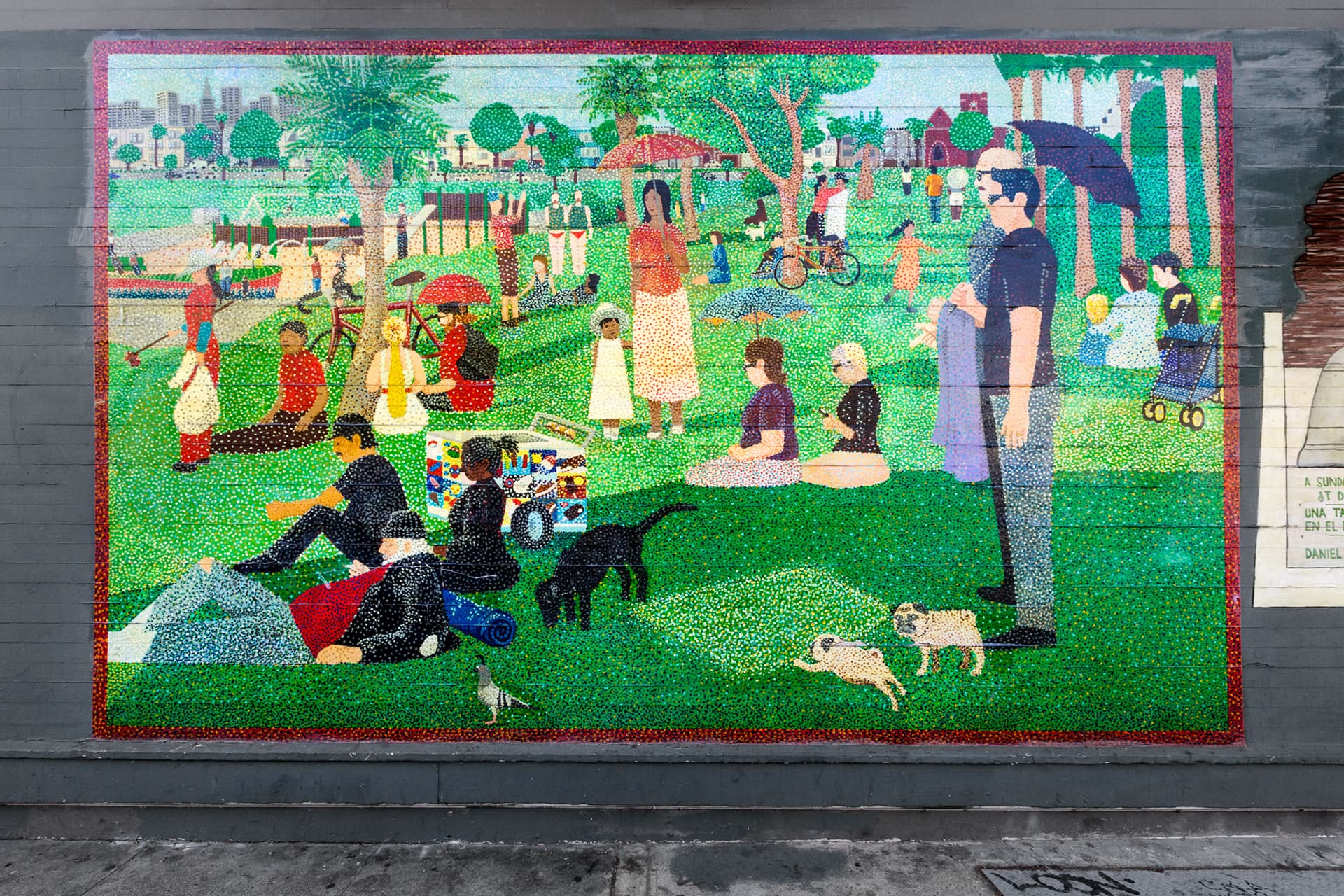 "Sunday Afternoon at Dolores Park"
ARTIST: Daniel Doherty
LOCATION: 19th Street near Guerrero
Daniel Doherty is a San Franciscan street artist. He is widely known for creating graffiti murals in the Mission District. Clarion Alley Mural Project participates in spreading awareness of heroes worldwide.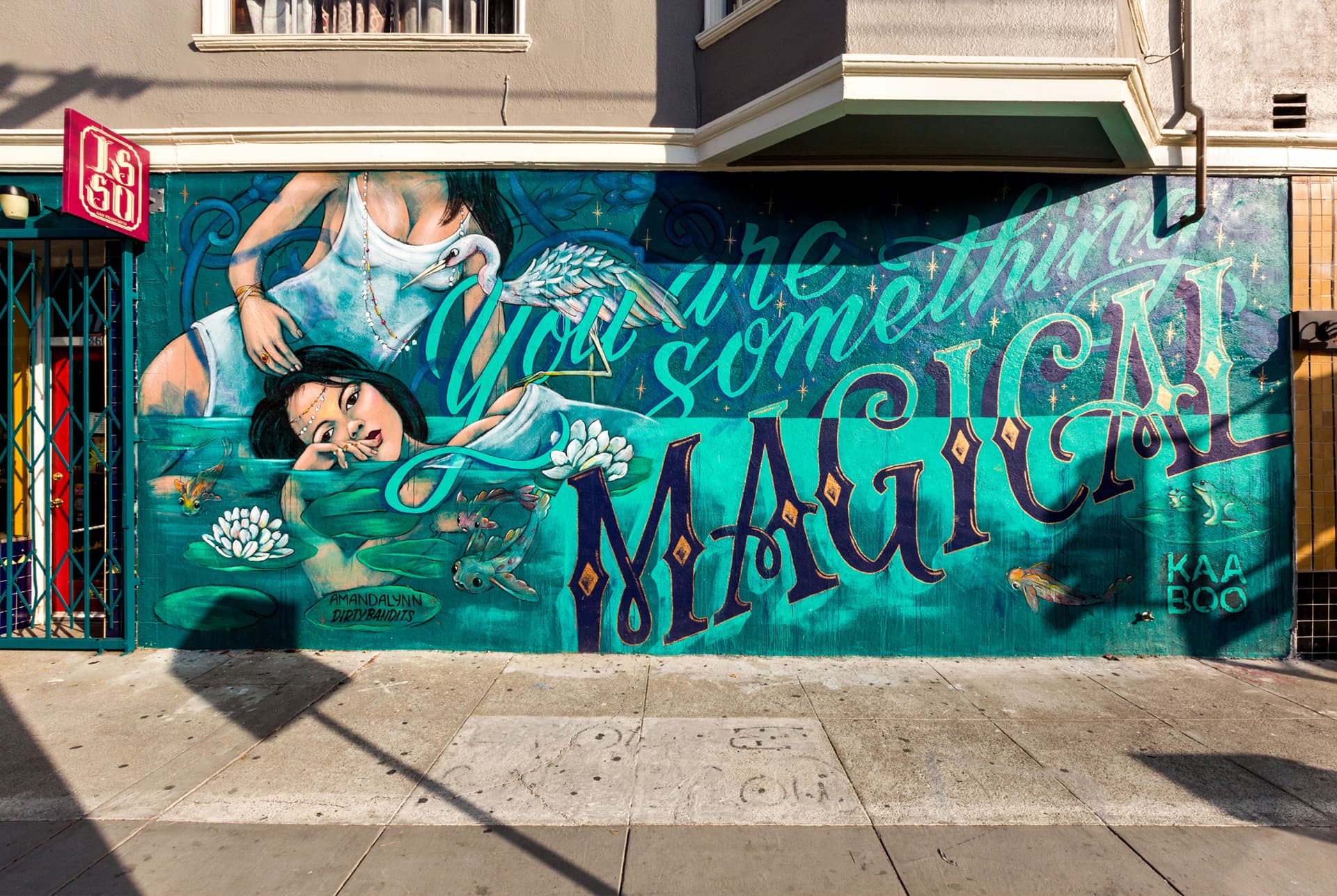 "You Are Something Magical"
ARTISTS: Dirty Bandits with Amanda Lynn
LOCATION: On the side of ISSO, a shop on 19th Street at Guerrero Street
Dirty Bandits is a small, Brooklyn-based design firm specializing it typography, lettering and illustration run by Annica Lydenberg. Work done by Dirty Bandits is fueled by Annica's deep appreciation for type, her interest in storytelling and dedication to brands and individuals working for social good.
"Santana Mural"
ARTIST: Mel Waters
LOCATION: 19th Street at Mission Street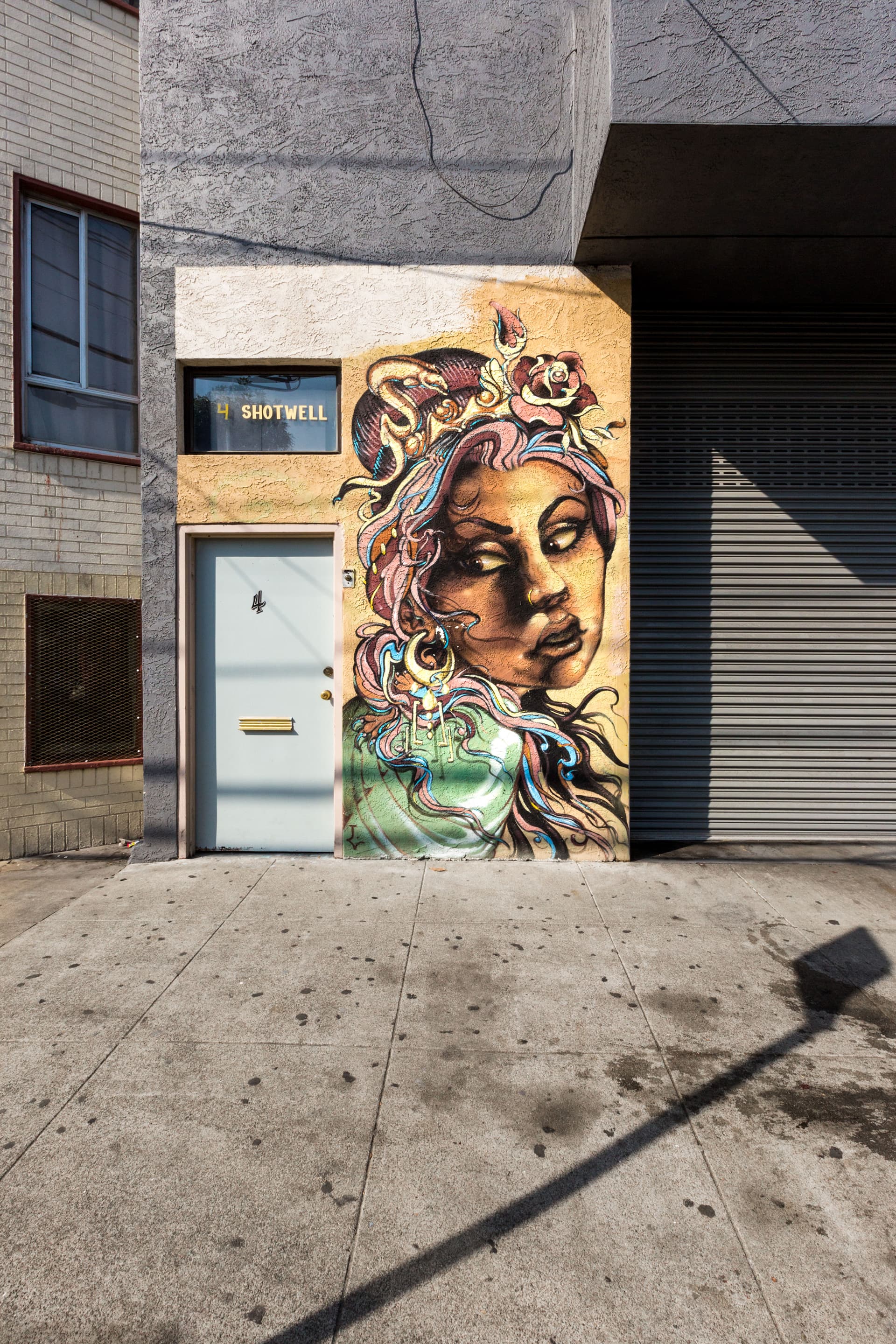 "Untitled"
ARTIST: Lango Oliveira
LOCATION: Kevin's Auto Mechanics, corner of Shotwell and 14th streets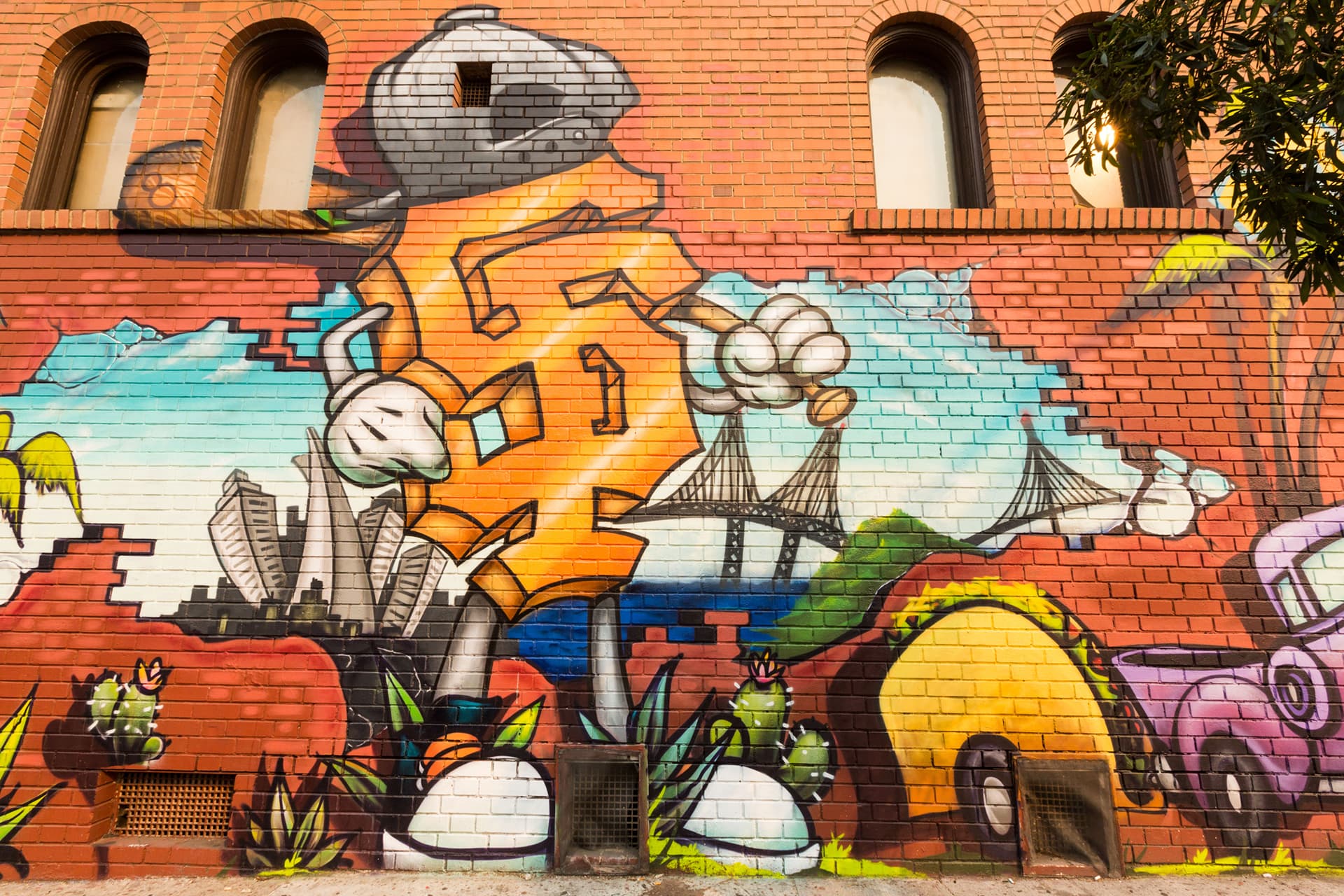 "San Pancho"
ARTISTS: Sam Flores and Ronnie Buders
LOCATION: Bar San Pancho on 16th and Guerrero Street
A San Francisco Giants baseball-themed mural outside Bar San Pancho.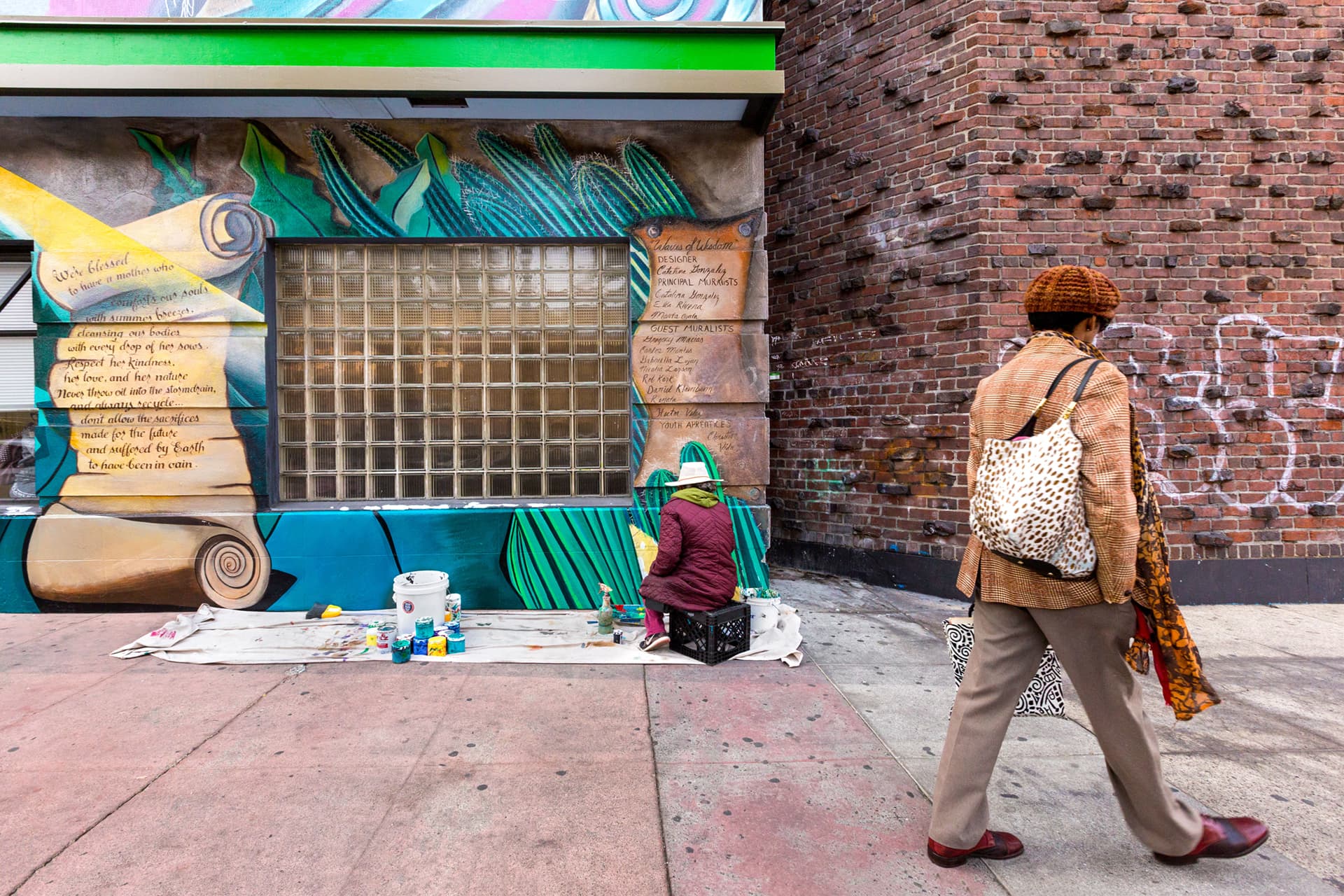 "Waves of Wisdom"
ARTIST: Catalina Gonzalez
LOCATION: 1850 Mission Street
This mural was commissioned as a celebration of keeping the earth clean in the internet age. It features an environmentally themed poem by local poet Alvaro Guttierez. Arriba Juntos means "upwards together" and the Center's mission is to meet the basic needs of Latino immigrants in the Mission District.
In this photo, artist Catalina restores her original 1997 mural.
"Beauty Bar"
ARTIST: DEB
LOCATION: Mission Street at 19th Street