Ah, harvest season! For many, it means perfunctory pumpkin patch visits and Starbucks spiced lattes. But for winemakers, harvest means stress—that mad rush to pick grapes at just the right level of ripeness and to then work the ancient alchemy of transforming juice into wine. If you're thinking A Walk in the Clouds, you might instead want to picture Rocky Balboa, all bruised and battered but triumphant in the end. It takes a whole lot of stamina (not to mention beer) to make high-quality wine.
We checked in with one of our favorite Santa Barbara winemakers, a one-woman whirlwind who does it all quite literally, to see how harvest is going for her this fall. From sourcing and monitoring her grapes to overseeing the winemaking process to selling the juice, Nikki Pallesen of newcomer Stars & Dust winery is a force. Pallesen's career in Oenology began at Cal-Poly in San Luis Obispo and includes deep experience in sales, marketing and now the successful launch of her own independent brand. Stars & Dust specializes in small lots of grapes that are hand-harvested from specific vineyard sources that reflect Santa Barbara's incredible climactic diversity.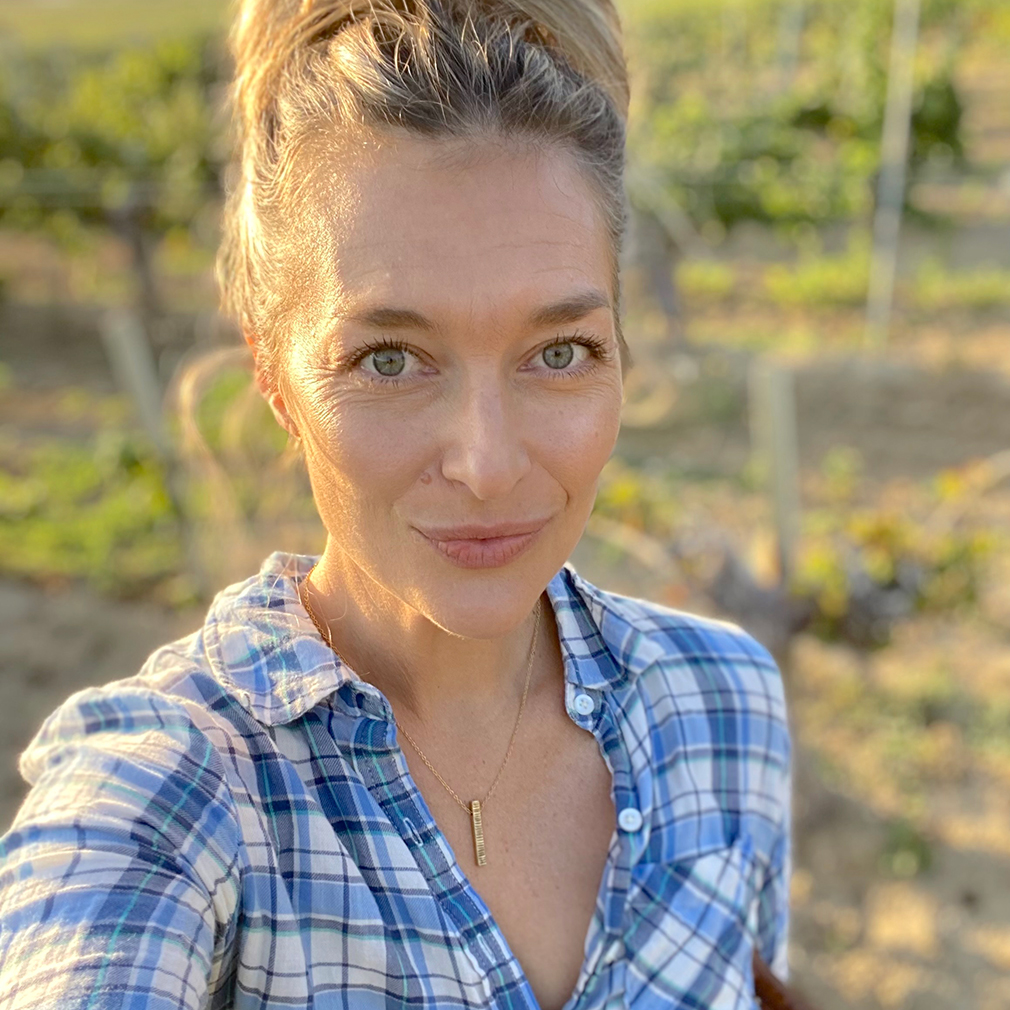 You attended college at Cal-Poly SLO. What did you study and how did it impact your decision to become a winemaker?
I actually started out at a junior vollege (Mt Palomar in San Marcos, CA) in SoCal closer to my high school in Temecula; I'd been very close to moving into a four-year degree as a psychology major when the wine industry bit me hard but lovingly in the tush.
I started working in restaurants at age 16, and, when a friend gifted me Karen MacNeil's The Wine Bible for my 21stbirthday, the seed was planted. I can recall exactly where I was when I was reading the introduction to her sherry chapter. I thought, "SHERRY?! Isn't that what grandmas drink and cook with?" But here Karen was, this established wine genius, purporting sherry to undoubtedly be some of "the most underrated wines (and therefore best values) in the world." It blew my 21-year-old mind and palate, having only had grocery store wines up until that point.
Another critical moment was working at a retail wine shop with Jim Lily, a veteran in the industry who made it a thing for me to start keeping a tasting journal—taking proper wine notes on each and every one of the MANY wines we powered through in the early days of the shop. I wrote voraciously and began to fall head-over-heels in love. Within two months' time, I had tried hundreds of wines, had begun reading several of the major wine books out there, and was making thousands of flash cards when I wasn't going to school or working. I. Was. Hooked.
I then majored in wine & viticulture with a focus on wine business and went on from Cal Poly to sling wine for the Henry Wine Group, both in beautiful SLO County and down in West LA/Beverly Hills—and it was at this point that my first brand, Liquid Farm, was born.
Your first wine launch with Liquid Farm was incredibly successful. What lessons are you applying to your new Stars & Dust project?
Learn lessons? Wait, we're supposed to do that? LOL.
I'll be honest and say that I am learning some of them as I go just like I allowed myself to do with Liquid Farm. LF was built from the ground up in an apartment in LA by a girl (me) who had previously only sold wine for a distributor, a girl who held a Wine degree but had only really known sales—she had never really been in production, or built a brand, or figured out systems of how to operate a business. I mean, I was learning new things and lessons on the daily. I think the model we used to build Liquid Farm is similar to how I have now done things with Stars & Dust, my proprietary brand.
Being a small-fry to start, staying true to your concept whilst knowing that some things are meant to fall together as you GROW into what the brand will become, being entirely self-funded, having zero employees, being a custom-crush client of a few other talented winemakers who are stewards of the wine for you; run the day-to-day business and actually bring the wines into the world in a profitable way—this last part is what seems like the unromantic aspect but it is the only part that matters at the end of the day, as wine is a business like any other.
Launching this business took what anything awesome that comes from nothing needs: a ton of work, love, pain and elbow grease.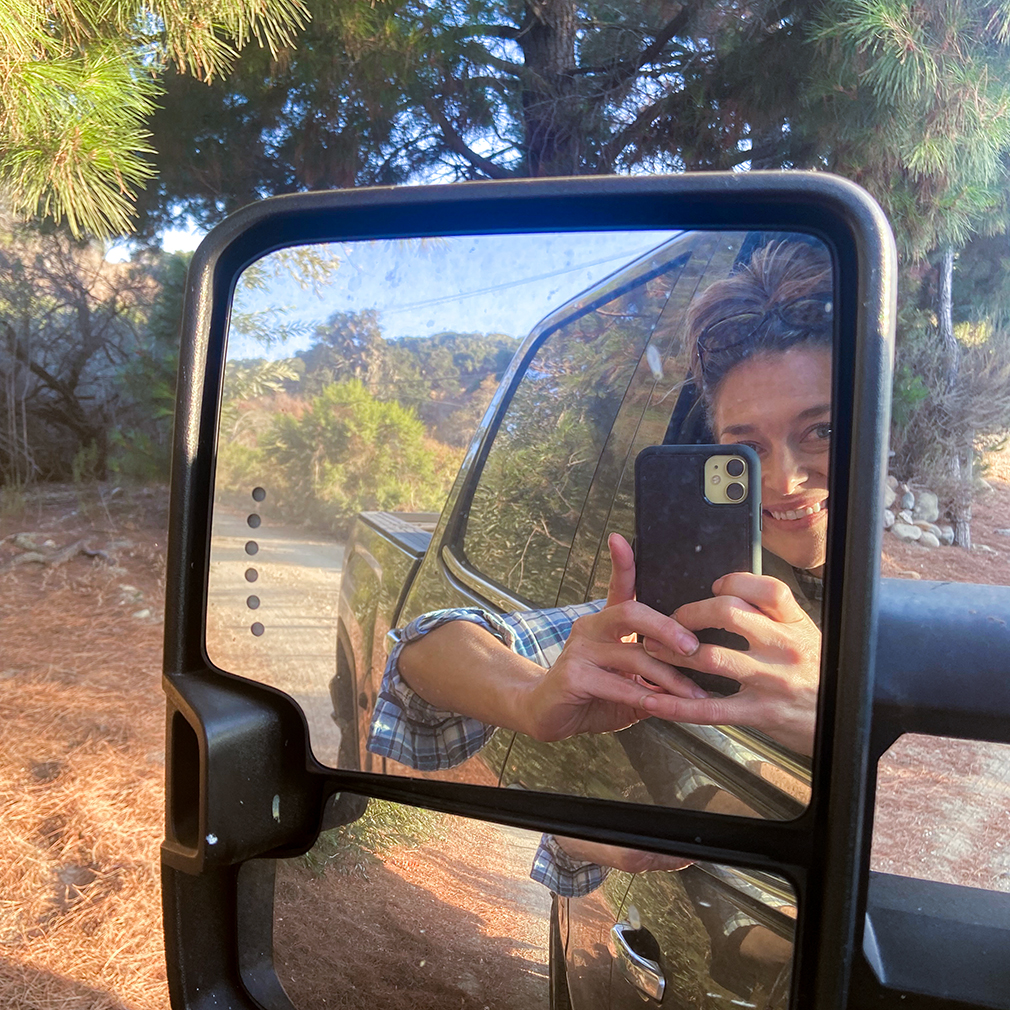 While progress has been made, we know that winemaking is still a largely male-dominated gig. What advice might you offer to a younger generation of aspiring female winemakers?
I would say that winemaking is not the only aspect of the business that is important. If your aim is to be a winemaker working for a fabulous winery, I feel like the advice is a little simpler as you are committing to one specific area of the business.
I would say, women vs. men have the "potential" to be even better winemakers than men—never forget that or doubt yourself. Work a harvest or three in another country if you are able. The biggest: USE YOUR NETWORK or work to create one (trust me, it will be easier than you think) and never hesitate to ask a fellow winemaker or industry professional in any area of wine for advice, a suggestion, perhaps in helping you'll make a needed connection. I feel the industry in general is very mentoring as a whole, but certainly among we female winemakers, we love finding ways to help support and encourage other women in our business!
If on the other hand you are a winemaker (or an aspiring one who studies, works harvests, etc.) and you may feel the pull to create your own brand and start a WHOLE wine company, do all of the above and then also be prepared to do whole lot more, too.
There are SO MANY amazing wines out there—maybe think of them like musicians—and some musicians may be more talented than others that end up as big stars but maybe they didn't have the break or some of the charisma of another musician. And that's the difference between staying unknown and becoming famous. Same kind of thing with wine, to be honest.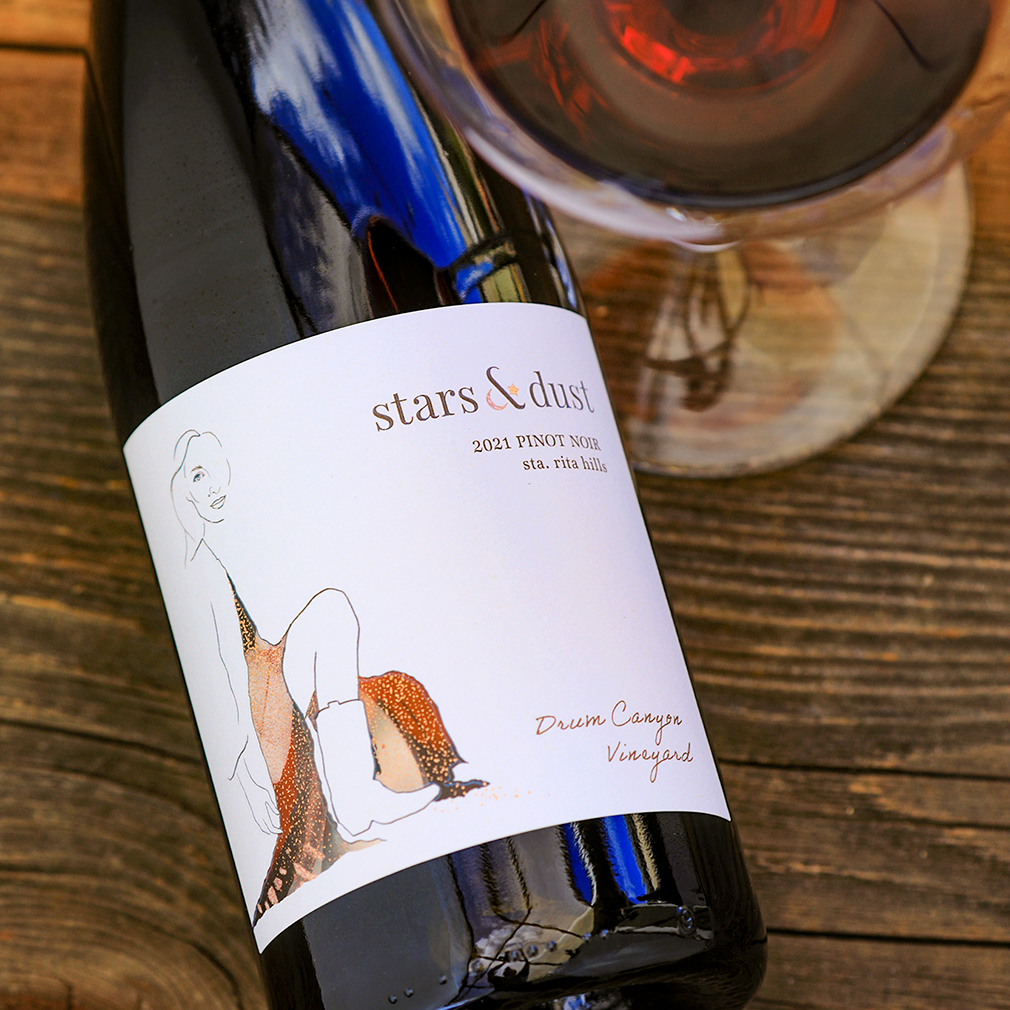 Gotta ask: any favorite restaurants that feature your Stars & Dust wines? Where can our readers find your stuff?
I am honored by literally each and every restaurant (and shop!) that are carrying s&d wines!
Seriously, no smoke blown—every time we get a new spot on a wine list or on a retail shelf, I just feel so grateful and elated. That never wore off for me in the Liquid Farm days either. Every single placement is SO cool to me. Fine dining down to well, whatever—a food truck even though that's maybe not a thing yet.
But we have made a few feather-in-the-cap placements that I am quite proud of: Saison in San Fransisco, Brezza, the fine dining restaurant that recently opened at Resort's World in Las Vegas. In our neck of the woods, you can't go wrong with a few gems in the tiny Santa Barbara County town of Los Alamos such as the local institution/winemaker hangout, Full of Life Flatbread. Los Alamos is fast becoming "Little LA" for celebrity sightings though. I recently dined next to Charlize Theron and her companion, and they gifted me the rest of their bottle of rosé just for making room for them at a shaded table! And Norman at the Skyview Motel has been a great supporter, and Skyview just happened to be the WEEKEND section's front-page feature in the LA Times October 2022! We've been lucky to get some great placements and great press right out of the gate. We of course also sell wines direct to consumers from my website, so be sure to check it out for special releases and great deals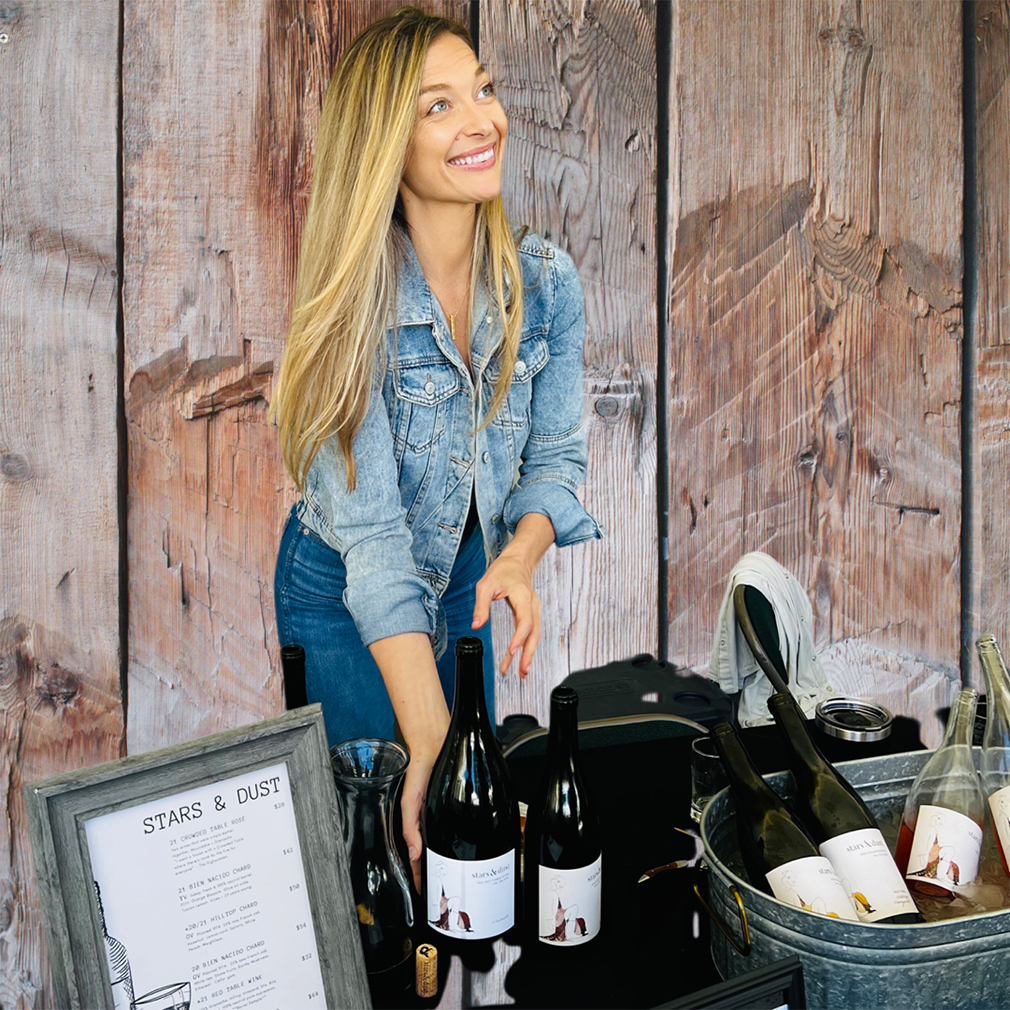 You get to live right where your grapes are growing. Tell us about your roots in the area.
Santa Barbara Wine Country is just, well, also a beyond gorgeous place to live, a place where you've got it all: mountains, ocean, posh eateries and great dives, wine people, horse people, LA to the South and SF to the North! I find the Chardonnay and Grenache from our region to be particularly outstanding among all domestic expressions of both varieties, and I enjoy working with both these grapes in various formats for s&d wines.While I have only lived in SB/SLO Counties since my college years, I recently found a photo of me, age eight, standing outside of this minuscule adorable church in the equally tiny town of Ballard, a stone's throw from where I happen to live today at age 40 in Los Olivos. My dad and stepmom were married at that church in 1990, very near to the famous Danish/American town of Solvang, as a nod to our family's heritage. My grandfather, Vagn Pallesen, immigrated to the States from Denmark when he was in his early 20s. Living back in the same area now as an adult, surrounded by incredible vineyards and making wine on my own terms is just so cool for me.