As the CEO and founder of Cabana, Scott Kubly's career has been focused on unique ways to travel and how to navigate a city with ease. His background includes Chief Programs Officer at Lime (the world's largest shared electric vehicle company), Director at the Seattle Department of Transportation and Senior Advisor at Alta Bicycle Share.
After spending more than 200 nights in a hotel in one year Scott bought a used campervan off Craigslist, and the seed was planted for a better road trip experience that would empower the explorer in everyone. Cabana offers a fleet of high-tech mobile hospitality vehicles (aka kitted out camper vans) that combine a passion for travel and innovation to create serendipitous road and surf safari trips up and down the coast. Some of the vans available for rent are complete with a queen-sized bed, full bathroom, kitchen, TV, and more creature comforts for your escape.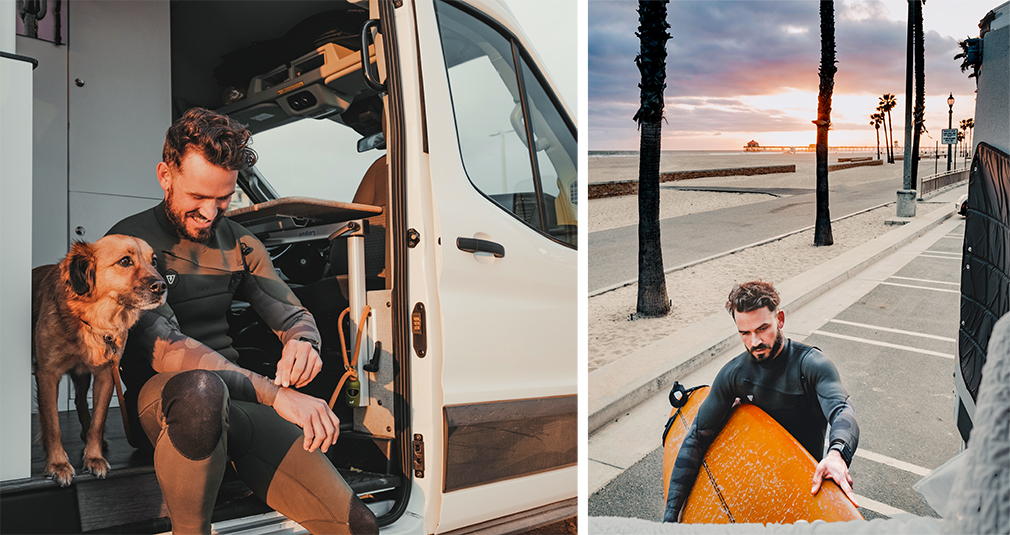 The company recently expanded from Seattle to Los Angeles and has partnered on an event with Traveler Surf Club & Coastal Output – an outdoor inspired retail store and surf club in Pacifica, Santa Cruz, Ventura, and Malibu.
Since Cabana also offers help in planning trips, we asked Kubly to share his top five tips for the ultimate surfing road trip. And, read on for more tips on what to pack from the owner of Traveler Surf Club.
Scope out the best surf spots: Do your research ahead of time to find the best waves for your skill level and equipment. Whether you're a beginner or a pro, you'll want to consider factors like break type, crowd factor, and water temperature when selecting your spots. Some popular surfing destinations may require a 4×4 vehicle, so plan accordingly!
Plot your path: Chart your route before you head out and identify any potential detours and roadblocks that might stand between you and the waves. Make sure to pinpoint the best rest stops, tastiest food options, and coolest overnight spots along the way. Consider renting a travel van to make your road trip even more comfortable and convenient! This will not only allow you to easily move from spot to spot and have a cozy place to rest after a long day of surfing, it also makes it possible to roll out of bed and hit the beach!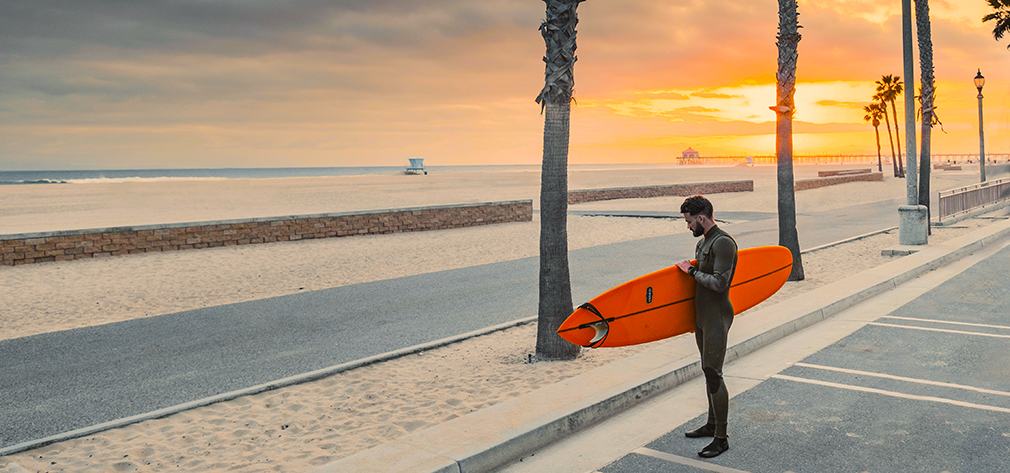 Check the surf forecast: Before heading out, check the surf forecast for the areas you're looking to visit. Monitoring swell size, tide, and wind direction is the best way to make certain you're hitting the best waves at the right time. By staying on top of the forecast, you can ensure the conditions are safe and set yourself up to score some epic sessions.
Connect with the local surf scene: One of the best ways to find surf spots and get insider knowledge on an area is by connecting with the locals! Visit surf shops and strike up conversations with fellow surfers in the water to get the inside scoop on where to find the best waves –– and what you can do for fun thereafter.
Stay spontaneous and embrace the unexpected: Part of the fun of a road trip is the unexpected adventures and detours along the way! The most iconic and remote waves in the world were all discovered by those willing to take the road less traveled. If the surf is flat or the weather is bad, don't lose your stoke –– there's always hiking, exploring local towns, or visiting attractions along the way.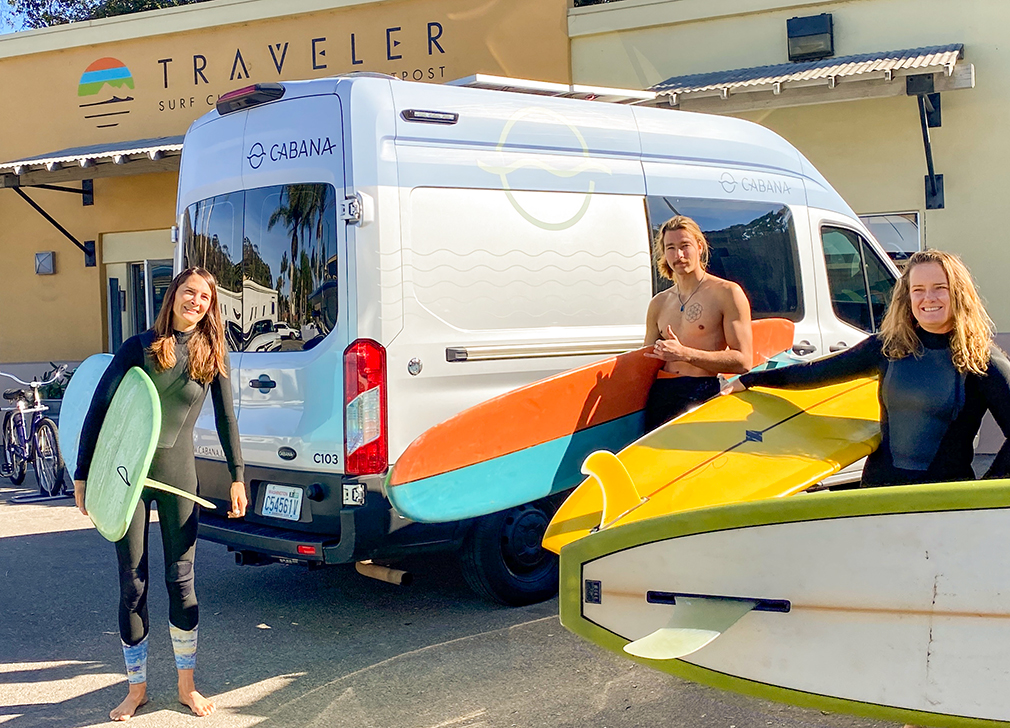 As for the gear that Traveler Surf Club & Coastal Output curate and carry, we asked co-owner Rel Lavizzo-Mourey for 5 must have items for a surf trip that they love.
The California Coaster Longboard: this board was designed by co-founder Julie Cox as an all-around perfect board for riding long waves up and down the California coast. we worked with one of our favorite shapers John Moore in the SF Bay Area to perfect the dimensions and specs for the board. Everyone who rides it falls in love with how easy it makes catching and riding waves in all different types of conditions. We stock this model in all of our shops and also have it available to rent as a demo board for those who want to give a try before committing to purchase. Other in stock lengths and colors available here.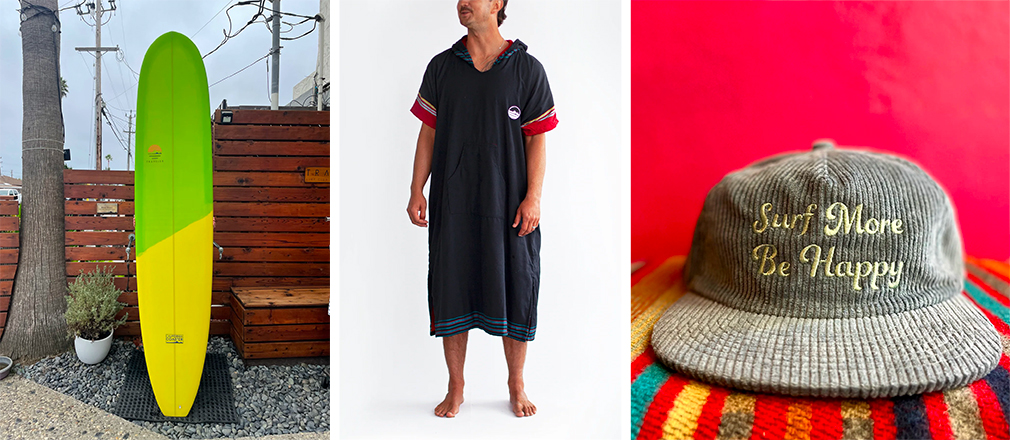 Changing Poncho: Our Traveler Surf Club version is terrycloth-lined and amazingly cozy to throw on and wriggle out of a wetsuit after surfing.
Surf More be Happy Hat: Words to live by!
Unisex Patch Crewneck Sweatshirt: Super soft and comfortable. We always wear this on morning surf checks!
TSC waterbottle with bamboo lid : Keeps coffee nice and toasty and beers cold for after getting out of the water.