Heena Patel, owner and executive chef of Besharam in San Francisco, remembers her childhood kitchen in India filled with lingering scents of rich spices. The acclaimed chef who once owned Rasoi, a mobile food stall at the Ferry Plaza Farmer's Market, and has worked in the kitchens of Jardinerè and State Bird Provisions, opened Besharam four years ago focusing on her love of cooking and Western Indian vegetarian cuisine. "My food is very niche like me," explains Heena. "My food is connecting me with people of all heritages and backgrounds. I like to cook food with emotions, and San Francisco is an area where personality and individualism is embraced and celebrated."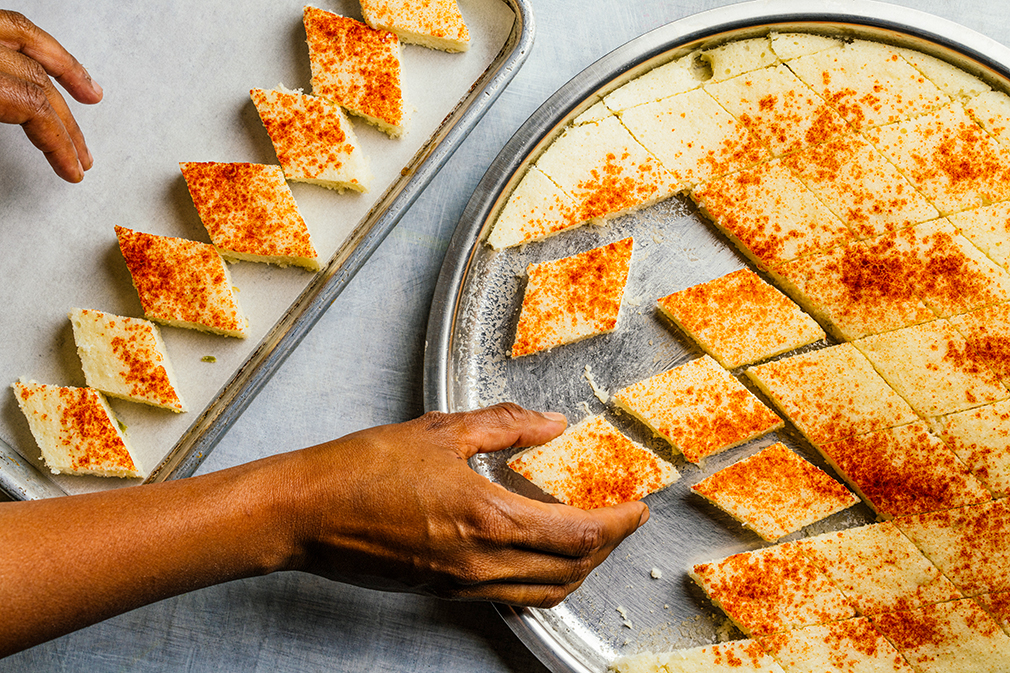 Heena recently stepped away from the kitchen to chat with Golden State about how she got started, her affinity for vegetarian cuisine, and some of her fondest culinary memories.
Hi Heena. Tell us a little about your culinary journey.
I was born in Mumbai, India to parents from the Indian state of Gujarat. It's a beautiful, lush region known for its cooking and for a focus on a vegetarian kitchen. As a second daughter in an Indian household, the kitchen was my home and my early childhood memories were of the fragrances from my mother's spice blends. But it was really when I was roaming streets of Mumbai, where I could find nearly anything, when I really fell in love with food. While savoring everything from pav bhaji to khaman, I felt drawn to begin playing with flavors in my own right, inventing as I went along. It was creative expression for me and it felt freeing to dream of these dishes that I could make my own.
I left my life between Mumbai and Ahmedabad for London to get married, and shortly thereafter, moved to California, where my husband, Paresh, and I started a family. I owned a flower shop by day and took on a night job managing a German deli in San Rafael. I've been a life-long vegetarian, but was making a living selling reubens, all while dreaming of a future where I might own my own restaurant.
In 2014, I joined La Cocina, a local culinary incubator, initially with the idea to launch a mobile food business. But after a transformative dinner at State Bird Provisions, I had this strong sense that I was on a path to do more, to tell my story through food and ingredients treated with intention. Besharam is the culmination of my journey to date. It is my mother's kitchen and Mumbai streets and the fields of Gujarat. It is California produce and the foods I invented for my children's immigrant lives. It is above all, a bold declaration and acceptance of myself, who, as an Indian woman, has always done what others expected of me. At 56, I am shamelessly pursuing the dream I have always had for myself. "Besharam" means one who is not shy of anything, or more precisely, shameless, and in this moment, I've never felt more attuned.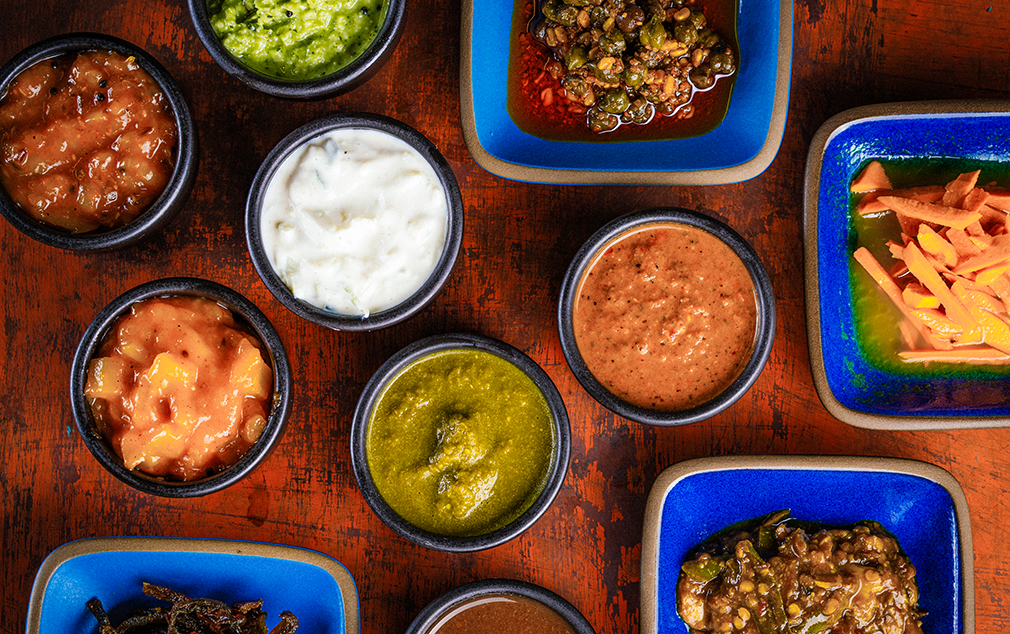 Tell us more about Besharam.
Besharam initially opened in 2018, and in 2019, I took over space as my own. I made a silent promise to myself to be independent and strong. It took years for me to have that strength and courage to create my own path. Joining La Cocina helped strengthen my mission as I worked alongside peers who revealed to me that with skill, drive, intellect and the right resources, it's possible to be successful. That is the story of Besharam and that is my story too. Through my journey I realize I am not special in this way. There are too many low income women of color kept from the resources needed to employ their intellect and motivations. My example should happen again and again, and hopefully be better for the women of color who come after me. It's about finally shedding the need to conform to what I'm "supposed to do" and instead running after what I'm meant to do.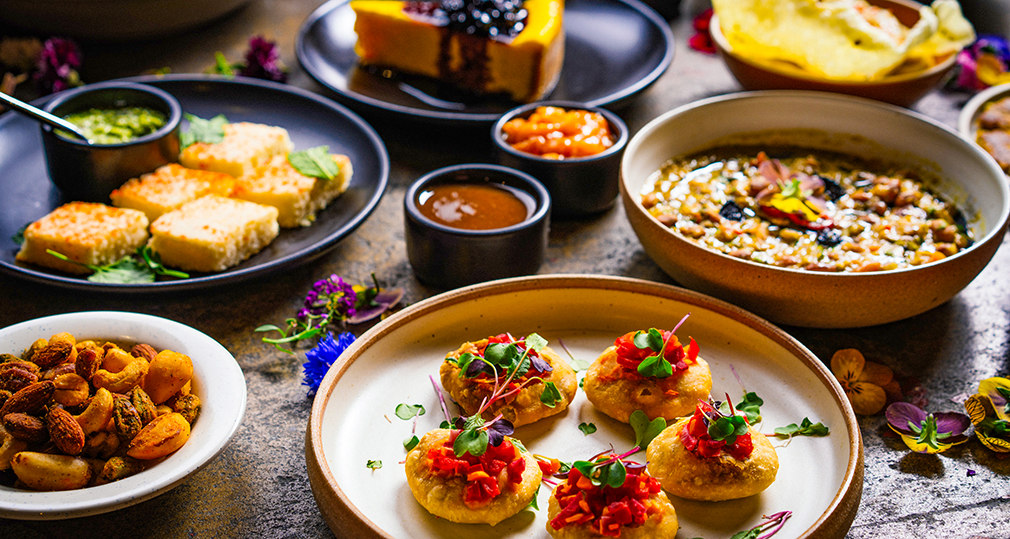 What is the inspiration for the menu?
As a human race, the pandemic brought us all to a stall point. I worried about the safety of my aged parents, my children, and my staff, and we decided to close Besharam during the height of the pandemic. During this time, I had the space to think and reflect more about who I am, where I am and the platform I have. It became very clear to me that when we reopened Besharam, it was going to be with a vegetarian menu that fully expressed who I am as a chef. We debuted that menu in May 2021, and it immediately felt so natural to me. Indian food is much like Indian culture, religion, customs, clothes, and language. It's not the monolith that America has presented it to be. Ingredients and tastes vary not only from state to state, but also city to city, household to household. My goal for this regional menu was to honor the taste and flavors that don't receive attention from Americans, to show my community just how tasty real Indian/Gujarati food is. I am tired of being represented by "Tikka masala" and "Tandoori Naan." The cities that I have selected for my regional menu were chosen because they represent the dishes that are listed for me. These are the major cities that I went to with family growing up, and now take my children to when we go visit India.
What dish is most special to you?
It's hard to pinpoint one, but recently I keep coming back to Dal Dhokli, a legume-based stew. It was one of my favorite dishes growing up and my mom would always prepare extra for me, so I could have leftovers the next day. Every time I prepare it, I remember that act of care and it makes me feel instantly comforted. I love the versatility of the dish that also allows me to express myself as a chef, experimenting with different ingredients and produce. It's representative of what I aspire to do at Besharam—share my heritage and memories of these dishes that are etched into my soul, but in a way that also allows me to share my personality as a chef.
What do you love most about being a chef and restauranteur?
Cooking without a message is a loss. My favorite part of my job is that every night I have the opportunity to invite guests into my home, my heritage. I love having an open kitchen, and being able to look up and see a table enjoying dishes that have so much personal meaning for me. It feels amazing to make those connections, to share that part of myself with them.