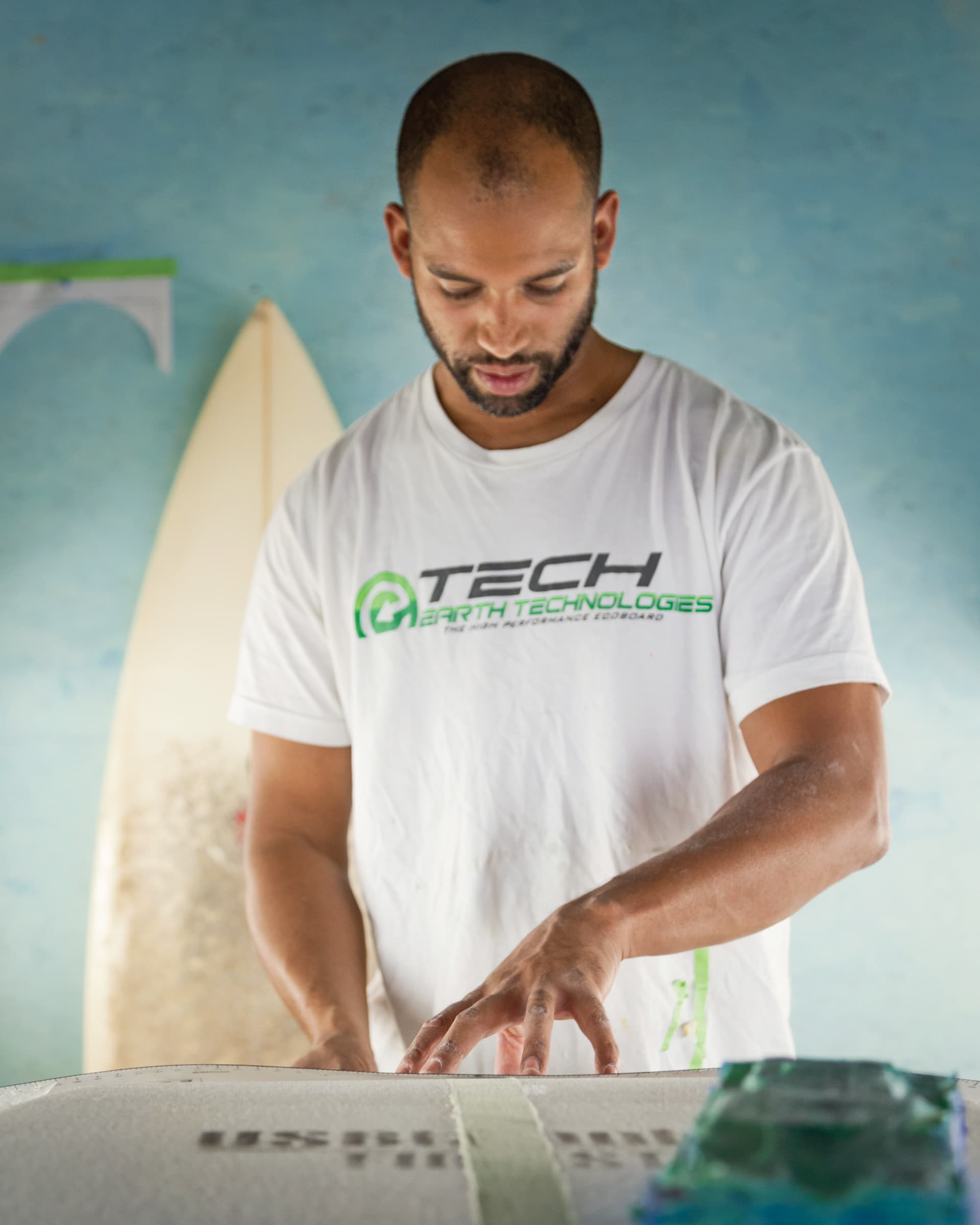 "About 12 years ago I started getting really sick, and no one could figure out what was wrong with me," says Patterson. He served during the Gulf War, and once he returned home he became ill.
Doctors couldn't determine the exact reasoning. It's believed that he suffered some kind of chemical exposure during his service (the U.S. Department of Veterans Affairs notes that "chronic multi-symptom illness," also known as "Gulf War Syndrome," is a well-known condition amongst Gulf War veterans).
Unable to find a way to treat his illness, Patterson turned to surfing. "A buddy of mine happened to be going surfing one day, and I knew the water made me feel better. I thoroughly believe that surfing saved my life," he says, adding that the sport helped him tremendously both physically and mentally. He made surfing a priority in his life.

A self-professed tech geek (he's a former recording engineer), Patterson developed a profound interest in the tech and mechanics of surfing. He wanted to know how the boards worked and how they were shaped.
He ended up purchasing a board from Harris, who taught him how to shape. Once Patterson started making boards, he noticed just how toxic the materials that are typically used to make boards could be. The crucial board materials are typically petroleum-based (like polyurethane).
"I [didn't] want to make myself sicker and breathe in any more toxins," he says. So Patterson partnered with Harris (who was also dabbling in eco-friendly board design at the same time) and began creating a series of environmentally friendly boards.
"Now we do everything from the shortest short board to the 14-foot racer paddleboards," says Patterson. Most of the shop's orders are custom, and they also shape eco-boards for Channel Islands, Lost Surfboards and Roberts Surfboards.
E-Tech occupies a unique position in the surf world: The shop uses recyclable and renewable materials to make their boards. For example, they use recycled EPS foam board blanks, wood features such as bamboo decks, a specialized recyclable ballistic material (as an alternative to fiberglass) and a resin called Super Sap that's made by Entropy Resins and is also bio-based.
"It's a bio-based epoxy," says Patterson about the resin. "It's made from the waste streams of the wood pulp and bio-diesel industries. So it's not only bio-based, it's made from other industries' waste."
The resin doesn't smell either, which means that the duo doesn't have to wear respirators in the glassing area of the shop. "You could be in here with racks full of wet boards, and there wouldn't be any smell," he says.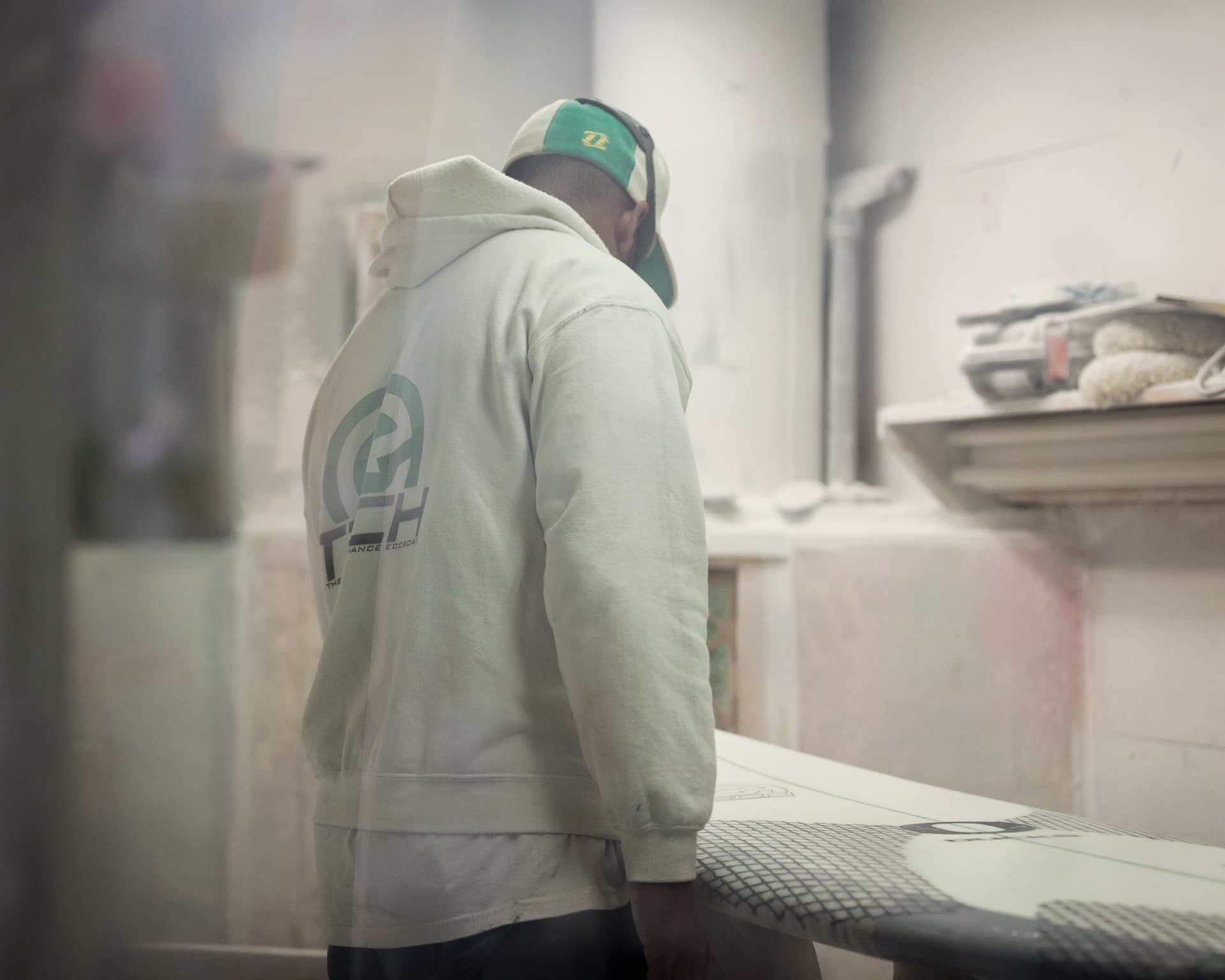 Harris, formerly a footwear designer for Nike, jumped on board with Patterson because no one, as far as he could see, was making truly eco-friendly boards. They both saw a need for something different in the industry.
"We were both doing eco-boards, but there was no service. There wasn't a place to go if you wanted an eco-friendly glass job, whether you're a backyard guy or a bigger label," he says.
Patterson says they're not creating eco-boards solely for the sake of being environmentally friendly. He notes that the surfboard industry has struggled to modernize and utilize new, renewable resources, and he hopes E-Tech can help change that. "We're about bringing new, environmental technology to the industry," he says.
"We're literally using Mother Nature—sustainable resources—to make a more [efficient] performance product," says Harris. Both shapers have plans for E-Tech and the environmental surfboard movement, and they look forward to creating new and even more renewable and sustainable surf products in the future. "We're on the forefront of this whole thing. And we're proud of that," says Patterson.