An enchanting place where golden sunshine and sandy beaches reign supreme, California is also brimming with whimsical destinations for your next dreamy escape. Explore some of these hidden gems along the West Coast, each filling you with wonder as they transport you to your favorite happily ever after. From charming villages to secret gardens, picturesque cottages to breathtaking castles, discover the storybook spots scattered throughout the Golden State that feel like stepping right into a fairy tale!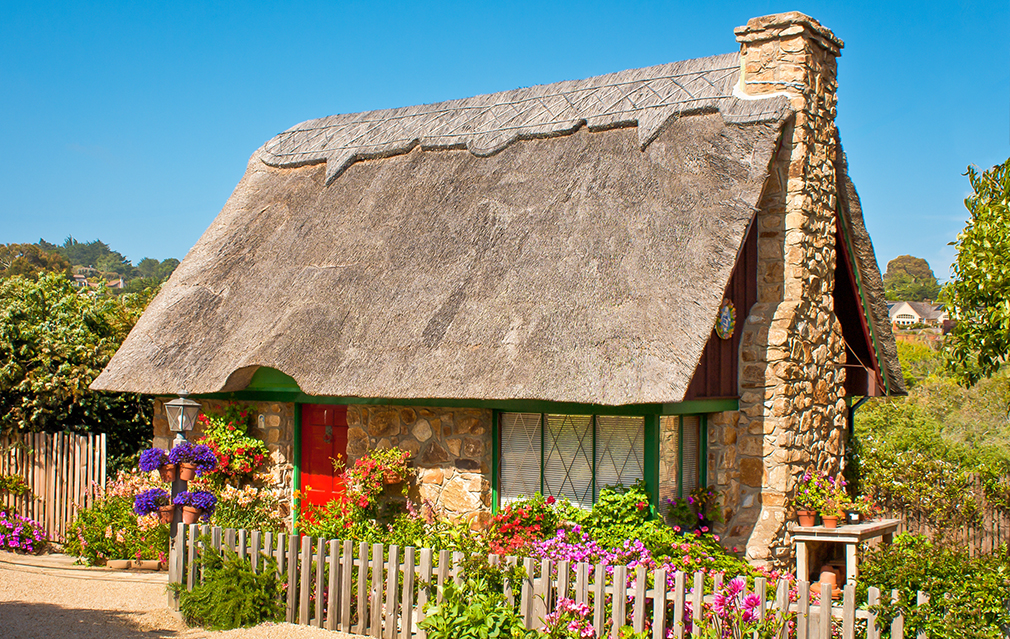 Carmel-by-the-Sea
Nestled along California's Central Coast is the charming village of Carmel-by-the-Sea. This quaint seaside town spans just one square mile, but what it lacks in size it more than makes up for in character. Stroll along its cobblestone streets on a self-guided walking tour highlighting the English-style cottages that give Carmel-by-the-Sea its whimsical, storybook hamlet atmosphere. Head on a culinary quest to try out the town's delectable eateries, where the bounty of fresh, local ingredients from both land and sea charm in each bite. Continue the storybook experience by searching for more magic in the town's secret passageways and courtyards, lined with art galleries, wine tasting, boutique shops and more. Catch the sunset overlooking the breathtaking white sand beach for a dreamy way to end the day. Carmel-by-the-Sea's storybook village charm and scenic beauty will surely make you feel as though you've been transported to a fairytale escape.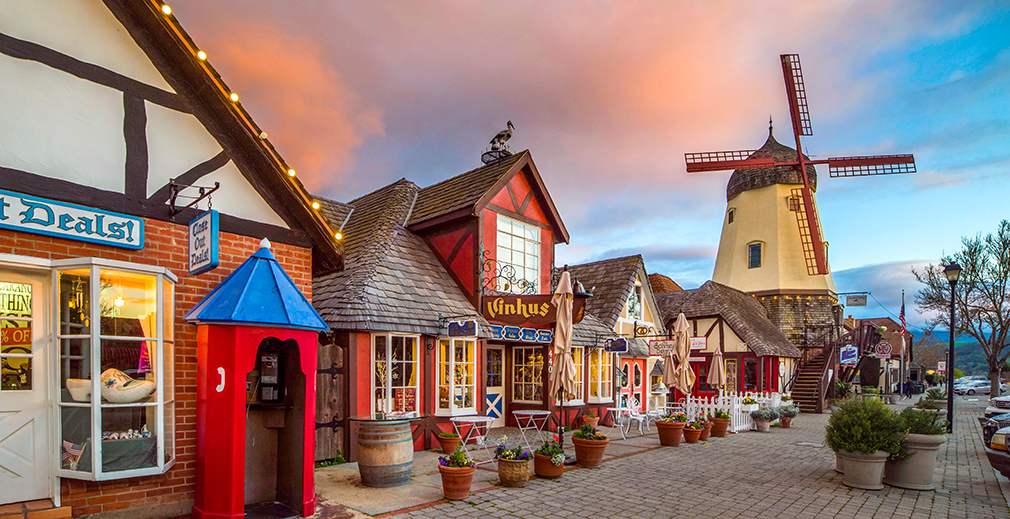 Solvang
With its timbered cottages, thatched roofs and towering windmills, the whimsical town of Solvang in California's Santa Ynez Valley creates the illusion that you've been whisked away to a European storybook village. Founded in the early 1900s by settlers from Denmark, distinctively Danish details can be found all around the village, in everything from architecture to food and festivals. Check out Solvang's several homages to world-renowned fairytale author, Hans Christian Andersen, ranging from a museum that features his books and writings to a replica of Copenhagen's Little Mermaid statue, and you can even enter Hans Christian Andersen Park through a castle archway! For a true storybook experience, hop on the Honen, an old-fashioned horse-drawn trolley and enjoy a unique perspective of the quaint village streets. No visit to Solvang would be complete without indulging in a Danish delicacy called an Aebleskiver: round pancakes topped with powdered sugar and served with raspberry jam.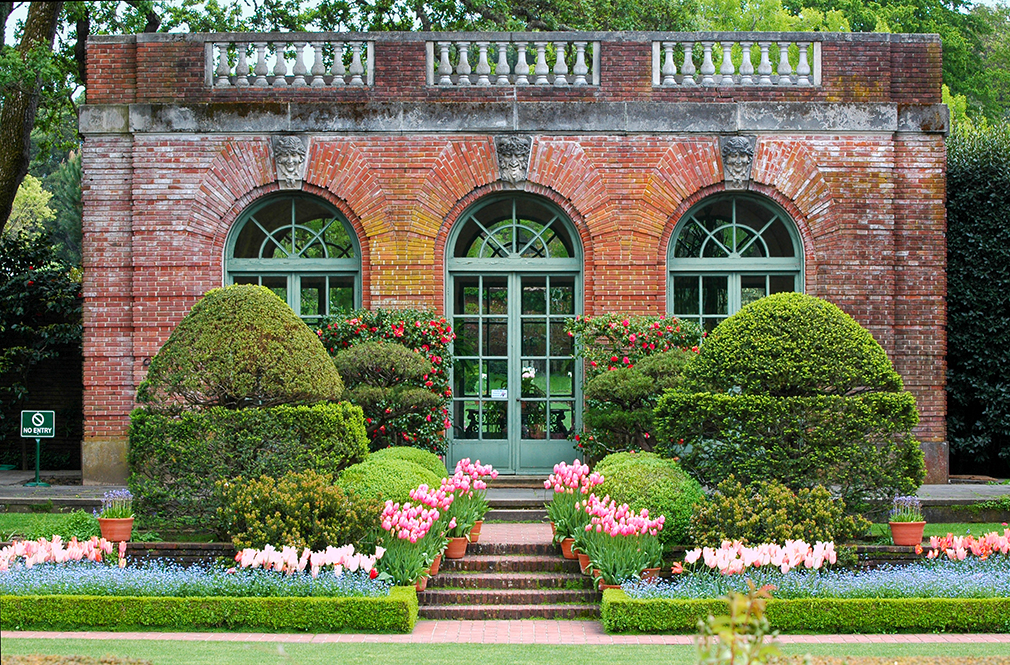 Filoli Historic House & Garden
Tucked away just south of San Francisco is Filoli Historic House & Garden, a countryside estate built to provide an idyllic retreat from big city life. Entering the captivating Georgian-revival-style mansion feels like stepping into a storybook castle, and the fairytale magic continues in the spectacular, well-tended gardens. From the perfectly-manicured boxwood hedges to the lush flower beds full of vibrant blooms, the gardens are filled with extraordinary beauty. Meandering through the enchanting estate, there is something exquisite to behold around every corner, from secret pathways to whimsical statues, all of which lend to the magical atmosphere. Filoli is a fairytale dreamscape you won't want to miss!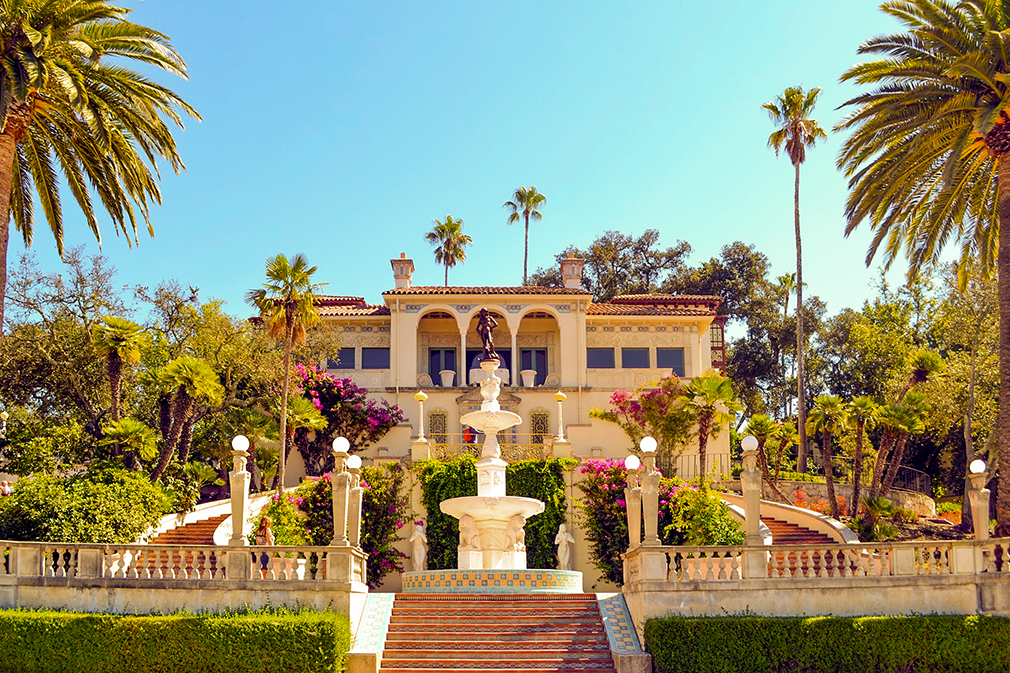 Hearst Castle
Perched on a hilltop near San Simeon is the alluring Hearst Castle, where fairytale dreams come to life. The majestic villa was designed by master architect Julia Morgan and built over a span of 30 years for newspaper tycoon William Randolph Hearst before being donated to the state of California in 1958. The lavish estate boasts 165 rooms and 123 acres of gardens, not to mention its hilltop location provides panoramic views of the Pacific Ocean below. Explore the enchanting property, where you'll find a replica Roman temple on the terrace overlooking the stunning Neptune Pool, a grand dining hall lined with tapestries and topped with an ornately carved ceiling that creates the ambiance of being in a medieval castle, as well as a sumptuous indoor pool surrounded by mosaic walls and Roman statues, modeled after the Roman Baths of Caracalla. The spectacular architectural details and creative vision that brought Hearst Castle into existence are truly something out of a fairy tale. This enchanting historic estate is a must-see!