Just moments after Lindsey Grace Whiddon took this shot, the front rider crashed. "She just tumbled off her bike and it crashed into a tree," she says. Lindsey took the injured rider to the local medical center and stayed with her until she was discharged.
This photo has "a little more meaning" to Whiddon. The rider was a stranger just moments before, but suddenly Lindsey was holding her hand in the ER and there was an instant bond between the two. "It was such an intimate human experience," she says.
A long-running criticism declares that Los Angeles drivers can't drive in the rain. While traffic statistics prove that crash rates double in Los Angeles during rainstorms, the fact is that crash rates increase everywhere during inclement weather. (Although nationally, accident rates go up only about 34%.)
This classic song is mostly correct: It (almost) never rains in California. Los Angeles only gets about 14 inches of rain a year, and averages just 35 rainy days a year. This ensures that grime and oil that would be washed away by rain in other areas remain on the roads in car-crazy Los Angeles. When the rains hit, the oils float on the wet streets, and the wet streets become slippery. This, added to general inexperience driving in adverse conditions, accounts for Los Angeles' reputation.
But as Roberto found, those few rainy days produce amazing sunsets. "I love post-rain skies. I also just love the rain in general. Not only is it calming, but it makes me not feel guilty for being inside working. It's really tough to focus sometimes during those perfectly sunny Southern California days. After a drizzly day in L.A., I decided to go for a cruise and just listen to music as it was the final week before I sold my car. I thought the sunset would be one of those orange-filled post-rain sunsets, but it turned out to be a beautiful cotton candy-colored one. I decided to take a bit of an impromptu shoot of the skies."
Until 1968, visitors to Yosemite National Park in California gathered every night (weather permitting) to watch the Yosemite Firefall. A massive bonfire fueled by red fir bark raged at the edge of Glacier Point, the overlook 3,200 feet up the granite cliff face that rises above Camp Curry. At exactly 9 p.m., the master of ceremonies at the camp below would dramatically yell to the firemaster above at Glacier Point, "Let the fire fall!"
The bonfire was slowly tipped, and a breathtaking shower of orange sparks poured down the smooth stone face, creating a firefall of glowing embers. Campers at Curry Village sang "Indian Love Call," and visitors to the other campgrounds in Yosemite Valley sang "America the Beautiful." While popular with tourists, this nightly ritual horrified naturalists, and placed the national park at great risk of forest.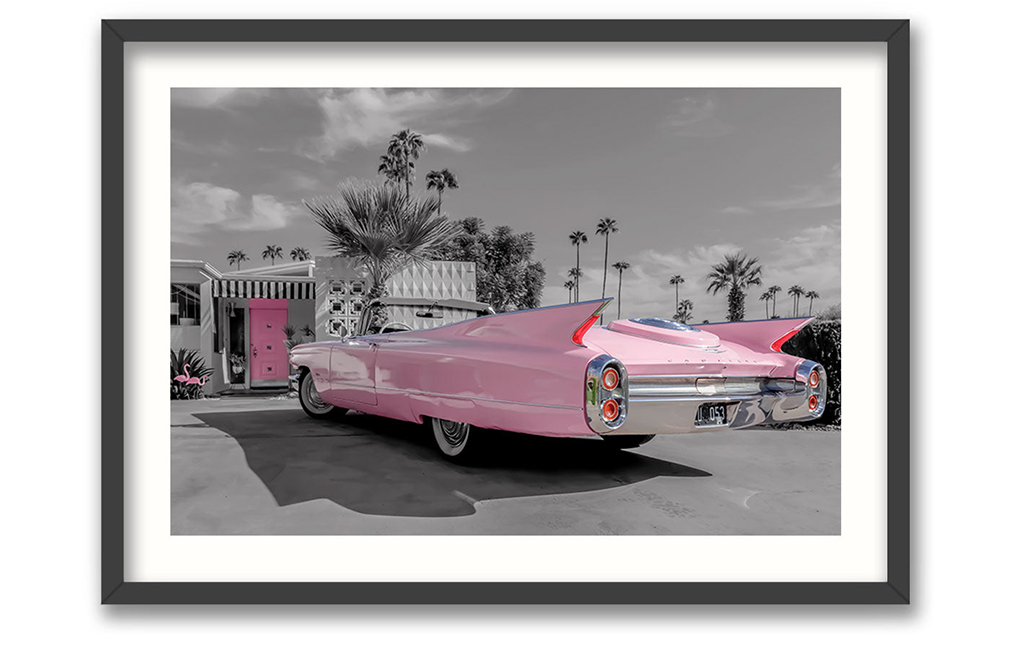 "This is Palm Springs, baby!" says photographer Carlos Vargas. He includes his love of vibrant colors and 1960s glamour in all of his work. This image is his 2020 rendition of the famous pink 1960 Cadillac Series 62 convertible at the Canyon View Estates in South Palm Springs, California.
Hang this bright and bold print in your home for a splash of color and touch of glamour.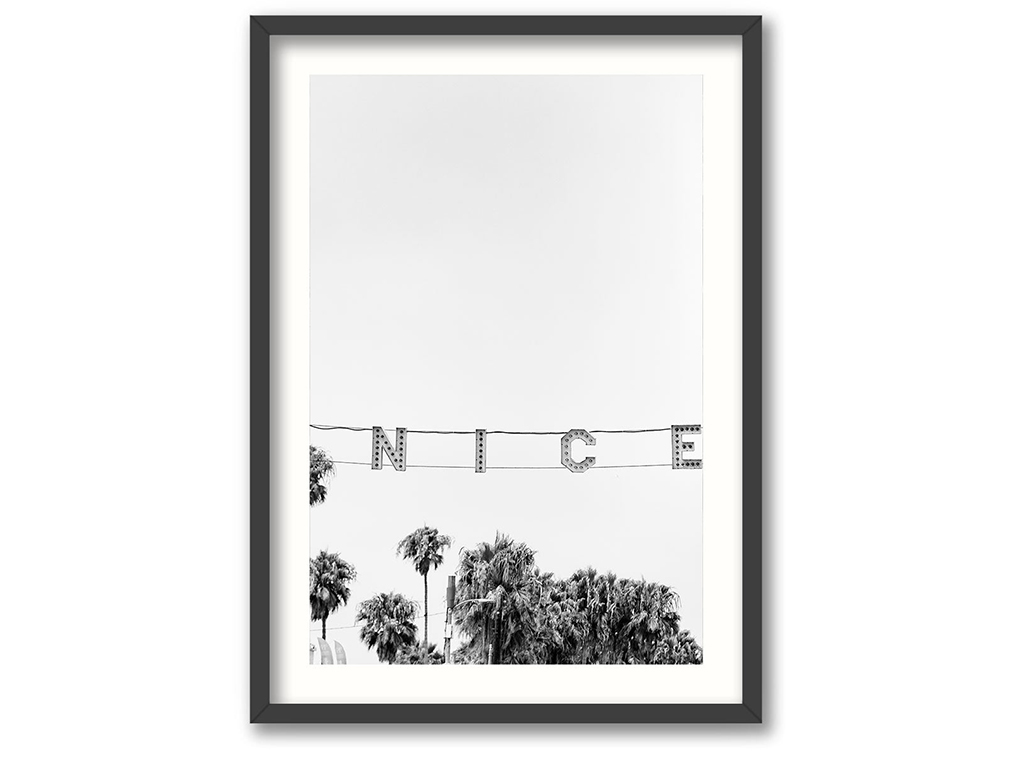 When photographer Carly Tabak took this shot, she wanted to do something "creative and cheeky" to capture the essence of Los Angeles. Her take on the iconic Venice Beach sign was simply— "nice." Zooming in on just those letters was her way of making something classic feel fresh and different. Things we've seen a million times before can still feel new—it's all just a matter of perspective.
Hang this print to remind yourself to always find a way to put your own spin on things.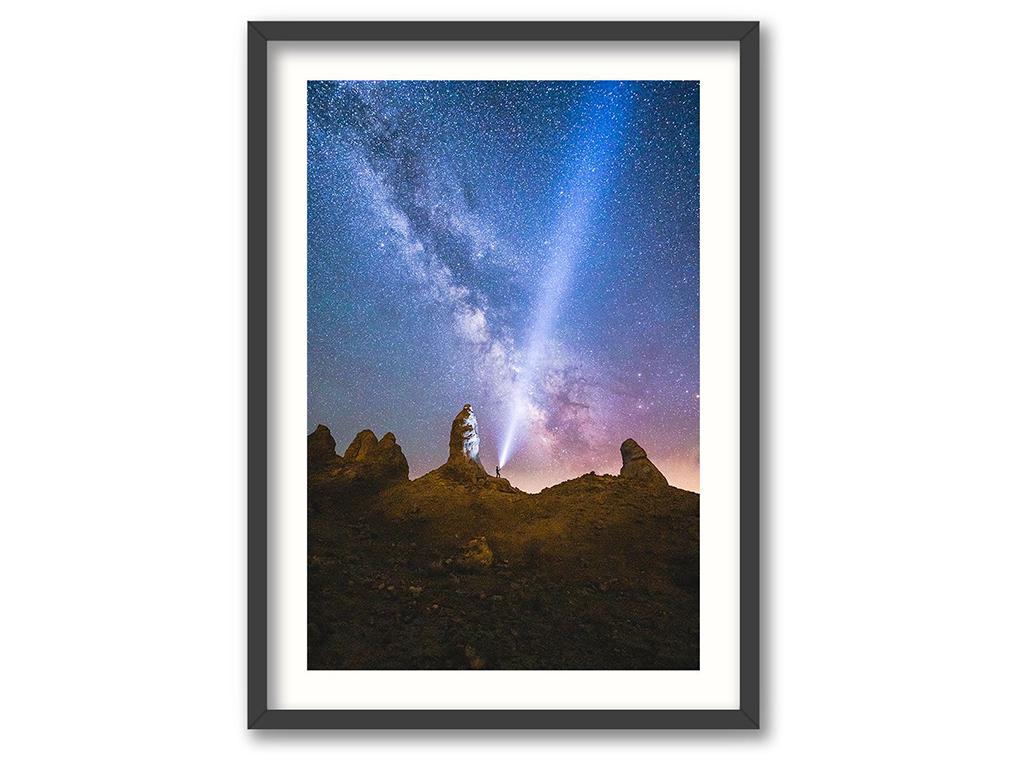 The Trona Pinnacles are a geographical marvel in the Mojave Desert about 30 miles east of Ridgecrest, California, and about 160 miles northeast of Los Angeles. Appearing as a location in countless TV shows and movies—usually as a stand-in for remote and hostile alien worlds—Trona's namesake tufa spires jut high above the dry lakebed of this desolate desert destination.
The pinnacles of Trona were created over the course of three different ice ages. The oldest group, called the Southern Group, is more than 100,000 years old. The youngest group, the northern group, is 10,000 to 25,000 years old. The middle group, in the heart of the Bureau of Land Management-protected park, was formed between 25,000 and 32,000 years ago.
Find these and more California prints at