You're handed a map. Instead of showing roads and thoroughfares, this map leads you on a journey that's far more exciting—through Inglewood's thriving arts culture.
Inglewood Open Studios (IOS) is a 501(c)(3) nonprofit that offers artists what they need most: community. Their main event each year is an Art Walk held the second weekend in November. This free event gives the public a chance to view the work of more than 80 Inglewood artists and explore multiple studios and galleries. Artists gain exposure, and community members learn about Inglewood's rich cultural presence.
"Art doesn't belong hidden in a gallery with a million-dollar price tag," says Renée Fox, cofounder and president of IOS. "It belongs to everyone."
An artist herself, Renée was born in Frederick, Maryland, and studied fine art at Corcoran School of the Arts & Design in Washington, D.C. before moving to California to complete her bachelor's in fine arts at Corcoran's sister school, Otis College of Art and Design, where she now teaches. Her work ranges from murals to miniatures, and she often uses nature as a muse.
"Part of what I've always loved about taking things from nature is seeing something very tiny—that most people would just walk over—and making it large so it becomes something surpising," she says.
The importance of art as outreach dawned on her while traveling through the Denver airport in her 20s. Bleary-eyed from lack of sleep and dim-spirited from a fight with a boyfriend, Renée stumbled upon a corridor in the airport with a beautiful neon light display set to music … and she got a little emotional.
She was moved because "not only can art make someone else smile, but it's a way of telling them, 'You're important. You're considered. Someone made something important so you can see it.'"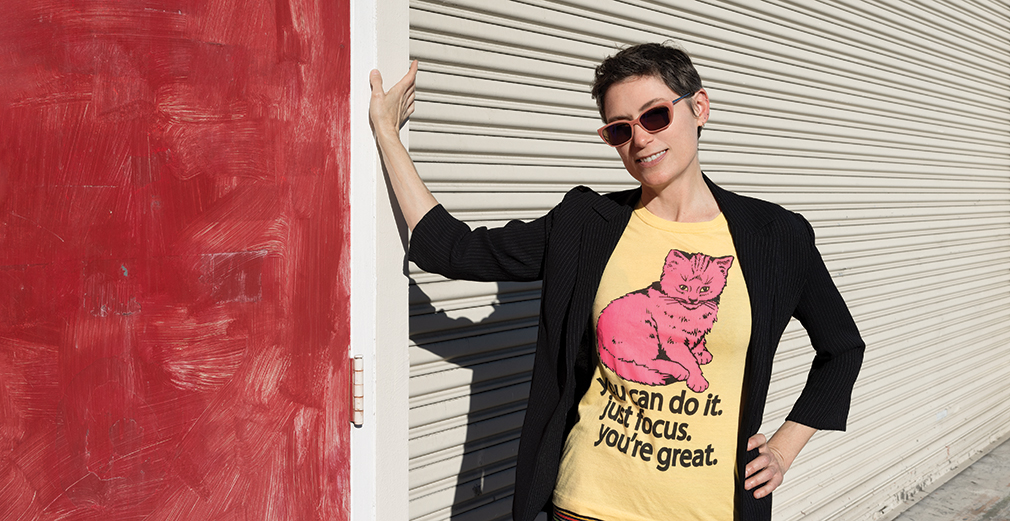 After graduating from Otis, Renée sought to connect with other artists. "Art is a very independent field," she says. "But we're social animals. We need relationships."
This desire for community ultimately led her to discover the rich enclave of Inglewood artists. In 2006 Renée and cofounder Kenneth Ober moved to Inglewood, only to realize another artist lived next door.
"It was a roaming party," she says, laughing. "People would start at our place with drinks, then walk to the next studio to see our friends' work."
This "roaming party" was a precursor to what would eventually be known as the Art Walk, and Inglewood Open Studios was born. The nonprofit grew naturally, gaining much attention from the local press until Renée and vice president Holly Tempo took a break after the 2018 Art Walk. Over their break, they reevaluated the role IOS had in the community and how they could could best move forward sustainably. Founding a nonprofit was the solution.
"We want to be an organization that can make a difference for local artists," she says. In the wake of COVID-19 struggles, they have emphasized helping artists financially. "We're able to provide opportunities for artists to have community and know they're not alone."
In 2022 IOS hosted a private fundraiser event—a more intimate version of an Art Walk—where artists spent time with donors to walk them through their processes. They raised enough money to fund grants for artists in the community.
The artists can use the money however they see fit. The only condition: They must invite a group of students from Inglewood schools for a workshop in their studios. As funding for art in schools continues to decline, IOS wants to ensure youth have continued access to art.
"Young people need to see that art and creative endeavors can not only be a job but a way to grow and develop as a human being," she says.
In 2022 they hosted their first Art Walk since 2018. The experience was made more accessible this year through a virtual component on their website, inglewoodopenstudios.org.
"When we decided to create a nonprofit, I wasn't worried about raising money," she says. "I thought, 'This is critical; people are going to understand and support it.'"
In 2023 Renée hopes for more amazing work to be done through IOS. Starting the year strong, they will meet with the Contemporary Art League, which helps artists understand options for subsidized health care.
"Art has a way of humanizing us and reminding us of our higher qualities," Renée says. "The world is a more interesting and beautiful place because there are people who are creative."
Standing in a gallery amidst the bustle of people admiring pieces on the walls; seeing friends point out the next place to go on the map; watching artists beam as people soak up the work they have poured their soul into … it is easy to see why Renée believes art is essential.