Baking is all about precision. Ingredients must be measured and mixed with careful attention to detail. Too much or too little flour, liquid or sugar can result in an inferior product or a "nailed it" type of disaster made for a reality TV baking competition. While much of baking depends on technique and finesse, a few tools will improve the quality and look of your baked goods.
From my years of experience in cheffing, baking, developing recipes and food styling, I narrowed down my top six tools for exceptional baked goods and pastries. By no means is this a comprehensive list. I considered functionality, capacity, ease of use and value and researched current product reviews to pare down a list of favorites.
Top on my list is the Kitchenaid Professional 600™ Series 6 Quart Bowl-Lift Stand Mixer not only because it's a game changer when it comes to baking large batches and following professional recipes, but it also stands out from other baking tools as a must-have item. This high-end kitchen helper streamlines preparation, produces light as-air meringue, is tough enough to knead yeasted dough and makes holiday baking a breeze. No surprise, it is my number one choice to perfect your baking. 
Continue reading for more details on this pick and what you need for the most uniform cakes, cupcakes, golden crust pies, consistently superior cookies and easier-to-prepare yeasted doughs.
Best Overall: Kitchenaid Professional 600™ Series 6 Quart Bowl-Lift Stand Mixer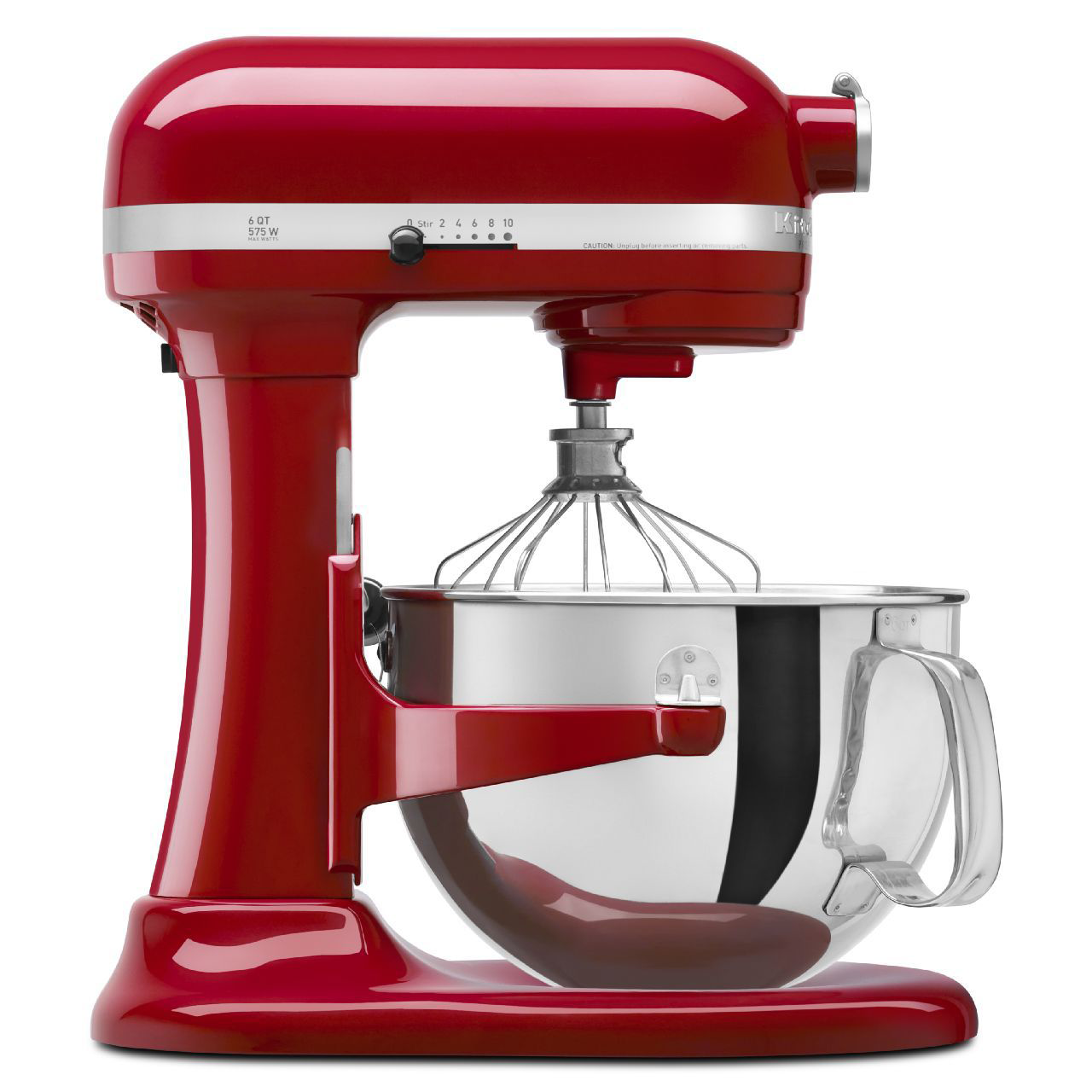 Pros: This bowl lift stand mixer is a kitchen workhorse. The 6-quart bowl is excellent for large batch baking and can whip up light as air meringue and knead dense yeasted doughs. It has 575 watts that will outperform your biceps every time. And it's guaranteed not to tire out after making several dozen cookies.
Cons: While built to last, this appliance is an investment. The bowl-lift lever takes a little getting used to and is less convenient than the tilt-head option available with smaller capacity models. It will likely need a permanent spot on the counter as a heavier appliance.
While you can whisk, whip, and stir, without the aid of an appliance, why not invest in a little extra kitchen help? This Kitchenaid appliance will be with you for a long time and is built to last. Consider it your pastry assistant that will never show up late to work, never complain, and never tire out. It has ten speeds, 575 watts of power, three attachments (whisk, paddle and dough hook), and a large 6-quart bowl. The larger bowl size and the pouring shield keep ingredients from flying out of the bowl while mixing. Although with the larger size and stability of this pro series stand mixer, you lose the nifty tilt-head option found with smaller models. The bowl is added or removed via a lift lever. The extra power of this model is perfect for dense yeasted doughs like bread or stiff cookie batters. If you need to whip up a meringue and a cake batter on the same day, order extra attachments or bowls to streamline mixing and clean up.
Capacity: 6-quart
Dimensions: 16 ½ h X 11 ¼ w 14 ½ deep
Weight: 29 lbs.
Dishwasher: Yes, removable parts are dishwasher safe.
Best Measuring Tool: Etekcity Luminary Precision Digital Kitchen Scale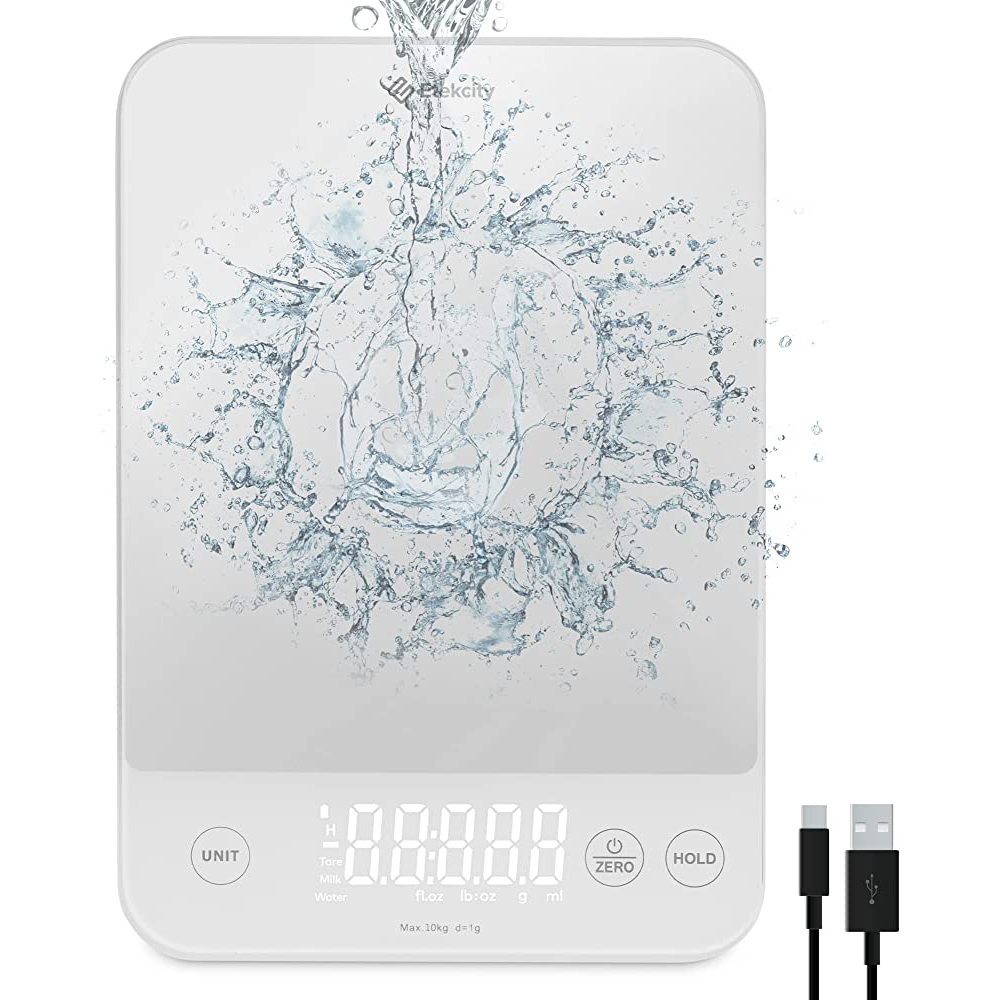 Pros: Waterproof and rechargeable, this kitchen scale is easy to wipe clean, rechargeable and can weigh ingredients up to 22 lbs.
Cons: The rechargeable function can be a blessing or a curse if you don't misplace the charger. The minimum measurement is 2 grams, and measurements are in 1-gram increments.
A kitchen scale is an essential tool for consistent baking and recipe development. Measuring cups vary in size among brands. It's easy to over or under-pack ingredients, which can affect the final product. When you weigh wet or dry ingredients with a digital scale, the quality of your baked goods will be consistent. Listed as one of the top-rated digital scales on Amazon, the sleek design and rechargeable feature adds to the appeal. The memory function will keep track of the measurement being used even if the scale powers down during use, eliminating the need to reset. It's all touch screen, so there are no buttons to clean. The relatively large surface is perfect for weighing all sizes of ingredients as small as 2 grams and up to 22 lbs., although half grams are not displayed. The rechargeable feature saves money on batteries and makes charging a breeze as long as the charger doesn't disappear. While some users commented on issues with accuracy overall, for the number of verified reviews, this scale tops the scale among similar styles and price points. A good tip is to weigh a nickel, which is 5 grams, to confirm accuracy before baking.
Capacity: 22 lbs.
Dimensions: 9.5″L x 6.6″ W x 0.8″H
Weight: 1.17 lbs.
Dishwasher: No
Best Baking Sheet Pans: Nordic Ware Natural Half Sheet Baking Pans, 2 Pack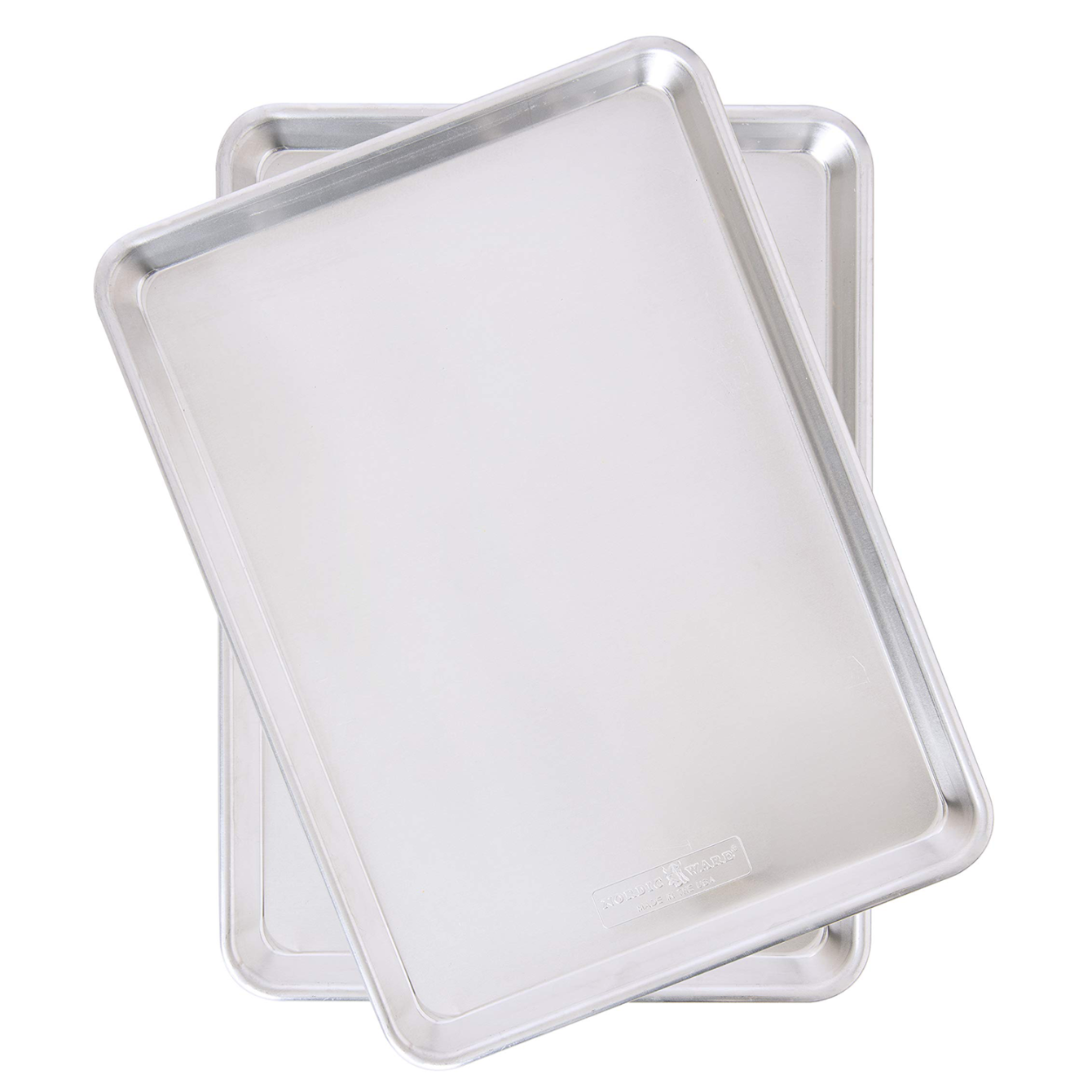 Pros: Sturdy with a rolled edge, these pans bake a sheet cake and cookies evenly. Rolled reinforced rim will not warp when cooking. They are made of pure aluminum and will not rust. Nordic Ware is a trusted brand preferred by bakers, and these pans were listed as number one on Amazon at the time of this review. The smooth surface is easy to wash.
Cons: These should not be washed in a dishwasher, so plan to hand wash them after each use. Some users ignored the manufactures advice and cleaned them in the dishwasher, which discolored the aluminum and dulled the appearance. In addition, some recent purchasers claimed the heat conductivity could have been better.
Preferred by bakers, these pans are listed as number one on Amazon at the time of this review. They are great for baking uniform cookies, sheet cakes and toasting nuts. The smooth surface is easy to wash and maintain, although acidic foods will cause pitting and discoloration to the pan surface. The pans are heavier than some brands, although the sturdy construction, made from pure aluminum, won't rust or warp. Hand washing is recommended as dishwashing chemicals will cause discoloration. Before baking, line the pans with parchment paper or a silicone baking mat, and don't use metal utensils, which could scratch the surface and affect performance.
Capacity: Half sheet (2 pans)
Dimensions: 17.9 x 12.9 x 1 inches
Weight: 1.65 lbs.
Dishwasher: No
Best Small Tool: Williams Sonoma Pie Crust Shield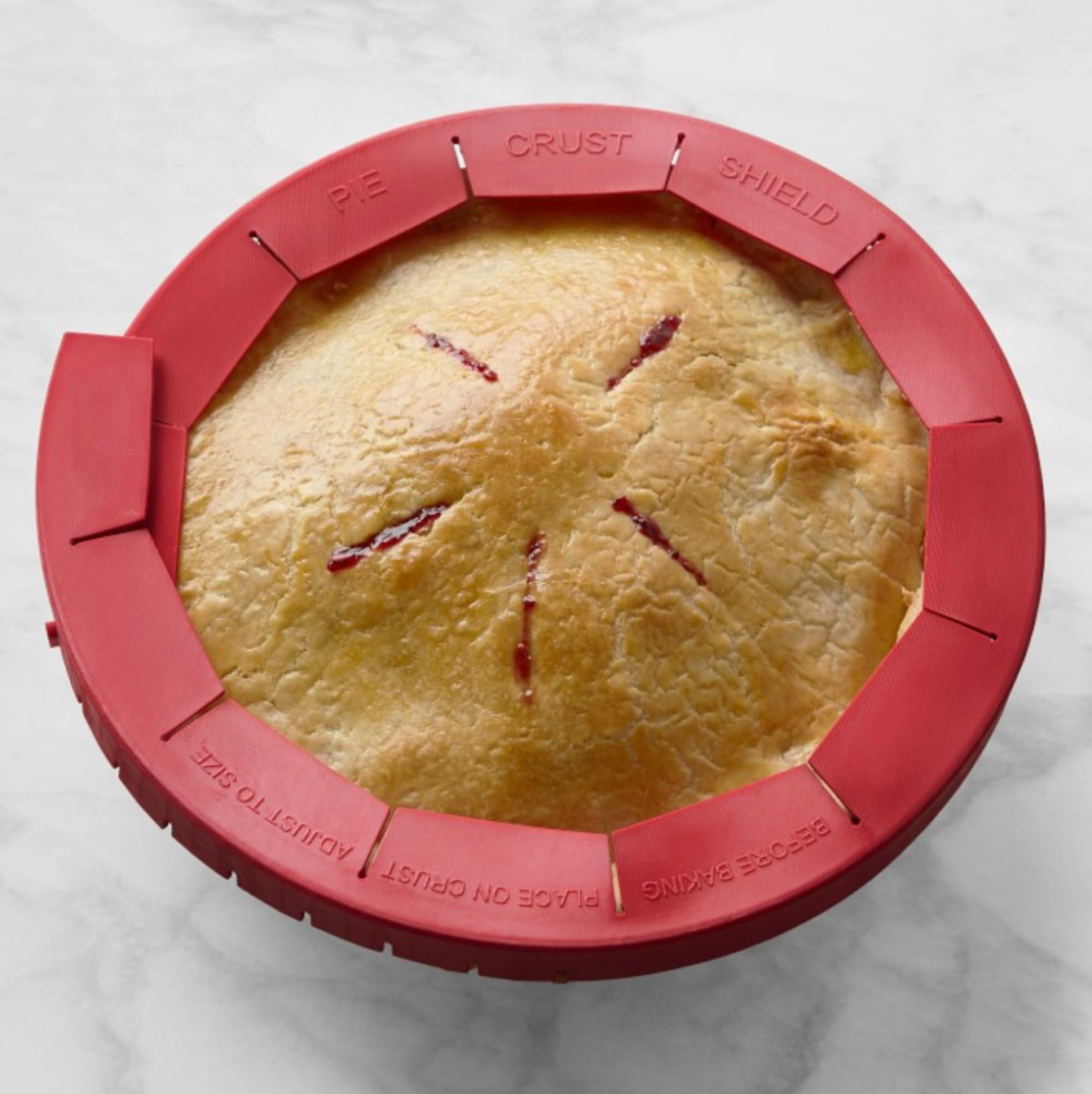 Pros: This silicone pie shield protects delicate pie crust edges from burning. It's flexible and fits small or large pie pans.
Cons: The shield covers the edges, so you can only tell if they are done if you lift the shield to look at the crust underneath. It is designed for round vessels; therefore, is not ideal for square or rectangular tart pans.
For such a reasonable price, this tool, gadget or maybe it's a thingamajiggy, is perfect for protecting intricate lattice pie crust edges and decorative embellishments.
The simple design is easy to use before baking your pie. However, it's recommended to use the shield on frozen pie dough, so it doesn't cause indentations. Also, remember that the shield gets hot when heated and can be challenging to readjust during baking. The beauty of this flexible shield is watching the top crust turn a beautiful golden brown while slowing the baking process and preventing burning on the delicate edges. It's the key to an evenly baked crust and can be used on small tarts or larger pies. However, the design is ideal for round vessels and not suitable for most other shapes.
Best For Cupcakes, Cookies & Muffins: Saebye Trigger Release Portion Scoop Set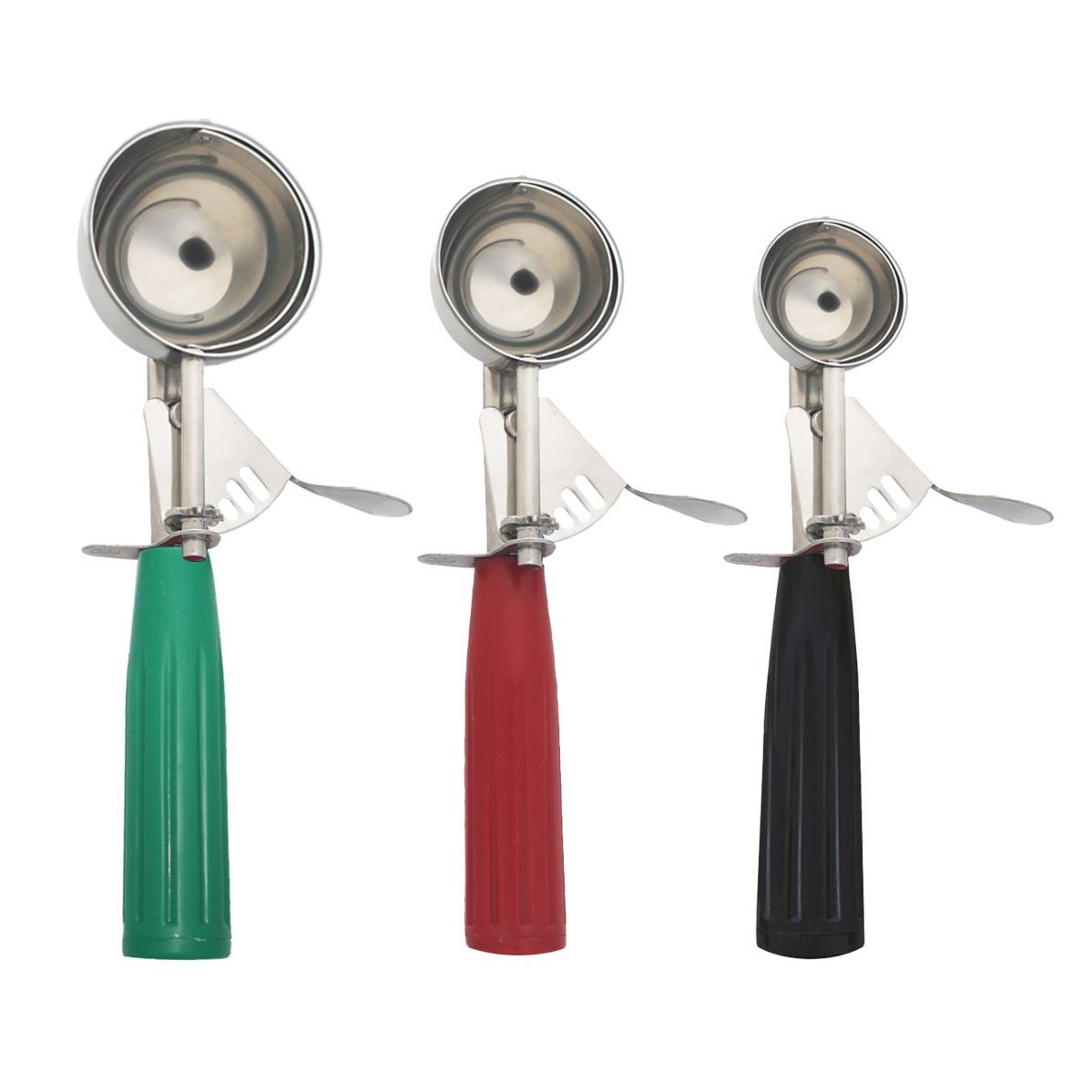 Pros: The trigger release and grooved handle are comfortable and easy to use. Cookie dough releases easily, creating consistent uniform scoops.
Cons: Some consistency issues regarding the scoop's performance and poor manufacturing have been reported by users in online reviews. The trigger release can malfunction, and the scoop guide can get off the track, causing batter or dough to stick.
A good scoop is necessary for uniform cookies, cupcakes, and muffins. Consistently portioned scoops of batter take the guesswork out of filling cupcake wrappers and muffin tins. Evenly scooped dough ensures cookies are correctly sized and baked to perfection. Ultimately, the best scoop is manufactured well and fits your hand comfortably. Saebye scoops have a single thumb trigger release that reduces hand cramping associated with squeeze trigger handles. The handle is medium sized with comfortable grooves. The scoops work great for portioning large batches and come in three different sizes (large, medium and small). The quick-release design guides batter from the scoop to a sheet tray, cupcake wrapper or muffin tin in a flash.
Best for Chopping & Blending: Cuisinart 14-cup Food Processor with Accessories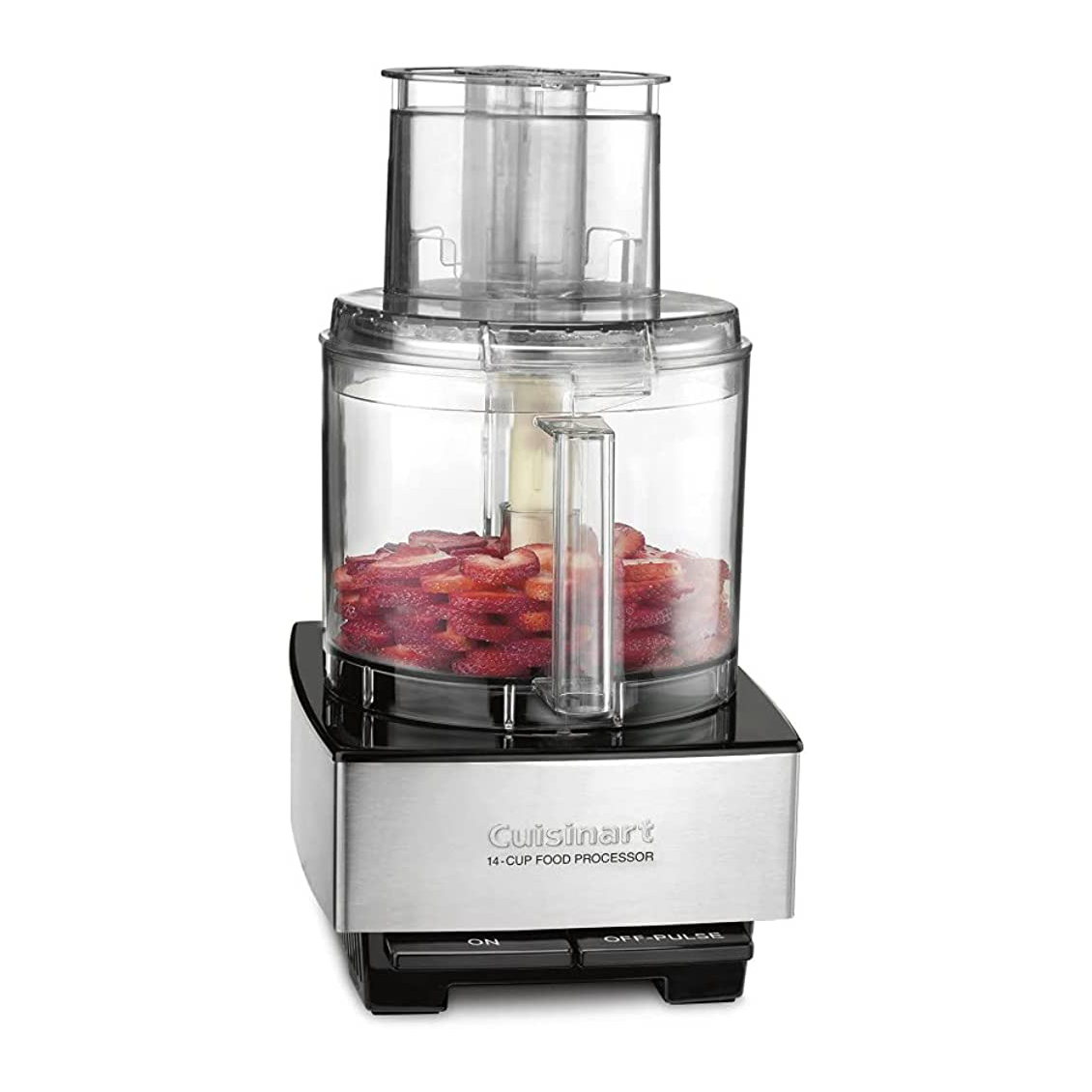 Pros: Large 14-cup capacity with a powerful 720-watt motor. The blade attachment is excellent for mixing pastry dough, chopping nuts and pureeing sauces. Parts are dishwasher safe.
Cons: It's 18 lbs., so you will likely need a home on your kitchen countertop for this small appliance. The safety chamber can be difficult to clean if food particles become trapped.
The large 14-cup capacity is great for making pastry dough and shortbreads. Fruits, nuts, vegetables and chocolate can be quickly chopped or pureed at the push of a button. The feed tube is extra-large and will accommodate some whole fruit and cheeses shredded for quiches and biscuits. The detachable parts are dishwasher-safe and easy to clean. The safety chamber on the barrel might take more effort to clean if any food particles are trapped. At 18 lbs., it's best to keep this appliance out on the countertop. The Cuisinart food processor comes with a trusted brand name. It also has multiple functions to streamline baking as well as cooking preparation, making it a favorite kitchen appliance.
Kara Mickelson is a recipe developer, producer, writer, and food stylist, an alumnus of UCLA and Le Cordon Bleu School of Culinary Arts and the creator of Styled Delicious, a boutique culinary brand. She is a professional chef, food stylist, and creative content producer. Kara trained in Spain and Napa at the famed French Laundry and has worked behind the scenes with top Food Network chefs. She is the author of Friends: The Official Central Perk Cookbook. She is a regular contributor and producer for Southbay magazine and Emergent Media, providing original creative content, food and prop styling, recipes, and lifestyle and design-focused features. She has credits in several publications such as Food & Wine, Terranea magazine, TerraneaLife, Paradise, Luxury Hoteliers magazine, and Bake It Up!