Paul Thomas Anderson makes no secret of his affinity for the Valley, where he grew up and still lives with actress/comedian Maya Rudolph and their three daughters. He chose the Valley as the backdrop for his movies Magnolia,Boogie Nights and Punch-Drunk Love, as well as his latest film, Licorice Pizza. But this new dramatic comedy takes that affinity to a new level, playing out like a love letter to the Valley. The film showcases it in full 1970s glory, from iconic restaurants to prime stretches of Ventura Boulevard.
As for why Paul keeps coming back to the Valley and the 1970s:
"I like the way it looks. I like the way it tastes and smells. I don't know beyond I love it. Do I wish I had more range? Yes, I do. I was writing another story. I was deep into it and I was distracted by the pull of this one, and of course, there's a moment where you go, 'Are you really going to make another film in Los Angeles in the '70s again? Don't you think you've done that?' Then you ignore that voice, and you swat it away like a fly."
Valley Shooting Locations
MY CREATIVE OUTLET
Used for the Fat Bernie's
Pinball Palace scenes.
---
WEST END ARTS DISTRICT
This stretch of Devonshire was transformed to resemble a 1970s streetscape and used over a six-week period during filming.
---
GASPAR DE PORTOLA
MIDDLE SCHOOL
Used for the scene when
Gary and Alana meet.
---
BILLINGSLEY'S RESTAURANT
The former eatery (closed in 2004) was used for the Tail o' the Cock scenes.
---
VAN NUYS GOLF COURSE
Used for the scene when Sean Penn jumps over fire on a motorcycle.
ENCINO 76 STATION
Used in the scene where Alana and Gary run
out of gas in the truck.
---
RIVE GAUCHE RESTAURANT
Used for when Alana goes
to meet Councilmember Joel Wachs
for a cocktail.
---
FIELD IN SHERMAN OAKS
This open space, off Coldwater and Burbank Boulevards, was used to film the scene where Alana and Gary run.
---
MIKADO RESTAURANT
The setting for the comedic scene where the white restaurateur talks to his Japanese wife with an accent.
---
EL PORTAL THEATRE
The site for the pivotal scene where Gary and Alana meet up after being estranged.
A Picture is Born
Set in Encino, Licorice Pizza tells the story of the unlikely romance between Gary and Alana. Gary is a doughy, hustling, smooth-talking teenager, and Alana is a sharp-witted, waiflike 20-something trying to figure out what she wants to do in life.
Gary is played by Cooper Hoffman, son of the late Philip Seymour Hoffman, and Alana is played by Alana Haim, one of three sisters who make up the Grammy-nominated rock band Haim. Neither Cooper nor Alana had been in a film before. Alana was cast first.
As the filmmaker tells it, he became intrigued by the band's song "Forever," and when he discovered the sisters were from Studio City, he invited them to dinner. There the sisters shared that their mother is a woman named Donna Rose, who, it turns out, was Paul's art teacher at The Buckley School. From that small-world note, the director's relationship with the women blossomed. He directed several of their music videos and ultimately became a family friend. Alana's two sisters, as well as their mother and father, also have roles in the film.
The idea for the movie was sparked by a real-life scene Paul witnessed at Gaspar De Portola Middle School in Tarzana on Picture Day.
"All the kids were lined up on the blacktop and this junior high school kid was nagging this girl who worked for the picture company. He's trying, clearly trying, to get her phone number or anything. This kernel burned in my brain as this impossible premise and a really good one. What would happen if he actually talked her into showing up on a date and, against all her better judgments, she turned up angry about turning up?"
Paul says he wrote the lead character of Alana in Licorice Pizza with Alana Haim in mind even though she'd never acted before.
"It was an instinctual feeling more than anything else, and probably from knowing her personally, knowing that her ferociousness and her appetite and her talent were incredibly large. Yes, there can be a gap between having that and acting in a movie, but the work that we had done in music videos was a very good hint."
He knew there was a chance it might not work out, but if it didn't there was an escape hatch. "The escape hatch would've probably been not making the movie if she had been really terrible. I probably just would've put it in a drawer and not made it."
Without any kind of preface, he sent the script to Alana, who was in London at the time.
"It happened out of the blue. I got this email from Paul, and it was untitled, and it was on Word. I didn't have Word on my cell phone, so I had to immediately download Word for formatting, and I read the script. I read it five times that night, and I fell in love with both Gary and Alana. I was excited. Paul said, 'Why don't you just try and read it out loud?' I started from there, and we did many tests in front of the camera. I got better, thank God."
The character of Gary stems from another one of Paul's real-life experiences: hearing childhood stories from his friend Gary Goetzman, now the cofounder of Tom Hanks' production company, Playtone. Gary's stories of being a child actor and a salesman at Fat Bernie's Environmental Living, a waterbed store in the Valley, are recounted in the movie. One scene tells the true story of when Gary sold and delivered a waterbed to the home of producer Jon Peters (played by Bradley Cooper) in Encino, where Peters also had a hair salon. The madcap post-delivery chase through the Encino hills, however, was a fabrication.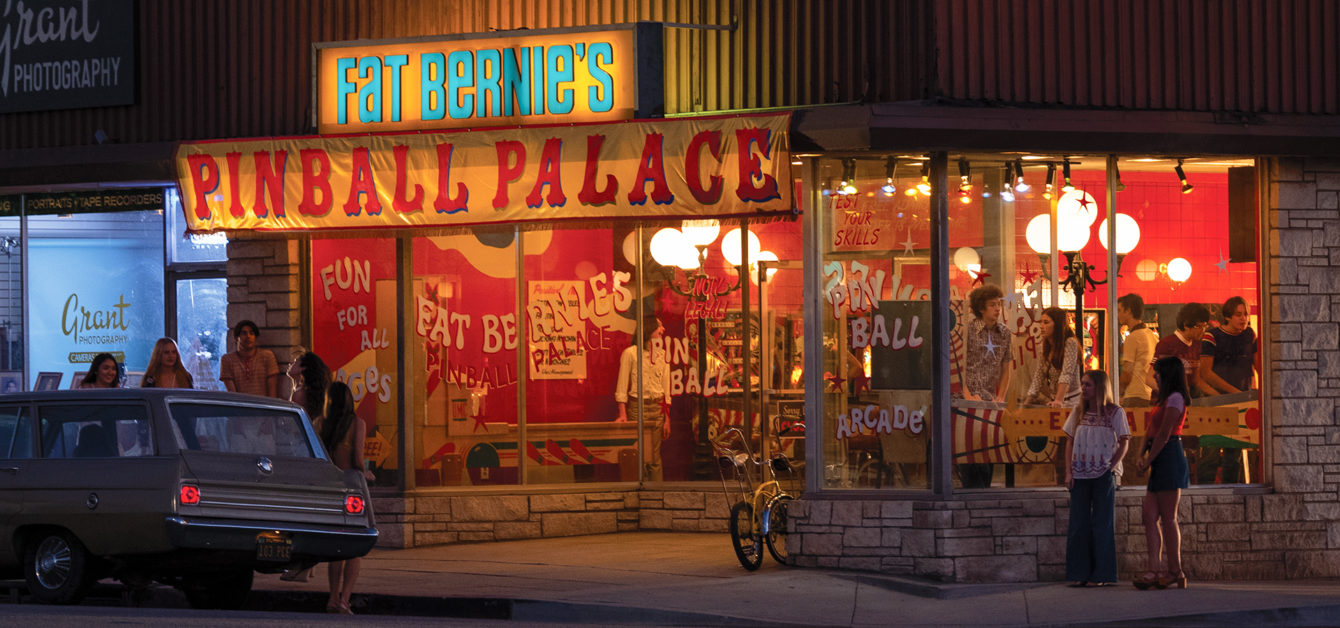 Time Travel
It is a lesson in Valley lore to check out what has become of the actual '70s locations showcased in the storyline, and what substitutes the moviemakers used for ones that no longer exist. The site of the actual waterbed store in Encino is now a tanning salon, though Rudnick's, the dressy kids clothing store next door, remains. The street scenes for the waterbed store were filmed along a stretch of Devonshire Street in Chatsworth known as the West End Arts District.
In the movie, the precocious Gary hangs out at the Tail o' the Cock in Studio City, one of the Valley's first upscale eateries, and once a hangout for celebrities including Elizabeth Taylor, Richard Burton and John Wayne. The location, near the intersection of Ventura and Coldwater, was razed in the 1980s to build a shopping center.
The Tail o' the Cock scenes were filmed at the old Billingsley's restaurant at the Van Nuys Golf Course. That restaurant has been closed since 2004, but its red leather booths and low-slung bar remain intact, and it occasionally gets rented out as a film location. Paul also shot a scene at Billingsley's for Magnolia in 1999.
The movie's nighttime motorcycle sequence, where Alana goes out with the character played by Sean Penn, was shot at the Van Nuys Golf Course. Scenes were also filmed at the Mikado restaurant in Valley Village (which some cite as the first Japanese restaurant in the Valley), Gaspar De Portola Middle School, the shuttered Rive Gauche restaurant in Sherman Oaks, and the 76 gas station at Balboa and Ventura in Encino. The El Portal Theatre in NoHo was used for the climactic scene at the end with Gary and Alana.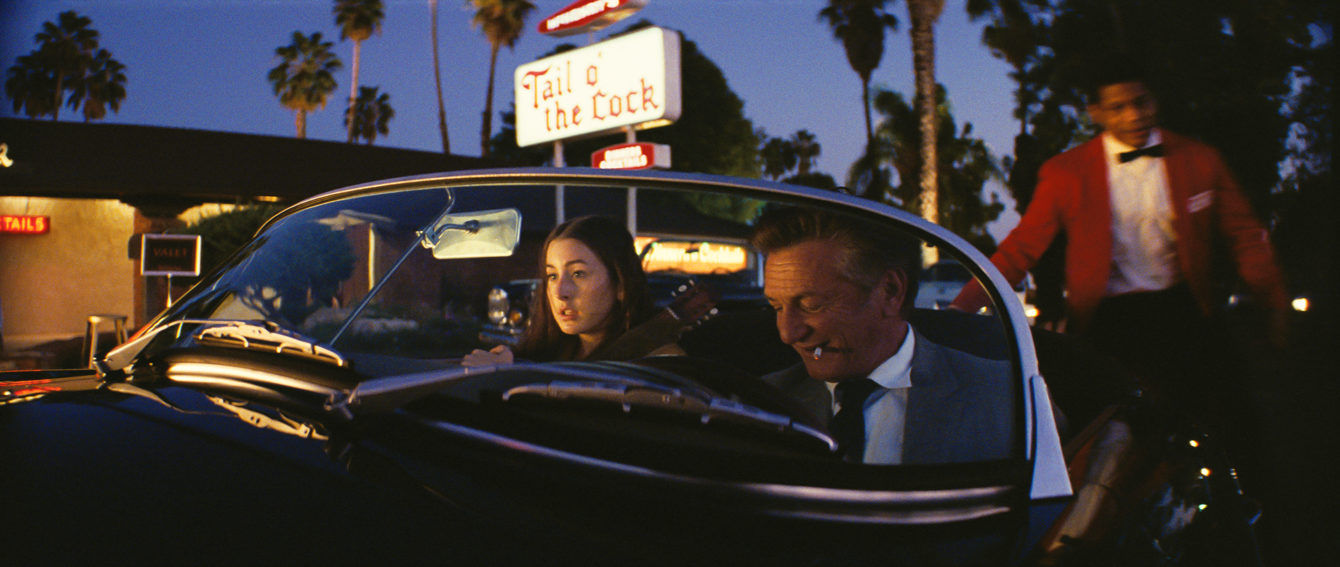 Local Ties
Local historian and founder of the Valley Relics Museum, Tommy Gelinas, also got in on the act. He says Paul Thomas Anderson came in to the Van Nuys museum with his crew before production began and spent time looking around. "Honestly, I didn't even know that it was Paul Thomas Anderson or how big a production it was going to be. For all I knew they were making a small indie film." Tommy ultimately made the connection when a friend called him saying that filming was going on in a Chatsworth crafts store "for a Paul Thomas Anderson movie called Licorice Pizza." Tommy ultimately loaned several vintage signs to the production, including ones for Magic Muffler, Mel's Drive-In and Love's Wood Pit Barbecue. He believes that the filmmaker, like Tommy himself, gets it. The Valley's history and culture give it a very high cool factor.
"In my opinion, Licorice Pizza is a fun love story that shines a terrific light on the Valley," says Tommy. "It shows the best of what it was like growing up here in the '70s: cruising Van Nuys Boulevard, the car culture, public golf courses, drive-in movie theaters, themed restaurants. We'd have fun all day, hanging out at indoor malls and riding our Schwinn bikes everywhere. Watching the movie, it is obvious that Paul Thomas Anderson gets what a great place the Valley was to live in during the '70s—and still is."