One of the magnificent things about living in California is you can wake up to the sounds of waves and, in only a few short hours, find yourself tucked away in a cozy mountain cabin in the middle of a national forest.

Mixed-media artist Mike Weber has spent the last seven years doing just that, splitting his time between his city dwelling and his historic rustic cabin in the San Bernardino National Forest. Originally from Missouri, and later living in Washington D.C., Weber has spent his life with one foot in and one foot out of nature.
"It's almost like the locations of where I work are mixed media as well," says Weber. "I'm mixing all these materials to create this final object, but I'm also mixing an urban lifestyle with a mountain lifestyle. They are both my studio in a way. I do a lot of the production work in Los Angeles, but most of my photography is done in the wilderness. Combining the two feels very natural to me because I always have one foot in and one foot out—and that's what makes me feel balanced."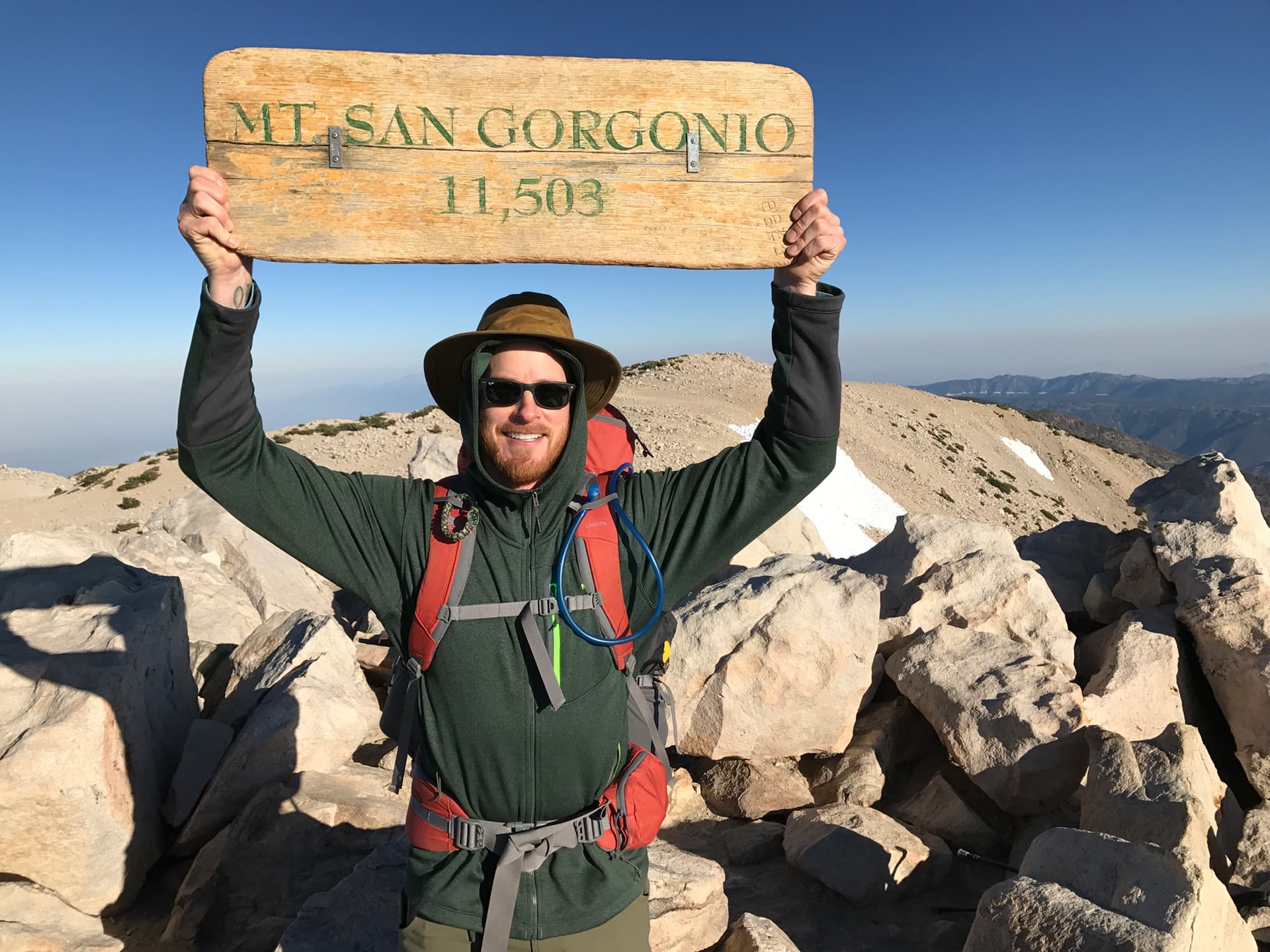 With degrees in Visual Communications and Computer Animation-Multimedia from The Art Institute International, he spent his early career in television and motion picture graphic design. He left it all behind in 2001 to focus on his fine art.
His current work is a combination of paint and nature photography, which he captures in the wilderness of America's National Parks. His layering techniques—colors, textures and patterns—are inspired by earthly landscapes, decaying signage from human life and decaying German and Dutch homesteads near his childhood home in the Midwest. Each piece connects a global audience with a combination of materials and images that look perfect and ruined at the same time, juxtaposed to create rhythm, harmony and coherence.
"When we look at animals in nature, we see how they are in harmony," he says. "So using it in my artwork is a really fun way to engage people and make them think about nature."
An active hiker, backpacker, kayaker and nature photographer, he has paddled countless rivers, lakes and bays in his touring kayak and has summited over 20 mountain peaks since his move to California in 2010.
"When I have my backpack on and my camera in hand, the first thing I want to do in a new area is go explore. That's where I'm going to find the animals and subject matter for my work."
Artist Statement:

"Nature is balanced. Nature is energy in life and restoration. We need only look at the animals of our planet, which live in harmony, to see how life on our planet is connected through nature. Animals should serve as an example to us of how to live in harmony.

"Nature is seen in the beating hearts of earth's animals. By observing animals in nature we should be able to see what it provides and replicate this. They have an innate urge to be connected with the emotional context of their surroundings. The animals of our planet have many reasons for being and they are different from our reasons for being. They are tremendous balances of energy because they are pure, positive energy and are in pure connection to their source.

"We refer to this as instinct and we are amazed at their ability to migrate, move about and interact. They are connected to nature and are operating from a broader perspective. Their alignment and connectivity are mysterious forces that fall outside the scope of science. Animals can affiliate with others and collectivize their emotional energies so as to increase their chances of survival and reproduction. They are the best teachers on the planet."

—Mike Weber