A common expression among winemakers is that great wine is made in the vineyard, not in the winery. While technical expertise is essential, it's the viticulture—the grape growing practices—that most shape the wine that is ultimately uncorked and poured.
We asked three of Santa Barbara's best winemakers to share with us the story of a single bottle of wine, to map how the grapes that ripened in three of the county's distinct sub-appellations wound up in your glass. From juicy sangiovese grown in Ballard Canyon to a pocket of chenin blanc nestled in Santa Ynez to a family's new plot of Santa Maria pinot noir, each of these three wines was crafted with love by winemakers who respect place. Each also tells a story of family and of how family-owned wineries, the Davids in a world of corporate Goliaths, deserve your support. Take the time to find and celebrate artisanal wines by expanding beyond the grocery store and by buying directly from the people who care for the grapes.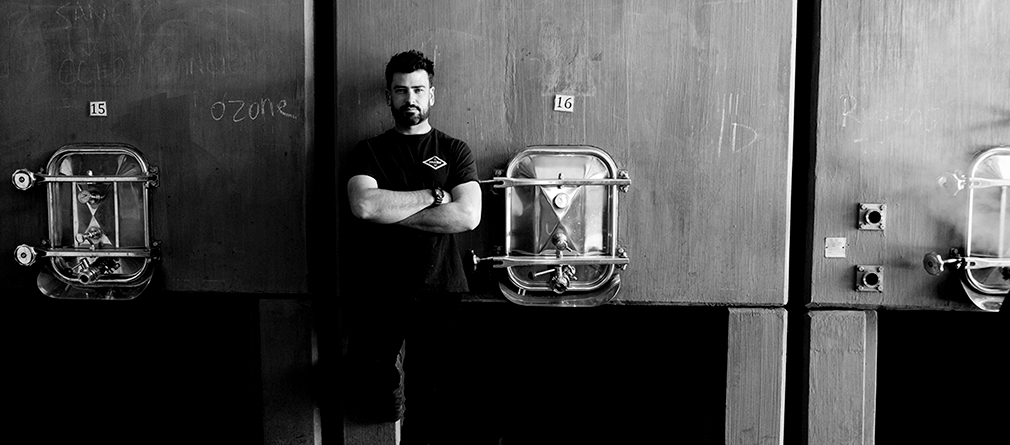 Babies and Bunches at Stolpman Vineyards
Matt Nocas, Operational Winemaker
When I last saw winemaker Matt Nocas, he was literally pulling a baby out of a fermentation tank—a clean one, of course. As dad to energetic one-year old Olive and husband to one of Santa Barbara's busiest wedding planners, Matt considers the winery to be the best of playgrounds for his little one.
Matt has worked with the Stolpmans for many years now, and their family-first ethos is echoed in the way they treat their employees and employees' kids. Working with Stolpman's many different SKUs has provided Matt with an unusually broad opportunity to explore both grapes and techniques as opposed to specializing in just one variety. With a brand-new winery launching this spring and an expanded footprint in the legendary Lompoc wine ghetto, Matt has a lot of grapes to monitor while chasing that baby around the barrels.

The Wine: Stolpman Sangiovese, "Love You Bunches" (Ballard County/Santa Barbara, 2022) SRP $24, www.stolpmanvineyards.com
Sangiovese, Tuscany's great red grape, is almost ideally suited to Santa Barbara's Mediterranean climate, yet very few winemakers seem to appreciate it. (Blame Sideways?) While Matt uses sangiovese in several forms for Stolpman, one of his greatest hits is this dangerously slurpable "Love You Bunches," which, as the back label reminds us, is "so fresh." In this iteration, Matt uses whole clusters of grapes as opposed to destemming the fruit and employs a technique called carbonic maceration to fully extract the bright cherry ripeness of the sangiovese without absorbing a lot of tannin. Fans of Beaujolais may be familiar with this process, which creates a juicy, mouthwatering red that is best served slightly chilled.
Is this a "natural" wine? Matt has a lot of thoughts on this topic. "We like natural wines that are clean and made with minimal intervention," he says, but notes that it's not prescriptive. "We go with how we're feeling, because every ferment and every vintage is going to be different."
Keep a bottle of this wine chilled in your fridge at all times, and you'll be glad to have it. It pairs as beautifully with a charcuterie and cheese board as it does with fancier meals like grilled lamb chops or roasted Kurobuta pork with cherries.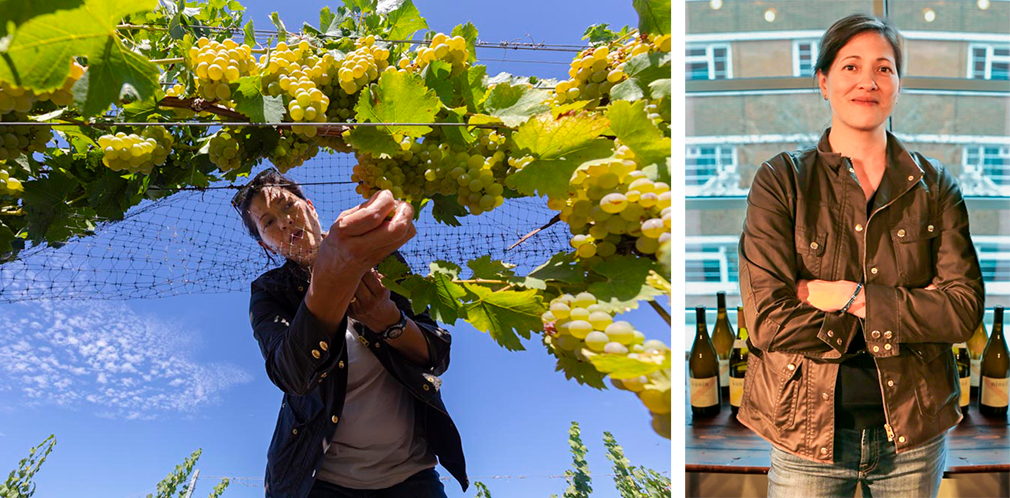 A Jurassic Journey for Kunin Wines
Magan Eng, Owner/Winemaker
When Santa Barbara's much-loved Seth Kunin passed away unexpectedly in 2017, the grief was keenly palpable in the US wine community and among his many friends in France. While grieving and grappling with being a single mom, his wife Magan Eng quietly undertook a singular journey as sole proprietor at Kunin Wines. Primarily known as a producer of Rhône varieties, Kunin Wines' library also includes grapes associated with the Loire Valley. A favorite is the sparkling chenin blanc made with grapes sourced from the iconic Jurassic Park vineyard in Santa Ynez.
"Jurassic Park Vineyard is home to the oldest own-rooted chenin in Santa Barbara County. Dates vary depending on who you ask, but I think it's reliable to say the vines were planted in the very early 80s," says Magan. She noted that it's miraculous that the vineyard still exists in its original form, that "the fact that the vines have not been grafted over in the intervening years to something more lucrative or glamorous is testament to just how fabulous the fruit is here. There is a distinctive line of flavor and balance that runs through our three spins on chenin blanc—the Natural/Skin Contact, the Traditional and the Zero bottlings—that is unmistakably Jurassic Park."
For consumers who are not familiar with sparkling Vouvray (chenin blanc), this wine is akin to a fine Champagne—but with a soul that is uniquely California.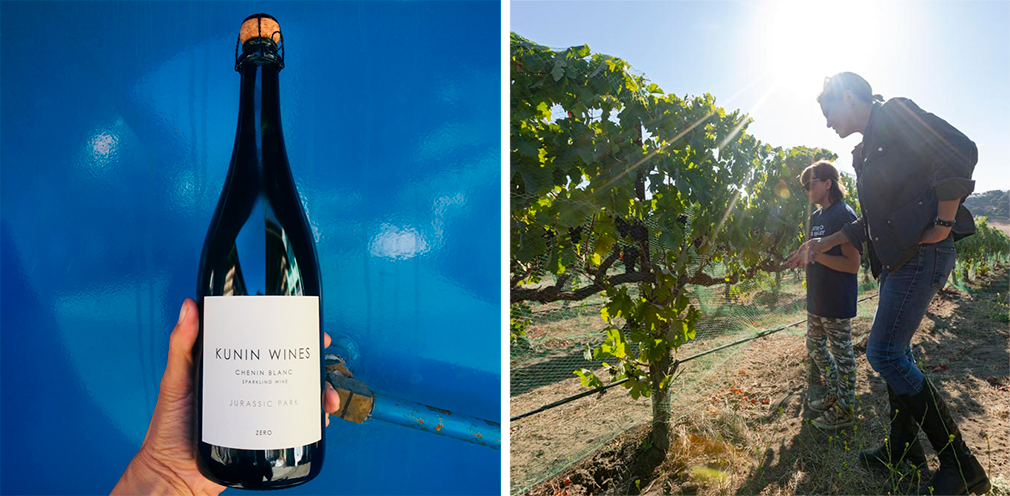 The Wine: Kunin Chenin Blanc, "Jurassic Park Sparkling Zero" (Santa Ynez/Santa Barbara, 2019) SRP $55, www.kuninwines.com
Most California bubblies are modeled on Champagne and use chardonnay, pinot noir, and sometimes pinot meunier as a base. This wine is 100 percent old-vine chenin blanc, and 100 percent delicious. Made without an added dosage, i.e., "zero," the Kunin bubbly is bone-dry and endlessly refreshing with aromatic notes of crisp Bosc pear, cardamom, and a limey salinity that will have you pouring the second glass before you've finished the first. Magan's recommendation? "Have a power breakfast!" she says. "Seth and I used to have our Zero Dosage Sparkling Chenin with Époisses (cheese), a soft-boiled egg, and brioche toast (bacon, too) for holiday breakfasts!"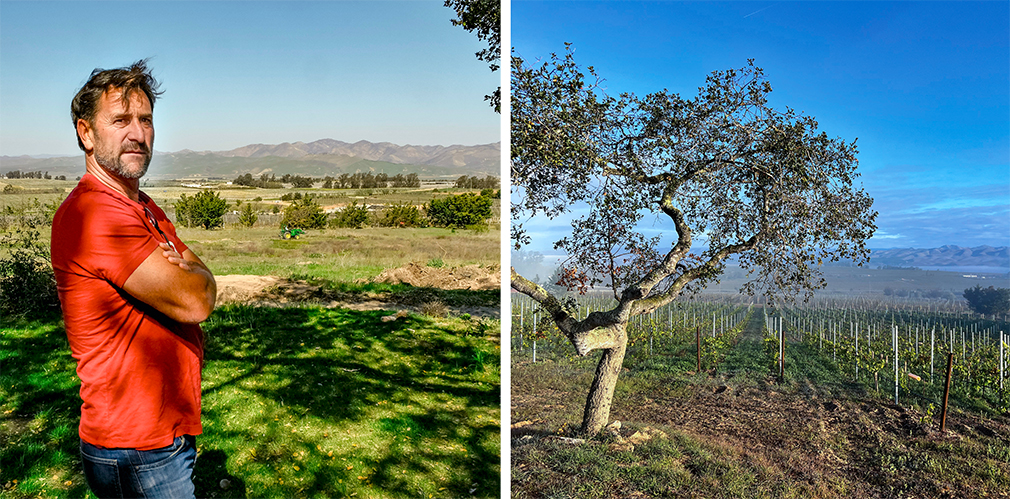 Family Legacy at Lumen
Will Henry, Co-Owner/Winemaker
You know the friend that everyone secretly concedes is cooler than you? Will Henry is that friend. Trust us, he's cooler than you. A surfing Stanford grad and polymath photographer, Will's done a lot in a career that includes founding Save the Waves, a nonprofit devoted to protecting international surf breaks threatened by development. That one of these breaks is located on the wine-producing island of Madeira was fitting for Henry, whose father Warner founded the Henry Wine Group in California, a distributorship devoted to "giving the little guys a bigger voice" in the wine business.
Will did not join his family's company until 2009 when his father asked him to come back to the business. "I kind of needed a job," Will notes, and because of a legendary tasting of the 1976 Sanford & Benedict pinot noir, he wound up in Santa Barbara County where he now shares winemaking duties with partner Lane Tanner at Lumen Wines. Warner Henry was one of the first Californians to recognize the potential of Santa Barbara pinot noir, long before anyone else did, and when son Will had an opportunity to buy a promising piece of raw land in the Santa Maria Valley, a family vineyard was born. Warner passed away two years ago but had a chance to visit his now eponymous vineyard site.
Will is bottling the very first Lumen "Warner Vineyard" pinot noir this fall, and while there won't be much to go around for a few more years, those in the know will be jealously hoarding it. Henry notes that for him, "the beauty of wine is always its expression of place." In the nearly fifty years since that first Sanford & Benedict vintage, the Henry family has honored and honed Santa Barbara's potential. Get on the mailing list now.
The Wine: Lumen Pinot Noir, "Warner Henry Vineyard" (Santa Maria/Santa Barbara, 2023), price not available, www.lumenwines.com
Will Henry, wife Kali Kopley, and daughter Winslow have recently renovated and relocated to a farmhouse smack in the center of the new vineyard and are watching the grapes ripen—albeit slowly, due to an unseasonably wet winter. Santa Maria soils are typically sand and sandstone, and with the "third leaf" this fall, the vineyard's yield will be very low with the typical concentration and structure that make the area so desirable for pinot production. While you wait for the wine to be released, consider visiting the family's restaurant in nearby Los Alamos, Pico at the General Store, where dinner outside on the back patio is one of wine country's most enjoyable experiences. Ask Will where to surf and what to drink! He knows.