The impact of the virus on our community has been catastrophic, with the tragic loss of life and economic fallout at the forefront of everyone's minds. With that backdrop, it now somehow seems more meaningful to be able to share Ken's extraordinary story.
The middle child of nine, Ken was raised by two humble immigrants: a Scottish father and Polynesian mother who met after the Vietnam War. They lived on a fully functioning ranch and farm in "nowhere, Utah" close to the border of Colorado.
"I rarely heard my mom say the words, 'I need to go to the store,'" Ken shares. "We baked our own bread. We pickled for the wintertime. If we raised it or grew it, we pretty much ate it. I rode my horse to school with a shotgun to shoot off coyotes or bears in case they got in my way."
Ken enjoyed the rural lifestyle as a kid, but at 19 his home became too small for him. A football star in high school, he earned a college scholarship but put it off for an adventure to Chile to do humanitarian work for a couple of years. When he returned to the States, he was redshirted by a major university and had aspirations to play in the NFL. He also got married and wanted to start a family.
With a full course load, an extra job and high-level football, Ken was understandably overwhelmed. He didn't know it at the time, but he also had an asymptomatic heart rhythm, which coupled with extreme exhaustion caused him to have a horrific accident on his way to an early practice session.
"I blacked out and ended up flipping my car three times," he says. "It exploded and threw me out the window about 80 feet. I broke just about every bone in my body and had a massive brain concussion. I was pronounced dead but then was revived and stayed in a coma on life support for a couple of months. It was gnarly."
The doctors told his mother he had a 1% chance of surviving, and that if he did ever wake up he would be in a permanent vegetative state.
"My parents had plenty of opportunities to unplug me but refused," he says. "It was a few months later that I just casually woke up from my coma. Doctors have studied my case as a medical anomaly. They cannot comprehend how my body works after all it went through and how I am able to have brain function. I believe through thoughtful meditation and prayer, somehow, someway, you can heal. But I also feel like it's with the help of a higher power that I am here today."
People often ask Ken why he thinks he got a second chance after the car accident. "For me it's an easy answer: That accident happened on October 22, 1999 at 4:37 a.m. Exactly one year later on October 22, 2000 at 4:37 a.m., my first child, Raquel Ray, was born. I was meant to be a father, and that's the reason I'm here: for my kids."
When he woke up from his coma, Ken couldn't play sports and his scholarship was in jeopardy. Fortunately, one of the boosters for his school, Scott Molis, knew that his family couldn't afford his education without it and stepped in. He told Ken that if he did the financial books for his bar, he would cover the majority of his tuition. Ken was overwhelmed by this kind gesture and is forever grateful.
"I got to go to school to study chemistry and finance," he says. "Scott was so kind, and he never ever wanted credit. He used to secretly deposit funds in seven different students' accounts or the scholarship fund. Kind of a quiet warrior type of guy. He passed about 10 years ago. He was truly an angel."
At the time, his chosen profession wasn't quite as popular with everyone in his life. Ken's former wife didn't support his choice of bartending as his livelihood. Feeling the pressure, he moved to Oakland to become a mortgage finance broker and eventually became a partner with the firm he joined.
Unbeknownst to his wife, he helped open a restaurant on the side and worked there some nights. But being a broker by day and a bartender by night was a stressful way to live.
"I was made to feel ashamed of being a bartender," he remembers. "It wasn't until my divorce in 2008 that I realized I just wanted to do hospitality. I just want to connect with people and make them feel better in my own way. I spent a couple years traveling and bartending all over the world. I would just walk into random pubs everywhere from Scotland to Transylvania asking for work, and the answer was almost always 'yes.'"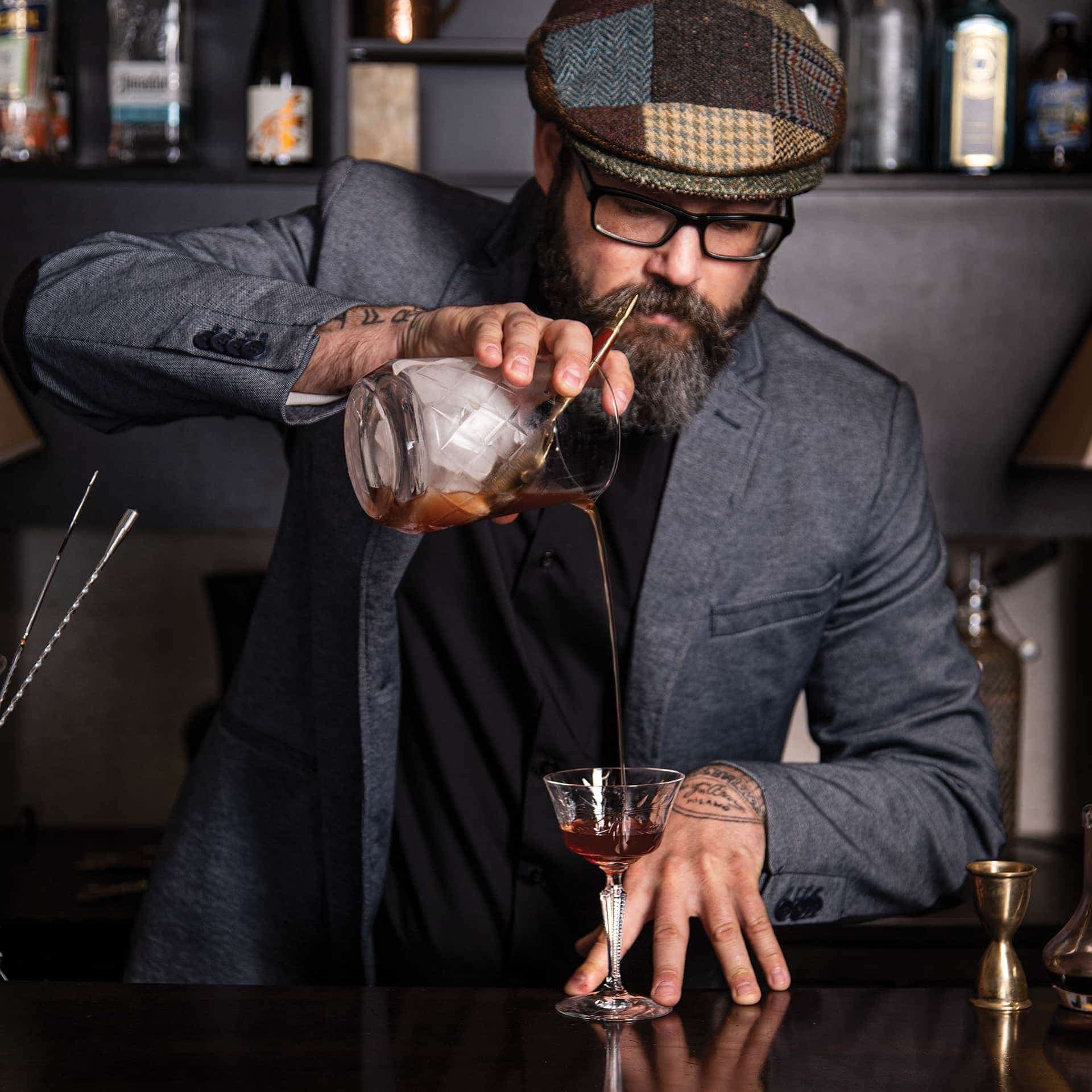 It was also Scott who opened the window to bartending for Ken. Ken was doing the books for the bar when Scott rushed into the office panicking because the two head bartenders had just walked out. He asked Ken to help him pour beer and wine. The rest was history.
Ken fell in love with all aspects of bartending—from appreciating new tastes and mixes to connecting with the people he served. He's now been doing it for 21 years.
This experience gave Ken a deep education and understanding into how hospitality works. But after being a global nomad for so long, he had nowhere to call home. He arrived in Los Angeles on a two-week vacation to visit a friend who helped him manage his financials.
Two weeks later, Ken walked into a bar asking to bartend. He was shocked to hear his first "no" but persuaded the bar manager to take him on as a barback. He started his first shift in that role but got so busy by the end of the night, he was pouring cocktails. He was hired as a bartender the next day.
Ken settled in L.A., first in Hollywood and then in the South Bay to work for David LeFevre on his second concept restaurant, Fishing with Dynamite (FWD). "I was nervous at first because it's a small place relative to the MGM in Vegas and Ana Mandara in San Francisco, where I'd worked before," he recalls. "I was worried about how I was going to support my three children who were living in Seattle. But FWD is such a tight family and crew, and they it made it really easy. The people are the best!" He's been with FWD ever since.
Ken has worked with many successful people in the L.A. food industry to develop cocktail menus for their restaurants or consult with them for private events. At a whiskey tasting in a secret speakeasy in Venice, he was at the bar lamenting an old girlfriend and hitting back some old-fashioned cocktails. Nico, the Russian bartender at the speakeasy, picked up on Ken's energy and encouraged him to chat with a couple of women at the end of the bar.
On his way over to them, Ken spilled his old-fashioned all over his beard and sport coat. One of the women at the bar laughed and commented, "That's a phenomenal beard," to which Ken jokingly teased, "Do you want to come and smell it?" She did and called her girlfriends over. "You gotta smell this." For the remainder of the night he had a line of women smelling his beard.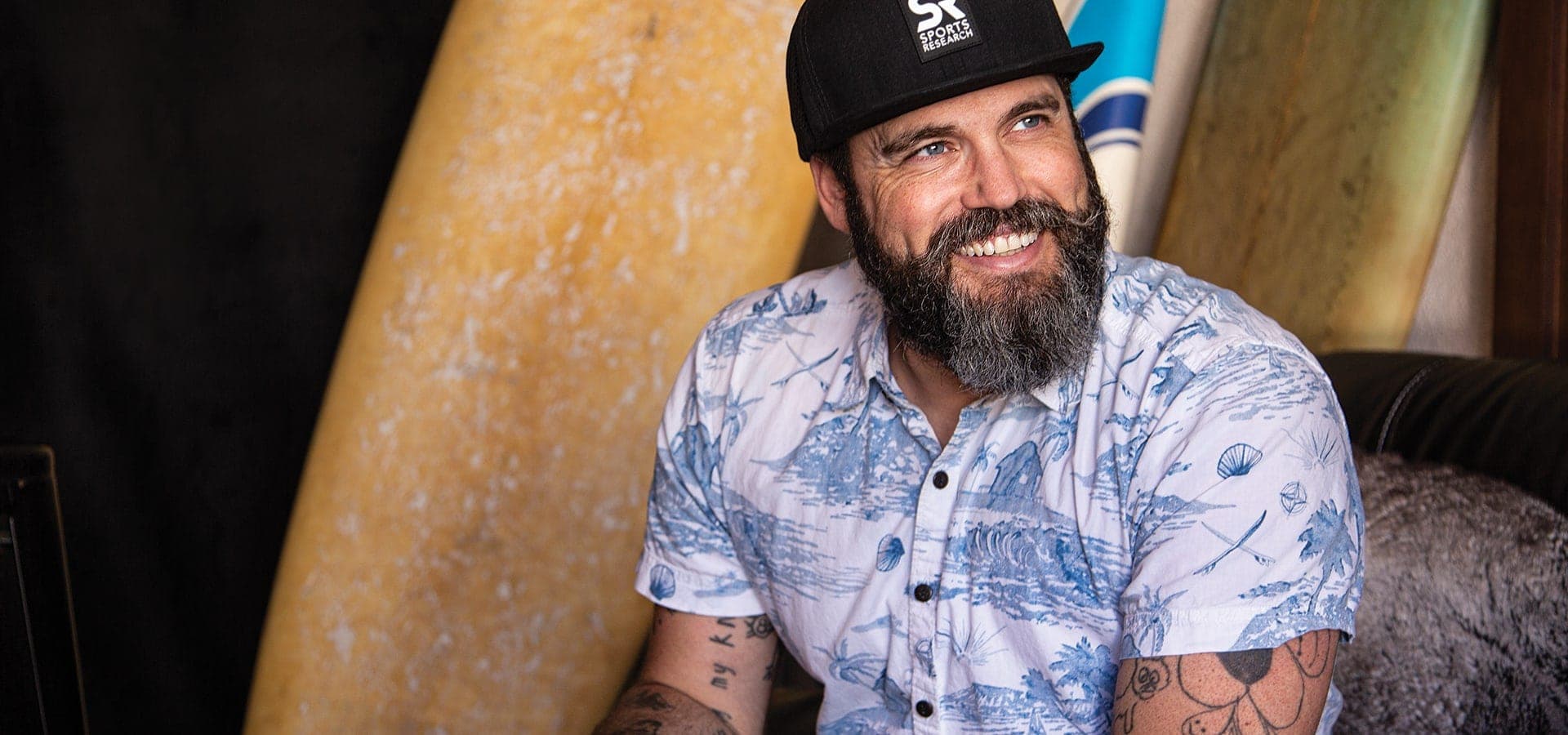 The next morning, Ken woke up and wondered if he'd dreamed the whole scene. Being a mixologist and foodie, he found himself flavor-profiling his own beard. "I know, it's strange, but I was getting hints of toasted almonds and orange peels. It was really good," he laughs. "Then it all just clicked for me: beard balm. I hopped online and bought the domain beardologist.com on the spot. The name came from the idea of beard mixology, which had happened by happy accident."
He hit up a friend, George Damascus, a master chemist who also owns the baby line Hamilton. "My chemistry background was in solubles, and George's was in hydrolyzed goods—taking liquids and turning them into powders and back again. We were a perfect match."
Ken pitched George a chemical compound of natural ingredients, high-quality carrier oils, nonessential oils and some natural docile fragrances. "I told him that I need them to smell 'like this,' and handed him an aromatic profile of a mojito, a margarita, an old-fashioned and a Manhattan. These are recognizable drinks, and their smells transport you somewhere else."
Ken launched Beardologist a year ago and is completely self-funded with "the world's best" business partners, including the Olympian bodybuilder and mega social influencer Calum Von Moger. "My team is also my family," Ken says. "I wouldn't be anywhere if I didn't have all of these beautiful connections and friendships with people I have met at the restaurant."
He continues, "When it comes to my career path, I could look at that car accident as losing my chance to be a pro athlete, or I could celebrate the fact that I get to work in the hospitality industry, which is my biggest passion and helped me meet the most amazing people. Some of those people are now my business partners with Beardologist. It's a full circle. I am so grateful."