"Simplicity is the key to a good design." It's a saying that Dennis Jarvis has lived by for more than 40 years. This quote has seen him through surfing professionally, creating a local surf empire with Spyder Surf and now working as an artist.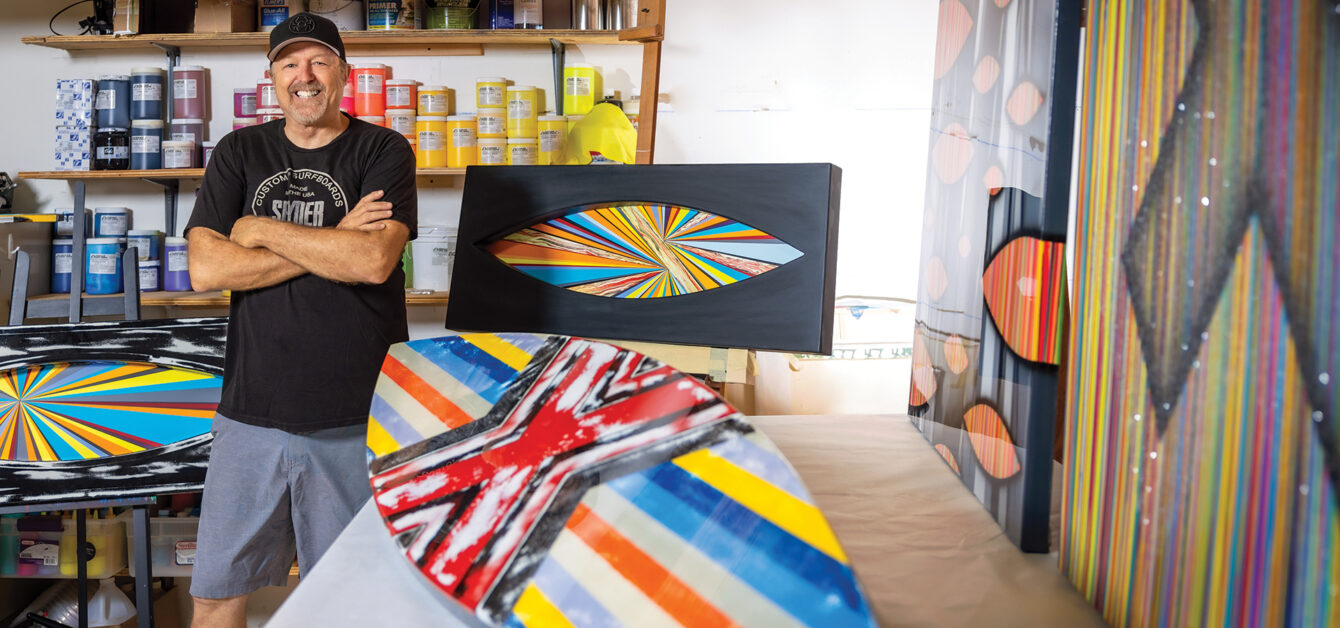 "It is stuck in my head," Dennis says of the quote. "I hold that to everything I do. Sometimes I have the tendency to get too deep, so I need to back up."
Talk to him for just a few minutes, and you can feel the energy he's had his entire life. This drive helped him become so successful. He's a Hermosa Beach local to the core—attending Mira Costa High School and learning to surf at 16th Street with a Hap Jacobs surfboard. He also surfed 30th Street with his brother and in the winter would be down at El Porto in Manhattan Beach.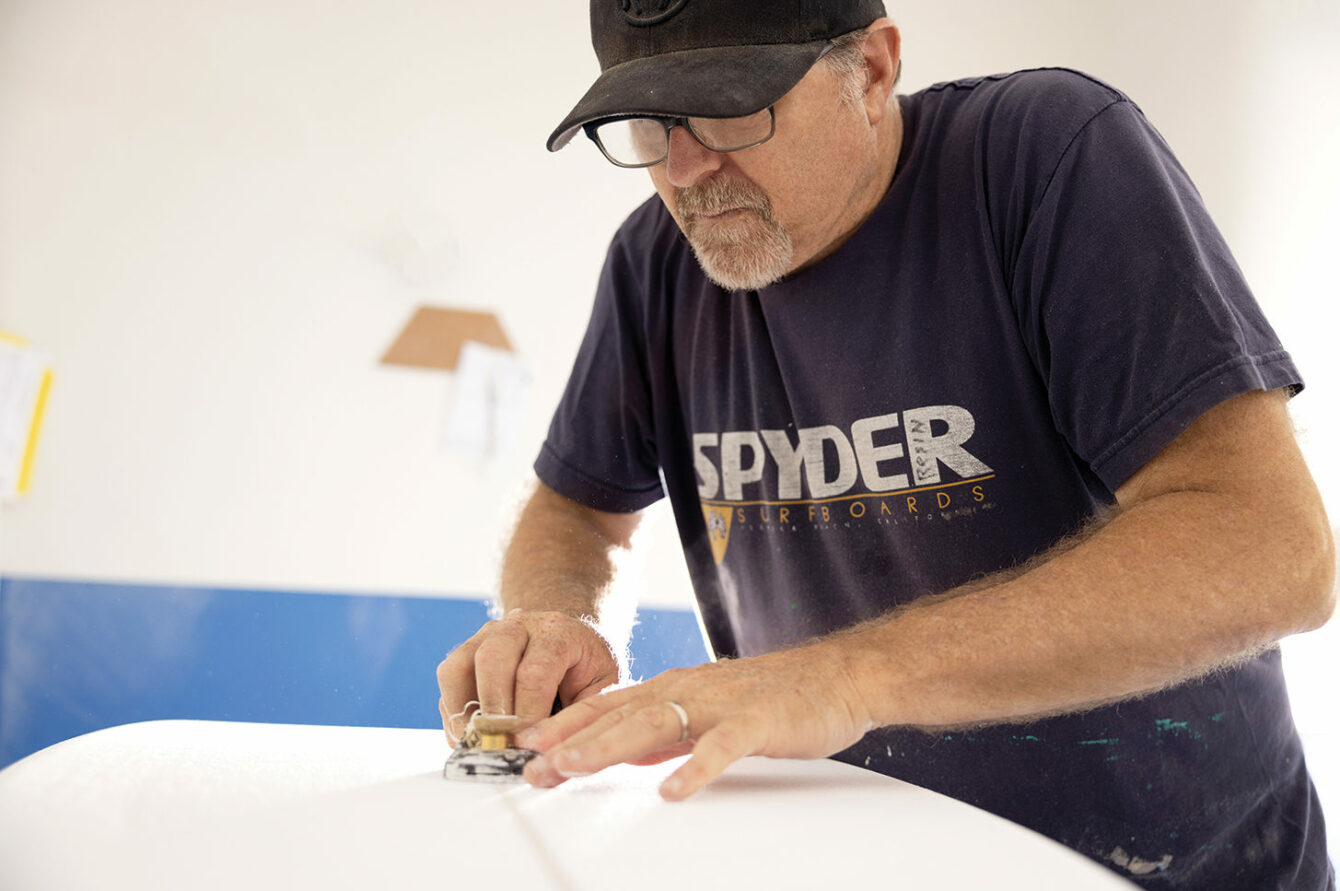 Dennis knew early on that he was destined for a nontraditional job and life. Art got him through his adolescent and high school years, and he was airbrushing surfboards as early as middle school. He even painted Gene Simmons of KISS onto his surfboard and then did so for other friends who liked the way it looked.
It was through those kinds of activities that Spyder Surfboards was born. Dennis drew inspiration for the iconic logo after opening a MAD magazine in April 1977 and seeing a cool-looking spider crawling up the side of the page. He then started painting a similar spider on his and his friends' boards. Given the technology in those days, he had to hand-design all the logos, which took a great deal of time.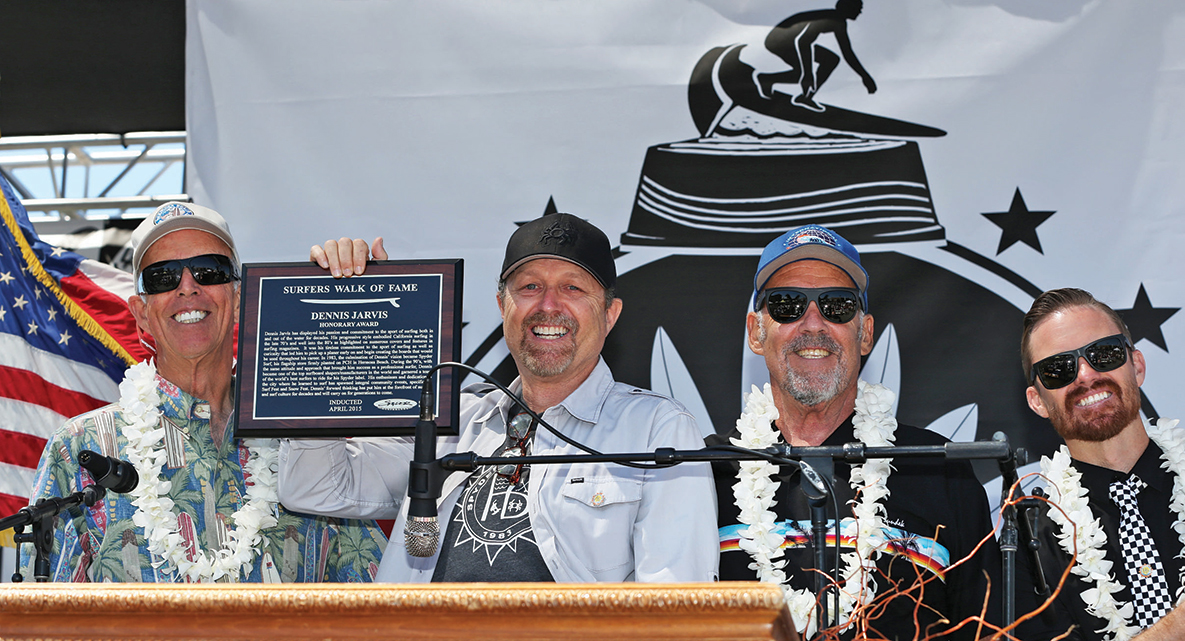 After being on the cover of Surfer magazine in 1982, Dennis decided to open a shop the following year in Hermosa Beach right near the corner of Pacific Coast Highway and Gould Avenue. He realized he could use his magazine cover as a marketing tool, and he had saved enough money to open the store. Yet the beginning wasn't exactly smooth sailing.
"I'd surf at the Manhattan Pier in the morning, take a shower and then go up to the shop—and no one was there," says Dennis. "I'd listen to KLOS radio station with my hands on my face, with cars going by on PCH and no one at the store."
It was then that Dennis realized how important customer service was if he wanted to keep his shop alive. In a time before cell phones, he knew that anytime someone called the shop, he somehow had to get them there in person.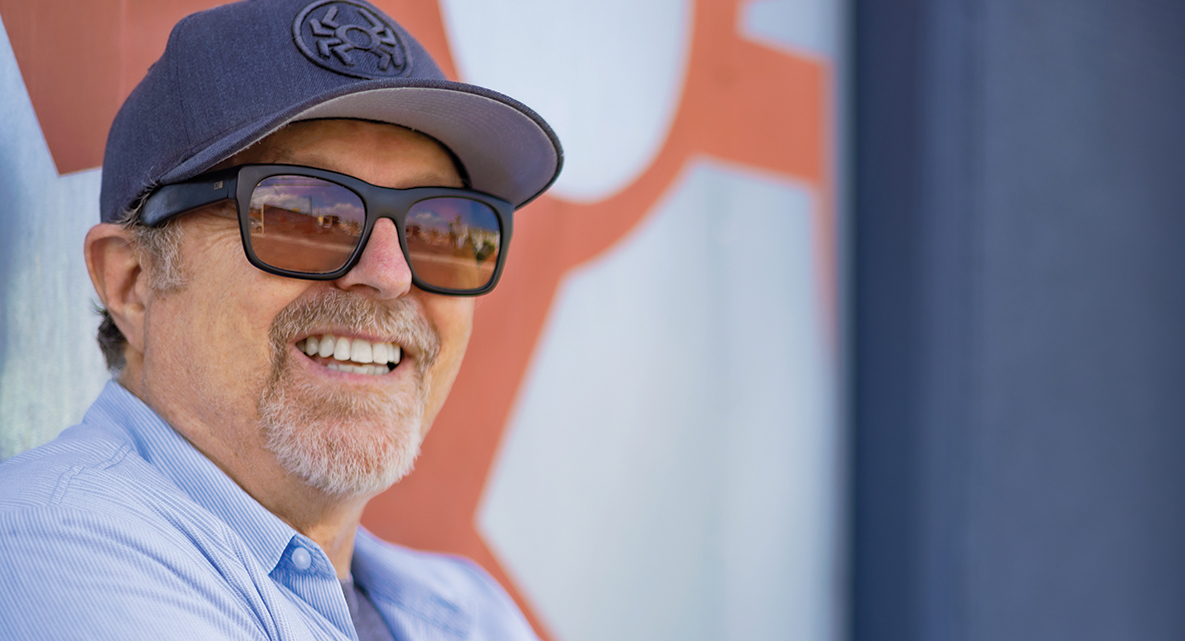 His store inventory was as barebones as it gets in the beginning. Dennis carried surfboards he had shaped, about 100 pairs of OP board shorts—which he got from being on the OP surf team—as well as Spyder shirts and stickers.
"The first two years were probably the roughest times," he says. "I still surfed, did competitions and was on magazine covers, but I didn't travel. I couldn't be away from the shop that long."
He had unusual but successful marketing campaigns that got young, local surfers especially interested. One of those was Richard "Dickie" O'Reilly, who today is a managing partner at Spyder Surf. Dickie began hanging out at the shop when he was only 13.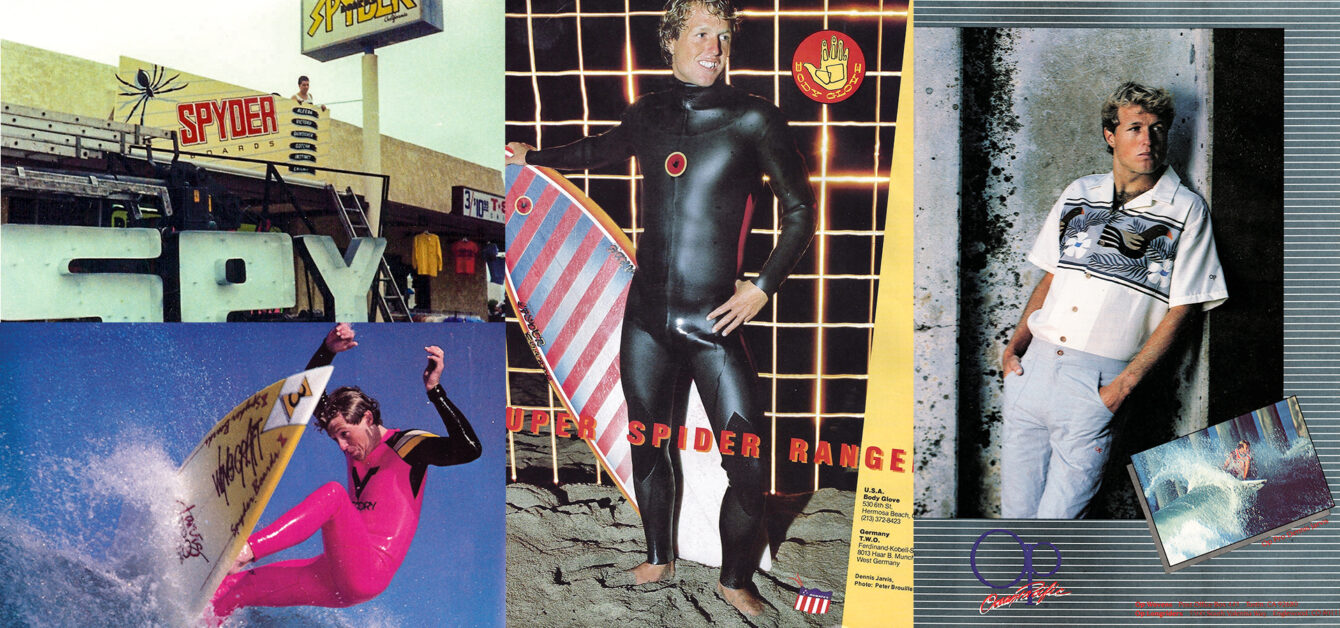 "We'd have midnight pizza sales in the '80s," he remembers. "Every kid in Hermosa and Manhattan would come, and a line would be out the door. We'd do crazy business."
Spyder managed to make it through, thanks to a boom in the summer of 1984 when skateboarding became big again and the store started carrying specific brands. Dennis also finally got a space next to the store where he could solely shape and airbrush surfboards.
During this time, most surfers wanted to be actors or models—and Dennis was no exception. His first movie was the 1986 film Short Circuit; he had one line. Dennis also acted in nearly 40 national commercials. While he fully admits that he was a terrible actor, his big break came with 1991's Point Break starring Keanu Reeves and Patrick Swayze.
While he had no acting parts in the movie, he was brought on as a surf tech advisor. He taught all of the actors how to surf and also created all of the surfboards for the movie. Hermosa Beach played a big role in getting the actors ready. Dennis took them to 30th Street and taught them how to surf.
That experience didn't just create more exposure for Spyder Surf. Dennis saw firsthand how Academy Award-winning director Kathryn Bigelow made important, calculated decisions. He knew he had to operate his business in the same way.
Throughout the 1990s Dennis attracted the top surfers in the world to ride his boards and even broke records with his brand, which has been featured on more covers of surf magazines than any other Los Angeles-based surfboard manufacturer since the 1960s. From 1994 to 1997 Spyder was one of the biggest surfboard brands in the world, selling close to 15,000 surfboards globally.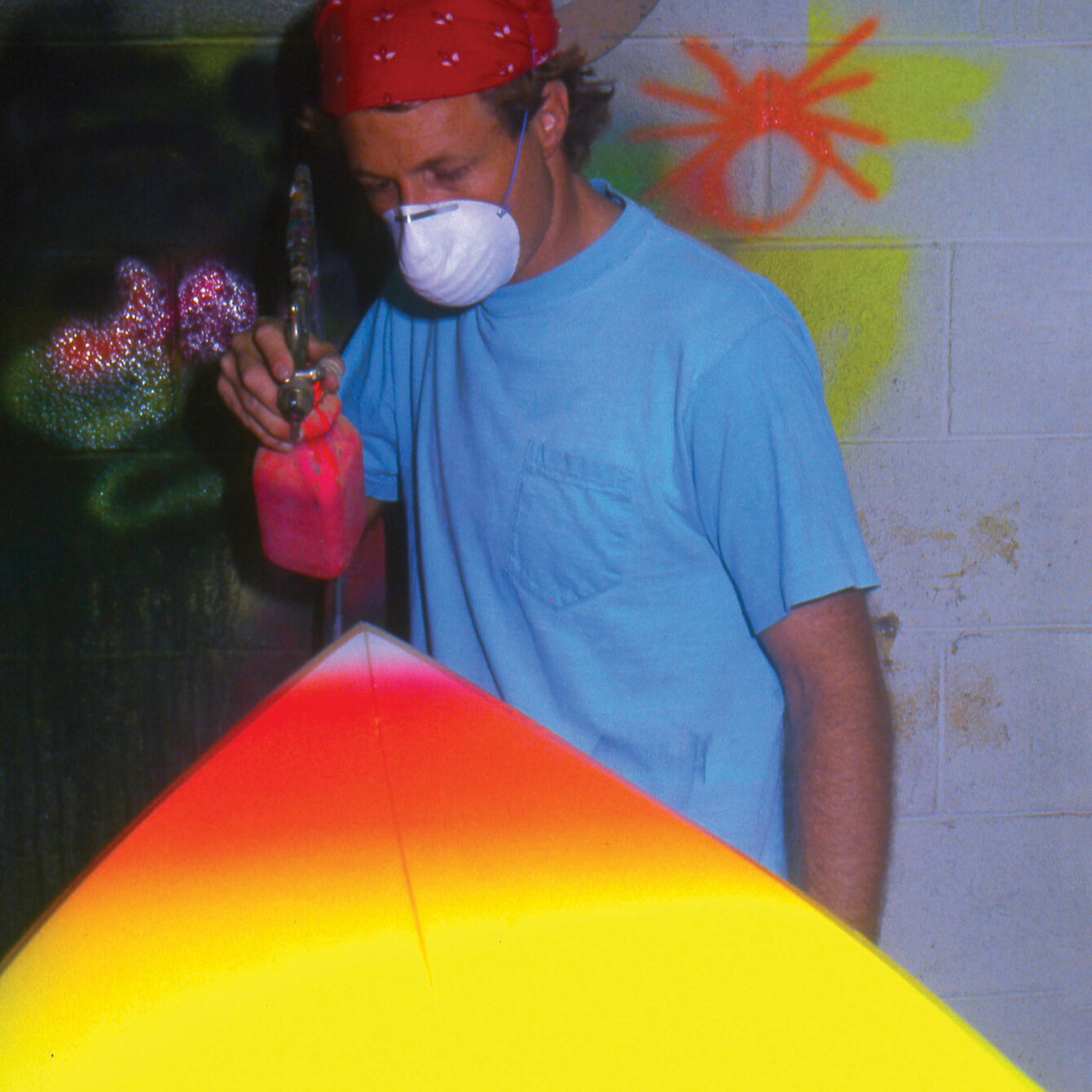 Those accomplishments took plenty of hard work. "The detail and craftsmanship with the boards are amazing," says Dickie. "Dennis has had to fight to get credibility and respect. He's had a chip on his shoulder about it in a good way. I think that is why he continues to work so hard."
In 1997 Dennis decided to open a second Spyder Surf shop on the Hermosa Pier. While many weren't sure that opening a second shop in the same city would be a good idea, Dennis and his partners knew better—especially since they grew up here. The store continues to be successful, and Spyder opened a Manhattan Beach store about six years ago.
Dennis was inducted into the Hermosa Beach Surfer's Walk of Fame in 2015 and the Mira Costa Distinguished Alumni Hall of Fame in 2019. Given his ties to the community, he was especially honored to receive these awards. He founded the Spyder Surf Fest at Hermosa's Pier Plaza, bringing together the surf industry's most prominent brands and surfers.
"His name should be in bold on the Surfer's Walk of Fame. What he means to surfing here in the South Bay is up there with the legends," says Dickie. "He has always repped Hermosa, talking about how we are the real Surf City because of the history."
An aspiring artist since he was young, Dennis' passion has shifted recently from everything Spyder to creating one-of-a-kind pieces that can eventually allow him to create his own art show in the South Bay. "As far as how I draw my inspiration, I can honestly say I am inspired by those who are better than I am," he says. "I look through books and walk galleries whenever possible, seeking inspiration."
Dickie has always seen Dennis as an artist. "One of the first times I met him, he had a giant painting in his house that he had painted. I was blown away. It's not too surprising that this is the path he's currently on."
Dennis is the first to admit that he is hard on himself. He's finished pieces and then covered them up. However, he's begun to be less critical and consider it all a learning experience.
As he continues to work on his art and play a big part in Spyder's success and growth, one thing continues to be true: Dennis is willing to take chances and bet on himself. "I'm still an excited 16-year-old surfboard builder on the inside with aspirations to do challenging, fun stuff as I get older," he says. "That's why I am doing my art again. It keeps me sane and humbled."