This year marks the 40th anniversary of St. George Spirits, a distilling company based in Alameda that was born not from a business-focused mindset where revenue streams and profitability serve as the compass, but from a desire to create exceptional liqueurs, spirits, and eau de vies purely for the sake of making the best liqueurs, spirits, and eau de vies that can be made. Inspired by the region's bountiful fruit harvests and—in some cases—the landscape of the greater Bay Area, St. George is proof that if you do what you love, success generally follows. On the other hand, the distillery's story also suggests that sometimes laws just have to be broken.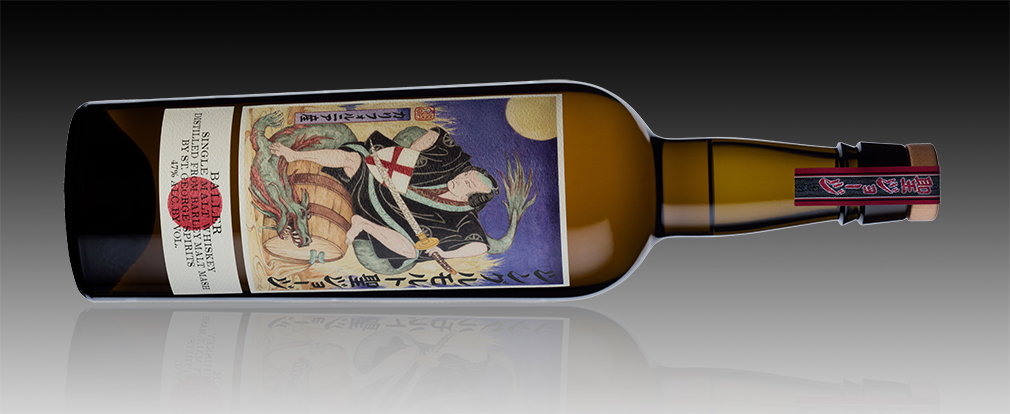 The story begins in the early 1980s, when Jörg Rupf, Germany's youngest judge, visited the United States on assignment from the Ministry of Culture to study law at Berkeley. However, as someone who grew up in a family with a generations-long history of distillation in the Black Forest (Jörg distilled his first fruit brandy when he was 13 years old), he couldn't ignore the vast potential for distillation in Northern California, especially once he sampled the local fruit and learned that no one was producing fruit brandies in the area. Jörg soon refocused his attention from judicial studies to a 65-gallon Holstein pot still and began making eau de vie from pears, raspberries, and cherries. Just like that, St. George Spirits was born.
"At that time, people in this country were drinking wine coolers," acknowledges Lance Winters, the company's current president and master distiller. "They wouldn't drink wine straight, so having something like classic eau de vies, Jörg was pushing uphill the whole way."
Almost immediately, Jörg began experimenting with fermentation techniques that weren't customary for eau de vie production back in Europe, and those efforts would pay dividends. Eventually, St. George entered its fruit brandies in Destillata, a prestigious blind tasting competition in Austria and, just as Stag's Leap Wine Cellars and Chateau Montelena had done for wine in 1976, St. George bested Europe's most revered eau de vie distillers. That accomplishment instantly elevated demand for St. George's eau de vies—at least across the pond—and for the better part of a decade and a half, the company made modest profits, though it never strayed from its flagship category of spirits.
A New Direction
In 1996, fourteen years after Jörg established St. George, Lance showed up on the distillery's doorstep with a home-distilled bottle of unaged whiskey in his hand. He was seeking a job. Two years earlier Lance had taken his first sip of Lagavulin, and the peaty Scotch whisky completely changed his perspective on spirits. It was the first distillate that Lance had ever tasted that was, as he describes, "something more than just a quick trip to a buzz." More specifically, it was something "with layers that opened up on my palate that told me a story. This was something actually worth sipping and tasting, whereas everything else was just burning down my palate."
At the time, Lance worked at a now defunct brewpub in Fremont, and as he learned more about whiskey and how it's made, he realized his experience brewing beer already had him halfway to making his own whiskey. Soon he was bringing beer home from work to distill in his garage—this is the illegal part of St. George's story—and because he wasn't using a traditional pale beer as his whiskey's foundation but instead flavorful porters and stouts, he felt confident in the quality of his finished product. "Even being unaged," Lance recalls, "it was really complex."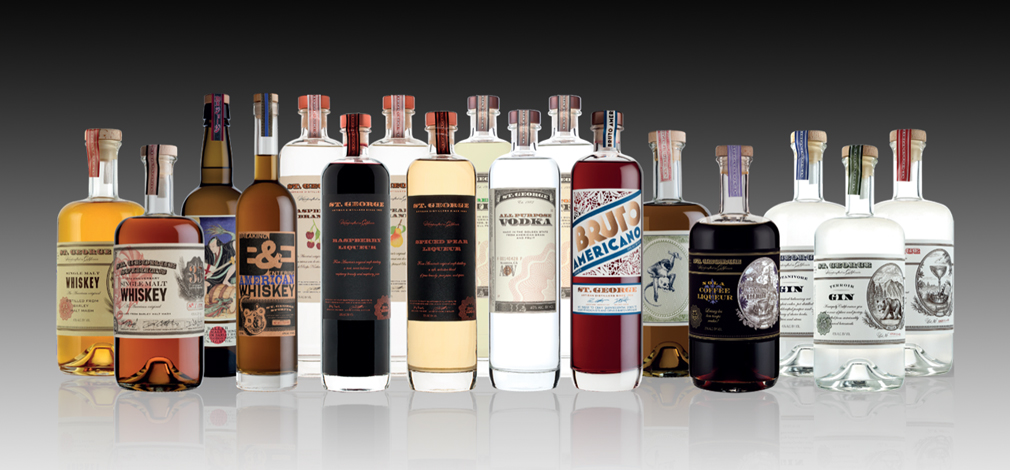 Jörg hired him on a one-month trial run, and the impending harvest season opened Lance's eyes to the broad spectrum of flavorful distillates that could be made. "I had never really been exposed to spirits like those," he says of St. George's flagship fruit brandies. "They were just so effusive in their character of the raw material that they were made from. Falling in love with distillation was like the worst possible thing that could happen to me, because I still wanted to make whiskey, but now there were all these other things that I wanted to make, too.
"If you have a kitchen at home and you get a decent set of knives or a decent set of tools or an immersion circulator, you just want to try out all the different things that you can do with those toys," he continues. "A still is no different. It's just a bigger toy, and it became this total playground for me."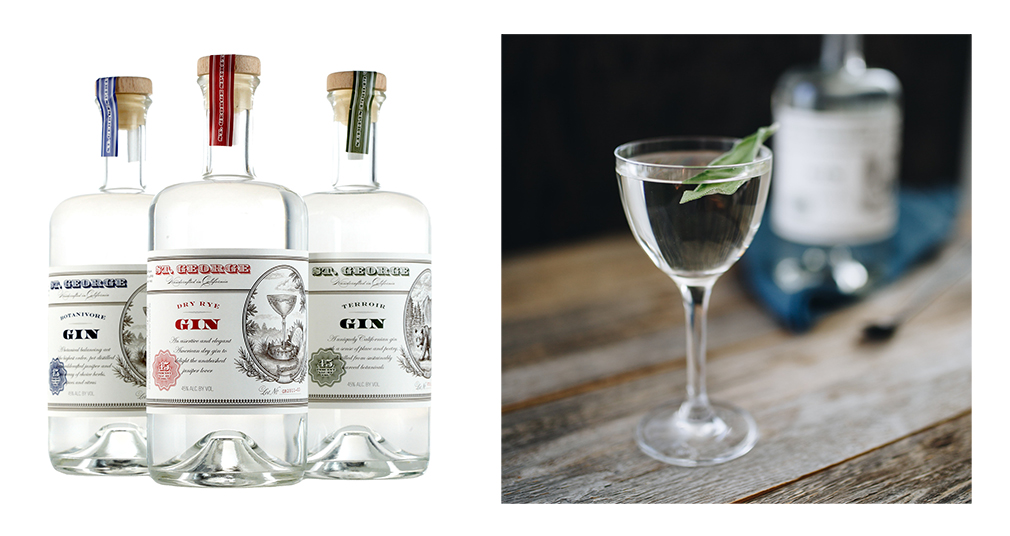 Sources of Inspiration
Today, St. George's product lineup is almost two dozen bottles strong—an assortment of whiskies, gins, and liqueurs, not to mention a collection of traditional fruit brandies, a trio of vodkas, and other esoteric offerings, such as a California shochu and absinthe. Most recently, the brand released a 40th anniversary edition of its single malt whiskey. At $500, the limited-edition single malt carries a steep price tag when compared to the brand's other whiskies, the most expensive of which peaks at $100 (based on the distillery's suggested prices). But the 40th anniversary whiskey, a marriage of 14 casks (one of which was among the oldest in St. George's aging warehouse), is layered and complex. It's unequivocally unique among American whiskies.
"This represents the cumulative experience of 40 years of boundary-pushing distillation," says Lance, "as well as our decades-long love affair with making single malt."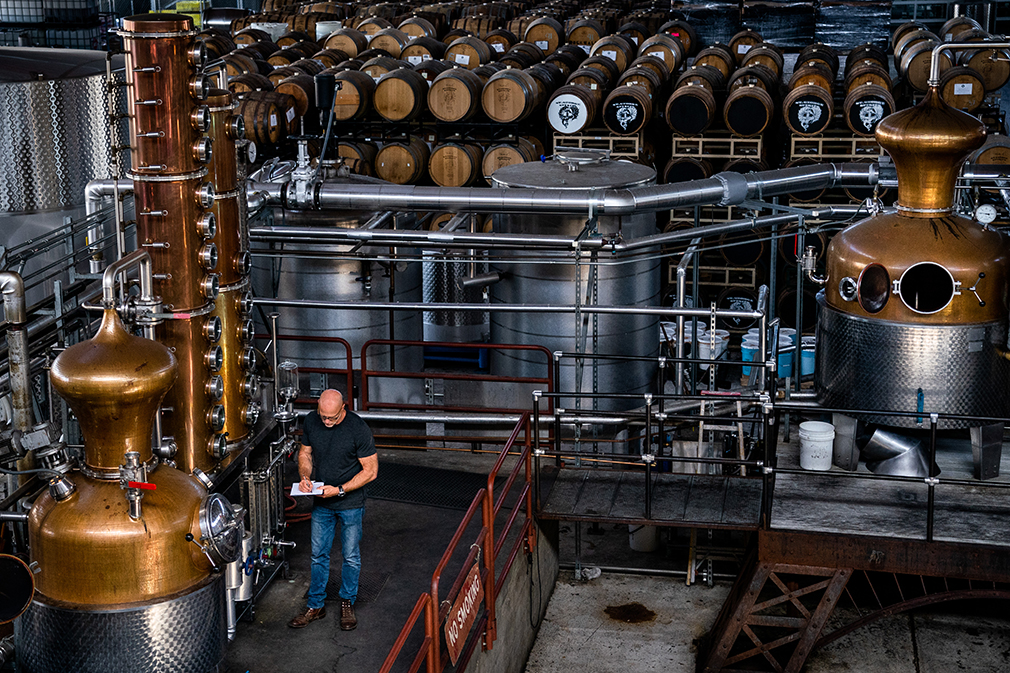 While many distilleries take a capitalist approach to their distillation efforts—focusing on products that they know will sell, that fill a void in the marketplace, or align with the latest trends—St. George is about the art and craft of distilling. The company embraces an ethos of creativity. "This is about making a personal statement; it's using distillation as a form of self-expression," Lance explains. "That sets us apart from every other distillery out there, because for a lot of distillers, a spirit is a commodity and that's all.
"The saving grace for us is to be able to make small enough batches so it's a low level of commitment," he continues. "These products have long shelf lives, so if it takes us five years to sell what we made in that one batch, we can still sell it."
In some cases, Lance has orchestrated the creation of spirits with particular local restaurants in mind. That's how Baller Single Malt Whiskey came to be. Intent on producing a whiskey in the Japanese style for Ramen Shop, an Oakland eatery that puts a California spin on traditional Japanese cuisine, St. George started by distilling American malted barley, then aged it in ex-bourbon and French oak wine casks before filtering it through maple charcoal to add a trace of smoke. But the final touch was a finish in casks that previously held house-made umeshu, an aromatic liqueur native to Japan that's made from ume, a tart stone fruit.
In other instances, such as Aqua Perfecta—the brand's basil eau de vie—aspirations of romantic interludes served as the catalyst. In this particular case, Lance recalls having strong feelings for the bar manager at an establishment in San Francisco that stocked many of St. George's products. During the height of tomato season almost 20 years ago, she asked him if the distillery produced anything that paired well with the fruit. Lance's answer was no, but he promised to be back in two weeks. "I really wanted to impress her," he recalls, "and it was the only thing I could do."
As Lance acknowledges, there was no real sales potential for the brandy, which is made simply by adding basil to a neutral eau de vie during the distillation process. But as he discovered, it was really good, so the distillery has continued making it ever since.
In that time, the craft cocktail culture has blossomed in the United States, which has sparked a greater interest and demand for products like Aqua Perfecta. It's also redirected the marketplace for St. George's foundational spirits, the fruit brandies initially distilled by Jörg. During the first half of St. George's existence, 80 percent of the brand's eau de vies were exported to Germany, Switzerland, and Austria—Europe's most prominent brandy-drinking countries. Today, however, St. George is producing almost four times as much eau de vie as it did during the '80s and '90s, but those bottles are sold exclusively within the United States, specifically to bartenders who have found a plethora of uses for them within their mixology programs.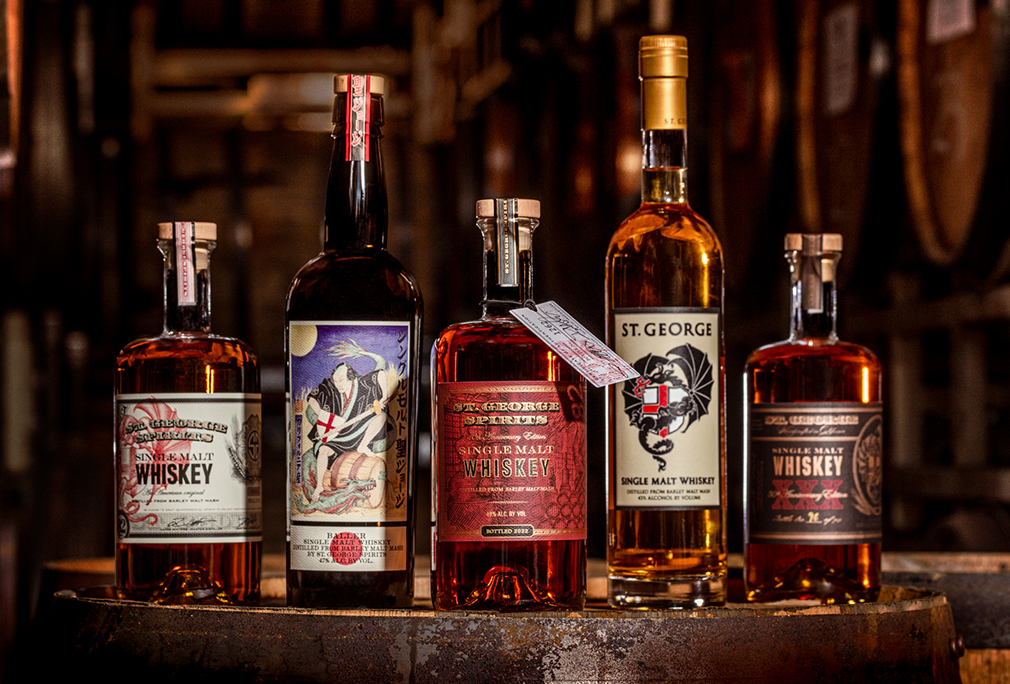 Playing Favorites
Still, Lance's favorite product to date is Terroir Gin, an aromatic gin inspired by the forest trails at the base of Mount Tamalpais in Marin County. In particular, it was the scent of the woods and those trails during the summer—aromas that Lance first encountered while picking up his son from summer camp. "The smell of this beautiful summer afternoon was all around me, and it was overwhelming," he remembers. "I thought, 'I'd love to distill something that smells like this.'"
Four years later, when St. George committed to making gin, Lance set out to create a spirit that was faithful to that landscape. To do so, he foraged for local coastal sage, bay laurel, Douglas fir, and wild fennel. He added juniper berries, of course, as well as coriander, which he dry roasted to coax out its chaparral qualities. And he topped off the botanical mixture with dusty, sweet-smelling cinnamon, along with orris and angelica root that, as Lance explains, approximate the forest floor with their earthy flavor profiles.
"These botanicals are all tools," he says. "They might be lies in service of a greater truth, but the truth that they tell once they get to your glass is all about that landscape. If you asked me to draw or paint a picture of that place, it would be awful. But in terms of recreating that place in spirit form…I nailed it."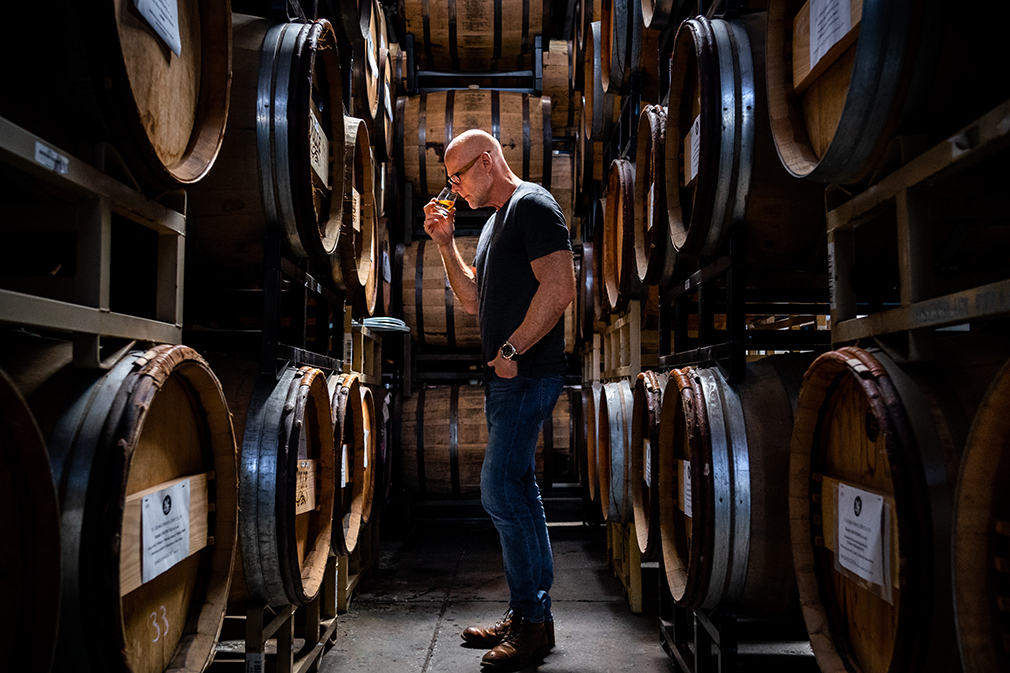 He's not alone in that assessment, either. As Lance explains, years ago he stumbled upon an argument on Twitter between a restaurant owner in Athens, Georgia, and her bar manager. The bar manager took the stance that Terroir Gin was an excellent base for a variety of cocktails; however, the restaurant owner, who had lived in the foothills of Mount Tam before moving east, opined that Terroir Gin was best served neat or, at worst, with a splash of soda. "It smells like home to her," Lance says. "So much so that when the restaurant's bar manager makes a cocktail with it, he's re-landscaping her backyard without her permission."
While they may seem unassuming, the restaurant owner's comments were hardly that to Lance. In fact, her reaction made him prouder than any awards that the gin might win in an international spirits competition. "That's one of the most meaningful things I can hear from anybody," he says. "Somebody could sell 100 cases. That's great. That keeps the lights on. But what keeps me going is when that sort of thing hits. When somebody throws that sort of compliment at one of the spirits that we make, that's the greatest feeling in the world."