In advance of two California festival performances—Stagecoach in Indio, CA and BeachLife in Redondo Beach, CA—Charlie Overbey and two of his Broken Arrows band members (Adam Ditt on stand-up bass and Mickey Madden on mandolin and guitar) stopped in to play a stripped down acoustic set of tunes for an intimate crowd at the Golden State office.
Charlie Overbey may be born and raised in Los Angeles, but his songs are steeped in the timeless traditions of the American South. After years of touring the world supporting acts ranging from David Allan Coe and Blackberry Smoke to Social Distortion and Motorhead, Overbey slowly amassed a collection of introspective original songs that transcend the endless rock & roll party, taking a stark, undeniably honest look at some of life's most gritty moments. The result is his 2018 LP, Broken Arrow, a triumphant collection of road-hardened alt-country tunes born of Overbey's upbringing in what he calls "the school and church of Johnny Cash."
Coined as "The Punk Rock Spy in The House of Honky Tonk," Overbey was exposed to country music early and often. It wasn't something he sought out on his own—his father owned a 1947 Gibson J-45 acoustic guitar, and almost every time it was played, out spilled a Johnny Cash song. Overbey recalls these times fondly and admits they shaped his musical growth, though it took years of punk-rock rebellion before he'd come to appreciate the genre's influence on him. "When you're raised, and it's all around you," he says, "it's the last thing you want to be a part of."
Produced by Ted Hutt who won a Grammy for his work with Old Crow Medicine Show, Broken Arrow features songwriting that is genuine, fearless and visceral.
"I've never worked with anybody like Ted," Overbey says, reflecting on the sessions. "This is the first time I've ever let go and trusted somebody else as a partner in my songs. He really pulled some stuff out of me that I had not planned on delivering. Honestly, these songs can be hard for me to sing—they come from a deep, real and sometimes dark place."
As the album title suggests, an existential darkness permeates Broken Arrow. It is the work of a road-savvy rock & roll veteran who sees the world as it is, fully grasping the jagged pain of life. But this darkness isn't a dead end—Overbey's songs are shot through with enough hard-fought resilience, determination and optimism to remind listeners the only way out is forward, and that the wild ride of life is a mysterious and beautiful gift.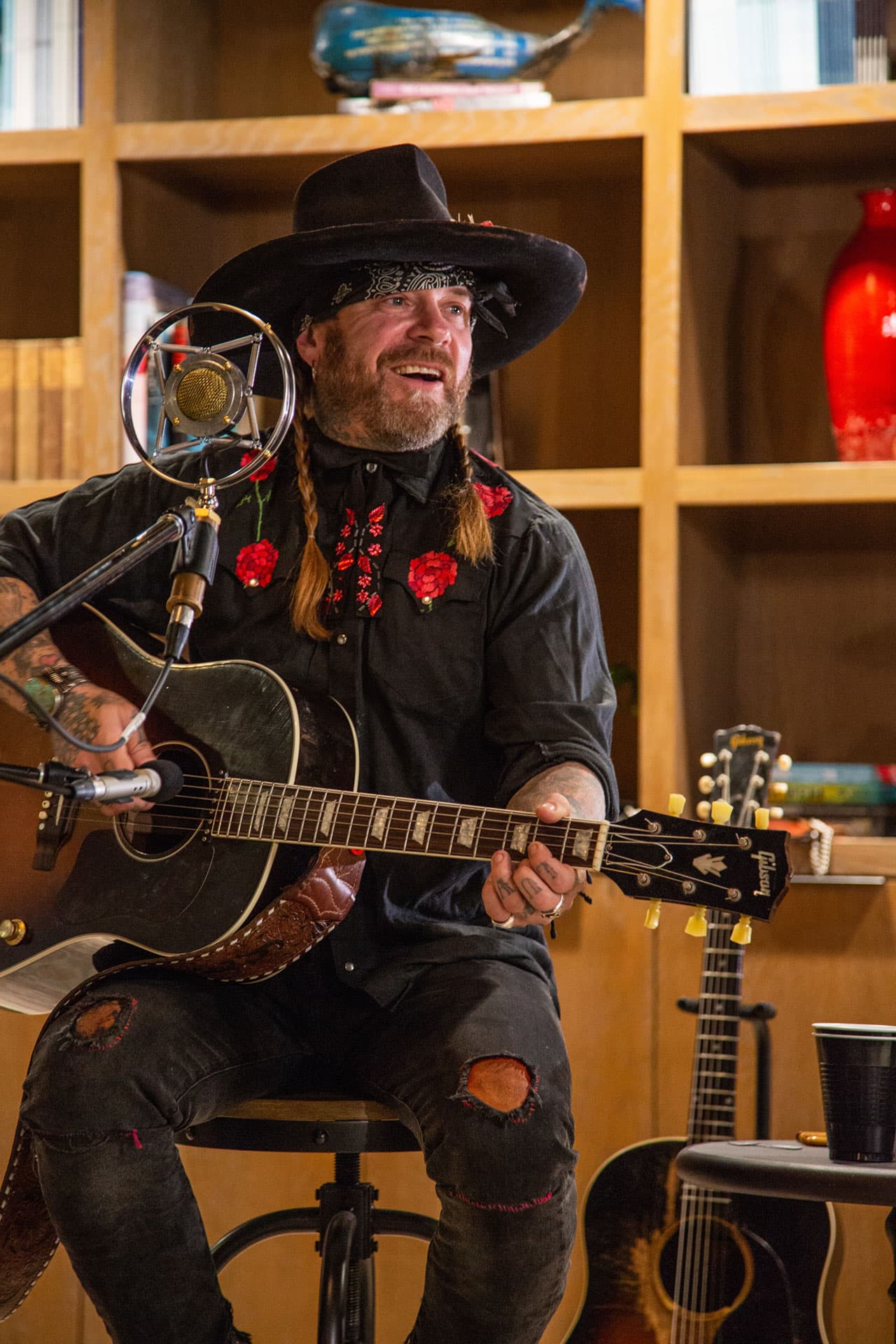 He and the band are already working on songs for a follow-up record that will draw from the same rich vein as Broken Arrow. Overbey isn't one for idle hands—when he isn't playing or writing, he's become a well-known name in the fashion world with his one-of-a-kind, hand-shaped Lone Hawk Hats, for devotees in the Americana scene, including the camps of Blackberry Smoke, Miranda Lambert, Lucero, The Foo Fighters, Dwight Yoakam, Cage The Elephant, Kaleo and Miley Cyrus.
It's a craft Overbey taught himself by trial-and-error, ultimately carrying with it the same authenticity and attention to detail you'll find in his songwriting.