For 10 days, California duo slenderbodies relocated to an isolated cabin outside Mendocino, carrying their guitars into the woods each and every morning in search of fresh melodies and chord progressions that could capture the ephemeral beauty of the natural world around them. While this might sound like the backstory to some rustic indie folk record, the band's new album, 'komorebi' couldn't be any further from it.
"With everything we make, we're trying to create a sonic space that has its own distinct atmosphere," says guitarist/singer Max Vehuni. "We wanted this album to feel airy and weightless, like you're sitting in the forest just listening to the music float through the trees."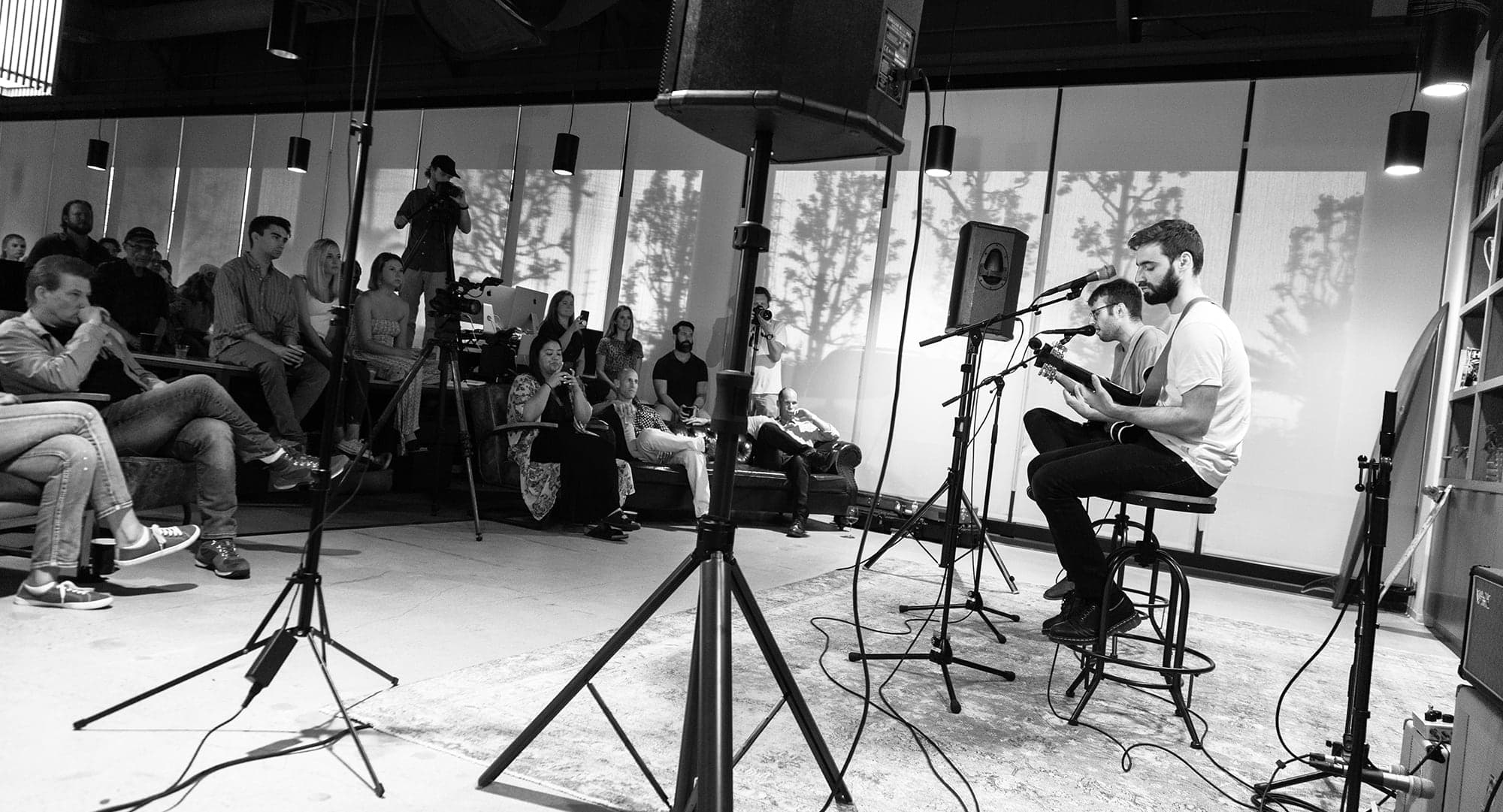 Named for a Japanese term used to describe sunlight filtering through the trees, the record is slick and modern, with spacious alt-pop arrangements full of effervescent electric guitars and breathy falsetto vocals. Programmed beats and found-sound percussion underpin each track, blurring the lines between the organic and the digital at every step and hinting at the wide range of influences the duo draws on here—from hip-hop and R&B to electronic and dance music. The result is an intoxicating blend of textures and genres, one that's fueled the band's remarkable rise from a self-released bedroom project to a touring and streaming powerhouse.
slenderbodies first emerged in 2016 with 'sotto voce,' a mesmerizing, eight-track EP that took its name from an Italian phrase meaning to speak softly but with emphasis. Recorded remotely with guitarist Benji Cormack living in Santa Cruz and singer/guitarist Max Vehuni residing in Los Angeles (the two had met at college a few years earlier), the collection quickly caught fire on Spotify, where it racked up millions of streams without any label or radio support.
The next year, the pair returned with a second EP, 'fabulist,' which launched their following into the stratosphere as lead single "anemone" garnered more than 30 million plays across platforms. Though the duo had never planned on performing live, they soon found themselves onstage in front of massive crowds around the world, sharing bills with the likes of Mura Masa, Passion Pit, PVRIS, and Milky Chance.
In 2018 and 2019, Vehuni and Cormack released two more EPs ('fabulist: extended' and 'soraya,' respectively) earning ecstatic reviews on both sides of the pond and landing coveted spots at Austin City Limits and Lollapalooza. The Line Of Best Fit proclaimed that slenderbodies "conjure an immersive world" with their "genre-blurring" music, while Complex described their songs as "subtle but infectious," and Billboard praised their "intimacy" and "daring."
As the band's world changed, so, too, did their approach to writing and recording.
"We played this festival in northern California called Solaura, and that was really a turning point for us," says Vehuni. "We'd always been focused on the studio, but that festival made us want to create more with the live show in mind, to shape our music around the way it could impact people in a concert setting."
The festival's bucolic location on the northern California coast also had a lasting impact.
"We had this totally transcendent experience at Solaura," says Cormack. "On the drive home, we conceptualized the whole 'komorebi' record, and two months later, we'd booked ourselves a cabin in the same area and were writing and recording there."
After transforming the cabin into a makeshift studio, Vehuni and Cormack quickly settled into a creative routine, writing outside in the woods before returning inside to record each day. The isolation of the location enabled them to focus more than ever before (where the already-prolific pair used to take three or four days to write a song, they now found themselves finishing tunes in just three or four hours), and the freedom of working outdoors helped them tap into the open, airy vibe they were chasing. The cabin itself became something of an instrument, too, with its high ceilings lending space to the guitar and vocal tracks and the odds and ends that filled it serving as unexpected percussion.
"A lot the sounds on this record come from things we just picked up around the cabin," says Vehuni. "We were using keys, matchsticks, candles, whatever we could find to create the kind of organic textures that would breathe life into the songs."
After finishing in the cabin, the band spent the better part of the next year working through the material they'd recorded, whittling down song selections and honing in on a cohesive atmosphere that could unify the collection and fully transport listeners.
Ultimately, if the record (and life itself, for that matter) is a hike through the woods, then slenderbodies are here to remind you to take your time with the journey. There's plenty of magic and beauty to appreciate along the way, even if our language doesn't quite have the words to fully account for it. 'komorebi' is proof of that.