In an experience-driven economy where people seem to be shedding worldly possessions at a rapid clip and all generations—not just the younger ones—are obsessed with accessibility and convenience, the pursuit of record-collecting makes little sense. Records are expensive. They also take up a lot of space and are incredibly cumbersome. (Your average LP weighs about as much as an iPhone 11 Pro—and holds substantially less music.) Yet here we are.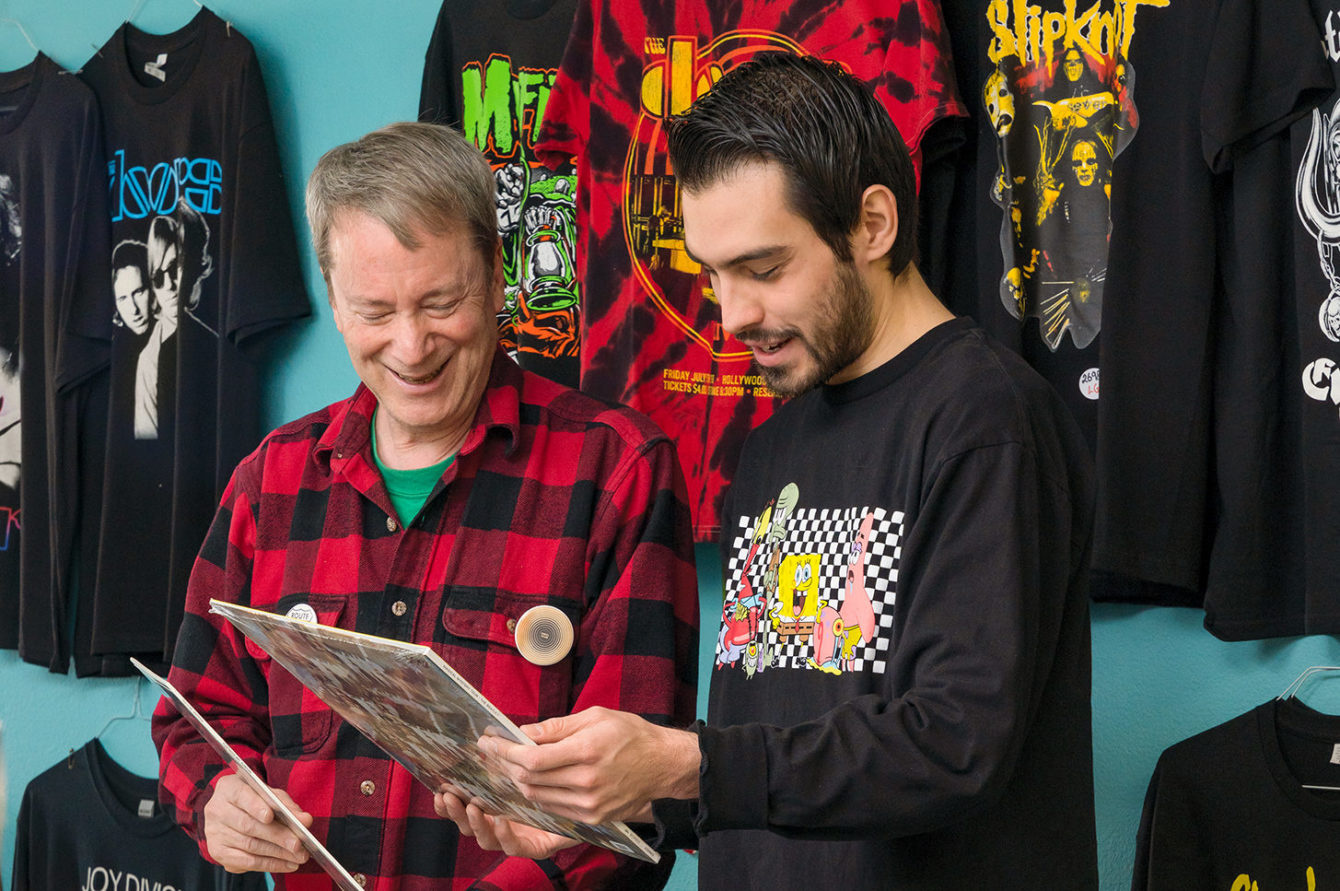 In 2020 vinyl outsold CDs for the first time since 1986. Last year U.S. vinyl sales reached a 30-year high, exceeding 2 million units for the first time in decades and continuing a trend that has seen an unprecedented 16 years of consecutive growth. All this despite COVID-19-related store closures, production delays and shipping setbacks.
While streaming will always be the king of convenience in a world fueled by instant gratification, collecting and playing records flies in the face of the metaverse mentality. It's a tactile activity that requires patience. It resonates just as strongly in solitary moments as it does in social situations. But most importantly, it's an ageless pursuit.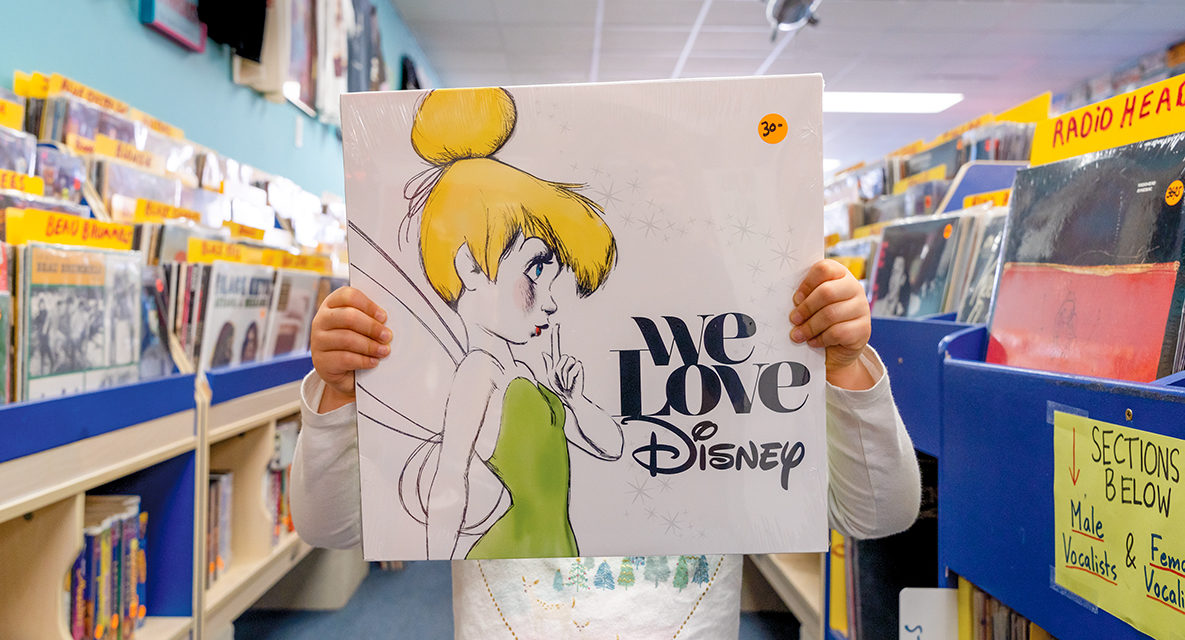 "Look around, check it out. It's like 1985 in here," says Bill Dudley as I thumb through a stack of cassettes. His store, Dudley's Records, specializes in classic rock and jazz, but you can find all different flavors for sale—from Devo to Disney soundtracks. The walls are adorned with posters and band T-shirts, and bright yellow plastic tabs with red writing divide the sections in the bins … shades of Tower Records.
Bill runs the shop with Jesse Chavez-Gallella, who is a few decades his junior. They are business partners, but to label them simply as friends is a disservice to the story that brought them together. But more on that later.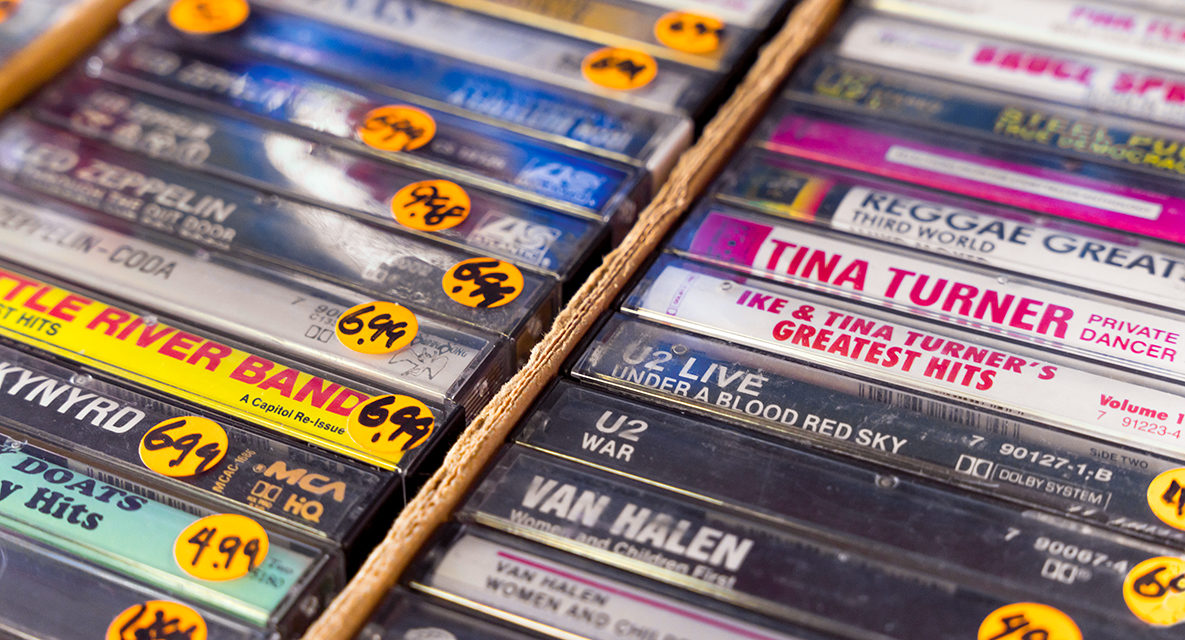 The current Dudley's Records on Sepulveda in Torrance opened in October 2020. It's the second South Bay incarnation but the eighth Dudley's Bill has owned since he opened his first store in Portland in 1980, which speaks to both the tenacity of the format and the severity of its highs and lows.
Unlike big-box retailers Best Buy, Walmart and Barnes & Noble, which didn't start stocking vinyl until the beginning of its resurgence in 2015, indie record stores didn't have secondary products to fall back on. So when CDs exploded onto the scene in the '80s, Napster disrupted the industry in the early 2000s and streaming services began to take over in the mid-2010s, record store owners had no choice but to roll with the punches—keeping their ears to the ground and curating an inventory that would continue to attract customers. In some cases, a generational shift was the antidote.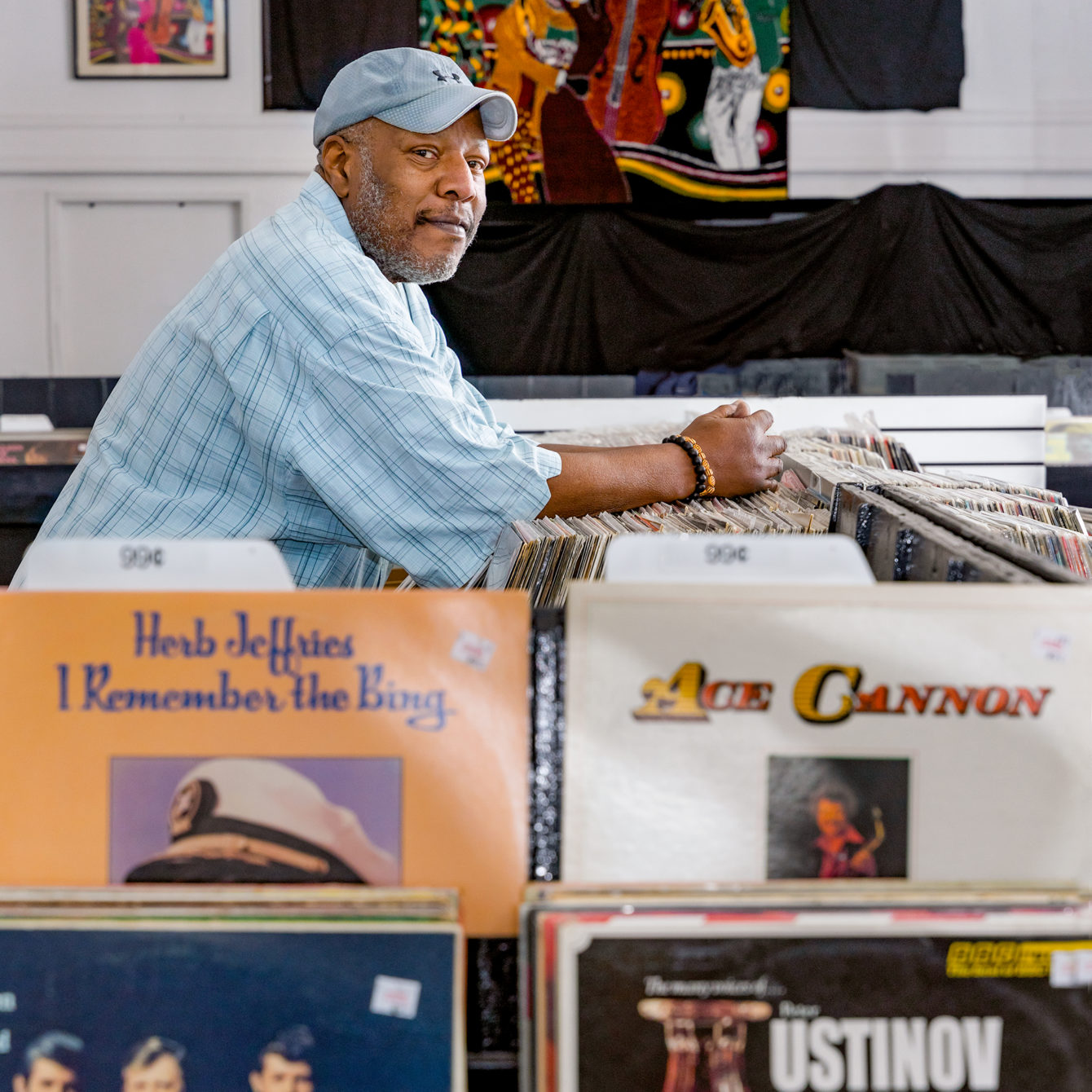 Pete Grasso and Lee Wilson have known one another since they were classmates at Meadows Elementary School in Manhattan Beach. Now in their late 50s, they've operated Soundsations Records in Westchester since 1990, but the shop has been around since 1975.
"The previous owner wasn't doing well in the spot and wanted to close it up, but he offered us a deal," remembers Lee. "(Pete and I) were in our 20s, and you know how it is. We had our own ideas about how he should be running it. So we decided to put our money where our mouth was."
"I want people to feel a personal touch to their buying experience. I'm a digger too, and I like to share music and new sounds with people who otherwise would not experience them. It's like therapy."
Like Dudley's, Soundsations embraces a motley atmosphere—a chaotic yet curated clash of decades where nearly everything above, beneath and around you is for sale. Yet the vibe is hardly transactional. It's the hallmark of a quality shop: someplace with barbershop-like rapport where an hour passes like five minutes. Today you're apt to bump into just as many 17-year-olds as you are 57-year-olds.
"Our customer base is expanding," says Sally Martin, co-owner of Studio Antiques in El Segundo. "Our demographic is broader. More younger customers—as young as 13—up to people in their 80s. I truly believe that we might not still be in business if we were not selling vinyl."
Vintage stores like Studio Antiques, Stars Antique Market in Hermosa and The Grand Emporium in San Pedro have become hot spots for crate diggers. While it's convenient to be able to grab a gallon of milk and a Target Exclusive version of Nirvana's Nevermind in a single trip, it's not quite the same as stumbling on a mint condition 45 of James Dean (on conga drums) and flutist Bob Romeo throwing down an ad-lib jam session.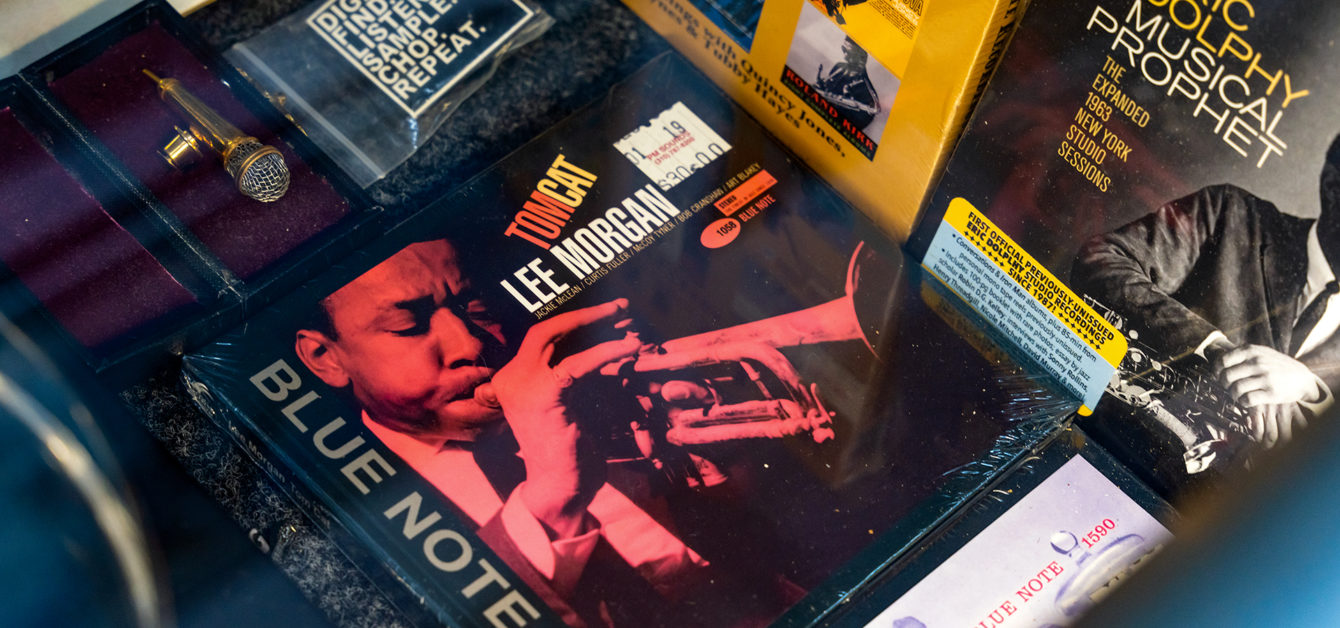 "I want people to feel a personal touch to their buying experience," says Luis Pulido Correa, owner of Steady Beat Records in San Pedro. "I'm a digger too, and I like to share music and new sounds with people who otherwise would not experience them. It's like therapy."
On the last Sunday of the month, Steady Beat turns into a group therapy session. DJs spin 45s for shoppers, who dig through plentiful selections of cumbia, ranchera, norteño, tropical and of course classic rock. While Steady Beat (the store) has been in business less than six months, Steady Beat Recordings was founded back in 1993.
As a high school student, Luis was DJing backyard parties and promoting—and eventually producing—ska shows at clubs throughout L.A. When he noticed the lack of representation the genre was getting, he began recording and releasing 45s from bands like Los Bullets, The Allentons and The Debonaires. The store was Steady Beat's next logical progression.
"I envisioned a record shop, restaurant, bar and live performance space with a studio in the back," says Luis. "I was dreaming big. Then COVID-19 hit, and I had to tone everything down and work with what I could."
If Steady Beat feels like a house party, P.M. Sounds—just a mile down the road in San Pedro—is a guided meditation. Hardwood floors, framed photos and posters, and vintage stereo equipment complement a clean selection of jazz imports, private pressings and rare grooves. Owner Erving Johnson also stocks a curated selection of "enhancements" from a local vendor: scrubs, candles and incense that keep the shop smelling fresh and inviting. The ambience is slightly more urbane than some of the other South Bay shops, but the trends are the same.
"I noticed a few years back how much younger my clients were becoming, which is refreshing. You need newbies to keep the music spinning," says Erving, who has been in business for 24 years. "It also brought back older customers who are getting back into vinyl again."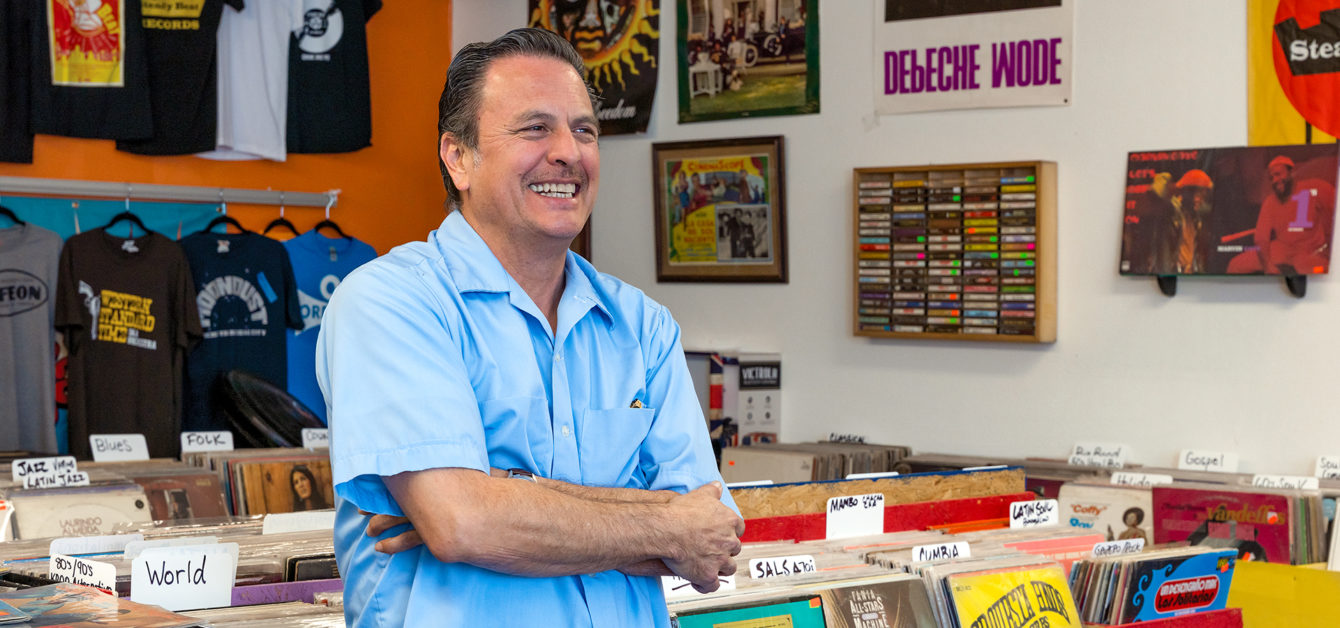 That symbiotic coexistence of seasoned vets and fledgling explorers is what separates the vinyl movement from other resurgent trends like sports card collecting, which lately has become more akin to stock trading. A $6,000 Luka Dončić "rookie patch auto" card pulled from a $1,000 hobby box will probably end up cycling through the secondary market—not in someone's personal collection. In fact, the industry has a name for baseball cards' halcyon days of the '80s and '90s: the junk wax era.
With vinyl, everything old is new again, and stumbling upon a gem isn't necessarily about dollars and cents. The list of Dudley's best-selling records of 2021 doesn't include LPs from Taylor Swift, Billie Eilish or Olivia Rodrigo, all of whom enjoyed massive vinyl sales last year. Instead Dudley's top five list looks like it was pulled straight from your dad's eight-track collection: Rumours, The Dark Side of the Moon, Hotel California, the Eagles' Their Greatest Hits (1971–1975) and Thriller. And it's the kids who are driving those purchases.
"I'm surprised by how many people my age are into it," says Jesse of the five years he's been behind the counter at Dudley's. "It's refreshing that I'm not the only one who likes this kinda stuff anymore."
Bill and Jesse met when Bill moved next door to Jesse's mother in 2011. After Jesse graduated from high school, his mother suggested to Bill that he spend more time with her son. "I ran into him in the laundry room one day, and he was wearing Rolling Stones pajamas," remembers Bill. "I thought, 'What the hell is an 18-year-old doing in Rolling Stones pajamas?' But we set up a really strong friendship. Next thing you know, I reopened the store with him."
Their dynamic is a big part of Dudley's success, just like the changing of the guard at Soundsations breathed new life into the shop. At your local record store, Boomers and Gen Z kids swap recommendations, not insults. There's an authentic willingness for generations to connect and share, and that's good for a lot more than just business.
Roy Kaiser opened the first Record Recycler in Hollywood in 1995. His spot in Torrance has been around since June 2001. "A lot of times as sellers are exiting my store, they tell me they are glad their records will find a new home," he says. "For a long time I did not give that sentiment too much thought, but now I am glad I am part of the process of passing records from one generation to the next."