Los Angeles culture vultures know how inextricably linked The Big Lebowski is to all things LA, and if you're familiar with the film, you know about The Dude's sacred cocktail: the White Russian. A sweet contradiction of vodka and dairy, the White Russian is an all-purpose sipper that's both casual and elegant. But it's 2021 and we've moved on from all things dairy.
Resident mixologist Clare Ward serves us an oat milk remix—made with your own coffee-infused vodka—that's easier on your waistline. After trying this variation, we're definitely not going back to our old ways. But that's just like, our opinion, man.
Need to brush up on your cocktail knowledge? Make sure to subscribe to our YouTube channel and check back every Wednesday for new episodes of Mixed Messages.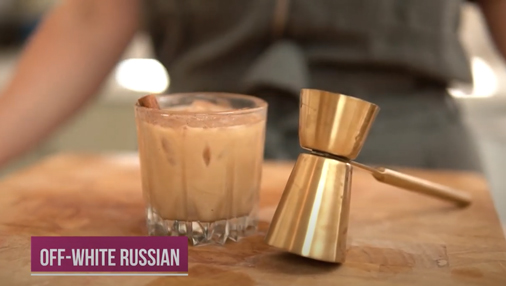 Off-White Russian
1 coffee-infused vodka
1 Mr. Black's coffee liqueur
Oat milk
1 cinnamon stick
Ground cinnamon
To make your coffee-infused vodka, pour 1 cup of vodka through a paper filter containing 2-3 scoops of your favorite coffee. Next, fill a rocks glass with ice and add 1oz. of your coffee-infused vodka, followed by your coffee liqueur. Drizzle in your oat milk and stir with a cinnamon stick. Top with a sprinkle of ground cinnamon.