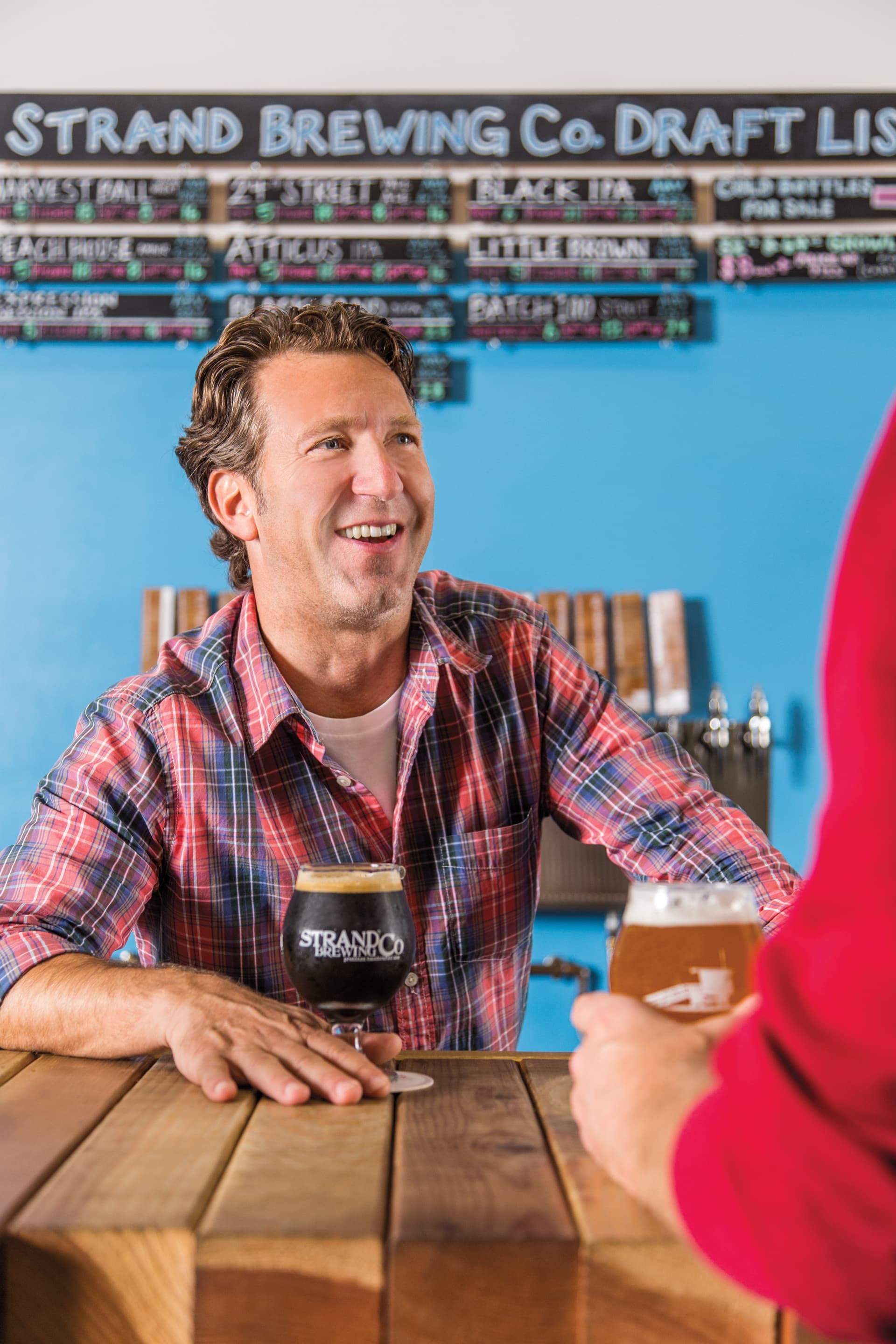 "Convincing people that what you have is just as good—or even better—than the beer they already like is tough," says Richard who, along with Joel, founded Strand Brewing Co. in Torrance in 2009. What started as a small, 1,000-square-foot operation that only pumped out a few hundred barrels of beer each year has evolved dramatically.
Now Strand has a 36,000-square-foot facility, and they have a current annual capacity of more than 7,000 barrels. Their tap beer can be found in hundreds of bars, restaurants and hotels in California, and they distribute their bottled beers to markets and grocery stores throughout the state as well.
Strand will celebrate its 7th anniversary in October. For Joel and Richard, the upcoming event serves as a reminder that they've finally made it—that all the hard work and sacrifices were truly worth it. They've created a product that they feel embodies their get-it-done determination, and they're excited to see what the future holds for the brewing company. "We're at 7 now, and it's a lot of fun," says Richard.

It was Joel who called Richard back in the early 2000s and proposed the idea of starting a South Bay brewery. "People thought we were crazy," says Joel, adding that starting up a brewery in the wake of the 2008 financial crisis was particularly challenging.
"When we started, no one cared about us," says Richard. "No one paid any attention, except for a few select beer bars and craft beer fans."
When they started Strand, brewing culture was still fledgling in both Los Angeles and Orange County, and there wasn't much of a community to turn to for support. Though Richard worked in the restaurant industry for decades before starting Strand, neither founder had much experience with brewing—Joel had worked as an assistant to fashion and celebrity portrait photographers.
But they both loved beer. And Richard knew that he and Joel had one important commonality: They both knew how to work hard. "Everything about [Joel] is about his artwork," says Richard. "If he's welding a pipe, it's his artwork." The Youngstown, Ohio native says he knew he hit gold with Joel.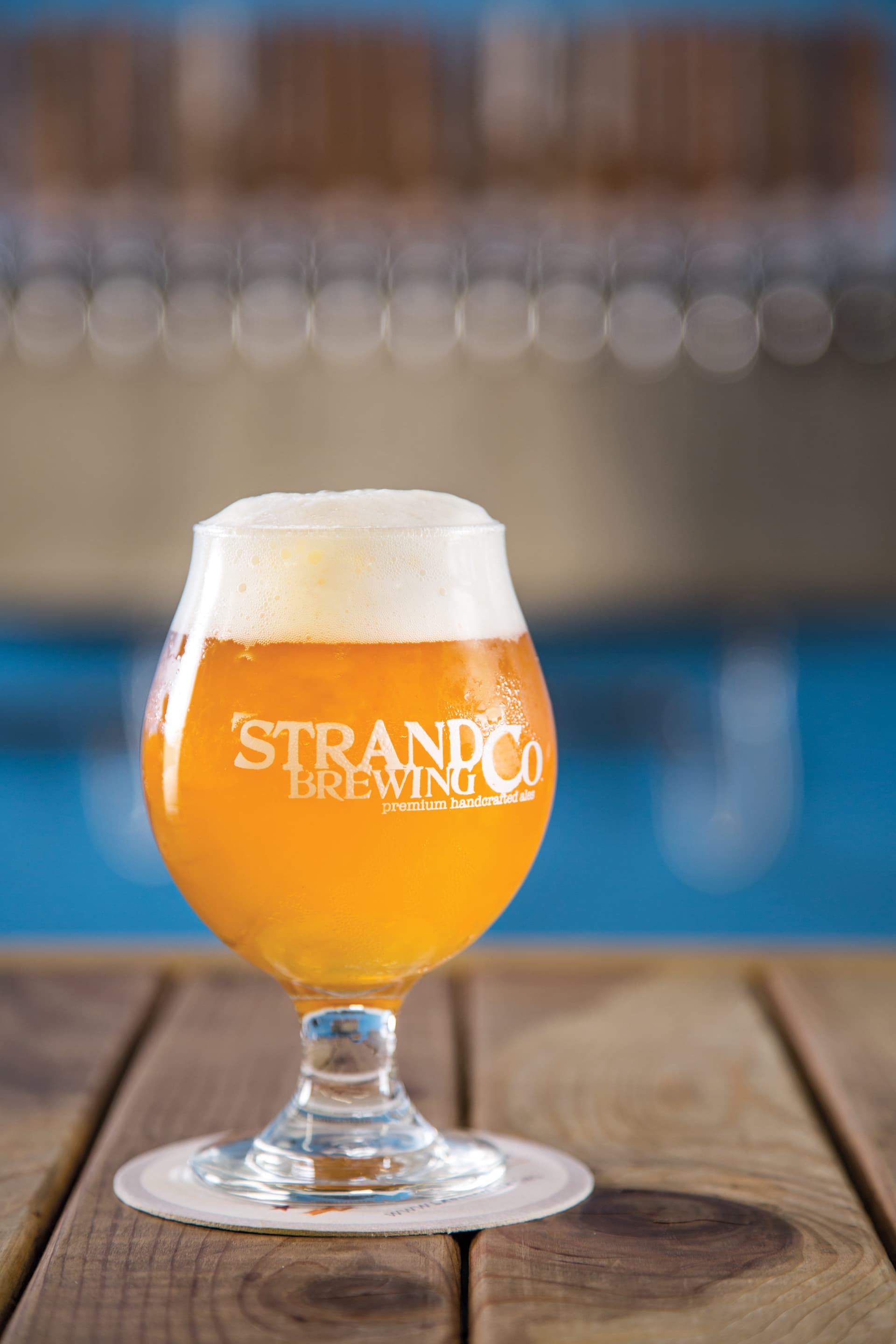 Born in Honolulu, Hawaii, Strand's brewmaster is extremely hands-on. He's the kind of person who spent his childhood taking things apart just to learn how they worked. "I can't tell you how many times I've taken a 'broken' thing apart to find that everything looked good inside, put it back together, and it magically worked," says Joel.
The two had faith in one another's work ethic, and despite the financial crisis they went ahead with establishing Strand. Richard, with his restaurant background and love of salesmanship, would handle sales, marketing and front-end issues. Joel, with his love of machinery and hands-on learning, would handle brewing, the art department and maintenance.
They borrowed more than $80,000 from friends and family and started their first facility in a Torrance industrial park. The company's name is a nod to both the German word for beach ("strand") and The Strand in Hermosa.
The two started with one beer, their 24th Street Pale Ale, and Joel ended up having to fabricate some of their first brewing equipment on his own. "I was forced to learn to weld and fabricate, which wasn't a huge stretch really," he says.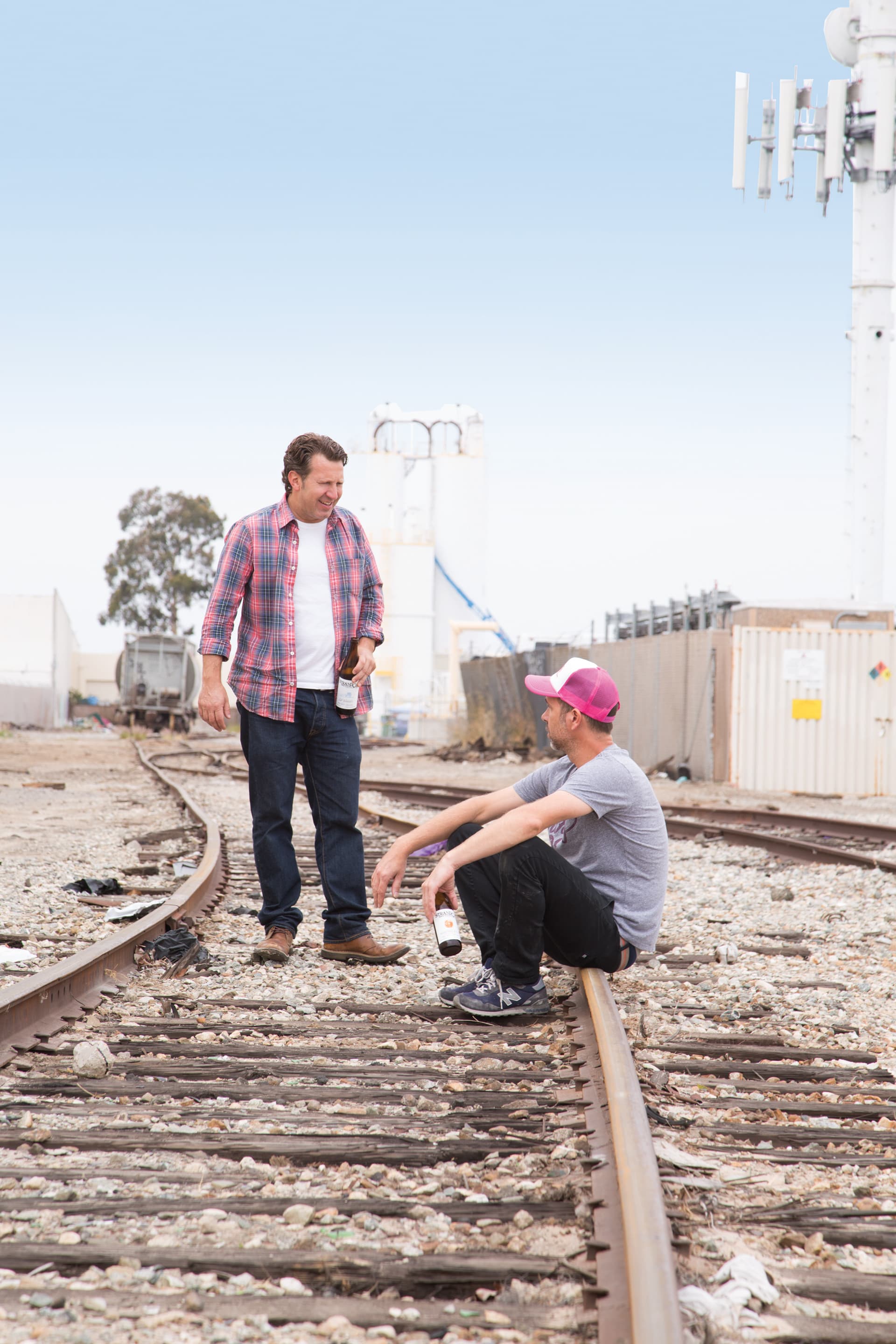 Richard went bar to bar and restaurant to restaurant, pushing their tap beers. Strand, at first, was "under-funded, understaffed," he says. "It was like being a new parent; we didn't know what we were doing. We'd never run a manufacturing plant before."
Joel points out that the two of them worked 80- to 100-hour workweeks for the first few years. Income flow was minimal. "My wife and I were living off of credit cards and borrowed money. We'd just had kids. Trying to support a new family that way is stressful," he says.
They concentrated on tap-only at first and exclusively on the one pale ale. Currently there are dozens of breweries and brewpubs throughout the city of Los Angeles alone. But back when Rich and Joel first started Strand, there were only several breweries scattered across the entire county—making Strand one of the founding pioneers of LA's brewing scene.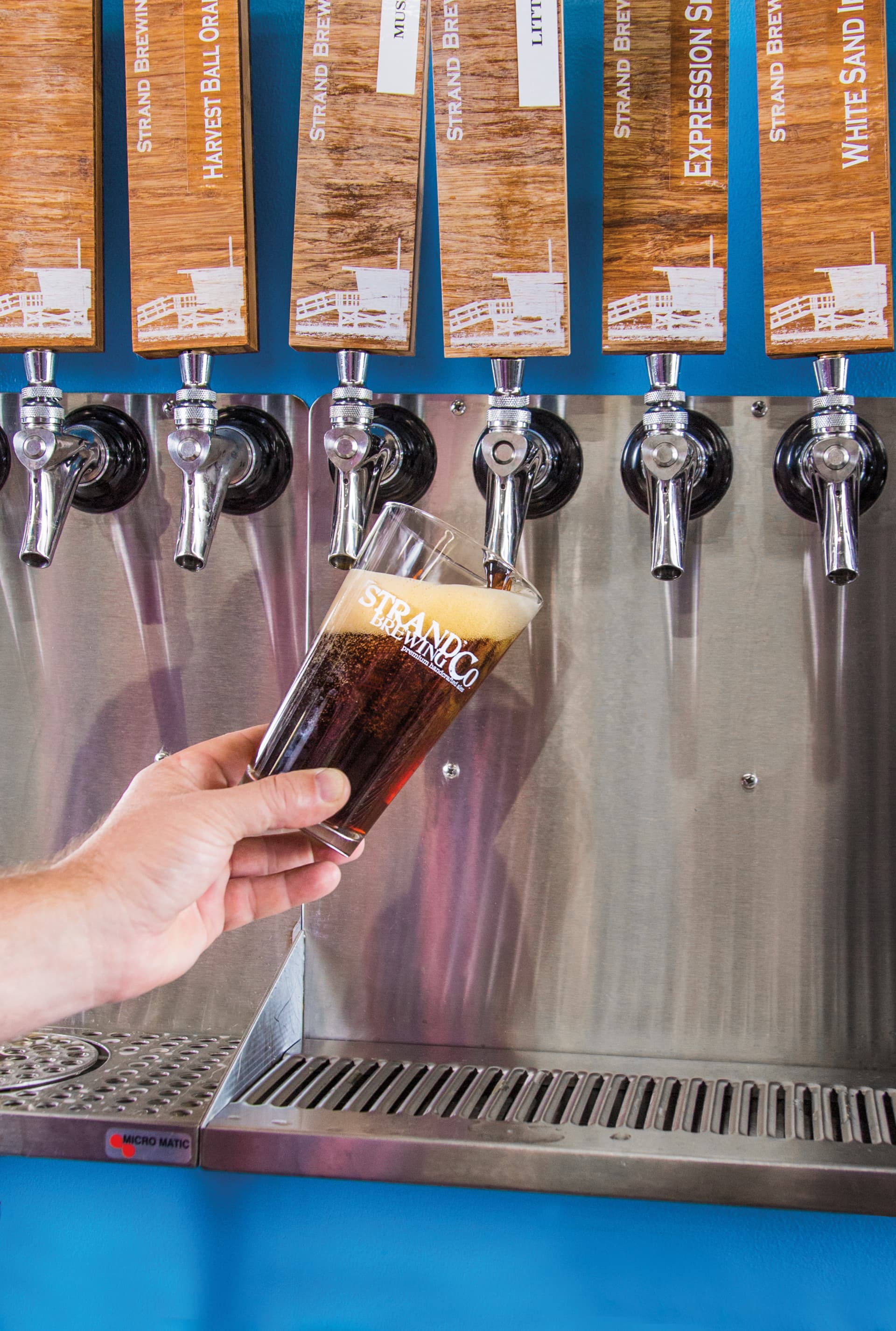 At the time, local LA-made craft beer was still a novel idea. When the duo finally started selling beer, says Joel, buyers told them that they were taking a big chance. But Strand's fan base grew rapidly. It eventually got to the point that when local restaurants or bars ran out of Strand beer, their customers would complain.
Strand brews its handcrafted beer in small batches, and beer fans appreciate the time and energy that goes into the beverages. "I make beers that I like to drink and do my best to make them the same every time so that others can enjoy what I enjoy," says Joel.
The first working production brewery in the city of Torrance, Strand now brews a range of different beers. Their larger facility also boasts a spacious taproom, which has helped grow Strand's local customer base.
"We have a great fan base right in our backyard," says Richard, adding that the taproom gives locals the chance to meet and mingle with other Strand fans. The taproom features communal seating, shuffleboard, free parking, and there are outdoor areas for food trucks to stop by. "The taproom has to be about two things: community and the beer," he says.

With the anniversary coming up, Joel and Richard are looking to the future. "We started off crawling, now we're walking, and soon we'll be running," says Richard.
During the actual anniversary this fall, Strand will host a three-day celebration. But beyond that point, Joel and Richard are looking forward to gradual growth and experimentation. Richard wants to explore canning beer soon, and Joel is in the process of helping train others to handle more of the day-to-day operations. Once that's complete, he can start creating more recipes—or as he calls it, getting a chance to "play in my workshop a bit more."
For Richard and Joel, Strand's beer is about "quality and pride in what they do." They plan to keep on working hard, and they're determined to keep crafting brews that, they hope, the South Bay can be proud of.
"We do it our way," says Richard, adding that he feels that Strand has come to represent brewing in the South Bay. He and Joel feel the need to create the best beer they can possible make. Anything less, they note, would be a slight against their home. "You have to nail it. You can't do it sort of well. You have to put your best foot forward."